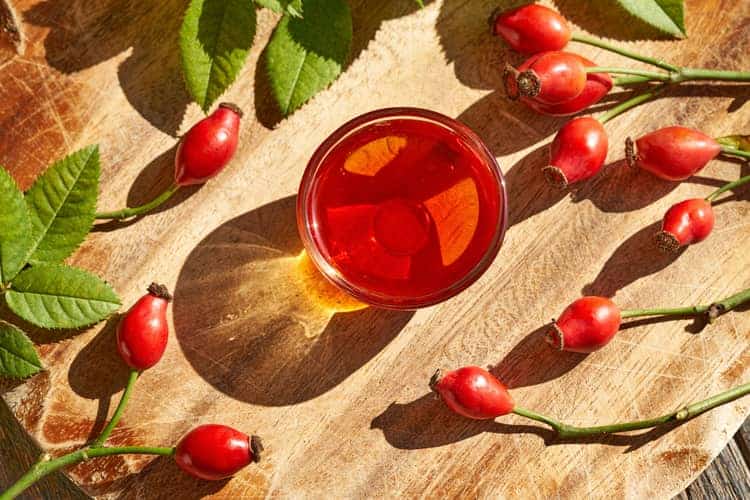 Rosehip oil is one of the most popular carrier oils for rosacea. However, how do you choose the best rosehip oil (since they're not all the same) and which brands make the best rosehip oil for rosacea?
This guide is going to answer all of that for you and also provide you with some best practices when using rosehip oil to soothe rosacea.
Note: this post contains some affiliate links and I earn a commission (at no additional cost to you) if you use them to make a purchase.
WHAT TO LOOK FOR IN A ROSEHIP OIL FOR ROSACEA SKIN
When purchasing rosehip oil you'll notice that it's labeled "rosehip oil" or "rosehip seed oil."
These terms are used interchangeably by brands, so you can't rely on it to tell you what's in the bottle.
So instead, check the label (or the company's website) to see which part of the rosehip was used. Here are the two options you'll likely come across:
Seed oil: the rosehip seed is rich in specifically omega 3, 6 and 9 fatty acids. So, if the label states that the oil was extracted only from the seed, then you will be getting an oil that is rich in these fatty acids. Remember that seed oil can be labeled rosehip oil or rosehip seed oil.
Whole rosehip fruit oil (seed and pulp): the rosehip seed is surrounded by a fleshy pulp and skin that are rich in beta carotene. This beta carotene is converted to retinyl esters (aka provitamin A). So, if the label states that the oil was extracted from the seed and pulp, you'll be getting an oil that contains good amounts of beta carotene and essential fatty acids.
In addition to the above factors, you also want to pay attention to the oil's extraction method. The two best ones are:
CO2 extraction: this method relies on high pressure carbon dioxide (at low temperatures) to extract oil. During the extraction process, the oil is not exposed to oxygen, which means there's less risk of the oil starting to oxidize before it's packaged up. Generally speaking, CO2 extraction is said to produce the best quality oil (source).
Cold pressing: this method relies on the friction between the cold press machine and the rosehip seed for oil extraction. While there's no external heat used, the friction naturally produces some heat (above the natural heat that occurs with CO2 extraction). In addition, the oil is exposed to air during extraction. So, oxidation could potentially start before the product is packaged.
Overall, both extraction methods are good and produce a reliable quality oil. However, if you are very selective about such things, then look for rosehip oil that is CO2 extracted
NOTE: contrary to popular opinion, rosehip oil does not contain vitamin C (though rosehips are rich in the vitamin). This is because vitamin C is water-soluble and therefore cannot exist in an oil. I reached out to two brands that confirmed this and you can read more about it here.
IS ROSEHIP OIL GOOD FOR ROSACEA ON FACE?
Rosehip oil is anti-inflammatory and supports the skin barrier. As such, it may help to improve some rosacea symptoms such as redness, acne and dryness.
In addition, rosehip oil is:
non-comedogenic.
rich in linoelic acid, an omega-6 fatty acid that is essential for a healthy skin barrier.
potentially helpful for acne because it is rich in linoleic acid. Research indicates that acne patients tend to produce sebum that is quite low linoleic acid.
a gentle occlusive that helps to prevent moisture loss from the skin.
helpful for balancing uneven skin tone.
a natural source of vitamin E, which has antioxidant and emollient properties.
BEST ROSEHIP OIL FOR ROSACEA
These are my top brands for the best rosehip oil for rosacea skin.
1. Pai – Best Overall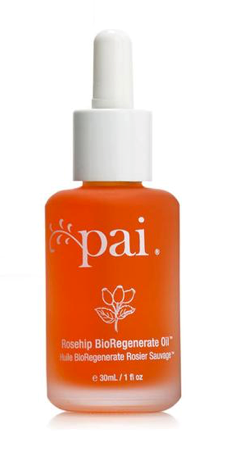 Pai is a brand that is well known for its high production standards and meticulously formulated. And this Rosehip BioRegenerate oil is considered one the best by many natural skin care fans.
Note only is the oil CO2-extracted from the rosehip seed and pulp, but it also includes noteworthy ingredients like:
plant sourced squalene, which is known for being gentle and anti-inflammatory.
Vitamin E, a soothing emollient and antioxidant.
beta-sitosterol, which is a plant derived, cholesterol-like ingredient that moisturizes and calms the skin.
2. Kosmea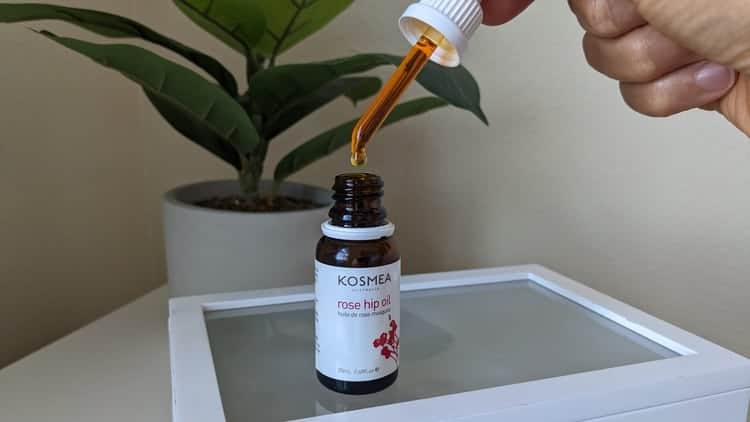 This CO2 extracted oil comes from the rosehip seed and pulp, giving you both beta carotene and anti-inflammatory fatty acids.
Kosmea keeps it simple by giving you just the rosehip oil with no added ingredients.
3. Trilogy – Best Cold Pressed
Trilogy offers two types of organic rosehip oils that can be beneficial for rosacea:
Pure Organic Rosehip Oil: this oil is pressed from the seed and doesn't have any additional ingredients.
Rosehip Oil Antioxidant+: this is a blend of rosehip oil and other calming, antioxidant-rich ingredients like sunflower seed oil, tomato seed oil and cranberry seed oil.
4. Teddie Organics
If you're looking for a budget rosehip oil, consider using this cold-pressed, rosehip seed oil.
It is one of the most popular options on Amazon and being a seed-only oil, it has plenty of fatty acids to soothe the skin.
HOW TO USE ROSEHIP OIL ON ROSACEA SKIN
Keep the following tips in mind when using rosehip oil:
If using it as your main "moisturizer," always apply it to damp skin. Oils lock in moisture so misting your face with water or rosewater first, is a good idea.
Everyone's skin absorbs oil differently so start with just a few drops and if needed add more.
You can boost your regular moisturizer by adding rosehip oil to it. Simply dispense the moisturizer into the palm of your hand, then add a few drops of rosehip oil. Mix the two ingredients in the palm of your hand and gently massage onto your face.
If you prefer to layer your rosehip oil and your moisturizer, then apply the thinnest of the two first. So, if your moisturizer is a very thick cream (with heavy ingredients like shea butter, for example), then rosehip oil will go on first. On the other hand, if your moisturizer is a very light, water-based formulation, then apply the rosehip oil last.
Rosehip oil also works great in a double cleansing or oil cleansing routine. It can be used on its own or in combination with other oils like jojoba.
CAN ROSEHIP OIL MAKE ROSACEA WORSE?
There's no research indicating that rosehip oil will make rosacea worse. But as with all skin care ingredients, it's possible to have a negative reaction to rosehip oil.
So, it's a good idea to always do a patch test before using it.
In addition, since rosacea skin is extremely delicate, using a good quality rosehip oil can help reduce your risk of further irritation.
This means choosing an organic rosehip oil (so that you don't expose your skin to any potential pesticide residue). Also, it's a good idea to read the label closely to make sure that any ingredients that are added to the rosehip oil are safe for rosacea.
CONCLUSION
Due to its inflammatory and gentle occlusive properties, rosehip oil may help to reduce some signs of rosacea.
Like all carrier oils, it can be incorporated into your skincare routine in various ways, either used on its own or layered with other products in your regimen.
---
You Might Also Enjoy:
The Difference Between Rosehip Oil and Rosehip Seed Oil: Benefits, Which To Use and How to Use
Best Soap for Rosacea: Natural (Handmade), Goat Milk and Sulfur
How to Exfoliate With Rosacea (without ruining your skin!)
Everything You Need to Know About Oil Cleansing for Rosacea
The Best (& Worst) Ingredients for Rosacea Skin: A Complete Guide
Why You Need Rosehip Oil For Hyperpigmentation (& How To Use)