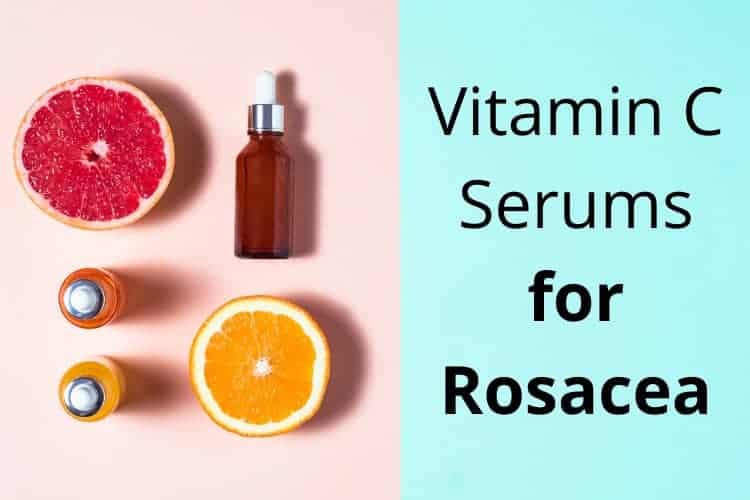 Studies are showing that topical application of vitamin C (in the form of L-ascorbic acid) can help to improve the flushing and inflammation associated with rosacea. But the thing with vitamin C is that too much of it and/or the wrong type, can actually worsen rosacea. So in this article I'm sharing some of the best vitamin c serums for rosacea that you should be aware of.
The following criteria were used to select these serums.
Low dose of ascorbic acid: a 5% concentration of ascorbic acid has been shown to be effective for rosacea (source). Above this concentration, ascorbic acid can potentially worsen, rather than help, sensitive rosacea skin.
Formulated with Vitamin C derivatives: since low concentrations of ascorbic acid can still be problematic for some people, this list also includes products that use vitamin C derivatives. Not only are derivatives gentler than ascorbic acid, but they're converted to ascorbic acid once absorbed into the skin. So you still get the benefits of vitamin C without the dryness or sensitivity.
Now, before we dive in, please note that this list is not intended to replace the advice and recommendations of your doctor.
Everyone's skin is unique and you know best which ingredients keep your skin happy, as well as which ones tend to cause flare ups.
This list is here to help you understand what to look for in a serum (based on general guidelines for rosacea skincare). Hopefully this information simplifies your search for a rosacea-friendly serum.
Note: this post contains affiliate links and I earn a commission (at no additional cost to you) if you use them to make a purchase.
7 VITAMIN C SERUMS FOR ROSACEA
1. TOP PICK – Botanical C Facial Serum
Combining a vitamin C derivative (ascorbyl palmitate) and nourishing botanicals, this serum is just what angry, inflamed skin is craving.
One of the most noteworthy ingredients in this serum is sea buckthorn berries, which are loaded with antioxidants (including vitamin C). Sea buckthorn berries also contain plenty of essential fatty acids (including the rare omega-7) that are helpful for lowering inflammation.
In addition to the above, this serum has skin-soothing botanicals like acerola extract (another vitamin C source) plus nourishing carrier oils such as:
Jojoba.
Green tea oil.
Shea butter.
Meadowfoam seed oil.
Rosehip oil.
With no artificial fragrance, no essential oils, no harsh acids or no other common irritants, this is definitely worth looking into.
2. RUNNER UP – Marie Veronique C-Therapy Serum
Marie Veronique makes two different vitamin C serums. After reaching out to the company and speaking with one of their beauticians, they made it clear that this C-Therapy formula is ideal for ultra-sensitive skin.
One of the main benefits of this serum is that there's no ascorbic acid. Instead it is formulated with four vitamin C derivatives:
Tetrahexyldecyl Ascorbate
Glyceryl Ascorbate
Magnesium Ascorbyl Phosphate
Sodium Ascorbyl Phosphate
According to the information that they shared with me, this serum is equivalent to using a 5 – 7% ascorbic acid serum. This is perfect since research already shows that a 5% ascorbic solution is helpful for rosacea.
In addition, there are plenty of gentle and soothing ingredients in this serum. In fact, the first ingredient is "green tea infusion." When used topically, green tea is great for reducing various signs of inflammation, including redness (source).
Furthermore, there are other antioxidants, nourishing oils and plant-derived ingredients such as:
ferulic acid and vitamin E (both antioxidants).
jojoba oil.
grapeseed oil.
broccoli seed
coconut-derived probiotics.
Last but not least, this formula is free of essential oils, artificial fragrance and synthetic preservatives.
Get Marie Veronique's C-Therapy Serum
3. Mad Hippie Vitamin C Serum
Mad Hippie's serum combines a vitamin C derivative (sodium ascorbyl phosphate) with super hydrating hyaluronic acid and aloe vera.
In addition, there's:
ferulic acid (which boosts vitamin C's action).
vitamin E (supports vitamin E and also helps to prevent oxidative damage to the skin).
konjac root (natural skin hydrator that also helps with oxidative damage).
glycerin (which draws moisture to the skin).
chamomile flower extract (chamomile is best known for soothing the most delicate of skin types).
NOTE: the ingredients list for this serum includes "clary sage" and "grapefruit." Since I couldn't tell if these were in essential oil form or not, I sent an email to Mad Hippie. They explained that the clary sage and grapefruit are extracts.
Get Mad Hippie's Vitamin C Serum
4. Nectar of the C Serum from Fleur & Bee
This serum uses a vitamin C derivative (sodium ascorbyl phosphate) and stays away from ascorbic acid. To enhance vitamin C's action, there's ferulic acid, which is a powerful antioxidant in its own right.
What's more, there are moisturizing ingredients like aloe vera juice and skin-softening oils like jojoba oil.
While there is no artificial fragrance in this serum, the last two ingredients are grapefruit peel oil and clary sage flower oil.
For some people with rosacea, essential oils can be problematic. So, if you happen to be sensitive to them, then you can skip this oil in favor of others on this list.
5. Maple Holistics Vitamin Anti-Aging Serum
At first glance, this seems like a standard vitamin C serum, with ingredients like ascorbyl palmitate, hyaluronic acid and vitamin E.
However, there's a standout ingredient: MSM.
MSM is a sulfur-containing compound that may help with rosacea. Some rosacea patients use sulfur-based soaps and other sulfur-based products to calm symptoms. In addition, a 2008 study found that a cream containing MSM (and milk thistle) improved rosacea symptoms.
So, by including MSM in its formula, this serum may be particularly helpful for rosacea.
Get Maple Holistics Anti Aging Serum
6. Asterwood Naturals Vitamin C Serum
While most serums have a long list of ingredients this one is quite minimalist with just 6 ingredients.
Fewer ingredients means a lesser chance of random ingredients that could irritate delicate skin.
The main active ingredients are:
water.
magnesium ascorbyl phosphate.
sodium hyaluronate (a salt of hyaluronic acid).
There's also less than 2% of phenoxyethanol, benzoic acid and dehydroacetic acid. All three are preservatives.
If you're someone who prefers less ingredients, then this is worth checking out.
Just keep in mind that there is no vitamin E or ferulic acid, which are both quite standard in vitamin C serums.
Get Asterwood Naturals Vitamin C Serum
7. Lily Ana Naturals Vitamin C Serum
Right off the bat, this serum checks all the boxes for what is needed in a gentle vitamin C serum. The noteworthy ingredients in this product include:
a vitamin C derivative (sodium ascorbyl phosphate).
vitamin E and ferulic acid to boost vitamin C's action while also providing additional antioxidant benefits.
soothing and hydrating aloe vera juice to keep skin calm.
nourishing jojoba oil to protect the delicate skin barrier.
Get Lily Ana Naturals Vitamin C Serum
FAQs ABOUT VITAMIN C SERUMS AND ROSACEA
Is vitamin C ok for rosacea?
Some experts believe that vitamin C helps rosacea in two ways. First, vitamin C's antioxidant benefits help to curb the production of free radicals. Secondly, vitamin C is said to help strengthen blood vessels so that they don't dilate quite as easily (i.e. less redness).
Does vitamin C make rosacea worse?
Vitamin C serum could worsen rosacea for a multitude of different reasons. Here are just a few:
the formula contains too much ascorbic acid.
oxidation has occurred (the serum color and smell has changed).
the presence of ingredients like fragrance, essential oils or preservatives that are irritating to the skin.
Is hyaluronic acid ok for rosacea?
Unlike other acids – which are usually abrasive – hyaluronic acid is actually a hydrating acid that:
attracts water to the skin.
helps the skin to maintain elasticity and a healthy appearance overall.
Since proper moisture balance and dryness are common with rosacea, hyaluronic acid can be a beneficial addition to your skincare routine.
CONCLUSION
Finding a good vitamin C serum for rosacea takes a little investigating and requires that you pay close attention to ingredients.
Hopefully this article has given you some options that will help calm, soothe and nourish your skin.
---
You Might Also Enjoy:
How to Exfoliate With Rosacea (without ruining your skin!)
The Best (& Worst) Ingredients for Rosacea Skin: A Complete Guide
Everything You Need to Know About Oil Cleansing for Rosacea
Vitamin C vs Squalane: Benefits and How to Use Them for Radiant Skin
Best Rosehip Oil For Rosacea (To Calm Inflamed Skin)
What To Mix (and not) With Vitamin C Serum: A Complete Guide
Best Vitamin C Serums for Dry Skin
Best Soap for Rosacea: Natural (Handmade), Goat Milk and Sulfur
How To Choose The Best Vitamin C Serum: A Step by Step Guide
Mad Hippie vs The Ordinary: Which Is Better | Comparing Vitamin C and Retinol (Vitamin A) Products
Vitamin C Serum vs Rosehip Oil: Benefits, Which Is Better and How To Use
Best Vitamin C Serum For Sensitive Skin: 5 Products to Unlock Your Natural Glow
Vitamin C Serum Vs Aloe Vera Gel: Which Is Better for Clear Skin?