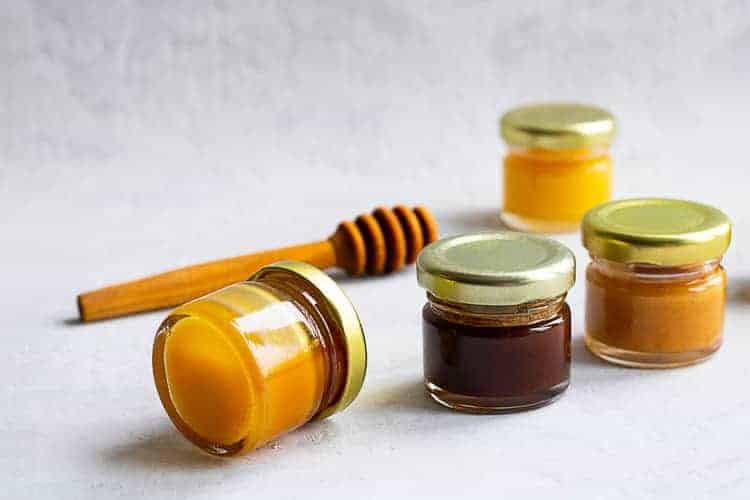 Even though exfoliation can benefit all skin types, knowing how to exfoliate with rosacea can be extremely frustrating because the wrong product can trigger nasty flare ups.
But that doesn't mean you have to throw exfoliation out of your skin care routine. Instead, you need to proceed with this basic understanding:
In general, exfoliating rosacea skin can help to remove dry, flaky skin. However, rough manual scrubs (such as sugar) should not be used because they are too irritating. Instead, reach for a gentle chemical exfoliant like beta hydroxy acids or aloe vera (which contains exfoliating enzymes).
To help you decide if exfoliation makes sense for your particular skin, this article is going to cover:
The best exfoliators for rosacea skin.
How to incorporate exfoliation into your skin care regimen.
How often to exfoliate and some general tips to ensure that exfoliation doesn't irritate your skin.
Note: this post contains affiliate links and I earn a commission (at no additional cost to you) if you use them to make a purchase.
BEST EXFOLIATOR FOR ROSACEA SKIN: NATURAL OPTIONS, BHA & MORE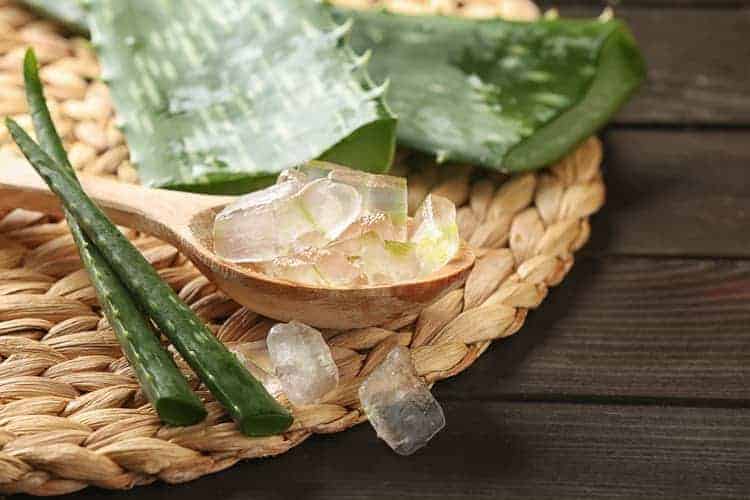 1. Aloe vera gel
Not only is aloe incredibly hydrating and soothing, but it contains BHAs (beta hydroxy acids), specifically, salicylic acid.
In addition, aloe contains multiple enzymes with exfoliating properties, as well as anti-inflammatory vitamins like A, C and E (source).
HOW TO USE
Fresh aloe vera is best. You can literally just smear it onto your face, let it sit for 15 minutes and rinse it off.
A more convenient option is aloe vera powder. You can mix it into a paste with honey or rosewater and apply onto your face as a mask.
The third option is to buy an aloe gel. Just bear in mind that all aloe gels have preservatives. If your skin is particularly sensitive to preservatives then this option won't work for you.
2. BHAs (beta hydroxy acids)
Compared to AHAs (alpha hydroxy acids), BHAs are gentler exfoliants and can be used to improve the appearance of rosacea skin.
In addition, BHAs have the ability to soothe redness and may help to clear up rosacea pimples.
HOW TO USE
BHAs are available in a wide variety of products including face washes, toners and moisturizers.
While salicylic acid is the most popular BHA (and most potent), there are other options such as betaine salicylate and willow bark extract (salix alba). Willow bark contains salicin which the body converts to salicylic acid.
Get Paula's Choice 1% BHA Lotion Exfoliant
3. Green Tea
Green tea contains vitamins A, C and E, all of which are helpful for supporting skin renewal.
In addition, it's one of the best sources of antioxidants that can help to soothe inflammation.
HOW TO USE
Brew a cup of plain green tea and use it as a skin toner. Or you can buy a green tea toner. Just keep in mind that green tea toners from a store have other added ingredients. So inspect the ingredients list closely to make sure those extra ingredients are rosacea-friendly.
To make the toner more hydrating, add in a few drops of vegetable glycerin or about ¼ tsp honey. Both of these are humectants that will help to draw more moisture to the skin.
Rather than use regular green tea, get your hands on matcha aka green tea powder. It has more antioxidants than regular green tea. Mix equal parts matcha and honey to make a face mask and let it sit on your face for 15 minutes before rinsing off with warm water.
Get Ceremonial Grade matcha powder
4. Rosehip oil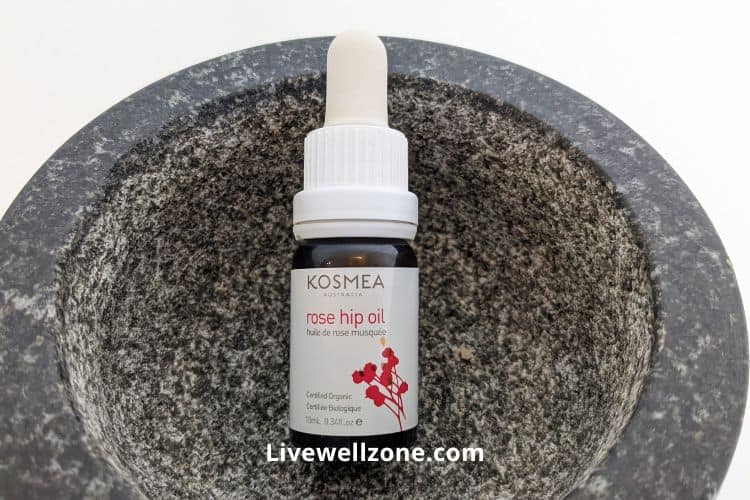 As mentioned in this article on the best rosehip oil for rosacea, rosehip's beta-carotene content is the reason why it helps with cell turnover.
That beta-carotene is converted to vitamin A, which stimulates cells known as fibroblasts.
Not only are fibroblasts responsible for collagen and elastin production, but they're also responsible for the production of hyaluronic acid (which is a humectant and anti-inflammatory).
Furthermore, rosehip oil contains about 54% linoleic acid (which is essential for skin barrier function) and vitamin E.
HOW TO USE
Layer on top of moisturizer or skip the moisturizer and apply rosehip oil onto damp skin (never directly onto dry skin).
5. Honey
Honey contains a variety of antioxidants, such as flavonoids and polyphenols, that help with exfoliation.
Of these antioxidants, one of the most noteworthy is ferulic acid, which is known for being anti-inflammatory (and is widely used in skin care products).
HOW TO USE
Mix 1 tablespoon of honey with water so that it's not very sticky. Then spread the mixture onto your face and let it sit for 15 minutes before rinsing.
Some people prefer to use manuka honey because of its well known healing properties. However, any pure, unpasteurized honey (i.e. no added corn syrup or fillers) is still worth your time.
Honey can also be used as a gentle alternative to face washes. To use it, wet your face and massage a small amount of honey onto your skin. Then rinse off with lukewarm water.
Get Farmacy's Clean Bee Cleanser
6. Goat milk
The main benefit of goat milk is that it contains lactic acid, which is an alpha hydroxy acid that is very effective for exfoliation.
While it's often said that alpha hydroxy acids are too strong for rosacea skin, remember that the concentration in a natural ingredient like goat's milk isn't usually as high as in a store-bought product.
In addition, there are anecdotal reports from rosacea patients (on forums like Reddit) whose skin responds well to goat milk-based products.
One of the reasons why goat's milk might work for some people with rosacea is that it also contains probiotics (to support the skin's microbiome), soothing fatty acids and vitamin A.
HOW TO USE
Mix equal parts powdered goat milk and honey to make a smooth paste. Apply onto your face and let it sit for 15 minutes. Rinse off with warm water.
7. Yogurt
This is a natural source of exfoliating lactic acid, microbiome-friendly probiotics and ceramides (helpful for preventing moisture loss while also protecting the skin from environmental damage).
HOW TO USE
Use a makeup brush to apply a thin layer of plain yogurt onto your face. Let it sit for 15 minutes then rinse off with warm water.
Greek yogurt works better because it's thick and less likely to drip.
8. Colloidal oatmeal
Even though manual scrubs are a big no-no for rosacea, you might want to make an exception for colloidal oatmeal.
This is rolled oats that have been ground into a very, very fine and soft powder.
As for the benefits, colloidal oatmeal contains ferulic acid (an exfoliant and antioxidant), vitamin E (an emollient and antioxidant that supports skin renewal).
HOW TO USE
Make a mask by combining 2 tablespoons of colloidal oatmeal, 2 teaspoons raw honey and enough liquid (water or rose water) to make a smooth paste. Apply it on your face and allow the mask to sit on your face for 15 minutes. Then rinse off with warm water.
---
Now that we've looked at the main ingredients that can be used to exfoliate rosacea skin, here are some products (both raw ingredients and formulated products) that you can incorporate into your skin care routine.
HOW OFTEN TO EXFOLIATE YOUR FACE WHEN YOU HAVE ROSACEA
The frequency of exfoliation for rosacea skin depends very much on how sensitive your skin is and the type of ingredients you choose to use. For example:
If you're using beta hydroxy acids you may find that your skin can only tolerate weekly exfoliation, while for someone else it could be every 2 days.
As for an ingredients like honey, goat milk, aloe, green tea and rosehip oil, they can usually be used daily. But if you want to be extra cautious, start off with every other day and see how your skin reacts.
CAN EXFOLIATING CAUSE ROSACEA?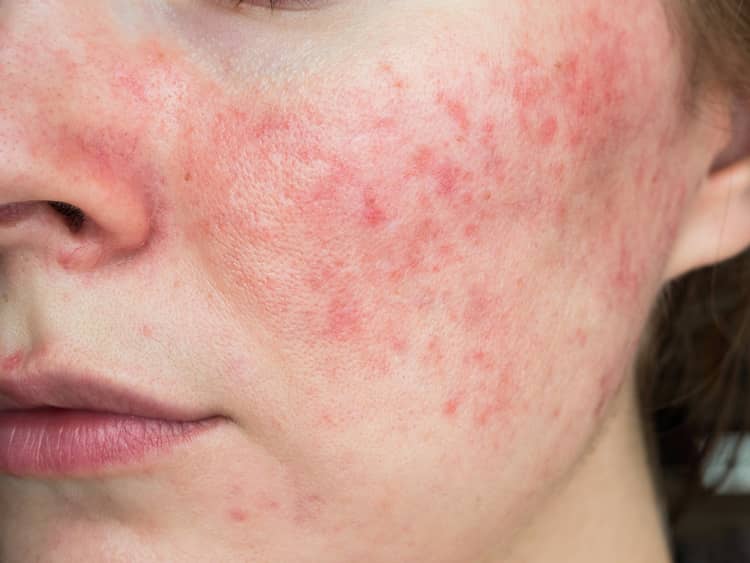 While exfoliation isn't known to cause rosacea, it can trigger flare ups if done incorrectly.
That's why it's best to avoid:
Scrubbing your face with a washcloth or sponge.
Using grainy scrubs like sugar and salt.
Strong chemical exfoliants (such as concentrated forms of alpha hydroxy acids).
Exfoliants that contain fragrance or irritants like menthol, citrus, alcohol, witch hazel extracted in alcohol and glycolic acid.
Although the ingredients that trigger a reaction are different for each person, the above are general guidelines to keep in mind as you add products to your beauty routine.
CONCLUSION
There is no one-size-fits-all solution for rosacea. And that is certainly true when it comes to exfoliating rosacea skin.
The aim of this article was to give you an overview of the options that are available to you.
But as always, use your best judgment and knowledge of your skin to determine which option you want to explore.
Also, it's always a good idea to discuss any changes to your skin care routine with your doctor. This will help ensure that any new products you use won't have a negative interaction with your existing regimen.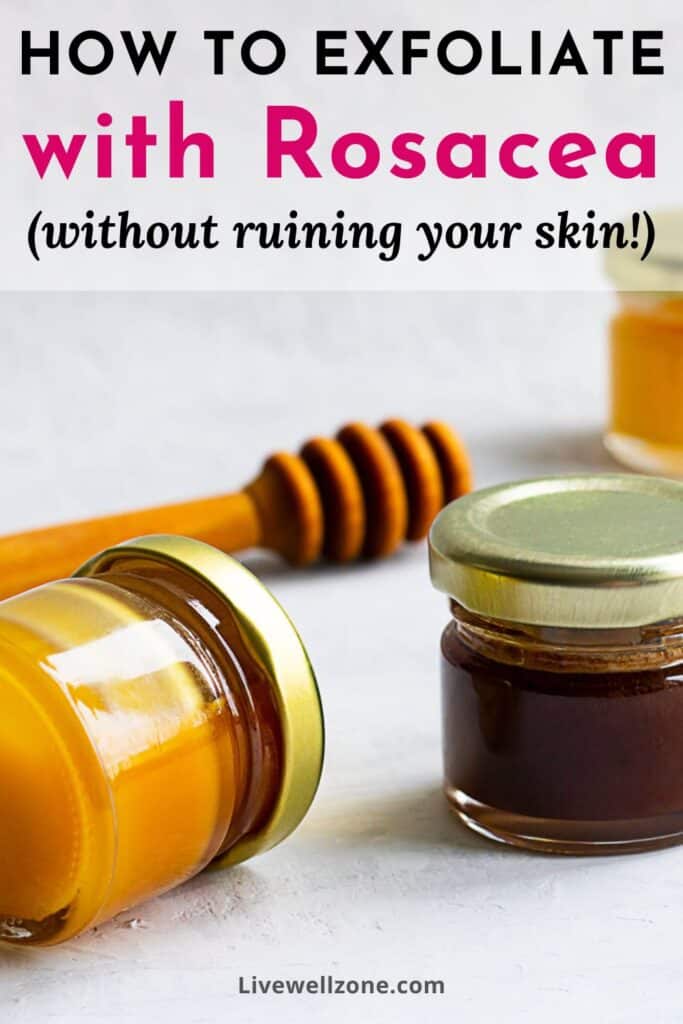 ---
You Might Also Like:
Best Vitamin C Serums for Rosacea (To Soothe Redness and Inflammation)
Best Soap for Rosacea: Natural (Handmade), Goat Milk and Sulfur
Everything You Need to Know About Oil Cleansing for Rosacea
The Best (& Worst) Ingredients for Rosacea Skin: A Complete Guide