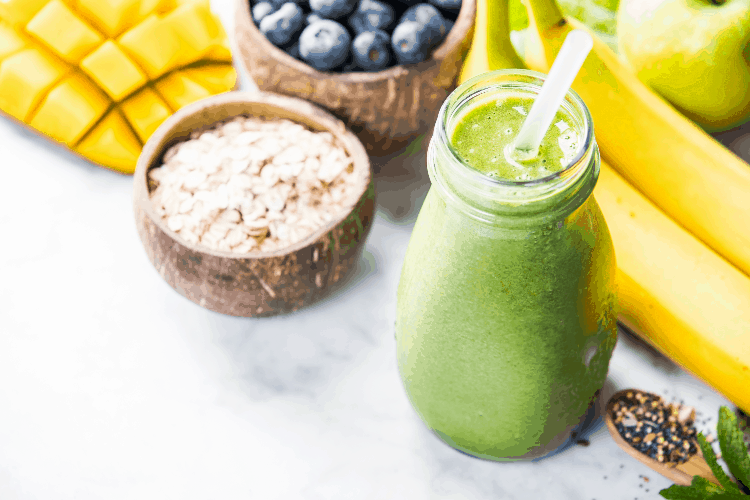 In a previous post I shared the 25 amazing benefits of green smoothies and now it's time to get down to the business of how to make a green smoothie (that actually tastes good)!
Now, if you're not at all familiar with green smoothies, they are simply raw food smoothies that contain a green vegetable (usually leafy greens).
And another thing to know about green smoothies is that they're not always green!
Depending on the ingredients you put together, your green smoothie might end up looking brown or purple.
But regardless of the color, all healthy (homemade) green smoothies are great for sculpting the body from the inside out.
So, in this post you will get the how-to's of making green smoothies as well as 3 recipes to boost your energy, detox your body and support weight loss!
Note: this post contains some affiliate links and I may earn a commission is you use them.
BASIC GREEN SMOOTHIE INGREDIENTS
There are just 3 basic ingredients that you need to make a green smoothie:
Liquid base
Green Vegetables
Fruits
Let's have a closer look at each ingredient to see what you can use to make a delicious green smoothie.
1. Liquid Base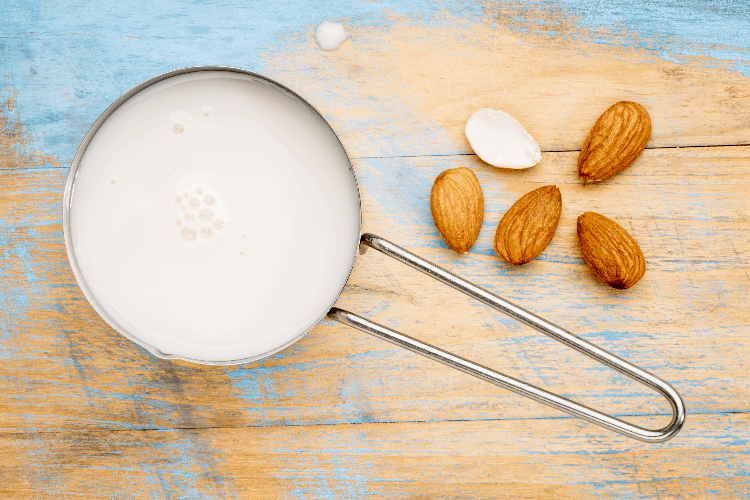 The simplest option in this category is good ol' water.
However, you can get more more flavor and health benefits by using:
Coconut water
Fruit juice (ideally homemade, unpasteurized)
Unsweetened, plant-based milks (coconut, almond, hemp, macadamia, cashew, rice or oat milk)
Chilled green tea
Chilled red raspberry leaf tea (great for women's health, including our hormones)
LIQUIDS FOR GREEN SMOOTHIE
Plain water
Coconut water
Fruit juice
Chilled green tea
Chilled red raspberry leaf tea
Plant-based milks
2. Green Vegetables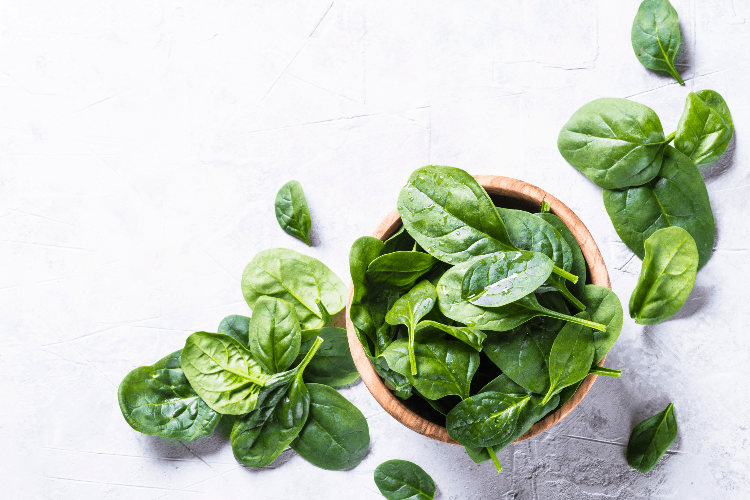 Now, this is where things start to get interesting.
Technically speaking, you can use any green veggie in your smoothie.
However, when you're starting out, spinach is the best choice.
Not only is spinach easy on your blender, but it has a neutral flavor that won't overwhelm your green smoothie.
Once you're comfortable with spinach, you can experiment with other leafy greens like:
Bok choy
Chard
Collard greens
Kale
Romaine lettuce
And if you're more of the adventurous type, you can also use the stronger-tasting greens listed below:
Arugula
Beet greens
Broccoli
Cabbage
Carrot tops
Dandelion greens
Lettuce
Sprouts
Turnip greens
Watercress
Just keep in mind that if you use these strong-tasting veggies, you'll have to work harder to mask their flavors.
Now, you've probably noticed that everything I've listed so far is leafy greens.
Yes, leafy greens are green smoothie staples.
However, feel free to throw in other veggies like beets, cucumbers, carrots or cauliflower, as you become more comfortable with these smoothies.
LEAFY GREENS FOR GREEN SMOOTHIES
Baby Spinach (best for smoothie newbies)
Kale
Bok choy
Chard
Collard greens
Romaine lettuce
3. Fruits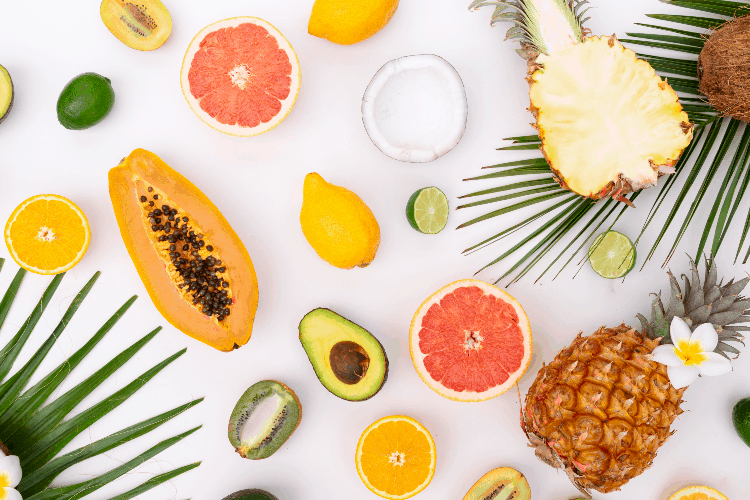 The most important rule for using fruits in a green smoothie is that they must be ripe.
Not only are ripe fruits more alkalizing to the body, but they have the natural sweetness that nature intended for you to enjoy 🙂
That natural sweetness helps mask the taste of the greens (especially when you start using the more bitter or earthy greens).
Using ripe fruits also means you don't have to add in artificial sweeteners to make your green smoothie taste appealing.
Here are the best and easiest fruits to start with:
Apples
Avocados
Bananas
Berries
Cantaloupe
Cherries
Kiwis
Lemons
Limes
Mangos
Papaya
Pears
Peaches
Pineapples
Watermelons
FRUITS FOR GREEN SMOOTHIES
Apples
Avocados
Bananas
Berries
Cantaloupe
Cherries
Kiwis
Lemons
Limes
Mangos
Papayas
Pears
Peaches
Pineapples
Watermelons
One last thing about fruits: you can use them fresh or frozen.
When using frozen fruit, I strongly recommend thawing them out first on the kitchen counter for about 1 hour, depending on the temperature in your kitchen.
Or you can thaw them out overnight in the fridge.
When they're thawed out, the fruits have a lot more flavor compared to when they're fully frozen.
This small step will greatly improve the taste of your smoothie 🙂
OPTIONAL GREEN SMOOTHIE ADD INS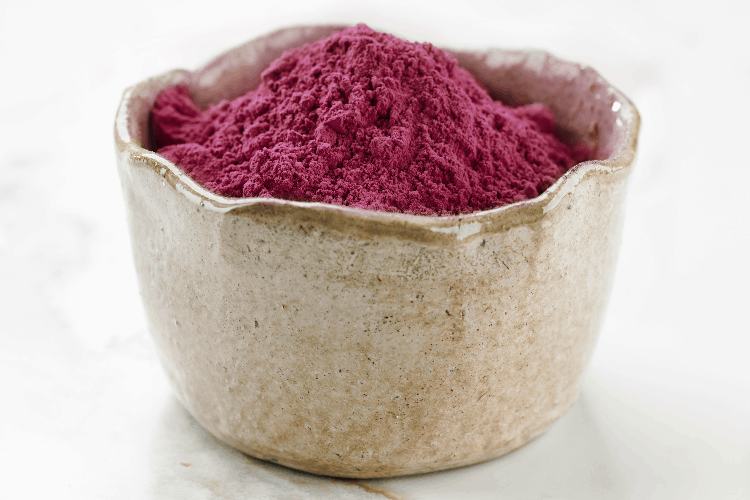 Add ins are a great way to increase the nutrient content of your green smoothie as well as play up the flavor.
Add ins are definitely optional, but once you find your favorites, they will become staples!
Here are some green smoothie add in ideas to play with:
Acai powder
Adaptogenic powder (maca, ashwagandha and turmeric work well)
Bee pollen
Beet root powder
Cacao powder
Chia seeds (this thickens the smoothie)
Chlorella powder
Coconut butter
Coconut oil
Flax seeds (this thickens the smoothie)
Goji berries
Green superfood powder
Hemp seeds
Matcha green tea powder
Nut butters (almond and peanut)
Pomegranate powder
Spirulina powder
HOW TO MAKE A GREEN SMOOTHIE TASTE GOOD
Now it's time to bring everything together and talk about the ratios of each ingredient that you should use.
To make two servings of a green smoothie you need:
2 cups fruit
2 cups tightly packed leafy greens
1 1/4 cups liquid
INGREDIENT RATIO FOR 2 SERVINGS OF GREEN SMOOTHIE
2 cups fruit
2 cups tightly packed leafy greens
1 1/4 cups liquid
That's it! This basic formula will give you a great-tasting smoothie that you can enjoy in various ways.
Pro tip: get yourself some beet root powder – like this one – and add ½ to 1 teaspoon into your green smoothies. It add natural sweetness and also supports healthy circulation, energy and more (source).
3 SIMPLE GREEN SMOOTHIE RECIPES FOR BEGINNERS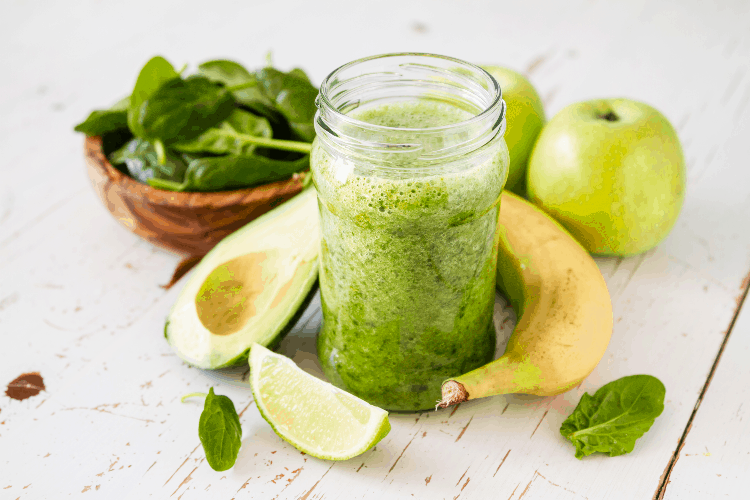 Green Energy Booster And Revitalizer
Each recipe below makes 2 servings.
Ingredients
2 medium bananas (sliced)
1 1/4 cup water
2 cups spinach
1 cup frozen mango (or peaches)
1 cup frozen pineapple
¾ tsp of this beet root powder or this maca powder (optional)
How to Make
Add the ingredients to your blender in the order listed above.
Blend until smooth and well combined.
Blueberry Lime Green Detox Smoothie
Ingredients
2 medium bananas (sliced)
1 1/4 cup coconut water
2 cups baby spinach
2 cups frozen blueberries
Juice from ½ lime
How to Make
Add the ingredients to your blender in the order listed above.
Blend until smooth and well combined.
Greens and Berries Energizer
Ingredients
2 medium bananas (sliced)
1 1/4 cup plain coconut milk
2 cups spinach
2 cups frozen blueberries or raspberries
¼ inch piece of fresh ginger, peeled (optional)
How to Make
Add the ingredients to your blender in the order listed above.
Blend until smooth and well combined.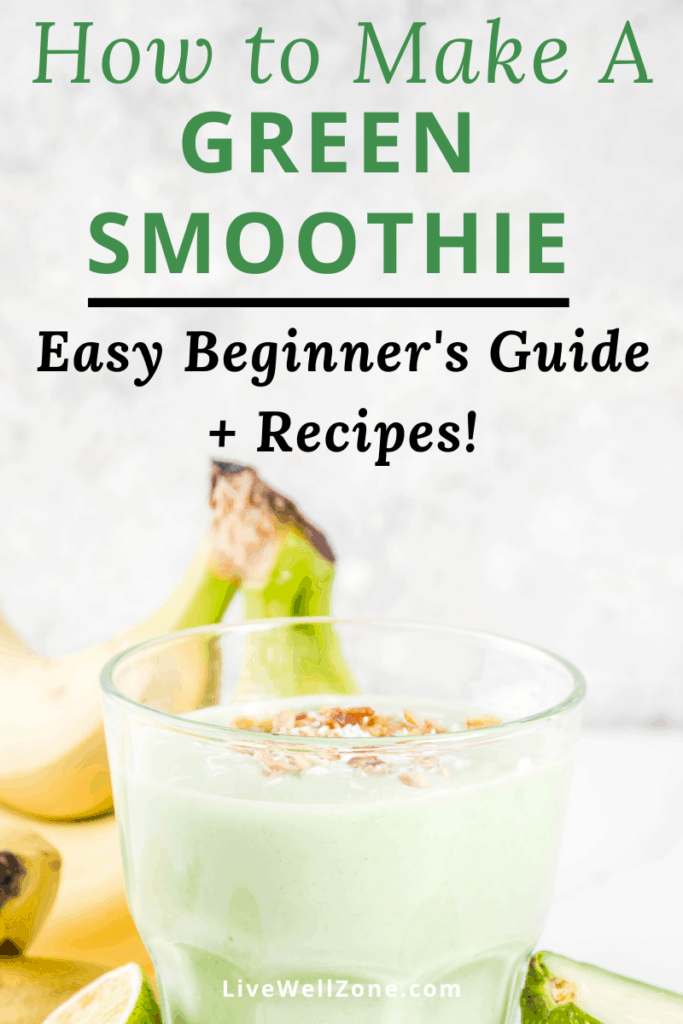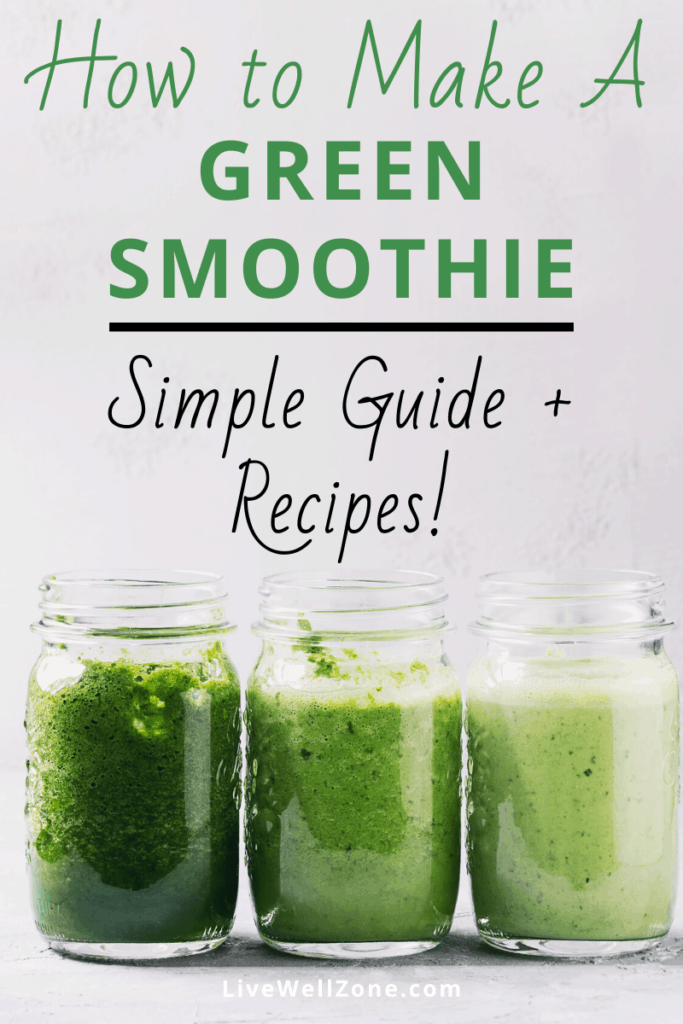 CONCLUSION
As you can see, with some leafy greens, fruits and water (or nut milks) you can make a delicious green in 5 minutes.
I hope this post has helped eliminate the confusion (and mystery) that sometimes surrounds green smoothies.
If you have any questions or general comments about how to make a green smoothie, feel free to drop a comment below 🙂
---
Related Posts:
How To Make Strawberry Banana Smoothies: A Quick Guide With Easy Recipes
How To Make A Green Smoothie Bowl: Easy Tips and Recipes
The Best Weight Loss Smoothie Ingredients To Burn Fat Quickly