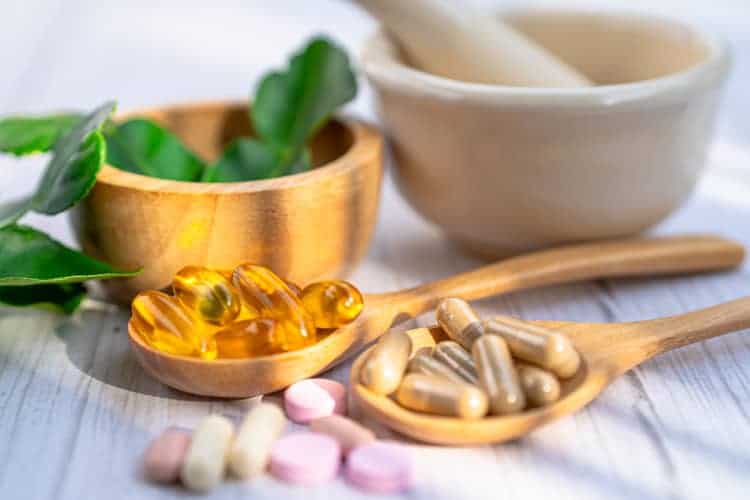 Even though black cohosh has several benefits for menopause symptoms, some women prefer to avoid it due to concerns of its estrogenic activity and other side effects. If you're one of those women, then this list of the best menopause supplements without black cohosh will help you find alternative products you can use.
NOTE: This post contains some affiliate links and I earn a commission (at no additional cost to you) if you use them to make a purchase.
WHAT IS THE BEST OVER THE COUNTER SUPPLEMENT FOR MENOPAUSE (WITHOUT BLACK COHOSH)?
Here are my top choices for the best menopause supplements that don't have black cohosh:
Green Juice – BEST OVERALL.
Moon Balance.
Formula 4|5.
B. Powered.
Magic Mushroom
Evening Primrose Oil
WHY USE IT: Overall, this is the best menopause supplement without black cohosh because it contains ingredients that are adaptogenic, anti-inflammatory, nutrient-dense and detox-friendly.
There is so much more going on with menopause than just a drop in estrogen. Research shows that:
there tends to be an increase in systemic inflammation during menopause (source).
the natural drop in estrogen seems to be what increases inflammation (source). Given that inflammation increases cortisol production and cortisol contributes to weight gain, it's no surprise also that some women struggle weight gain during this phase of life.
during perimenopause, progesterone is often lower and some women actually have more estrogen compared to women in in the 19-38 age group. In addition, when comparing perimenopausal women with heavy periods against perimenopausal women with lighter periods, those with heavy periods had higher estrogen (1, 2).
With so much going on in the body, this Green Juice powder is a great ally because it's basically like having multiple supplements in one. Here's an overview of the ingredients:
Ashwagandha: adaptogenic herb that supports the body's stress response system and regulates cortisol production. It also helps with mood swings, thyroid function, balancing estrogen and progesterone and lowering inflammation (source).
Turmeric: one of the best anti-inflammatory herbs. Also helps the body break down estrogen and get rid of excess estrogen (source).
Matcha green tea: another potent anti-inflammatory ingredient. Known to support weight loss and balance blood sugar levels.
Beets: supports detoxification, lowers inflammation and supports weight loss (source).
Spirulina and chlorella: these aquatic greens support detoxification and are incredibly nutrient dense. They're high in protein (spirulina has about 60%) and are also good sources of antioxidants, vitamins, minerals and essential fatty acids.
Moringa and wheatgrass: these greens support detoxification and are a rich source of vitamins and minerals.
WHY USE IT: contains herbs that have traditionally been used to support women's hormones.
Here's an overview of the six ingredients in this supplement powder:
Shatavari: often referred to as the "Queen of Herbs;" a go-to female tonic in Ayurvedic medicine; traditionally used to support female hormones through all phases of life; has adaptogenic properties which means it supports a health stress response and regulates cortisol production.
Maca: has adaptogenic properties (i.e. supports healthy stress response and regulates cortisol); improves libido, anxiety and depression in postmenopausal women; supports function of the hypothalamus and pituitary, both of which regulate hormone production in other glands like the thyroid, adrenals and ovaries (3, 4).
Hibiscus: classified as a cooling herb in Ayurveda, which means it may help with hot flashes; has been shown to support weight loss; has mild antidepressant properties; supports liver health (source).
Amla: rich in vitamin C and used in Ayurvedic medicine for hot flashes, vaginal dryness, sleep problems and fatigue (source).
Beetroot: supports liver function and detoxification;
Baobab: rich in vitamins C, B3 andB6 as well as minerals like iron; supports weight loss and health digestion (mainly because of its high fiber content); supports healthy blood sugar levels (which tends to fluctuate together with hormones) – source.
WHY USE IT: specifically formulated to support the body during perimenopause.
Formula 4|5, from the brand Mighty Menopause, was born of out the struggles that the company's founder (Jeanne Chung) faced when she was transitioning into menopause.
Like many women in perimenopause, she had a difficult time getting relief from mainstream remedies. It wasn't until she started using herbs that she found relief.
Using her personal experience, she created Formula 4|5 to support women specifically during perimenopause. To accomplish this, the supplement uses the following ingredients:
EstroG-100: a unique blend of 3 herbs: angelica gigas, phlomis umbrosa and cynanchum wilfordii. Research shows that this blend improves hot flashes, fatigue, insomnia, joint pain, vaginal dryness and other menopause-related symptoms (source).
Milk Thistle: traditionally used to support liver function and detoxification.
Vitex: traditionally used to support the menstrual cycle; increases progesterone; reduces hot flashes.
I3C (indole-3-carbinol): a compound usually found in cruciferous veggies; helps the body metabolize estrogen (which can contribute to heavy cycles and other estrogen-dominance symptoms during perimenopause).
DIM (Diindolylmethane): when the stomach breaks down I3C, DIM is one of the byproducts; supports the body in getting rid of excess estrogen.
WHY USE IT: contains a blend of bee pollen, royal jelly and propolis which may help hot flashes and PMS (which can worsen during perimenopause) as well as support bone health.
Although it's not often talked about, there's some research suggesting that bee products may be benefit women during menopause. For example:
Bee pollen: a natural source of proteins, vitamins, antioxidants, minerals and essential fatty acids; research shows that it relieves hot flashes and other menopause symptoms in breast cancer patients undergoing anti-hormonal treatment (source).
Royal jelly: contains most B-vitamins, minerals and small amounts of other vitamins (such as A, C, D and E); research suggests that it may help to relieve anxiety and pain in postmenopausal women; also shown to alleviate PMS symptoms (which can worsen during perimenopause (5, 6).
Propolis: may be helpful in preventing osteoporosis, which is a major health concern for women during and after menopause (source).
WHY USE IT: provides stress and cortisol support through adaptogens.
Emotional, physical and chemical stress (from a poor diet or environmental toxins) triggers our inflammatory response. This increased inflammation leads to more cortisol production, which can wreck havoc on weight, sleep, mood and so much more.
This Magic Mushroom blend can help alleviate all of this because it's made with adaptogens. This class of herbs help us better adapt to stress and regulates cortisol (so that it's not too high or too low).
Here's an overview of the ingredients in this supplement powder:
Ashwagandha: restores healthy cortisol levels; improves insulin sensitivity; regulates estrogen and progesterone levels; supports thyroid function; lowers inflammation (7, 8, 9, 10).
Reishi mushroom: supports a healthy stress response and optimal liver function; eases hot flashes; may promote better sleep (11, 12).
Chaga mushroom: helps the body better adapt to stress; regulates blood sugar; lowers inflammation (source)
Aside from the above, this powder also includes cinnamon which supports weight loss and health blood sugar levels.
WHY USE IT: evening primrose oil has been shown to improve hot flashes and contains essential fatty acids that lower inflammation.
According to one study, women who took 500mg of evening primrose oil for 6 weeks saw a significant improvement in the intensity, frequency and duration of hot flashes (13, 14).
In addition, because this oil is rich in the omega-6 fatty acid, gamma linolenic acid, it may also help with joint pain.
Furthermore, fatty acids are essential for the production of various hormones, including all the sex hormones.
Lastly, research suggests that evening primrose oil may also help with breast tenderness and mood swings.
WHAT CAN I USE INSTEAD OF BLACK COHOSH DURING MENOPAUSE?
Since black cohosh has multiple uses, the herbs (or foods) that might be used as a substitute will depend on the intended use. Some alternatives include (source):
Dong quai
Flaxseeds
American ginseng
Asian ginseng
Evening primrose
Red clover
CONCLUSION
As popular as black cohosh is for menopause symptoms, there are lots of different herbs and foods that you can look into to get similar benefits.
I hope this list of supplements has been helpful and that it simplifies your search for a menopause supplement that is free of black cohosh.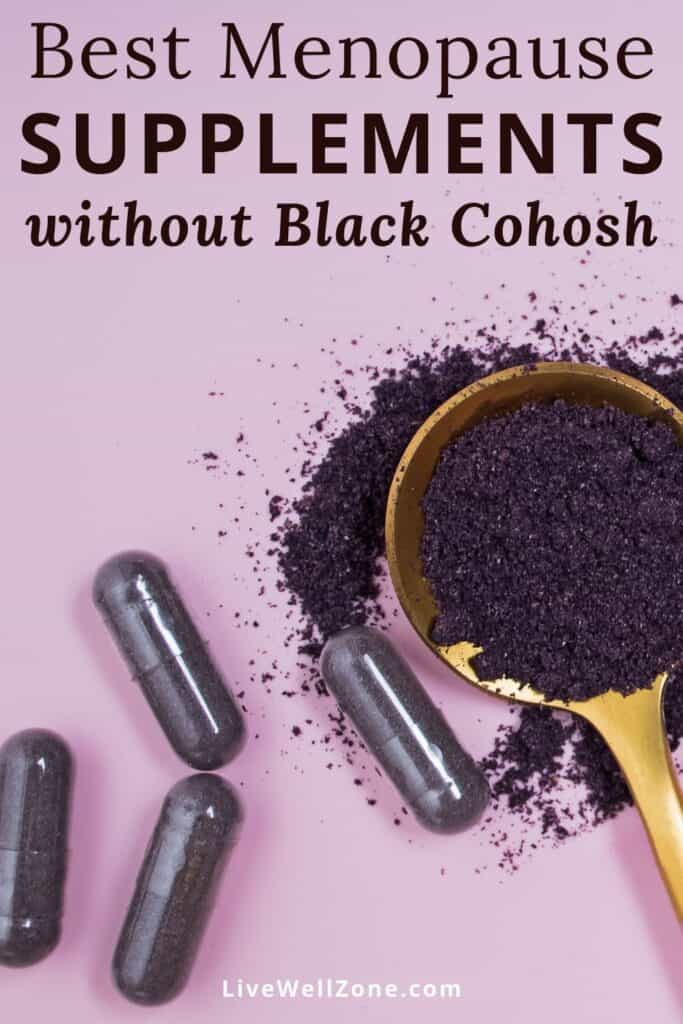 ---
Related Articles
Best Herbs and Supplements for Menopause Weight Gain
Relizen vs. Amberen vs Estroven: A Guide to Menopause Supplements