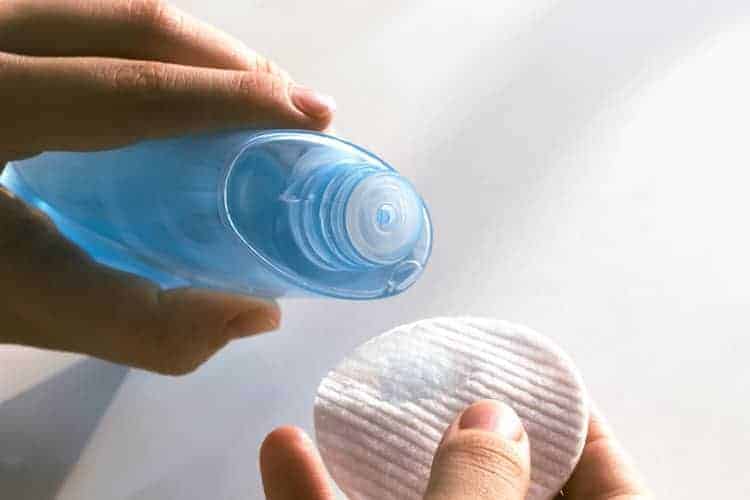 With it's ability to act both as a makeup remover and a gentle cleanser, micellar water is a perfect fit for a double cleansing routine. So, if you've been wondering how to double cleanse with micellar water, then keep reading to get the scoop on:
what micellar water has to offer.
how to include micellar water in your double cleansing process (is it a first cleanse or a second cleanse?).
micellar water products to include in your routine.
Note: this post contains affiliate links and I earn a commission (at no additional cost to you) if you use them to make a purchase.
BENEFITS OF USING MICELLAR WATER IN A DOUBLE CLEANSE ROUTINE
To understand why micellar water is ideal for double cleansing, let's quickly talk about what double cleansing is (in case you're not familiar with it).
Double cleansing is a two-step process that involves the use of two products:
first, a gentle cleanser (such as a cleansing oil, balm or other product) to remove makeup and dirt.
second, a water-based cleanser (such as a foaming cleanser) to remove any dirt or makeup that may have been left behind from the first step.
Since you're cleansing twice, you definitely don't want to strip the skin of its natural oils. And that's where micellar water comes in.
Micellar water is a cleansing agent made from 2 main ingredients: water and surfactants.
While surfactants are a standard ingredient in all cleansers, micellar water is unique in that it is always formulated with gentle surfactants only. In addition, micellar water often contains other moisturizing and soothing ingredients, such as:
humectants.
plant extracts.
hydrosols (aka floral waters).
Given how it's formulated, micellar water is a very gentle cleanser and therefore, perfectly suited for double cleansing.
HOW TO USE MICELLAR WATER FOR DOUBLE CLEANSING
1. Pour micellar water onto a cotton pad.
2. If you're wearing eye makeup, close your eyes and hold the cotton pad over your eyes for a few seconds. Then gently wipe off the makeup.
3. Pour more micellar water onto a new pad and gently wipe the pad across your face until all makeup, oil and dirt is removed.
4. Rinse your face with lukewarm water.
5. For the second step of the double cleanse, wash your face with your regular, water-based (foaming) cleanser. This Farmacy Clean Bee Cleanser is a good option because it's made with very gentle ingredients like chamomile, hyaluronic acid and honey.
BEST MICELLAR WATER FOR DOUBLE CLEANSING
1. Sensibio Micellar Water from Bioderma
The French skin care brand, Bioderma, were the first ones to bring micellar water to the market. So, they are regarded as the go-to brand for this particular product.
While there are multiple micellar waters from Bioderma, I chose the Sensibio because it's made for sensitive skin.
So, no matter your skin type, you'll be getting a gentle formulation that still gets the job done.
2. Rose Micellar Cleansing Water from 100% Pure
What could possibly make regular micellar water even more soothing? How about combining it with super hydrating hydrosols (rose water and corn flower), moisture-attracting humectants (glycerin) and skin-friendly plant extracts (grapes, mallow and more).
With that combination of ingredients, this micellar water doesn't just cleanse, but it also hydrates and tones.
GET ROSE MICELLAR CLEANSING WATER
3. Vinoclean Micellar Cleansing Water from Caudalie
For decades, this French brand has specialized in making skin care products with antioxidant-rich grapes (thanks to a family vineyard in Bordeaux!). So, not surprisingly, their micellar water also uses grape water and grape juice!
In addition, there's skin-soothing chamomile and glycerin (a humectant).
NOTE: this formula contains fragrance, so if you're sensitive to perfume, skip this one.
GET VINOCLEAN MICELLAR CLEANSING WATER
FAQs ABOUT DOUBLE CLEANSING WITH MICELLAR WATER
Can I use micellar water everyday?
Since micellar water contains very gentle surfactants – in small amounts – it can be used everyday. In fact, it's gentle enough that it can be used twice a day for cleansing.
Should I use toner after micellar water?
Using a gentle toner after mice
CONCLUSION
Whether you have dry, oily, acne-prone or sensitive skin, you can benefit from double cleansing.
And by incorporating micellar water into your double cleanse, you get to enjoy a gentler cleansing process that won't strip your skin.
---
You Might Also Like:
How to Double Cleanse: The Ultimate Guide
The Difference Between Rose Water and Micellar Water: A Complete Guide