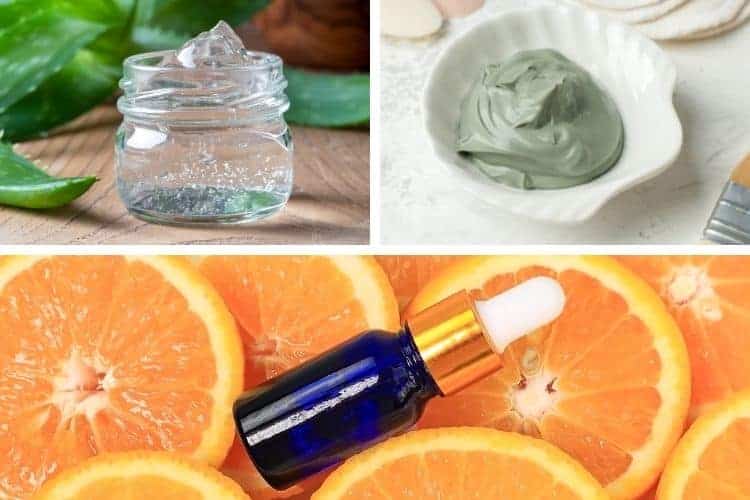 As wonderful as rosehip oil is, it's probably not the only thing in your skincare routine. Which means you have to figure out how – and if – it can be combined with your other products. To help you make sense of everything, this article is going to cover what to mix with rosehip oil for face (and what to avoid).
Rosehip oil combines well with skin hydrators (such as aloe vera gel and hyaluronic acid), essential oils and carrier oils (such as jojoba). It can also be used alongside actives like retinol, vitamin c, hydroxy acids and others as long as the proper precautions are taken.
In this article we're going to discuss 10 things to combine with rosehip oil and two that you probably shouldn't (though you can still have them in your overall routine).
Let's get to it!
Note: This post contains some affiliate links and I earn a commission (at no additional cost to you) if you use them to make a purchase. Also, although "rosehip oil" and "rosehip seed oil" are used interchangeably, they're not really the same thing as explained here.
WHAT TO MIX ROSEHIP OIL WITH
| INGREDIENT | USAGE TIPS |
| --- | --- |
| Hyaluronic acid | Layer rosehip on top. |
| Carrier oils (like jojoba) | Mix into a face oil blend. |
| Aloe vera | Layer rosehip on top or combine in a blend (emulsifier required). |
| Essential oils | Mix at a dilution ratio of 1% for everyday use. For short-term acne remedy, dilute at 5%. |
| Vitamin C serum | Layer rosehip on top. |
| Niacinamide | Layer rosehip on top. |
| Vitamin E oil | Use together in a blend. |
| Moisturizer | Apply before or after, depending on the composition of your moisturizer. |
| Clays | Mix rosehip into clay mask. |
| Foundation | Mix rosehip into foundation. |
This table show what to mix with rosehip oil.
---
1. Hyaluronic Acid
Why combine rosehip with hyaluronic acid
Hyaluronic acid provides a massive dose of hydration, while rosehip oil seals in the moisture. This helps to slows down the rate of water loss from the skin.
How to combine rosehip oil and hyaluronic acid
Apply rosehip oil after hyaluronic acid.
2. Jojoba and Other Carrier Oils
Why combine rosehip oil with carrier oils
Rosehip oil is lightweight and fast absorbing. This makes it a nice complement to thicker, slower to absorb oils.
Rosehip oil is rich in vitamin A and essential fatty acids, specifically, linoleic acid, omega-3 and omega-6 fatty acids. However, other carrier oils contain other nutrients – like omega 7, omega 9, vitamin E, zinc and more. Combining rosehip with other carrier oils gives you other nutrients to support skin health.
How to mix rosehip oil with jojoba and other carrier oils
Use them to make a DIY face oil.
Decide if you'd like to have rosehip oil, jojoba or another carrier oil as your base. The base is the oil that will make up most of the mix.
Let's say you want more vitamin E and more omega-9 in your blend. You could do a 30:70 blend of rosehip and jojoba oil. The jojoba provides more vitamin E and omega-9.
Remember that pure rosehip oil can stain sheets and other lighter colored fabrics. So, if you make a blend that is mostly rosehip oil, keep this in mind.
Here are some carrier oils that you can mix with rosehip oil and their general benefits.
Carrier oil
Properties
Jojoba oil
Contains: vitamin A, B-vitamins, vitamin E, minerals, omega 6 and 9 fatty acids.

Non-comedogenic, balances sebum production.

Medium absorption rate; leaves a slight greasy film on skin.
Argan oil
Contains: vitamin E, fatty acids, antioxidants.

Historically used to help acne and maintain a healthy complexion.

Medium absorption rate; leaves a slight greasy film on skin.
Sea buckthorn oil
Contains: all omega fatty acids (including the less common omega-7). Rich in vitamin E.

Anti-inflammatory, moisturizes and softens skin.

Absorbs slowly; leaves a greasy feeling on the skin.
Grapeseed oil
Contains: antioxidants, omega fatty acids, vitamin E.

Non-comedogenic, supports healthy collagen levels, improves hyperpigmentation, balances skin tone.

Absorbs quickly and doesn't leave the skin feeling greasy.
Sweet almond oil
Contains: vitamins A and E, omega fatty acids, zinc.

Moisturizes dry skin, improves stretch marks and scars, improves acne, balance skin tone.

Absorbs slowly; leaves a greasy feeling on the skin.
This table lists carrier oils to mix with rosehip oil.
---
3. Aloe Vera Gel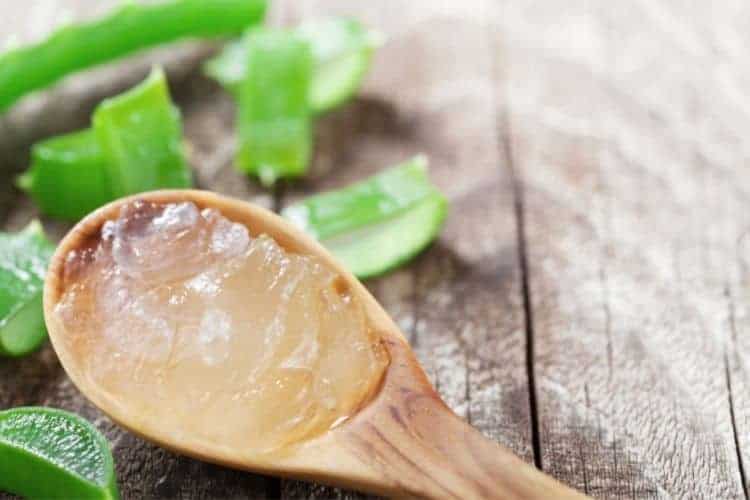 Why use rosehip with aloe vera
aloe vera hydrates the skin, while rosehip locks in moisture.
both aloe and rosehip are incredibly soothing for inflamed skin. Aloe, in particular, helps with acne scars, speeding up wound healing, smoothing out wrinkles and more.
aloe and rosehip are some of the most gentle natural ingredients available. That means even sensitive skin can benefit from everything they have to offer (of course, there's always a chance that an allergic reaction can occur).
aloe vera is a natural source of vitamin C and this is a nice complement to rosehip since vitamin C helps with collagen production, hyperpigmentation and fighting off the effects of free radical damage.
How to use rosehip oil and aloe
Apply the aloe first, wait for it to be absorbed then follow with rosehip oil. Do this with fresh aloe or an aloe vera jelly product.
If you want to make your own aloe vera and rosehip oil blend, then you'll need to get an emulsifier. Remember, water and oil don't mix, so an emulsifier is necessary to combine the water in aloe with the oil.
4. Essential oils
Why use rosehip oil with essential oils
Rosehip oil is a carrier oil and carrier oils are a must when using essential oils on the skin.
How to use rosehip oil and essential oils
For everyday use, make a 1% essential oil dilution: 1 tablespoon rosehip oil with 4 drops of essential oil.
If you're targeting something specific like acne, then try an essential oil dilution of 5% (1 tablespoon rosehip with 22 drops tea tree oil). Since this is a stronger blend I personally use it just for a few days to quickly clear up (or at least shrink) fresh pimples.
There's a lot more to the art of diluting essential oils so be sure to read this article on how to dilute essential oils for skin. It contains a more thorough guide of oils that are safe for your skin and how to dilute them based on your specific needs.
Here are some skin-friendly essential oils that you can use with rosehip seed oil:
| Essential Oil | Properties |
| --- | --- |
| Tea tree | antimicrobial and great for acne. |
| Lavender | helpful for acne, scars and wrinkles. |
| Frankincense | helps with wrinkles and inflammation. |
| Copaiba | considered one of the safest essential oils for skin; has powerful anti-inflammatory effects on the skin. |
This table lists essential oils to mix with rosehip oil.
---
5. Vitamin C serum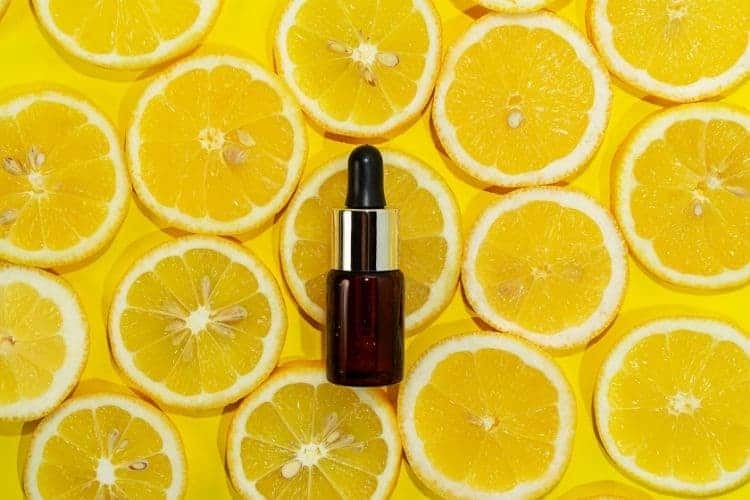 Why use rosehip oil with vitamin C serum
many vitamin C serums are great for hydrating the skin (as long as they're formulated with hydrating ingredients). Combined with rosehip oil's moisture-locking abilities, this prevents skin dehydration.
vitamin C also helps to fade dark spots, boost collagen production and improve acne.
How to use rosehip oil with vitamin C serum
If you have sensitive skin, use them separately – one in the morning and the other at night. This is simply to avoid overloading your delicate skin with too many potent ingredients at once.
For all other skin types, you can try layering them: apply vitamin C serum followed by rosehip oil.
6. Niacinamide
Why use niacinamide with rosehip seed oil
Niacinamide is a form of vitamin B3 that is known for being quite gentle on the skin. Together with rosehip oil, they're a soothing combo for sensitive skin.
One of niacinamide's key benefits is that it supports the production of ceramides, which are essential for skin barrier function. This improved barrier means less moisture loss and better protection from skin irritants.
Additional perks of using niacinamide is that it helps to fade dark spots, even out skin tone and regulate sebum production.
How to use rosehip oil with niacinamide
Layer them by applying your niacinamide serum or moisturizer first, followed by rosehip seed oil.
7. Vitamin E
Why mix rosehip oil with vitamin E oil
Even though r

osehip oil contains some vitamin E, you can still combine it with vitamin E oil. This gives you more vitamin E benefits, which are primarily anti-inflammatory and the ability to fight off oxidative damage (

source

).
Vitamin E's antioxidant properties make it a popular additive for homemade cosmetics. So, adding it to any rosehip oil blend that you make will prevent the oils in the blend from oxidizing and spoiling quickly. Note that vitamin E won't prevent water based-ingredients in your blend (such as aloe) from spoiling.
How to mix rosehip oil with vitamin E oil
Make a rosehip and carrier oil blend of your choice, then add the contents of 1 vitamin E capsule to the mix.
8. Moisturizer
Why use rosehip oil and moisturizer
Rosehip provides add additional layer of moisturization that can be particularly helpful for dry skin.
Rosehip oil locks in moisture when used after a water-based moisturizer.
How to use rosehip oil and moisturizer
If your moisturizer is very light and mainly water-based, after rosehip oil afterwards.
If your moisturizer is thick and has occlusive ingredients like butters, castor oil or waxes, then apply rosehip oil before. Applying it after won't do much since those heavy ingredients block absorption of the rosehip oil.
9. Clays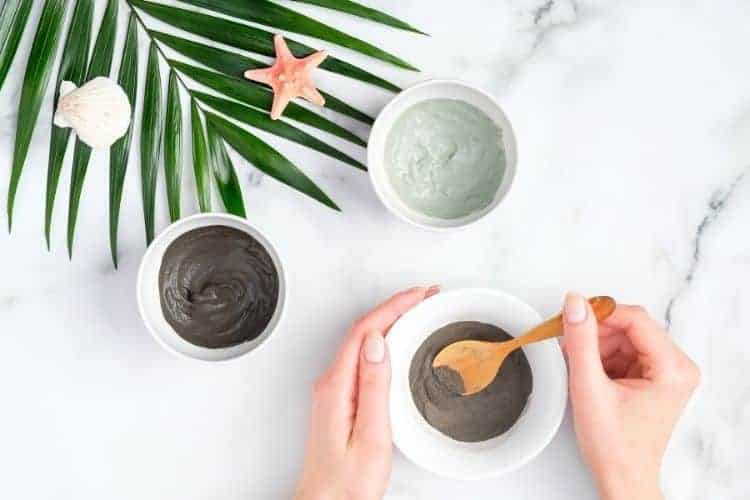 Why mix rosehip seed oil with clay
Clay masks are drying, so mixing rosehip into your mask is a simple way to dial down this effect. You'll want to do this if your mask uses bentonite clay and/or french green clay, as well as if you have dry/sensitive skin.
How to mix rosehip seed oil with clay
Start with about 1/2 teaspoon of rosehip for every tablespoon of bentonite clay in your mask. Adjust according to how your skin responds.
10. Foundation
Why mix rosehip oil with foundation
Foundation goes on much smoother (i.e. no caking or setting into those fine lines!).
Face looks more bright and luminous.
By this benefit isn't exclusive to rosehip oil; you can mix other carrier oils with foundation 🙂
How to combine rosehip oil with foundation
Add a few drops to your foundation as well as to your applicator. Here's a short and sweet video from that explains this tip really well.
WHAT YOU MAY NOT WANT TO COMBINE WITH ROSEHIP OIL
1. Retinol
Although most people can get away with using retinol and rosehip oil together, remember that rosehip oil contains very small amounts of retinoic acid. As for retinol, it is converted to retinoic acid. So, if you have very sensitive skin, using both at the same time might lead to some irritation.
That said, one way to use retinol and rosehip oil in your skin care routine is to simply use them separately.
For example, you can use them at different times of the day or on alternate days.
2. AHAs and BHAs
If you have very sensitive skin, you might want to avoid layering rosehip oil with alpha and beta hydroxy acids. This is because all three ingredients encourage cell turnover.
Having said this, you can still use rosehip oil with your favorite acids like glycolic, mandelic, lactic or salicylic acid. Just use them on alternate days.
BEST ROSEHIP OIL FOR FACE
In a previous post I shared how to choose the best rosehip oil and I mentioned that one of the most important criteria is the extraction method (CO2 extraction) and the parts that were used (the seed and pulp).
So, based on that criteria, here are some rosehip oils to check out: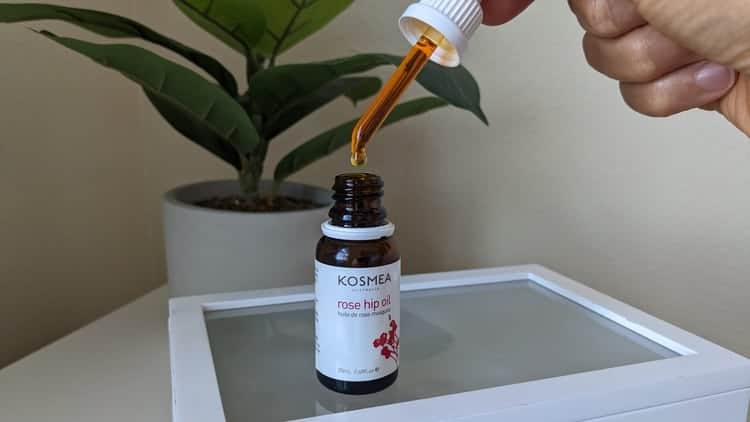 CO2 extracted, unrefined, pressed from the rosehip seed and skin. This is my top choice and personal favorite.
2) The Ordinary Rosehip Oil: cold pressed from the seed and unrefined.
3) Radha Rosehip Oil: cold pressed oil extracted from the seed.
CONCLUSION
Rosehip oil is a pretty versatile carrier oil that can be used to lock in moisture, soothe topical inflammation and even improve the application of foundation.
So, if you've been thinking about adding rosehip oil into your skincare routine or you've been looking for ideas on how to use it, then I hope this post has helped.
This blog has plenty more tips on rosehip oil, so be sure to check out the related articles below for help with your rosehip questions!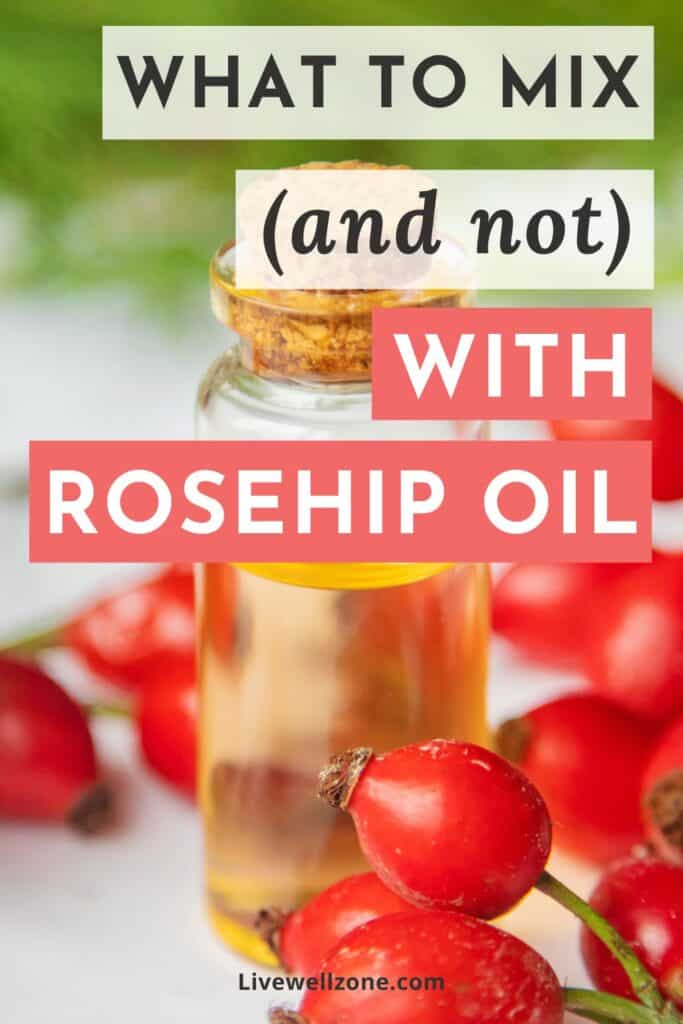 ---
You Might Also Enjoy:
Which is Better: Rosehip Oil or Retinol? A Complete Guide
The Difference Between Carrot Oil and Carrot Seed Oil
Why You Need Rosehip Oil For Hyperpigmentation (& How To Use)
How to Double Cleanse: The Ultimate Guide
Best Natural Alternatives to Retinol: 8 Vitamin A Options You Might Be Ignoring
Rosehip Oil for Skin: A Complete Guide
Best Oils for Acne Prone Skin: Carrier, Essential and Cleansing Oils You Shouldn't Ignore
Sea Buckthorn Oil vs Rosehip Oil: Benefits, Which is Better and How to Use
How to Make Stretch Mark Cream and Oil: Step-by-Step Guide
Rose Oil vs Rosehip Oil for Skin And Hair: Benefits | Which is Better | How To Use
DIY Facial Oil Recipes for Glowing Skin: Acne-Prone, Oily, Dry, Sensitive, Combination & Aging Skin
Pai Rosehip Oil vs Other Brands (Kosmea, Trilogy, The Ordinary, Radha): Which Brand Is Actually Worth It?
Vitamin C Serum vs Rosehip Oil: Benefits, Which Is Better and How To Use
Evening Primrose Oil vs Rosehip Oil: Benefits, Differences, How to Use & Best Brands
Rosehip Oil vs Jojoba Oil for Face (And Body): Which is Better and How To Use
Natural Skin Care Routine For Dry Skin: A Complete Guide
What To Mix With Shea Butter for Skin and Hair: Tips and Recipes
Green Tea vs Matcha for Skin: Similarities, Differences and How to Use Them for Clear Skin
Rosehip Oil vs Hyaluronic Acid: Benefits, Differences & How To Use Them
What Kind Of Coconut Oil Is Best As A Carrier Oil for Skin? Fractionated vs Unrefined vs Refined
Best Oils for Damaged Skin Barrier