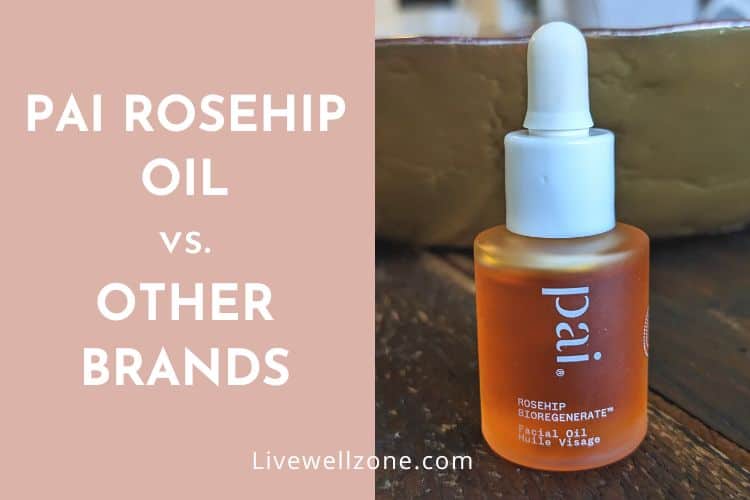 Thinking about adding Pai's Rosehip BioRegenerate Oil to your routine, but you're not sure if it's worth it? Well, this article compares Pai rosehip oil vs other brands so that you can decide which products makes the most sense for you.
Specifically, we're going to compare Pai's rosehip oil to 4 popular brands:
Kosmea.
Trilogy.
The Ordinary.
Radha.
Note: this post contains affiliate links and I earn a commission (at no additional cost to you) if you use them to make a purchase.
NOTE: if you are viewing this on a phone, please scroll right/left to view more or less of the table below.
Pai
Kosmea
Trilogy
The Ordinary
Radha
Whole fruit oil (seed, pulp, skin)
✓
✓
Seed oil
✓
✓
✓
Organic
✓
✓
✓
CO2 Extracted
✓
✓
Cold-Pressed
✓
✓
✓
Other ingredients
* vitamin E
* rosemary extract
* squalene
* beta-sitosterol
none
none
none
none
Richer in fatty acids
✓
✓
✓
Rich in fatty acids and vitamin A
✓
✓
To start off, here are the main things to know about Pai's Rosehip BioRegenerate Oil: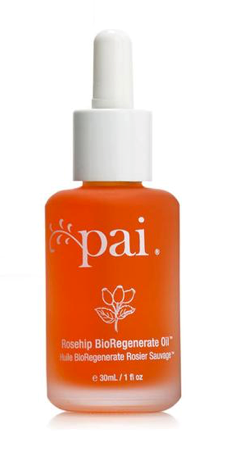 Certifications: vegan, organic, cruelty-free.
Whole fruit oil: this oil is made from the entire rosehip fruit (seed, pulp and skin). The rosehip seed has a higher fatty acid content, while the pulp and skin contain higher amounts of beta-carotene (provitamin A).
CO2 extracted: while most rosehip oils are cold-pressed, this one uses CO2 (pressure from carbon dioxide) extraction. This extraction method is the most gentle. It's also a more costly production method so, it's not surprising that CO2-extracted oils are usually pricier.
Contains other ingredients: this rosehip oil also contains vitamin E (antioxidant), rosemary leaf extract, squalene (vegan-sourced emollient) and beta-sitosterol (plant derived, cholesterol like ingredient that soothes and moisturizes) (source).
99% Organic: all ingredients (except for squalene and beta-sitosterol) are organically sourced.
Get Pai's Rosehip Regenerate Oil
PAI ROSEHIP OIL vs KOSMEA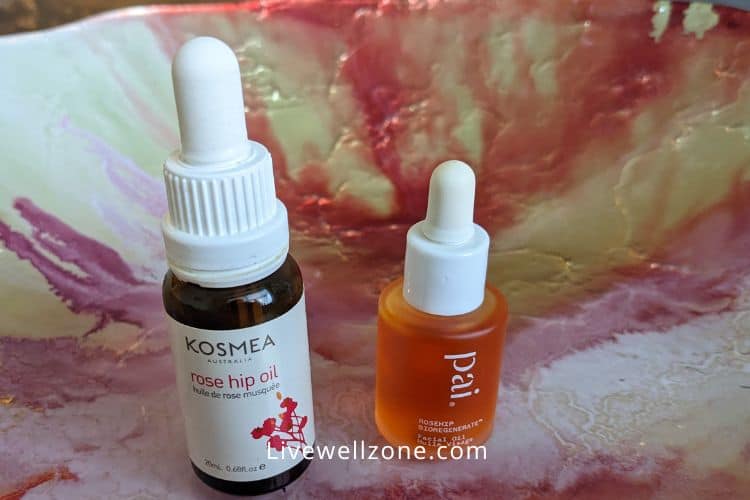 Of all the brands on this list, Kosmea's rosehip oil is most similar to Pai's.
The main difference between the oils is that Kosmea doesn't have any other added ingredients. It is strictly rosehip oil.
Overall, here's a quick breakdown of Kosmea's rosehip oil:
Seed and fruit oil: similar to Pai, Kosmea uses the entire rosehip fruit (seed, pulp and skin).
PAI ROSEHIP BIOREGENERATE OIL vs TRILOGY
Trilogy offers two different rosehip oils: a pure rosehip oil and a rosehip oil enhanced with antioxidants.
Certifications: Organic, Non GMO, Against Animal Testing.
Seed oil: both of Trilogy's rosehip oils are pressed from the seed, which makes them richer in essential fatty acids. In fact, Trilogy's website states that their Pure Rosehip Oil has a minimum 80% essential fatty acids (i.e. omega 3 and 6) and non-essential fatty acids (omega 9).
Antioxidant boost: the Rosehip Oil Antioxidant+ is a blend of rosehip oil and other antioxidant-rich ingredients such as tomato seed oil, cranberry seed oil, sunflower seed oil and acai fruit oil.
Cold-pressed: unlike Pai's rosehip oil, Trilogy's rosehip oils are cold-pressed. Cold-pressed is the most common extraction method for oils (cosmetic and cooking grade) because it's more affordable yet it still produces a quality oil with the essential nutrients intact.
PAI ROSEHIP vs THE ORDINARY vs RADHA
The Ordinary and Radha offer rosehip oils that are some of the most affordable on the market. But don't let the lower price points fool you: both oils deliver a punch as evidenced the positive reviews that both oils have garnered online.
Certifications: Radha is USDA Organic. The Ordinary is Cruelty-Free.
Seed oil: both brands use oils are pressed from the rosehip seed, meaning that their oils are rich in fatty acids.
Cold-pressed: The Ordinary and Radha both use the cold press extraction method for their oils.
Get The Ordinary's Rosehip Oil and Radha's Rosehip Oil.
FAQs ABOUT PAI ROSEHIP OIL AND OTHER BRANDS
How can you tell if rosehip oil is pure?
Pure rosehip oil does not smell like roses. Instead it has an earthy smell (and in the case of Kosmea, for example, it's a pleasant musk scent). In addition, the color ranges from orange to red.
For more tips on selecting a quality oil, read this guide on how to choose the best rosehip oil.
What can you not mix with rosehip oil?
Retinol, alpha hydroxy acid and beta hydroxy acids are three ingredients that may not combine well for everyone. It's usually better to use them separately, rather than at the same time. For details on how to do this, as well as tips on how to combine rosehip oil with other skincare ingredients, read this article on what to mix (and not) with rosehip oil.
CONCLUSION
Pai, Kosmea, Trilogy, The Ordinary and Radha all offer popular rosehip oils at different price points and in some cases, with different ingredients.
That said, the main choice of which one to use boils down to two main things: extraction method and the part of the rosehip fruit that is used.
So, if you want a CO2-extracted oil that uses the entire rosehip fruit and has no added ingredients, then you definitely want to go with Kosmea. On the other hand, if you're looking for a CO2 extracted oil with some extra skin loving ingredients, then go with Pai.
Lastly, if budget is a concern, then go with a cold-pressed, seed oil from either The Ordinary, Radha or Trilogy (keeping in mind that Trilogy has both a pure rosehip oil and an antioxidant-enriched version).
---
You Might Also Enjoy:
Rosehip Oil for Skin: A Complete Guide
Which is Better: Rosehip Oil or Retinol? A Complete Guide
Mad Hippie vs The Ordinary: Which Is Better | Comparing Vitamin C and Retinol (Vitamin A) Products
Evening Primrose Oil vs Rosehip Oil: Benefits, Differences, How to Use & Best Brands
Rosehip Oil vs Jojoba Oil for Face (And Body): Which is Better and How To Use
The Difference Between Rosehip Oil and Rosehip Seed Oil: Benefits, Which To Use and How to Use
Vitamin C Serum vs Rosehip Oil: Benefits, Which Is Better and How To Use
How To Add Rosehip Oil To Your Skin Care Routine: In-Depth Guide