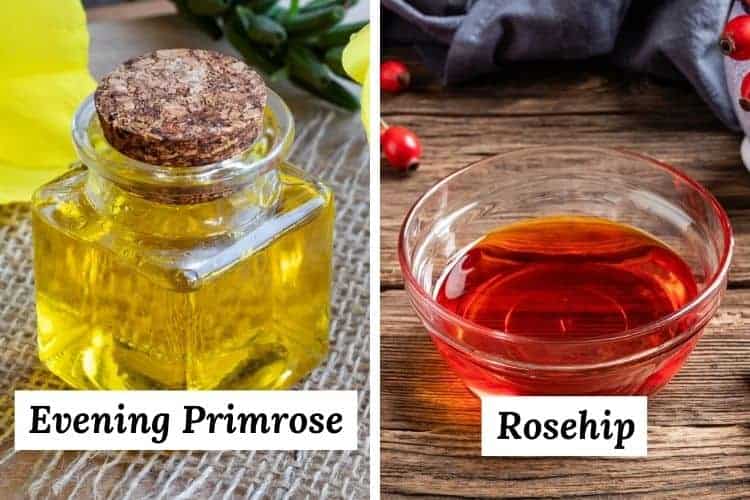 When comparing evening primrose oil vs rosehip oil, it's easy to get confused. After all, both have "rose" in their names and they're both used as natural remedies for things like eczema and acne. Yet, these oils are quite distinct when it comes to their plants of origin and how they're used.
Evening primrose oil is pressed from the seeds of the oenothera biennis plant, while rosehip oil is pressed from the seed (and sometimes flesh) of wild rose species (such as rosa canina). Evening primrose is unique in that it is used internally and topically, while rosehip oil is mainly used topically.
Because of the differences in how they're used, the potential benefits that each has to offer is also quite different.
So, in this article, we're going to look at:
The benefits of evening primrose oil (EPO) and rosehip oil.
How to use them in your skincare routine.
The best brands to use (this is particularly important for rosehip oil since its chemical composition changes depending on which part of the plant the oil is extracted from).
Note: this post contains affiliate links and I earn a commission (at no additional cost to you) if you use them to make a purchase.
EVENING PRIMROSE VS ROSEHIP OIL FOR SKIN: MAIN BENEFITS AND DIFFERENCES
Evening Primrose Oil (EPO)
Rosehip Oil
Used internally
✓
Used topically
✓
✓
Anti-inflammatory
✓
✓
May regulate hormones
✓
Antioxidant properties
✓
✓
Antimicrobial
✓
✓
Soothes dry and sensitive skin
✓
✓
Fatty acid composition
73% linoleic acid
9% gamma linolenic acid
6% oleic acid
54% linoleic acid
19% linolenic acid
19% oleic acid
HERE ARE THE MAIN BENEFITS AND PROPERTIES OF EVENING PRIMROSE OIL
Can be used topically and internally: evening primrose is one of the go-to supplements for women struggling with acne. This is mainly due to the fact that EPO can help balance hormones and therefore, also act as a natural remedy for hormone-related breakouts.
Very high in linoleic acid: EPO contains approximately 73% linoleic acid (omega-6), 9% gamma linolenic acid (omega-3) and 6% oleic acid (omega-9). This could be very helpful for the skin because a deficiency in essential fatty acids (omega 3 and 6) can contribute to dermatitis and increased moisture loss from the skin. In addition, people with acne tend to produce sebum that is low in linoleic acid (source). So, applying EPO topically can be a simple way of improving fatty acid composition of sebum. And interestingly, animal studies also indicate that EPO supplements can fix fatty acid deficiency (source).
May soothe skin during isotretinoin treatment: acne patients who take isotretinoin orally sometimes experience side effects like dry skin and cheilitis (inflamed lips). An initial study suggests that taking EPO together with isotretinoin leads to a decrease in moisture loss from the skin and improvement in cheilitis (source).
Anti-inflammatory, antioxidant and antimicrobial: due to its essential fatty acid content, EPO is anti-inflammatory, while its antioxidant content helps to protect the skin from free radical damage.
Contains small amounts of vitamin E: vitamin E is an antioxidant that nourishes and softens the skin.
May help eczema and acne: Native Americans have historically used EPO topically for wounds and skin inflammation. In addition, some people report seeing improvements in conditions like eczema and acne when using EPO. However, when it comes to scientific research, the results are conflicting. Some studies suggest that oral intake helps inflammatory conditions like eczema, while other studies show no change when EPO is used. So, overall, many of the positive reports about EPO are mainly anecdotal (1, 2).
Great for sensitive and dry skin: although suitable for all skin types, EPO can be especially soothing for red, inflamed and dry skin (including mature skin).
HERE ARE THE MAIN BENEFITS AND PROPERTIES OF ROSEHIP OIL
Used topically only: unlike evening primrose oil, rosehip oil is not taken internally. It is used mainly as a carrier oil.
Contains omega 3, 6 and 9: rosehip oil is made of approximately 54% linoleic acid (omega-6), 19% linolenic acid (omega-3) and 19% oleic acid (omega-9). With a higher ratio of linoleic acid, rosehip helps to support skin barrier function and may help inflammatory skin conditions (which are often associated with low levels of linoleic acid).
Anti-inflammatory, antioxidant and antimicrobial: aside from beta-carotene, rosehip contains other antioxidants like phenols, which are known for being antimicrobial (source).
Natural source of vitamin E: vitamin E is one of the most important antioxidants for the skin, protects it from the effects of free radical damage (such as inflammation) while also acting as a powerful emollient.
Most suitable for dry and mature skin: although rosehip oil is generally considered suitable for all skin types, it's especially beneficial for skin that is dull, dehydrated and in need of reviving.
Dry oil: rosehip has a light consistency and absorbs into the skin quickly without leaving a greasy residue. Just make sure to use just a few drops – say 3 to 4.
HOW TO USE ROSEHIP OIL AND EVENING PRIMROSE OIL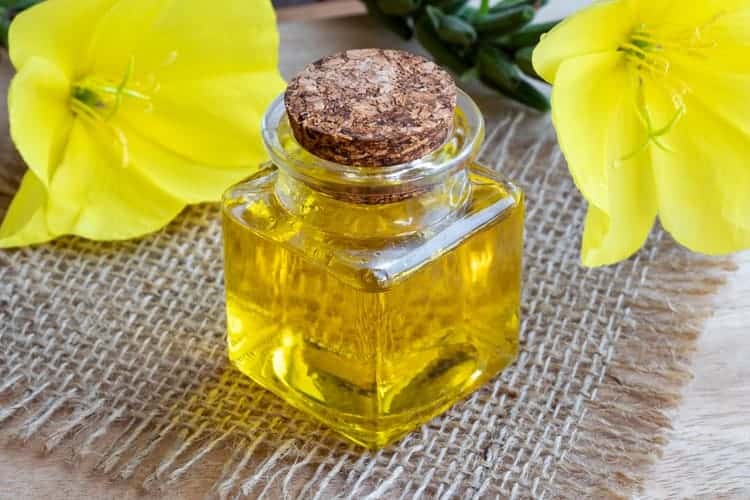 Although you can use rosehip or evening primrose oil as your main skincare oil, they're more commonly used in face oil blends with other carrier oils. Two oils to consider mixing them with are jojoba and grapeseed.
The advantage of using jojoba is that it is similar to sebum and is very well absorbed. As for grapeseed oil, it's very lightweight and is absorbed very rapidly (even faster than jojoba in my experience). These oils will help to keep your face oil from being too heavy or too greasy.
Lastly, people like to use evening primrose in a blend because it has a very strong and distinct smell. Mixing it with other oils helps to tame it down.
Below are the ratios you can try to get started (feel free to adjust to your personal preferences!):
| CARRIER OIL | PERCENTAGE | EQUIVALENCE FOR A 1 OZ BOTTLE |
| --- | --- | --- |
| jojoba oil | 40% | 2.4 teaspoons |
| grapeseed oil | 30% | 1.8 teaspoons |
| evening primrose oil | 30% | 1.2 teaspoons |
| rosehip oil | 10% | 0.6 teaspoons |
Of course, don't hesitate to round the numbers up or down to suit your personal preferences 🙂
BEST BRANDS FOR EVENING PRIMROSE AND ROSEHIP OIL
1. BEST ROSEHIP OIL – Kosmea Rosehip Oil
This oil offers the full spectrum of benefits that rosehip has to offer because it is pressed from the seed (which is high in fatty acids) and the flesh (which is high in the beta-carotene that serves as provitamin A). This is one of the few companies I've found that uses the whole rosehip fruit (most tend to use just the seed).
So, if you'd like to experience all the rejuvenating benefits of rosehip oil, this is the one.
2. BEST EVENING PRIMROSE CARRIER OIL – Plant Therapy
Plant Therapy is one of my favorite brands for both carrier and essential oils. Their evening primrose is cold-pressed with no fillers. You'll notice that they suggest using it up to 20% in a blend (since evening primrose oil is generally combined with other oils for greater therapeutic benefits).
Get this evening primrose oil here on Amazon.
3. Best Evening Primrose Oil Supplement – Solgar
This supplement contains the two main shining stars of evening primrose oil: linoleic acid and gamma linolenic acid. It's also available in two strengths: 500mg and 1300 mg.
As far as how much you should, that really depends on your goals and health history. Research on EPO has been done with varying doses and it's best to consult with a doctor so that you can get a customized dosage.
You can also follow the manufacturer's instructions for how to take it.
Get this evening primrose oil supplement here.
FAQs ABOUT ROSEHIP OIL OR EVENING PRIMROSE OIL
What can I use (or not use) with rosehip oil?
Rosehip oil can be used with other carrier oils (like jojoba), vitamin C serum, essential oils, aloe vera gel and so much more. For the full list of ingredients that you can use with rosehip oil, as well as the ones to avoid, read this detailed guide.
CONCLUSION
Evening primrose oil and rosehip oil have anti-inflammatory and antioxidant properties that can soothe dry, irritated or sensitive skin. In addition, the use of evening primrose supplements might help to regulate hormonal imbalances and internal imbalances that are affecting the skin.
While there isn't a lot of scientific evidence to support what each of these oils can actually do, the anecdotal evidence surrounding them is very promising (and makes these oils worth exploring!).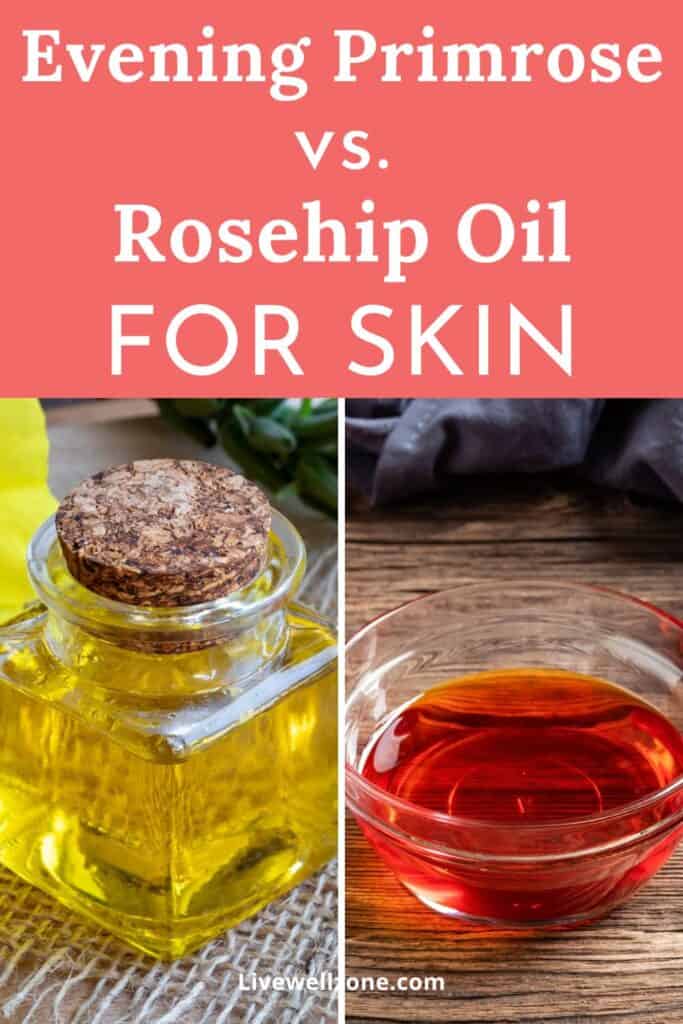 ---
You Might Also Enjoy:
Rosehip Oil vs Jojoba Oil for Face (And Body): Which is Better and How To Use
Rosehip Oil for Skin: A Complete Guide
Best Oils for Acne Prone Skin: Carrier, Essential and Cleansing Oils You Shouldn't Ignore
DIY Facial Oil Recipes for Glowing Skin: Acne-Prone, Oily, Dry, Sensitive, Combination & Aging Skin
Sea Buckthorn Oil vs Rosehip Oil: Benefits, Which is Better and How to Use
Which is Better: Rosehip Oil or Retinol? A Complete Guide
Non-Greasy Carrier Oils For Skin: 10 Oils To Fall In Love With
The Difference Between Rosehip Oil and Rosehip Seed Oil: Benefits, Which To Use and How to Use
Rose Oil vs Rosehip Oil for Skin And Hair
What To Mix (And Not) With Rosehip Oil For Face – The Ultimate Guide
Vitamin C Serum vs Rosehip Oil: Benefits, Which Is Better and How To Use
How To Add Rosehip Oil To Your Skin Care Routine: Quick Tips To Follow