There's a whole lot more to sea buckthorn and rosehip oil than their similar colors and the fact that they both come from fruits. So, in this article we're going to compare sea buckthorn oil vs rosehip oil, so that you can see if all the hype is really worth it!
By the end of this article you will understand:
the benefits of sea buckthorn oil and rosehip oil for skincare.
how to include sea buckthorn and rosehip oils into your beauty routine.
the best sea buckthorn and rosehip oils to use.
Note: this post contains some affiliate links and I earn a commission (at no additional cost to you) if you use them to make a purchase.
SEA BUCKTHORN OIL VS ROSEHIP OIL: BENEFITS OF THE SEED AND FRUIT OILS FOR SKIN
SEA BUCKTHORN OIL
ROSEHIP OIL
Shelf life
6 months
6 months
Parts used for oil
seed and pulp
seed and pulp
Color
Seed oil is yellow to orange, while pulp oil is orange to reddish
orange to reddish.
Key nutrients
Seed contains omega 3, 6 and 9 fatty acids, while the pulp is rich in beta carotene (provitamin A), omega 7 and 9 fatty acids (with small amounts of 3 and 6).
Seed is rich in omega 3, 6 and 9 fatty acids, while the pulp is richer in beta carotene (provitamin A).
Linoleic acid for skin barrier
42% linoleic acid
52% linoleic acid
Absorption
Pulp oil: heavy and not easily absorbed.

Seed oil: easier to absorb.
lightweight and easily absorbed.
Reduces wrinkles
✓
✓
Improves scars
✓
✓
Improves acne
✓
✓
Antioxidant
✓
✓
Improves hyperpigmentation
✓
✓
Benefits of Sea Buckthorn Oil (1, 2, 3, 4, 5)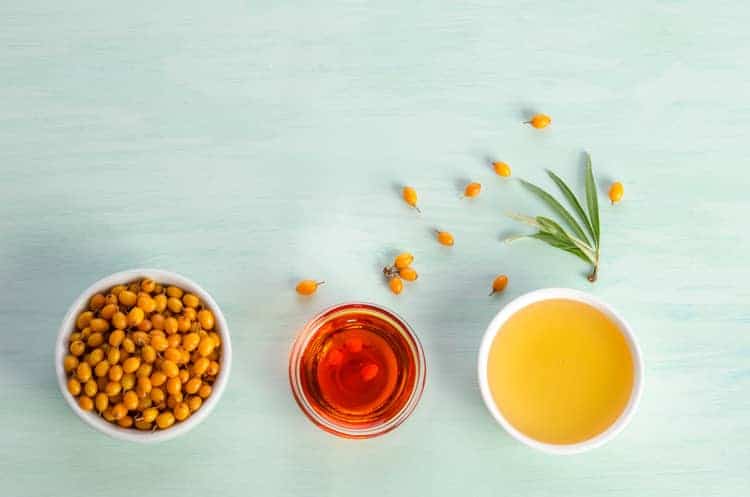 Available in three forms: the sea buckthorn oils that are on the market are either pressed from the seed (often called "seed oil") or from the pulp (usually called "fruit oil" or "berry oil"). Some brands also sell an oil that is a mix of both.
Protects against candida: palmitoleic acid – the main omega 7 fatty acid in sea buckthorn oil – may protect the skin from candida albicans (the fungus that causes yeast infections). In fact, palmitoleic acid is used in the medical setting to protect against wound infections.
Good source of linoleic acid: sea buckthorn seed oil can have up to 42% of the omega-6 fatty acid, linoleic acid. This fatty acid is critical for proper skin barrier function. In addition, the seed is a good source of omega 3 and omega 9 fatty acids.
May help inflammatory skin conditions: A compromised skin barrier is often seen in conditions like acne, eczema, rosacea or psoriasis. So, topical application of sea buckthorn may provide some relief for anyone struggling with these skin issues.
Protects against moisture loss: the sea buckthorn seed contains 15 – 20% stearic acid and a smaller amount of stearic acid (2-4%). Both of these are saturated fatty acids, which means they have occlusive properties (i.e. they form a protective barrier on the skin). This barrier reduces moisture loss from the skin and also makes it easier for the skin to absorb the other active ingredients in the oil.
Improves scars: the omega 7 fatty acid, palmitoleic acid – which is abundant in the sea buckthorn pulp – promotes wound healing and skin regeneration. As such, it's been found to improve the appearance of scars.
May help eczema: a study done on mice shows that topical application of sea buckthorn oil reduces the severity of eczema. Most notably the study found that sea buckthorn oil reduces the thickness of the epidermis, while also reducing the "infiltration of mast cells and inflammatory cells in the skin." Those mast cells are a type of white blood cell and they tend to be higher in people with eczema.
High in gamma linolenic acid (GLA): the seed oil has a high amount of GLA which penetrates the skin quite easily. Once in the skin, one of GLA's main roles is to act as a "binder," holding the cells of the epidermis together. In addition, GLA also helps to remove toxins, thus improving the appearance of skin. Furthermore, GLA improves skin elasticity, reduces dryness, fights inflammation and supports aging skin.
Antioxidant properties: aside from skin-loving antioxidants like vitamin E, sea buckthorn seed oil also contains carotenoids (like beta carotene aka provitamin A) and superoxide dismutase (SOD), both of which protect the skin from the damaging effects of these free radicals.
Non-comedogenic: even though sea buckthorn oil is heavy, it's often classified as a 1 on the comedogenic scale, making it non-comedogenic.
Short shelf life: sea buckthorn will last about 6 months once opened. Storing it in the fridge helps to keep it fresh.
Benefits of Rosehip Oil (6, 7, 8)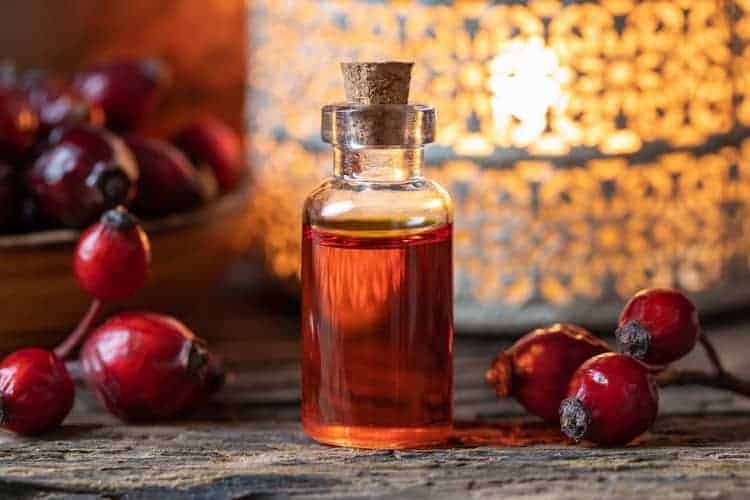 Available in two forms: the rosehip oils on the market contain oil from the seed only or oils from the entire fruit (i.e. seed and pulp). There is no standard language that is used for them. So, the term "rosehip oil" on the packaging is used for both seed oil and whole fruit oil. Be sure to read this article on the difference between rosehip oil and rosehip seed oil for more details about the oils.
Rich in beta carotene: the rosehip pulp has high amounts of beta carotene (provitamin A) which the body converts to preformed vitamin A. Preformed vitamin A also happens to be the same category that retinol is part of.
Very good source of linoleic acid: the rosehip seed is rich in fatty acids. More specifically it has approximately 54.05% linoleic acid (omega-6), 19.37% linolenic acid (omega-3) and 19.5% oleic acid (omega-9).
Great for aging skin: the beta carotene in rosehip is converted to preformed vitamin A, which supports collagen production and skin renewal. Both of these factors can be very helpful for smoothing out fine lines and wrinkles. In addition, rosehip oil supports the skin barrier (which can become compromised and lead to dryness as we age).
Improves stretch marks: rosehip is often used as a natural remedy for stretch marks, mainly because of its ability to encourage skin renewal and collagen production.
Great for acne, scars and hyperpigmentation: acne patients tend to produce sebum that is low in linoleic acid. So, using a linoleic-rich oil like rosehip can help to balance out the skin and reduce breakouts. In addition, rosehip's ability to encourage skin renewal makes it helpful for scars and dark spots too.
May benefit inflamed skin: rosehip is anti-inflammatory and may help with conditions where inflammation is an underlying factor (such as rosacea, eczema and psoriasis).
Non-comedogenic: not only is rosehip generally rated a 1 on comedogenic scale, but it's quite lightweight and easily absorbed. As a result, it is unlikely to clog pores.
Short shelf life: once opened, rosehip oil has a shelf life of about 6 months. Store in the refrigerator to keep it as fresh as possible.
HOW TO USE SEA BUCKTHORN OIL AND ROSEHIP OIL IN YOUR SKINCARE ROUTINE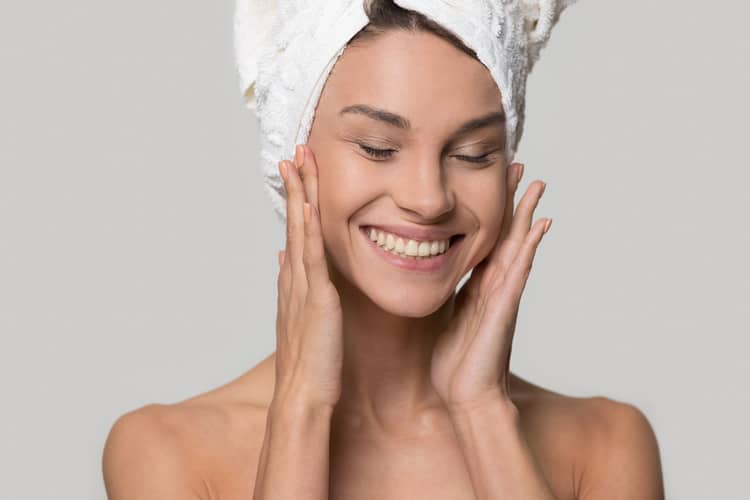 How to use sea buckthorn oil
For daily use, stick to sea buckthorn seed oil since it is lighter.
Use sea buckthorn fruit oil as a more intense treatment, once or twice a week.
Sea buckthorn oil tends to stain the skin and clothing. So to eliminate this effect, mix it with other oils (including rosehip, which doesn't stain). Use it at approximately 10% in a blend with other oils.
Combine 1 drop sea buckthorn with moisturizer (or serum) in the palm of your hand and massage onto your face. Not only will this boost your moisturizer, but it also minimizes the staining effect.
How to use rosehip oil
Combine 1 to 2 drops with your regular moisturizer (or serum) in the palm of your hand. Then massage onto your face.
Create your own facial oil for acne, combination or mature skin by blending rosehip with oils like argan, apricot and more. Use this collection of DIY facial oil recipes to get started.
BEST ROSEHIP AND SEA BUCKTHORN OILS FOR FACE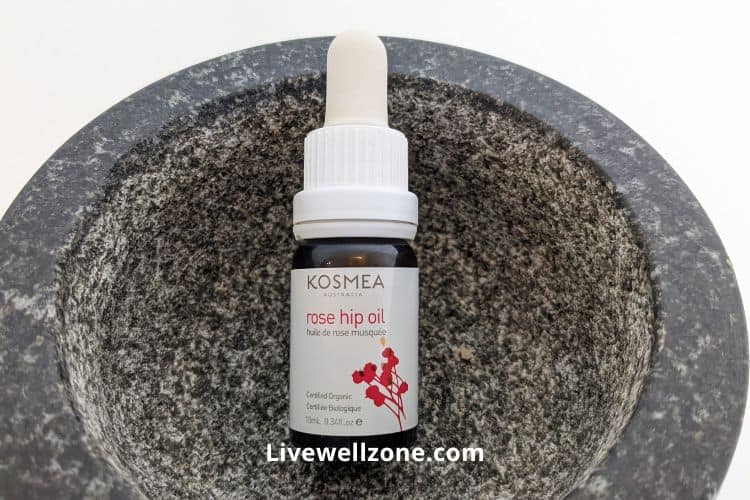 1. Best CO2 Extracted Rosehip Oil – Kosmea
The best rosehip oil is one that is pressed from the entire rosehip fruit (i.e. the seed and pulp). This allows you to enjoy the fatty acids, vitamin E and provitamin A that are in the fruit.
There are a few brands on the market that make this type of oil and my favorite is Kosmea.
I also like this Kosmea oil because it is CO2-extracted. CO2 extraction is gentler than cold pressing and produces the finest quality oil. By the way, cold pressing is still a very good extraction method, but if you like to be extra, go with CO2 extraction 🙂
2. Best Cold Pressed Rosehip Seed Oil
There are loads of cold pressed rosehip seed oils to choose from. However, there are a couple that stand out:
Trilogy Certified Organic Rosehip Oil: this brand guarantees a minimum of 80% essential fatty acid content. And there's the fact that Trilogy has been publicly lauded as a favorite by a number of celeb beauties, including Kate Middleton. Get Trilogy's rosehip oil here.
The Ordinary Rosehip Oil: time and time again, The Ordinary stands out for their ability to offer best-of-class ingredients at a budget price. And it's no different with their rosehip oil.
Get The Ordinary's rosehip oil.
3. Best Sea Buckthorn Oils
Mountain Rose Herbs Sea Buckthorn Seed + Berry Oil: According to their website, this sea buckthorn oil is pressed from the entire berry with the seeds. This gives you the full spectrum of everything that sea buckthorn has to offer – omega 3, 6, 7 and 9, plus beta carotene – in oil super potent oil. Get this full spectrum sea buckthorn oil here.
FAQs ABOUT THE USE OF SEA BUCKTHORN OIL OR ROSEHIP OIL ON SKIN
Can you mix rosehip oil with sea buckthorn?
You can make a face oil by mixing rosehip oil, sea buckthorn and other carrier oils in a 1 ounce glass, amber bottle. The ratios to use are
3/4 tsp sea buckthorn oil (berry or seed oil; or both).
2 tsp rosehip oil.
1 Tbsp jojoba oil.
CONCLUSION
So, after all this you may be wondering if rosehip oil or sea buckthorn oil is better. Well, I'm sure I'm stating the obvious here, but it all boils down to what your skin needs!
Both oils are nutritional powerhouses for your skin and you can't go wrong when looking at them from that perspective.
So, start with whichever one speaks to you. Or get both and use them in a blend. Your skin will thank you!
---
You Might Also Enjoy:
Radiant Skin Unveiled: Pai Rosehip Oil Review and Insights
Essential and Carrier Oils Rich In Vitamin C: What You Should Know
Rosehip Oil for Skin: A Complete Guide
Best Natural Alternatives to Retinol: 8 Vitamin A Options You Might Be Ignoring
Evening Primrose Oil vs Rosehip Oil: Benefits, Differences, How to Use & Best Brands
Which is Better: Rosehip Oil or Retinol? A Complete Guide
Rosehip Oil vs Jojoba Oil for Face (And Body): Which is Better and How To Use
Vitamin C Serum vs Rosehip Oil: Benefits, Which Is Better and How To Use
Carrier Oils By Skin Type: How to Choose and Simple List for Beginners