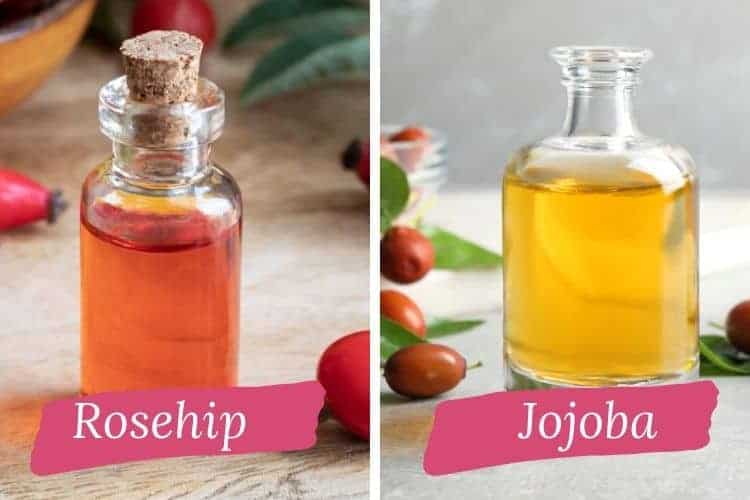 Everywhere you look in the skincare aisle, you will most likely spot rosehip and jojoba oil in serums, cleansing oils, face oil blend and as standalone carrier oils. So, what is it that makes these oils so popular and useful? Well, in this article we're going to look at rosehip oil vs jojoba oil for face, as well as for the body (specifically stretch marks).
By the end of this article you will have a better understanding of:
The research behind each oil and how they support skin health.
Which oil to use for aging skin, oily/acne-prone skin and stretch marks.
How to use jojoba and rosehip oil together.
Note: this post contains affiliate links and I earn a commission (at no additional cost to you) if you use them to make a purchase.
ROSEHIP OIL AND JOJOBA OIL FOR FACE: BENEFITS FOR ACNE, WRINKLES AND MORE
| | Rosehip oil | Jojoba oil |
| --- | --- | --- |
| Supports healthy skin barrier | ✓ | ✓ |
| Contains antioxidants | ✓ | ✓ |
| Rich vitamin A | ✓ | contains some |
| Rich in Vitamin E | contains some | ✓ |
| Promotes cell turnover | ✓ | |
| Soothes inflamed skin | ✓ | ✓ |
| Supports collagen production | ✓ | |
| Regulates sebum production | | ✓ |
| Anti-inflammatory | ✓ | ✓ |
| Antimicrobial | ✓ | ✓ |
| Emollient | ✓ | ✓ |
| Shelf life after opening | about 6 months | about 2 years |
This table shows the differences between rosehip and jojoba oil.
---
PROPERTIES AND BENEFITS OF ROSEHIP OIL
Rosehip oil is a medium-weight carrier oil that absorbs quickly. It leaves a slight greasy feel that isn't overwhelming or very noticeable. The oil has the following properties and skin benefits (1, 2, 3, 4):
Rich in carotenoids: carotenoids are phytonutrients that are known for having antioxidant properties. The most abundant carotenoid in rosehip oil is beta-carotene, which the body converts to retinyl esters. These retinyl esters are classified as preformed vitamin A (just like retinol).
High amounts of unsaturated fatty acids: the most abundant fatty acids in rosehip oil are linoleic acid (an omega-6 acid), alpha linolenic acid (an omega-3) and oleic acid (an omega-9). All of these fatty acids provide anti-inflammatory benefits that can be quite soothing to the skin.
Rich in vitamin E: Vitamin E is essential for skin health because it acts as an antioxidant (i.e. it hunts for, and gets rid of, free radicals). The main forms of vitamin E that are rosehip oil are tocopherols and tocotrienols.
Anti-inflammatory, antimicrobial and antioxidant properties: this is all due to rosehip's high amount of fatty acids and antioxidants such as carotenoids and phenols (phenols are antimicrobial).
Improves inflammatory skin conditions: neurodermatitis, eczema and cheilitis (inflammation of the lips) are all conditions that have been shown to improve with the topical use of rosehip oil.
Encourages cell turnover: can improve stretch marks, hyperpigmentation and scars.
Works for all skin types: rosehip oil is unlikely to clog pores. This, combined with its varied nutritional profile, makes it beneficial for all skin types. That said, it can be especially helpful for dry, dull or mature skin.
Supports skin barrier function: the fatty acids in rosehip oil help to lock in moisture and prevent water loss.
Supports collagen and elastin production: vitamin A encourages collagen and elastin production, both of which are important for the firmness and suppleness of skin.
Shelf life: once opened, rosehip oil lasts about 6 months. Refrigeration is recommended to help maintain its freshness during that time.
PROPERTIES AND BENEFITS OF JOJOBA OIL
Although it looks and feels like an oil, jojoba is technically a liquid wax that is structurally similar to sebum. This oil has a medium-weight consistency and it absorbs quite easily.
Here are the main properties and benefits of jojoba oil (source):
Rich in wax esters: Wax esters make up about 25% of our sebum and their main job is to lubricate the skin. The most abundant esters in jojoba are erucyl jojobenoate, jojobenyl jojobenoate, jojobenyl erucate, docosenyl docosenoate, eicosenyl oleate and docosenyl oleate.
Regulates sebum production: acne-prone skin tends to have an excess of sebum. It's theorized that the topical use of jojoba helps to reduce sebum production because the skin is able to detect the presence of jojoba (which is structurally similar to sebum) and as a result, dial down sebum production.
Natural source of vitamins A, D and E: vitamin A encourages skin renewal, vitamin D acts as a mild anti-inflammatory and vitamin E provides antioxidant activity.
Has emollient properties: emollients moisturize the skin, increase suppleness and provide a protective layer that prevents moisture loss.
Anti-inflammatory, anti-microbial and pain-relieving: jojoba shows promise when it comes to reducing pain caused by sunburns, as well as in reducing edema (water retention). It's also been shown to have strong antibacterial properties, which might explain why some people with acne-prone skin find it beneficial.
Contains plant sterols: sterols are fat-containing compounds that keep the skin soft and flexible. The main ones found in jojoba are cholesterol, beta-sitosterol, campesterol, stigmasterol and isofucosterol.
Contains some fatty acids and antioxidants: although jojoba's fatty acid content is lower than other carrier oils, the notable ones are eicosenoic, erucic and oleic acids (all omega-9s), as well as antioxidants like flavonoids and phenols.
Beneficial for acne and psoriasis: some research indicates that jojoba can improve acne and psoriasis, without creating any negative side effects. Furthermore, it's suggested that jojoba can be used on its own or as a complement to other treatments.
Shelf life: very stable and can last up to 2 years, no refrigeration required.
IS ROSEHIP OIL OR JOJOBA OIL BETTER FOR OILY, ACNE-PRONE SKIN?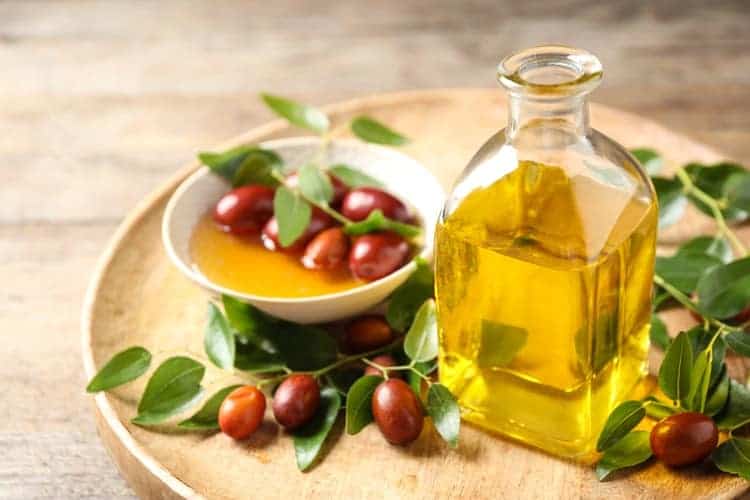 In general, jojoba oil is a good choice for oily and/or acne-prone skin because it regulates sebum production and does not clog pores. Jojoba oil is structurally similar to sebum, while also being able to penetrate the skin and clear out excess sebum in hair follicles.
That said, it's also worth knowing that rosehip may also be beneficial for oily, acne-prone skin. Here's why:
acne-prone skin (which tends to be oily) has been found to produce sebum that is low in linoleic acid (source).
rosehip oil is high in linoleic acid and topical application of linoleic acid can help to balance the composition of sebum, subsequently helping to improve acne.
In addition, there are real-life examples on social media and forums of people who've experienced significant improvements in acne, just by using rosehip oil (like this one). So, you can test each oils – or use them in a blend – to see how they work for you.
ROSEHIP OIL OR JOJOBA OIL FOR ANTI AGING: WHICH IS BETTER?
Generally speaking, rosehip oil is best for aging skin because it contains vitamin A (which supports collagen production and reduces wrinkles) and fatty acids that support healthy skin barrier and prevent water loss or dryness.
To get the most anti-aging benefits, combine rosehip with jojoba oil. Since jojoba is a natural emollient, and it is rich in vitamin E, it's a win-win for aging skin. You get plenty of skin-softening benefits with powerful antioxidant activity.
ROSEHIP OIL OR JOJOBA OIL FOR STRETCH MARKS: WHICH IS BETTER?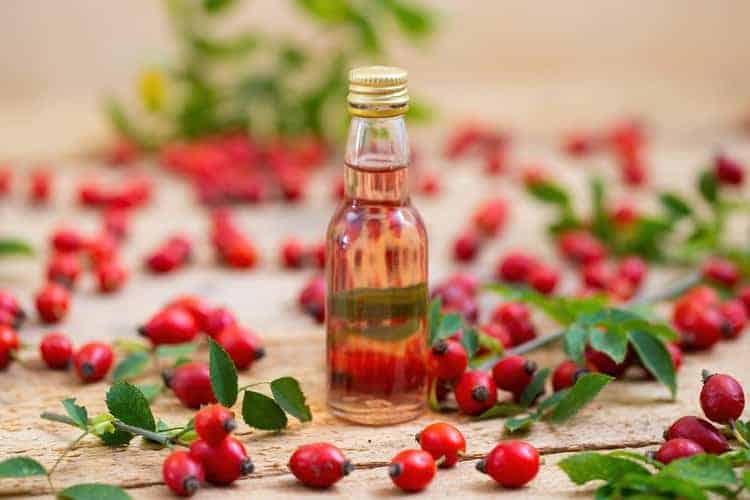 Overall, rosehip oil is a good choice for stretch marks because it's a natural source of vitamin A. Vitamin A is known to stimulate collagen production while also reducing the expression of matrix metalloproteinases, which are enzymes that can break down collagen and other proteins in the skin.
In addition, a study that was performed with pregnant women showed that a cream made of rosehip oil, vitamin E, hydroxyprolisilane-C and extracts from the gotu kola plant, was effective at reducing the appearance of stretch marks and preventing the development of new stretch marks (source).
So, how can you use rosehip oil for stretch marks?
To get the most out of rosehip oil for stretch marks, consider blending it with jojoba oil. Jojoba oil contains vitamin A and it's a natural emollient, which makes it really helpful for soothing the itching and dryness that can occur with stretch marks.
For tips on how to combine jojoba and rosehip, see the section below.
MIXING ROSEHIP AND JOJOBA OIL TOGETHER: TIPS & RECIPES
Using jojoba and rosehip oil together is a great way to get more of rosehip's benefits. This is because jojoba oil absorbs really well into the skin. So, blending both oils can help to enhance absorption of rosehip oil as well.
Below are a few quick rosehip + jojoba recipes that you can use for oil cleansing, in a face oil and for stretch marks. A few things to note about these recipes:
1. Oil Cleansing
Combine equal parts castor, rosehip, jojoba and argan oil.
2. Homemade Daily Face Oil
Combine 3 teaspoons of grapeseed oil, 1 teaspoon rosehip oil and 1 teaspoon jojoba oil in 1 ounce bottle.
Use daily after cleansing and toning.
3. 2-Ingredient DIY Stretch Mark Remedy
Combine equal parts rosehip oil and jojoba oil.
Massage onto the skin after showering.
CONCLUSION
Jojoba and rosehip oil are an excellent skincare duo that complement each other. Whether you're looking for a natural remedy for acne, wrinkles, hyperpigmentation or eczema, research shows that these oils are a great choice.
I hope this article has helped you better understand how to take advantage of what both oils have to offer.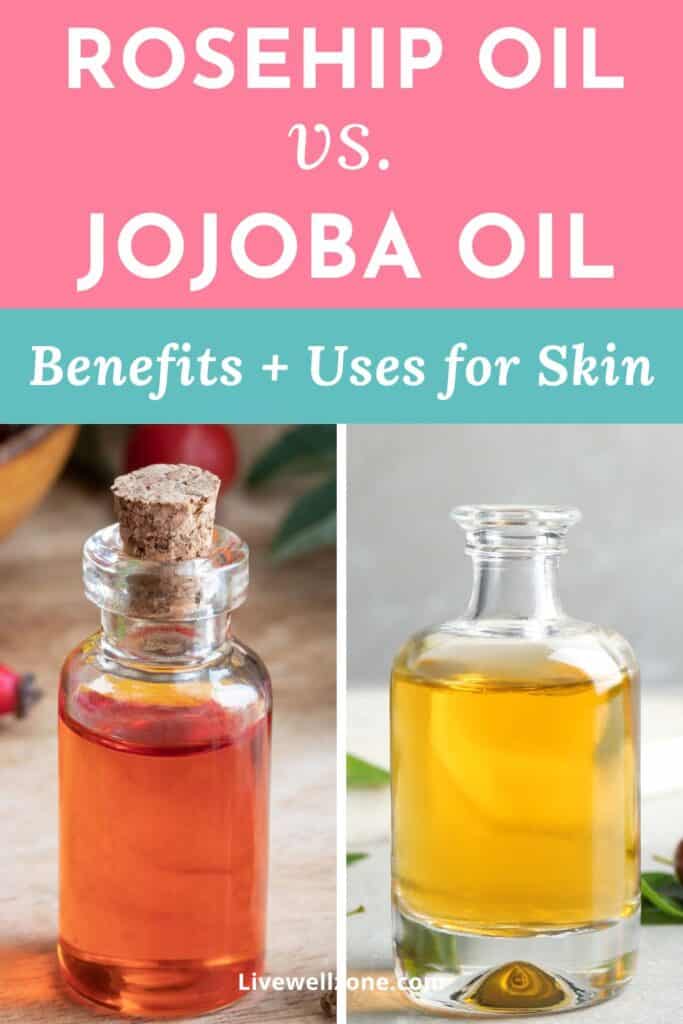 ---
You Might Also Enjoy:
How to Choose the Best Rosehip Oil
What Is The Difference Between Rosehip & Rosemary Oil? A Clear Answer
Vitamin E Oil vs Jojoba Oil For Skin: Everything You Need to Know
What To Mix With Jojoba Oil For Face – The Ultimate Guide
Rosehip Oil vs Hyaluronic Acid: Benefits, Differences & How To Use Them
Carrier Oils By Skin Type: How to Choose and Simple List for Beginners
Sea Buckthorn Oil vs Rosehip Oil: Benefits, Which is Better and How to Use
Rosehip Oil for Skin: A Complete Guide
Best Oils for Acne Prone Skin: Carrier, Essential and Cleansing Oils You Shouldn't Ignore
Grapeseed Oil vs Jojoba Oil for Skin: Which Is Better & How to Use
Rose Oil vs Rosehip Oil for Skin And Hair: Benefits | Which is Better | How To Use
Pai Rosehip Oil vs Other Brands (Kosmea, Trilogy, The Ordinary, Radha): Which Brand Is Actually Worth It?
Non-Greasy Carrier Oils For Skin: 10 Oils To Fall In Love With
Which is Better: Rosehip Oil or Retinol? A Complete Guide
Evening Primrose Oil vs Rosehip Oil: Benefits, Differences, How to Use & Best Brands
Vitamin C Serum vs Rosehip Oil: Benefits, Which Is Better and How To Use
The Difference Between Rosehip Oil and Rosehip Seed Oil: Benefits, Which To Use and How to Use
What To Mix (And Not) With Rosehip Oil For Face – The Ultimate Guide
How To Add Rosehip Oil To Your Skin Care Routine: Quick Tips To Follow
Grapeseed Oil vs Rosehip Oil for Skin: Benefits, Which Is Better and Uses