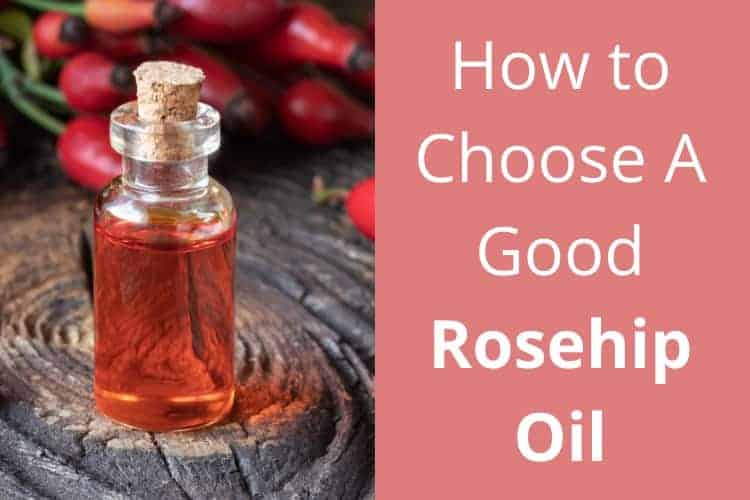 Whether you're new to rosehip oil or you're already using it (and want to make sure you're using the right kind) this article is for you. We're going to look at how to choose the best rosehip oil, the best brands to try, plus some general tips on how to store and use rosehip oil.
Note: this post contains some affiliate links and I earn a commission (at no additional cost to you) if you use them to make a purchase.
HOW TO CHOOSE A GOOD ROSEHIP OIL: 5 THINGS TO LOOK FOR
1. Extraction Method
All rosehips oils are not created equal. The extraction method used to produce the oil plays a huge role in the final quality of the oil.
Overall, there are three main extraction methods used in the production of rosehip oil: supercritical CO2 extraction, cold pressing and hexane extraction. Each method has important implications for the final quality of the oil, so let's have a quick look at each of them (1, 2).
Supercritical CO2 extraction
this method relies on high pressure carbon dioxide and low temperatures (about 30°C or 86°F) to extract the oil.
the whole process occurs as a "closed system," meaning that the oil is never exposed to oxygen (which could contribute to oxidation). As a result CO2 extracted oils tend to have a longer shelf life.
since this process is very gentle, it preserves more of the delicate components in the rosehip (such as the provitamin A carotenoids).
overall, CO2 extraction produces a very high quality rosehip oil that is as close to the whole fruit as we can get.
Cold pressing
this method uses a machine to press oil out of plant material.
average temperatures for this method are about 40°C or 104°F. But it can go as high as 49°C or 120°F (which is the limit in order for a product to be labeled "cold pressed").
because of the higher temperatures, some nutrients are lost during cold pressing.
the oil is exposed to exposed to oxygen during extraction. So, this can contribute to some degree of oxidation and reduce the oil's shelf life.
overall, cold pressing is a very popular extraction method for rosehip oil (and plant oils as a whole). However, the resulting oil will be void of some nutrients and may go rancid faster.
Solvent extraction
this method requires the use of chemical solvent, such as hexane.
Since hexane is toxic, this method produces the least desirable rosehip oil.
---
So, when choosing a rosehip oil, read the label. The best quality oil will be made via CO2 extraction and the second best quality will be made via cold pressing.
2. Type of Rosehip Oil
Technically speaking, there are two main types of rosehip oil:
Rosehip (fruit) oil: extracted only from the skin of the rosehip fruit. The skin of the fruit is a richer source of vitamin A.
Rosehip seed oil: extracted only from the seed of the fruit. This seed is a richer source of anti-inflammatory fatty acids and some vitamin E.
However, when buying rosehip oil, you'll notice that the language used doesn't quite match up with the two types of oil above. Here's what I mean:
an oil that is labeled "rosehip oil" is often a mix of oil from the fruit and the seed. On rare occasions it may be just the oil from the fruit.
So, you must read the label closely (including the ingredients section) to know exactly which type of rosehip oil you're getting. So, if the label shows that the oil comes from the:
Fruit only: you're getting a vitamin A-rich oil.
Seed only: you're getting a fatty acid-rich oil, as well as some vitamin E.
Fruit and seed: you're getting an oil that contains both vitamin A, fatty acids and vitamin E.
There's no right or wrong here. It's just a matter of what you prefer.
NOTE: even though the skin of the rosehip fruit is very rich in vitamin C, the oil is not a source of vitamin C. This is because vitamin C is water-soluble, not fat-soluble.
3. Rose Species
Rosehip oil is made from wild roses rather than cultivated roses (i.e. the roses we buy from a florist). The most common variety that brands used is rosa canina.
However, you will also see other types of rose varieties, like rosa mosqueta (aka rosa moschata) and rosa rubiginosa, listed on some product labels.
Even though there are some variances in the exact amount of vitamin A, fatty acids and other nutrients between these rose subtypes, it's nothing to worry about.
You're still getting all the benefits of rosehip.
4. Color & Scent
Pure rosehip oil has a red color (and sometimes orange or even, purple). If the color is more on the yellow side or it's very pale, that's a sign that something's off.
Now, as for the scent, rosehip oil is more earthy (but this can also vary from one harvest to another).
One thing rosehip does not smell like is roses. So, if you detect the scent of rose, then something else has been added to it.
4. Packaging
Ideally, you want a rosehip oil that is stored in a dark bottle (usually amber or blue). The dark bottle helps to protect the oil from light and resulting damage that can occur.
Avoid clear bottles (unless the manufacturer uses some natural preservatives like vitamin E and/or clearly states that the bottle has a built-in UV protectant).
5. Additives or Preservatives
Some rosehip oils contain just the oil, while others might include preservatives to help slow down oxidation and spoilage.
There's not necessarily a right or wrong here because the fact is that rosehip oil is delicate and if the packaging (and extraction process) are not on point, a preservative won't change a whole lot.
If preservatives are used, try to reach for more natural options like vitamin E and rosemary extract.
WHICH BRAND OF ROSEHIP OIL IS BEST?
1. Kosmea Certified Organic Rosehip Oil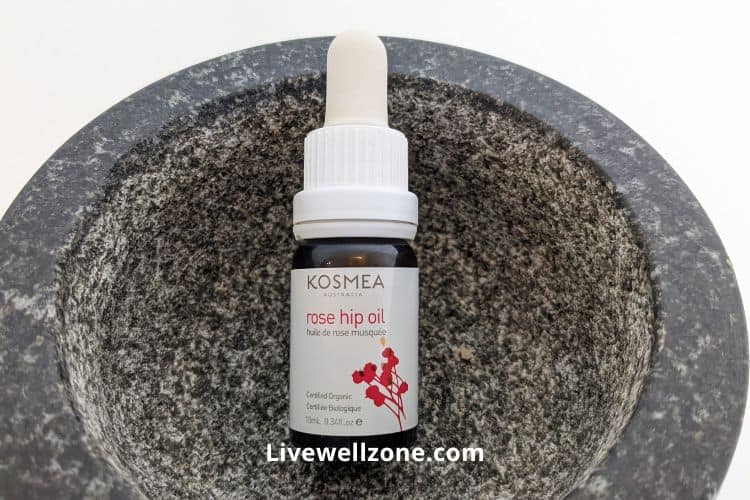 This is the first CO2-extracted oil on this list and it uses a blend of oils from the rosa canina fruit and seed.
Aside from being CO2 extracted, the rosehips that are used for this oil are also wild grown.
While I can't confirm the exact details of the company's process, the general idea behind "wild grown" is that the plant grows in the wild, with little human intervention (other than the basics of good farming practices).
As a whole, wild grown plants are supposed to be richer in nutrients, leading to more goodness for your skin.
So, if you want to treat yourself to a high quality, CO2 extracted rosehip oil, this is the one to reach for.
2. Pai Rosehip BioRegenerate Oil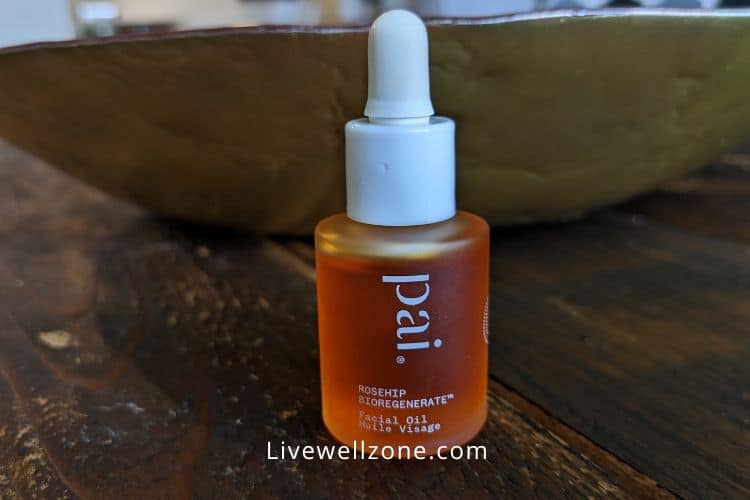 This oils checks all the boxes for a quality rosehip oil:
CO2 extracted.
uses the entire seed and outer flesh.
And to top it off, the formula gets some extra support from these ingredients:
vitamin E (antioxidant).
rosemary leaf extract.
squalene (vegan-sourced emollient).
beta-sitosterol (a plant derived ingredient that calms and softens the skin).
3. Radha Rosehip Oil
Radha's certified organic, rosehip oil is cold pressed oil from the rosa rubiginosa plant.
Although the bottle doesn't specify which part of the plant is used, their website states that the oil comes from the seeds.
So, expect this oil to be richer in essential fatty acids (which are great for inflammatory skin conditions).
Get Radha's Rosehip Oil here on Amazon.
4. Trilogy Certified Organic Rosehip Oil
According to their website, Trilogy's rosa canina oil has a minimum of 80% essential fatty acids.
In addition, the rose plants used to make this oil are wild harvested (aka wildcrafted), meaning that they were cultivated in their natural habitat.
When done correctly, wild harvesting can produce a plant that is richer in active ingredients compared to a similar plant at a large, commercial farm.
Get this Trilogy rosehip oil here on Amazon.
FAQs ABOUT CHOOSING THE BEST ROSEHIP OIL
Is rosehip oil good for wrinkles?
Because of its vitamin A and fatty acid content, rosehip is helpful for promoting skin renewal, while also fighting off the effects of inflammation (such as oxidative damage, which contributes to wrinkles). Therefore, rosehip oil can be incorporated into your skincare routine for combatting wrinkles.
Should I refrigerate my rosehip oil?
Refrigerating rosehip oil will help to protect it from external light and extreme temperatures. Overall, this can help extend the oil's shelf life.
What can I mix with rosehip oil for my face?
You can easily combine rosehip oil with:
Other carrier oils like jojoba, almond or grapeseed to make a nourishing face oil.
Essential oils to make an anti-acne treatment or any other targeted treatment.
Aloe vera to make a hydrating and moisture-locking lotion (you'll need an emulsifier to ensure the rosehip and aloe combine).
For more tips and ideas, read this article on what to mix (and not) with rosehip oil for face.
CONCLUSION
Whether you have acne-prone skin, dry skin, mature skin, combination skin or sensitive skin, rosehip oil is one of the most effective and gentle oils that you can use.
Not only does it absorb well but it's a nutrient-rich, multi-tasker that is well worth paying attention to.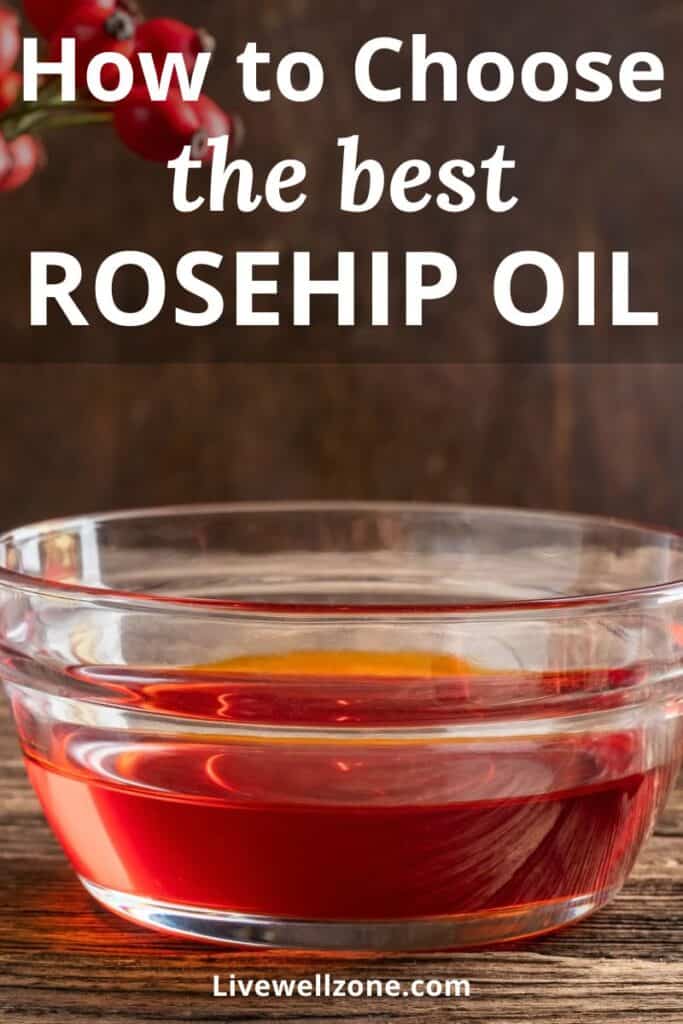 ---
You Might Also Enjoy:
Rosehip Oil for Skin: A Complete Guide
Rosehip Oil vs Hyaluronic Acid: Benefits, Differences & How To Use Them
The Difference Between Rosehip Oil and Rosehip Seed Oil: Benefits, Which To Use and How to Use
Pai Rosehip Oil vs Other Brands (Kosmea, Trilogy, The Ordinary, Radha): Which Brand Is Actually Worth It?
Vitamin C Serum vs Rosehip Oil: Benefits, Which Is Better and How To Use
Rosehip Oil vs Jojoba Oil for Face (And Body): Which is Better and How To Use