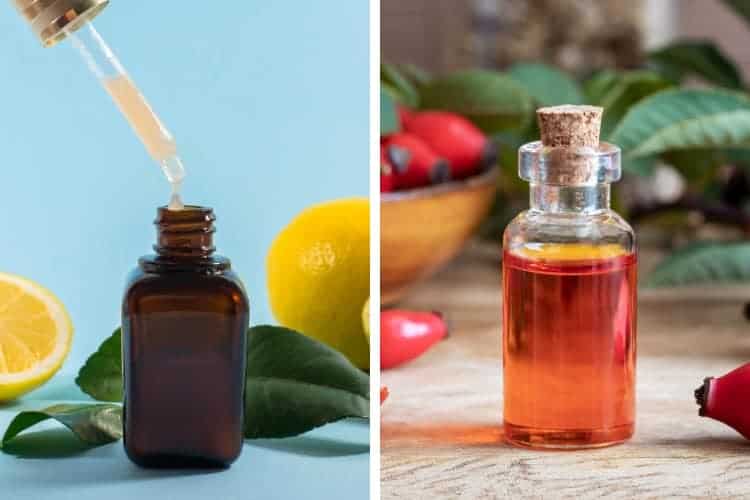 For anyone who wants to transform their skin, rosehip oil and vitamin C serum are the two most popular options. Even though both products offer many similar benefits, there are also some important differences between them. So, in this article we're going to look at vitamin c serum vs rosehip oil and dive into their benefits, which skin types they are suitable for and how to include them in your skin care routine.
Note: this post contains affiliate links and I earn a commission (at no additional cost to you) if you use them to make a purchase.
IS VITAMIN C SERUM BETTER THAN ROSEHIP OIL?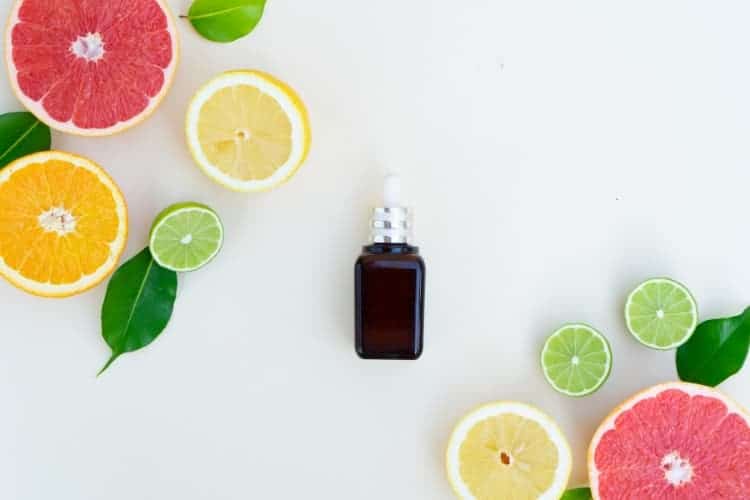 Vitamin C serum is a better option when you need a concentrated source of vitamin C. This will target things like hyperpigmentation and free radical damage. On the other hand, rosehip oil is a good option when you want to lock in moisture, support cell turnover (thanks to provitamin A) and reduce inflammation.
Some skin types respond better to one product versus the other.
To help you determine which is best for you, the next section provides an overview of what they each have to offer.
VITAMIN C SERUM VS ROSEHIP OIL: MAIN BENEFITS AND DIFFERENCES
| | Vitamin C Serum | Rosehip Oil |
| --- | --- | --- |
| contains vitamin C | ✓ | |
| contains provitamin A, vitamin E and fatty acids | depends on formulation | ✓ |
| supports collagen production | ✓ | ✓ |
| clears dark spots and hyperpigmentation | ✓ | ✓ |
| Improves acne | ✓ | ✓ |
| clears acne | ✓ | ✓ |
| hydrates skin | ✓ | |
| moisturizes skin | depends on formulation | ✓ |
| reduces wrinkles | ✓ | ✓ |
| reduces scarring | ✓ | ✓ |
| prevents and minimize stretch marks | ✓ | ✓ |
| enhances absorption of other ingredients | | ✓ |
| protects skin from inflammation, oxidative damage | ✓ | ✓ |
Table comparing vitamin C serum vs rosehip oil.
---
Here are some general benefits of using vitamin C on your face:
Supports collagen production.
Clears dark spots and hyperpigmentation.
Reduces the appearance of scars.
Improves acne.
Hydrates the skin (if the serum is formulated with hydrating ingredients like hyaluronic acid, aloe vera or B-vitamins).
Protects the skin from inflammation and oxidative damage.
Reduces fine lines and wrinkles.
Works on most skin types, but since it's very concentrated, it can be irritating for some people. If you have dry and/or sensitive skin make sure to choose a serum that contains hydrating, moisturizing and anti-inflammatory ingredients.
Now, let's look at the main benefits of rosehip oil:
Contains vitamin E – an antioxidant – and vitamin A, which plays a key role in overall skin health.
Naturally rich in essential fatty acids that reduce inflammation.
Supports collagen production.
Seals in moisture to keep skin hydrated.
Improves hyperpigmentation.
Clears acne.
Reduces scarring.
Combats skin from inflammation and free radical damage.
Prevents and minimize stretch marks.
Enhances absorption of other ingredients (such as essential oils or other carrier oils).
Reduces fine lines and wrinkles.
Compared to vitamin C serum, this is very gentle. As such, it's usually well tolerated by all skin types, including sensitive skin.
One thing to note about rosehip oil is that there's a lot of confusion about its vitamin C content. Some websites say it's rich in vitamin C, while others say the amount is unknown or unclear.
To help solve this mystery I reached out to two different companies – Pai and Kosmea – both of whom make CO2 extracted rosehip oil (pressed from the skin of the fruit and the seed). Below are their responses:
From the Pai support team:
Rosehip, when it is still in its fruit form, does contain Vitamin C. However, Vitamin C is water-soluble and as our Rosehip is an oil, the Vitamin C is no longer present. Additionally, it is too polar to be extracted by our supercritical CO2 extraction method.
From the Kosmea support team:
The Kosmea Rose Hip Oil contains a very negligible amount of vitamin C. The very negligible amount in our Rose Hip Oil comes from the skin of the rose hip. Rose Hip Oil is best known for its essential fatty acid content – being EFA 3, 6 and 9.
So, based on the information from these two companies, here's the takeaway:
While the rosehip fruit does contain vitamin C, there's little to no vitamin C in rosehip oil itself. This is because vitamin C is water-soluble and therefore, cannot be retained in an oil, even when using a gentle extraction method like CO2 extraction.
HOW TO USE VITAMIN C SERUM AND ROSEHIP SEED OIL TOGETHER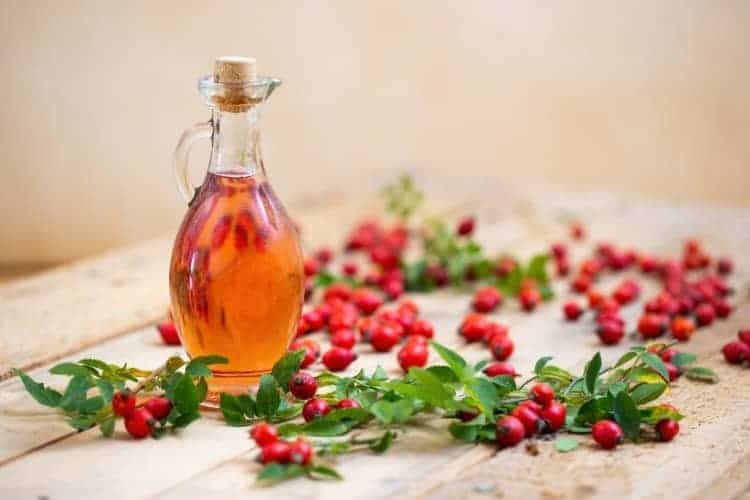 Vitamin C and rosehip oil work well in a skin care routine. Both are rich in antioxidants and they both support cell turnover. In addition, the rosehip oil helps to support the skin barrier and lock in the moisture provided by the vitamin C serum.
Here are some quick tips to keep in mind when using these products:
Layering: use a hydrating vitamin C serum then follow that up with the rosehip oil to lock in moisture.
Skin type: most skin types should be able to handle the use of both vitamin C and rosehip oil at the same time. However, if your skin is particularly sensitive and doesn't react well to layering them, then use them at different times of day. For example, apply vitamin C serum in the morning and rosehip seed oil at night.
One thing to keep in mind with vitamin C serum is that it can be drying. So, pay attention to the following factors when choosing one for your skin care routine:
Concentration: start with a lower concentration like 5% serum or 8%, especially if you have sensitive skin. Be mindful of higher concentrations like 20%. Although they're more effective, they are also more drying.
Type: L-ascorbic acid is the most drying type of vitamin C. On the other hand, vitamin C derivatives – such as magnesium ascorbyl palmitate and sodium ascorbyl phosphate – are less drying/irritating.
Overall, if you're using a high concentration of vitamin C, then consider using rosehip oil, or any other natural oil. will be a good complement to it (helps to counteract vitamin C's drying effect).
RELATED QUESTIONS ABOUT VITAMIN C SERUM OR ROSEHIP SEED OIL
When should I apply rosehip oil to my routine?
If you're using rosehip oil and a separate moisturizer, there are two ways to use them:
apply the rosehip before moisturizer if your moisturizer is very heavy and contains occlusive ingredients that sit on top of the skin (such as beeswax or thick butters and oils).
apply rosehip oil after moisturizer if your moisturizer is very light, and contains mainly water or water-based ingredients (such as aloe vera gel, green tea infusion).
If you're using rosehip oil as your moisturizer, you should apply it as the final step in your routine (don't forget to include sunscreen afterward if you use it during the day).
How long does it take for rosehip oil to work?
In general, it can take up to 8 weeks to see results from rosehip oil (source). Do keep in mind that the products you use in combination with rosehip oil can also affect how quickly you see results.
For example, one Reddit user saw a remarkable improvement in her acne after just 3 weeks. Her daily regimen included rosehip oil along with a retinoid cream and a medicated acne face wash (source).
Can you use niacinamide and rosehip oil together?
Niacinamide and rosehip oil can be used together, with niacinamide applied first, followed by the rosehip oil as a cooling moisturizer.
Does rosehip oil have retinol?
Rosehip oil does not contain retinol. Rather, it contains beta carotene which is converted to retinyl esters. Retinyl esters, together with retinol, are classified as preformed vitamin A. In addition, rosehip oil contains tiny amounts of retinoic acid, which is an active form of vitamin A that the body is able to use.
Should you use vitamin C serum everyday?
Vitamin C serum can be used daily and if it doesn't cause any burning or tingling, you can even use it twice a day. Just remember that vitamin C can increase sensitivity to the sun. So, wear a sun protectant if you plan on stepping out after applying it.
Do I use Vitamin C serum before or after moisturizer?
Vitamin C serum should be applied before moisturizer. Allow it to dry and then follow with a moisturizer.
What can you not mix with vitamin C serum?
It's best not to mix vitamin C with other potent active ingredients like:
Alpha hydroxy acids
Beta hydroxy acids
Retinol
Benzoyl peroxide
Niacinamide
What are the side effects of vitamin C serum?
The main side effects of vitamin C serum are:
Dryness
Redness
Tingling and burning upon application (this normally goes away as your skin adapts to it)
Breakouts
Darkening of pores and staining of the skin (if the serum has gone bad or is poorly formulated)
Can I mix vitamin C serum with moisturizer?
If you have delicate skin and want to reduce some of the dryness or tingling that comes with vitamin C serum, then mixing it with your favorite moisturizer can help. Just check the moisturizer to make sure that it doesn't contain any added vitamin C.
BEST VITAMIN C SERUM AND ROSEHIP OIL FOR FACE
1. Botanical C Facial Serum
This serum contains ascorbyl palmitate, a vitamin C serum derivative that is gentler on the skin and more stable than the L-ascorbic form of vitamin C.
In addition, the are other moisturizing and nourishing ingredients like sea buckthorn oil, jojoba oil, meadowfoam oil and yes, even some rosehip oil too! If you want a balanced vitamin C serum, this serum is definitely worth checking out.
2. Kosmea Rosehip Oil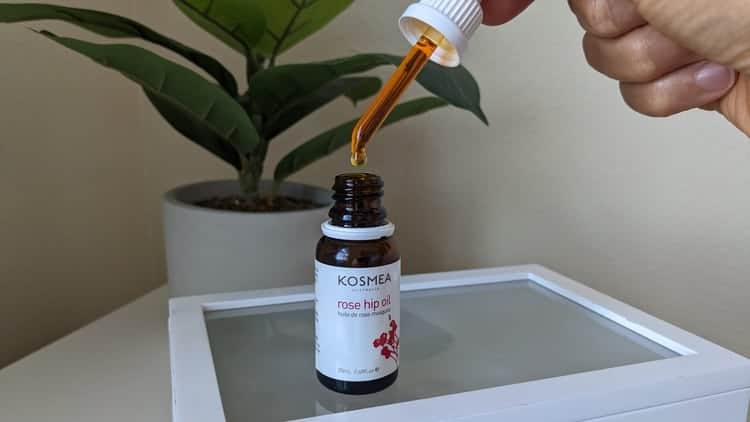 This rosehip oil is a personal favorite for two reasons.
First, it is CO2 (carbon dioxide) extracted. This extraction method is very gentle and uses the lowest temperatures possible. Also, the oil is not exposed to air during CO2 extraction processing, which means the oil doesn't start to oxidize before it's packaged up.
Second, this oil is pressed from the seed and skin of the fruit. This different from most rosehip oils on the market that are pressed from the seed only. This is significant because while the seed contains plenty of essential fatty acids, the skin is where most of the provitamin A is stored.
Overall, this oil is processed in a way that preserves the delicate nutrients (as much as possible), while also using the entire rosehip.
3. Pai Rosehip BioRegenerate Oil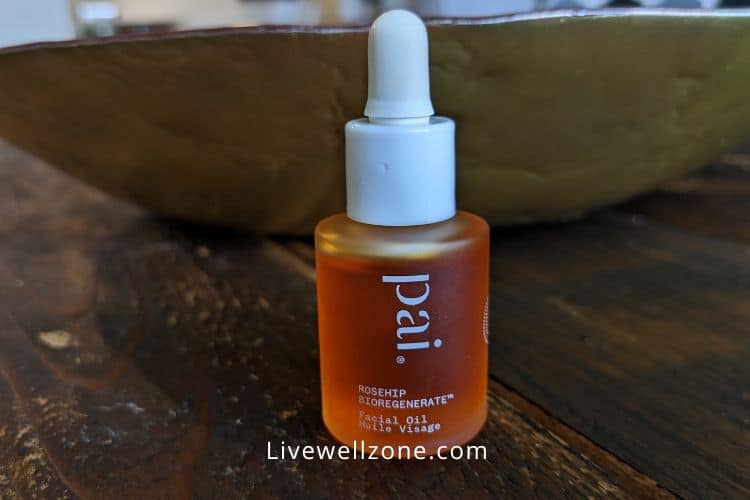 Similar to the previous oil, this one is also CO2 extracted from the entire rosehip seed and skin.
According to their website, it contains 99.7% rosehip oil and the remaining 0.3% is a combination of added vitamin E and rosemary extract.
Overall, this is very similar to Kosmea's oil (although I find that this one absorbs almost instantly. So if you absolutely can't wait a few minutes for an oil to absorb into your skin, this is the oil for you!).
Get Pai's Rosehip BioRegenerate Oil
4. The Ordinary Rosehip Oil
If you're looking for a budget-friendly and good quality rosehip oil, then this one's for you. The Ordinary's rosehip oil is 100% pure, cold-pressed and unrefined, which means it retains most of the essential nutrients that are naturally in the plant.
It also comes in a UV-protective packaging that helps to further preserve its natural ingredients. Basically this oil gives just what you need, without any weird nasties added.
Do keep in mind that this oil is cold pressed. While no external heat source is used, the process naturally generates some heat, resulting in temperatures that are slightly higher than with CO2 extraction. Also, cold pressed oils are exposed to air during part of the processing.
So, oxidation can start before it's packaged.
All this isn't a bad thing since most oils are cold pressed anyway. But it's something to be aware of when choosing oils.
Get The Ordinary's Rosehip Oil
5. Fleur & Bee
This mosturizing serum is:
formulated with a gentle vitamin C derivative (10% sodium ascorbyl phosphate) and ferulic acid (to boost vitamin C's action).
enriched with moisturizing and soothing ingredients like squalane, vitamin E, aloe vera, jojoba oil, hyaluronic aid niacinamide.
free of synthetic fragrance (but there is grapefruit peel oil and clary sage flower oil). What's more, there are moisturizing ingredients like aloe vera juice and skin-softening oils like jojoba oil.
Overall, a nourishing blend that can be used on all skin types.
Get Fleur & Bee's Vitamin C Serum
CONCLUSION
Rosehip oil and vitamin C serums are excellent options when you're looking to lighten dark spots, smooth out wrinkles, support collagen production and protect the skin from oxidative damage.
Just remember that they differ mainly in their potency, with vitamin C serum being harsher on the skin than rosehip oil. So if your skin is more on the sensitive side, rosehip is a better option.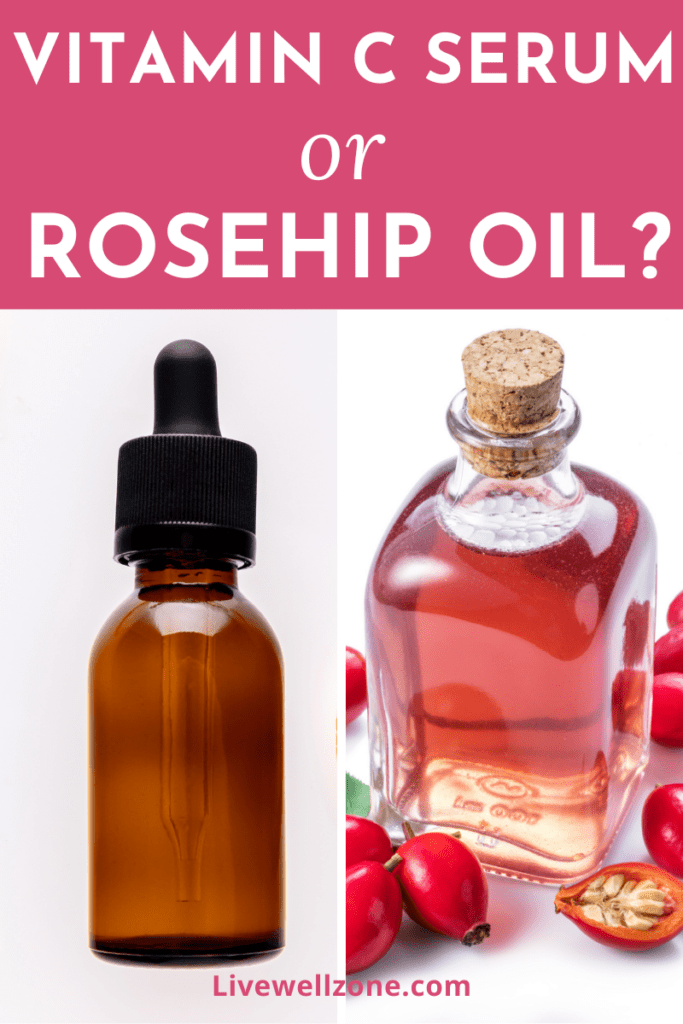 ---
You Might Also Enjoy:
How to Choose The Best Rosehip Oil
What To Mix (And Not) With Rosehip Oil For Face – The Ultimate Guide
Comparing Vitamin C Serum vs Vitamin E Serum: Benefits, How to Use and Which Is Better
Grapeseed Oil vs Rosehip Oil for Skin: Benefits, Which Is Better and Uses
Best Vitamin C Serums for Dry Skin
Rosehip Oil vs Hyaluronic Acid: Benefits, Differences & How To Use Them
Vitamin C vs Squalane: Benefits and How to Use Them for Radiant Skin
What To Mix (and not) With Vitamin C Serum: A Complete Guide
Best Natural Alternatives to Retinol: 8 Vitamin A Options You Might Be Ignoring
Sea Buckthorn Oil vs Rosehip Oil: Benefits, Which is Better and How to Use
Rosehip Oil for Skin: A Complete Guide
Pai Rosehip Oil vs Other Brands (Kosmea, Trilogy, The Ordinary, Radha): Which Brand Is Actually Worth It?
Evening Primrose Oil vs Rosehip Oil: Benefits, Differences, How to Use & Best Brands
Which is Better: Rosehip Oil or Retinol? A Complete Guide
Rosehip Oil vs Jojoba Oil for Face (And Body): Which is Better and How To Use
How To Choose The Best Vitamin C Serum: A Step by Step Guide
The Difference Between Rosehip Oil and Rosehip Seed Oil: Benefits, Which To Use and How to Use
Rose Oil vs Rosehip Oil for Skin And Hair: Benefits | Which is Better | How To Use
How To Choose The Best Rosehip Oil: 5 Things to Look For (and Recommended Brands)
Vitamin C Serum Vs Aloe Vera Gel: Which Is Better for Clear Skin?
How To Add Rosehip Oil To Your Skin Care Routine: Quick Tips To Follow
Best Vitamin C Serums for Rosacea (To Soothe Redness and Inflammation)