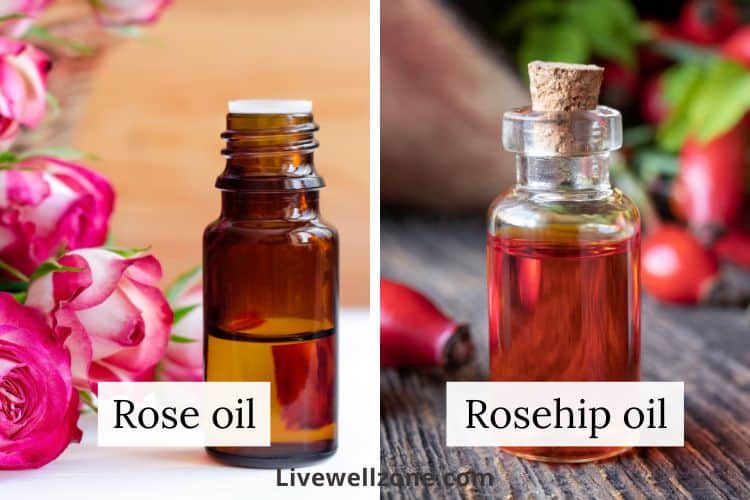 Despite having the word "rose" in common, rose oil and rosehip oil are two very different skincare products. Here's a very, very simplistic way of looking at rose oil vs rosehip oil for skin and how they differ:
Rose oil is an essential oil, while rosehip oil is a carrier oil. As a result, rose oil contains mainly volatile compounds and some antioxidants, but no nutrients (such as vitamins or minerals). On the other hand, rosehip oil contains various nutrients and some antioxidants, but no volatile compounds.
Now, even though rose oil and rosehip oil are fundamentally different, they complement each other quite well and when used together, they can take your skin to the next level.
So, in this article we're going to look a little deeper at:
Their benefits for the skin.
How to add them to your skincare routine.
Some of the best brands to use.
| | ROSE OTTO OIL | ROSEHIP OIL |
| --- | --- | --- |
| essential oil | ✓ | |
| carrier oil | | ✓ |
| rich in fatty acids | | ✓ |
| rich in pro vitamin A (beta carotene) | | ✓ |
| contains volatile oils | ✓ | |
| good for aging skin | ✓ | ✓ |
| good for inflamed skin | ✓ | ✓ |
| good for scars | | ✓ |
| good for stretch marks | | ✓ |
Note: this post contains affiliate links and I earn a commission (at no additional cost to you) if you use them to make a purchase.
ROSE OTTO OIL VS ROSEHIP OIL FOR SKIN: MAIN BENEFITS FOR ACNE, SCARS AND MORE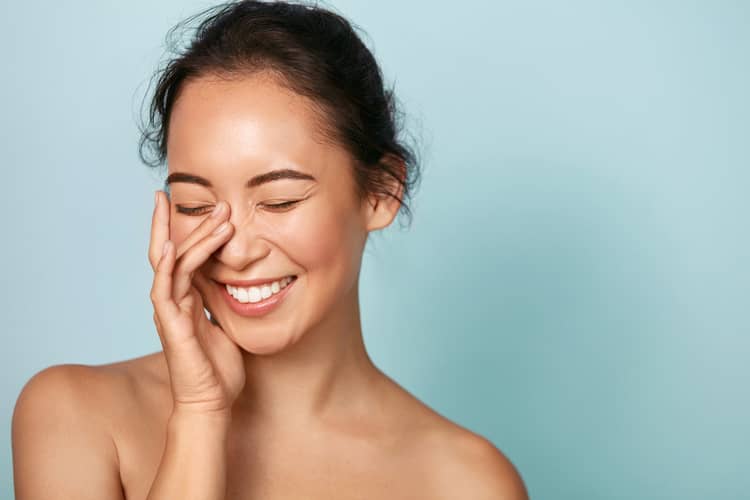 BENEFITS AND CHARACTERISTICS OF ROSE OTTO ESSENTIAL OIL
An essential oil distilled from the petals of the Bulgarian Rose (latin name rosa damascena).
According to a 2017 paper published in the journal Evidence-Based Complementary and Alternative Medicine, rose otto oil may help with eczema, bacterial infections, inflammation, wounds, dryness and aging skin (source).
Some of the notable ingredients in rose oil are geraniol, nerol, citronellol and phenylethyl alcohol. Below are some of the properties that each of these compounds may have (source).
| Compound | Properties |
| --- | --- |
| Geraniol | antiseptic, antioxidant and anti-inflammatory. |
| Nerol | antiseptic and anti-inflammatory. |
| Citronellol | cleansing and clarifying. |
| Phenylethyl alcohol | antiseptic |
BENEFITS AND CHARACTERISTICS OF ROSEHIP OIL
Carrier oil made from wild roses (which are different from the beautiful roses used for floral arrangements or essential oils).
Most of the rosehip oil on the market is pressed from the seed of the rosehip fruit only. That said, there are also a few brands that make rosehip oil that is pressed from the entire fruit (i.e. seed, pulp and skin).
Rich in fatty acids (found mostly in the seed) and vitamin A (found mostly in the pulp and skin). Also a natural source of vitamin E.
Locks in moisture and supports healthy skin barrier function.
Supports collagen production and therefore, is often used for things like wrinkles, stretch marks, scars and hyperpigmentation.
Natural anti-inflammatory that can be used for acne and other inflammatory conditions.
HOW TO USE ROSE OIL AND ROSEHIP OIL FOR FACE
HOW TO ADD ROSEHIP OIL TO YOUR SKINCARE ROUTINE
Use it as your moisturizer. To get the best results, apply it to slightly damp skin (instead of completely dry skin). When used this way, the rosehip oil seals in the moisture that comes from water.
Mix 1 to 2 drops with moisturizer in the palm of your hand and massage onto your skin.
Layer it with your moisturizer. If your moisturizer contains occlusive ingredients (such as beeswax) or heavy butters, apply the rosehip oil first. On the other hand, if your moisturizer is mainly water-based, then apply the rosehip oil on top of it.
Add a few drops to your clay mask to make the mask less drying.
Apply it on top of your favorite serum to help lock in moisture.
Combine it with other carrier oils when making your own face oil. If you need help figuring out how to blend oils, then feel free to use this collection of diy facial oil recipes that I've put together for you.
HOW TO ADD ROSE ESSENTIAL OIL TO YOUR SKINCARE ROUTINE
Since rose oil is an essential oil, it should not be applied to the skin undiluted. Rather, make sure to dilute it in a carrier oil like rosehip, jojoba, almond or any other carrier that you like.
Do keep in mind that for skin-safe essential oils like rose oil, a maximum 1.5% dilution is suggested. This equates to 13 drops of rose oil for every 1 ounce of carrier oil.
HOW TO USE ROSE OIL AND ROSEHIP OIL TOGETHER
Rosehip oil can be used as a carrier oil for rose oil, allowing you to enjoy both ingredients in one go. Here's a simple recipe that you can use.
Ingredients
1 Tbsp rosehip oil
1 Tbsp jojoba oil
9 – 13 drops rose otto essential oil
1 oz glass amber bottle
Instructions
1. Pour the rosehip and jojoba oil into the glass bottle.
2. Add the essential oil.
3. Shake the bottle and roll between the palms of your hands to mix ingredients.
ROSE OIL OR ROSEHIP OIL FOR HAIR: WHAT YOU SHOULD KNOW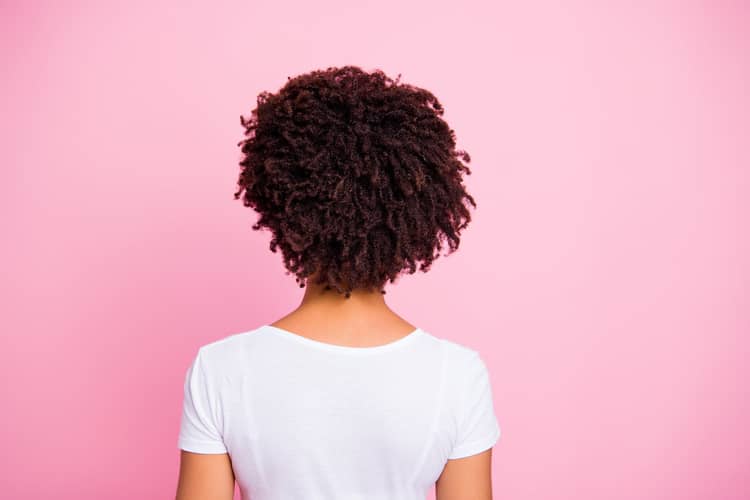 Just like the skin on the face and body, the hair and scalp can also benefit from the properties of rose oil and rosehip oil. For example:
Since the ingredients in rose oil are anti-inflammatory, antiseptic and cleansing, it can be used as a home remedy for seborrheic dermatitis (dandruff).
Rosehip oil's anti-inflammatory properties also make it useful as a DIY scalp treatment or as a carrier oil to protect the ends of hair.
When using rose essential oil for hair care, it's important to follow the same dilution guidelines as you would for your face. This means a maximum dilution of 1.5%. As for rosehip oil, it's a good idea to mix it with other carrier oils for the hair/scalp (such as castor oil, coconut, almond, jojoba or coconut).
Here are some quick examples of blends you can try:
Combine 11 drops tea tree oil and 2 drops rose oil, with an ounce of shampoo. Use this to wash your hair and soothe an inflamed scalp.
Blend 7 drops rosemary oil, 4 drops peppermint and 2 drops rose oil with 1 ounce of carrier oil (such as grapeseed or jojoba). Massage onto the scalp to stimulate hair growth and soothe inflammation.
Mix a few drops of rosehip oil with carrier oils like almond or jojoba and apply to the ends of damp hair. This will help to lock in moisture and protect your ends for environmental damage.
BEST ROSE OIL AND ROSEHIP OIL FOR HAIR AND FACE
BEST ROSE OTTO OIL
Finding a good quality rose oil isn't always easy – especially because when you look closely at the ingredients, you'll notice that the rose oil is actually diluted. In addition, some of the other rose oils on the market are "absolutes." Absolutes are cheaper but they're not essential oils.
Thankfully one company that offers an undiluted rose otto essential oil is Plant Therapy. I started using their oils in 2018 and they're one of my go-to brands for essential oils.
This rose oil is available in multiple sizes, starting at 5ml all the way up to 1/2 ounce. Unless you're planning on using rose oil a lot, a 5ml bottle is more than enough to get started.
Grab Plant Therapy's undiluted rose otto essential oil here.
BEST ROSEHIP OIL
The rosehip oil that I use and love to share with others is from an Australian company called Kosmea. This rosehip oil stands apart because it is made from the whole rosehip fruit i.e. the seed (which provides lots of fatty acids) as well as the pulp and skin (loaded with pro vitamin A in the form of beta carotene).
Most of the rosehip oil on the market doesn't include the pulp and skin. While this isn't a bad thing, it simply means those oils don't provide the full spectrum of benefits that rosehip has to offer.
Even though I like Kosmea's oil, there are other rosehip oils that are other good rosehip oils that are pressed from the seed only. You can see the full list of those oils in this article on how to choose the best rosehip oil.
FAQs ABOUT ROSEHIP OIL vs ROSE OIL
Will rosehip oil clog pores?
Rosehip oil is generally considered non-comedogenic. However, everyone's skin is different and it's possible that it can affect your skin differently.
How long does rosehip oil last?
Once opened, rosehip oil has a shelf life of about 6 months. Therefore, it's a good idea to store it in the fridge. This helps it stay fresh for as long as possible.
Why is rose oil so expensive?
It takes about 150 lbs of rose petals to make just 5ml (about 0.2 oz) of rose essential oil (source). As a result, rose essential oil has a higher price than many other essential oils. Thankfully you only need about 9 to 13 drops for a face oil (which will last several months).
CONCLUSION
Although they're completely different products, rose oil and rosehip oil are an excellent complement to each other. Furthermore, they're suitable for all skin types and can be incorporated into your hair routine, skincare routine or both.
I hope this article has helped you understand not just the differences between these oils, but also, the ways in which you can add them into your beauty routine.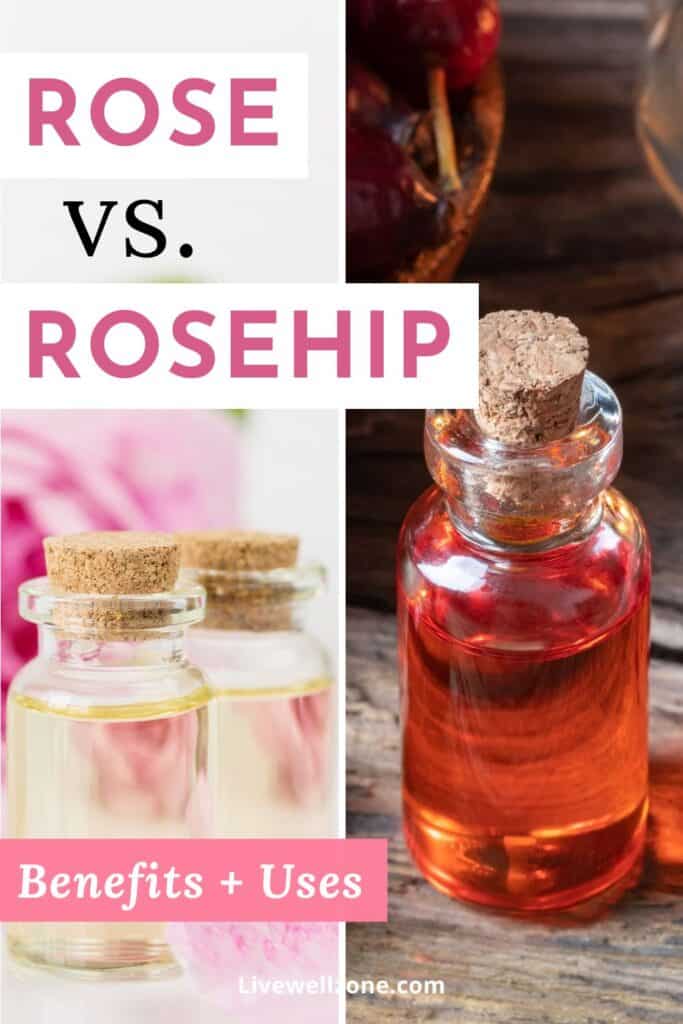 ---
You Might Also Enjoy:
The Difference Between Rose Water and Micellar Water: A Complete Guide
Evening Primrose Oil vs Rosehip Oil: Benefits, Differences, How to Use & Best Brands
Rosehip Oil for Skin: A Complete Guide
Rose Water vs Witch Hazel for Skin: Benefits, Similarities and How to Use
Rosehip Oil vs Jojoba Oil for Face (And Body): Which is Better and How To Use
What Is The Difference Between Rosehip & Rosemary Oil? A Clear Answer
What To Mix (And Not) With Rosehip Oil For Face – The Ultimate Guide
Which is Better: Rosehip Oil or Retinol? A Complete Guide
The Difference Between Rosehip Oil and Rosehip Seed Oil: Benefits, Which To Use and How to Use
How to Mix Essential Oils for Hair Growth: A Step-by-Step Guide with Dilution Chart