When thinking about rose water vs witch hazel the first thing we often think of is that they are both toners and astringents. Despite having that basic similarity, they're actually quite different in many other aspects. For example, they're extracted in very different ways and have different nutritional profiles…all of which can affect which one you choose to use.
To help you get more clarity about these two ingredients, we're going to look at:
Their benefits.
How to choose a good quality rose water or witch hazel.
How to use them.
Note: this post contains affiliate links and I earn a commission (at no additional cost to you) if you use them to make a purchase.
ARE WITCH HAZEL AND ROSE WATER THE SAME THING?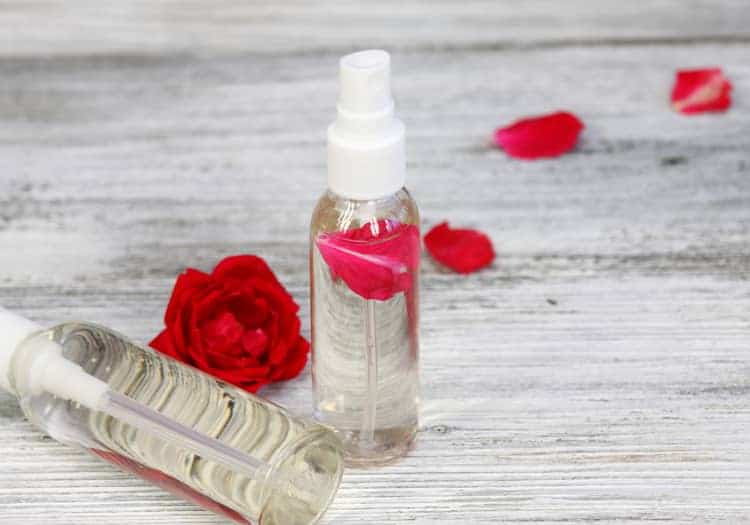 Although witch hazel and rose water are both used as toners, they are different. Witch hazel comes from the hamamelis virginiana plant and is commonly made as an alcohol-based extract. On the other hand, rose water is made via steam distillation and comes from rosa damascena plant.
Even though witch hazel is traditionally made by soaking the leaves and bark in alcohol – many brands use a ratio of 14% alcohol to 86% witch hazel – it can also be made as a water extract.
As you've probably already guessed, the water-based extract is gentler and less likely to cause irritation since there's no alcohol.
As for rose water, it's extracted as part of the production of rose essential oil.
NOTE: some rose water that is sold on the market is made by adding rose essential oil to water. This is not true rose water. So, when purchasing rose water, pay attention to the production method.
ROSE WATER VS WITCH HAZEL: THEIR BENEFITS FOR ACNE, OILY SKIN AND OVERALL SKIN HEALTH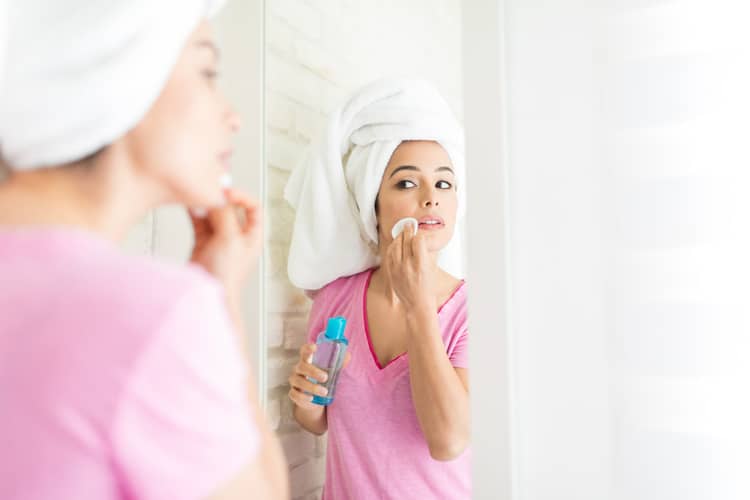 MAIN BENEFITS OF ROSE WATER
Gentle enough for all skin types: rose water is 99.95% water and contains only about 0.05% of the volatile oils that are normally in rose essential oil. This means it's very gentle and soothing to the skin, and unlikely to irritate the skin the way the essential oil could (about 0.05% – source).
Non-comedogenic: not only is rose water non-comedogenic, but it can also help to remove surface oil and dirt that would normally clog pores. As a result, it may help prevent the formation of blackheads.
Astringent: rose water can temporarily tighten pores and remove excess oils from the surface of the skin.
Hydrating: with its high water content, rose water is a perfect way to rehydrate the skin.
Contains antioxidants: one reason why rose water is said to soothe red and inflamed skin is probably because of its antioxidant content.
Natural toner: as a toner, rose water helps to rehydrate the skin and balance its pH.
MAIN BENEFITS OF WITCH HAZEL
Astringent: witch hazel contains up to 10% of tannins, which are antioxidants that constrict blood vessels. One benefit of this is that it can temporarily reduce the size of pores. In addition, as an astringent, witch hazel is also helpful for removing excess oil. [NOTE: since most witch hazel is extracted in alcohol, that alcohol also adds to the astringency of the toner. But the downside is that the alcohol can also irritate the skin. As we'll see later, there are alcohol-free options that you can choose from.]
Soothes redness and inflammation: going back to those tannins mentioned above, their ability to constrict blood vessels also helps to reduce our inflammatory response. As a result you can experience a temporary decrease in things like redness and irritation. It's also no wonder that witch hazel has traditionally been used for inflammatory conditions like acne and antioxidants.
Natural source of other antioxidants: aside from tannins, witch hazel also contains polyphenols and catechins. These antioxidants help to protect the skin from free radical damage (which can manifest as inflammation, premature aging or a compromised skin barrier, to just name a few). In addition, those polyphenols and catechins also have some antimicrobial properties.
Natural toner: pure witch hazel (extracted in water, rather than alcohol) hydrates the skin and also helps to restore its normal pH.
BEST ROSE WATER AND WITCH HAZEL BRANDS
1. Bulgarian Rose Water from Alteya Organics
This pure rose water comes from Bulgaria's "rose valley" which is known for its long history of rose cultivation. Another bonus is that the roses are organically grown, so your skin won't have to face the potential side effects of pesticide residue.
2. Alcohol-Free Witch Hazel from Quinn's
It's not easy finding an alcohol-free witch hazel toner that doesn't have lots of suspect ingredients. That's why this one stands out. It's a water-based formula that includes gentle and hydrating aloe vera, and glycerin (which draws moisture to the skin).
Get Quinn's alcohol-free witch hazel here.
3. Alcohol-Free Witch Hazel Rose Petal from Quinn's
Similar to the previous product, this toner has witch hazel and aloe vera, with the added benefit of rose water. Do keep in mind that this one is scented with rose fragrance.
Get Quinn's alcohol-free witch hazel rose petal here.
4. Clarify Witch Hazel from Humphrey's
Looking for a traditional witch hazel toner? Then this one's for you. It contains organic witch hazel extract in 14% alcohol. No extras. Just the essentials.
Get Humphrey's witch hazel here.
HOW TO USE WITCH HAZEL OR ROSE WATER FOR FACE
Witch hazel and rose water are generally quite gentle and they can be used every day. In addition, you can enjoy the benefits of both ingredients by using them together.
Here are some ways to incorporate rose water and witch hazel into your beauty routine:
1. As a toner
Cleanse your face as usual.
Apply either witch hazel or rose water (or a combination of both – see recipe in the next section) onto a cotton pad.
Gently swipe the cotton pad across your face to remove any remaining traces of dirt or oil.
2. Add to a face mask
If you make your own face masks, you can include witch hazel, rose water or both as the main liquid in the recipe.
Try this with clay masks or in a honey mask (combine 1 teaspoon honey with just a small amount of either liquid. You want just enough liquid to make the honey fluid and easy to spread).
3. As a face mist
A rose water spray is a great way to refresh your skin throughout the day and to also prime clean skin for makeup.
ROSE WATER AND WITCH HAZEL TONER RECIPE
Making your own rose water and witch hazel toner is as simple as combining equal parts of each ingredient in a spray bottle or a bottle with a flip cap.
Some basic guidelines to keep in mind when making this are:
use only pure witch hazel and pure rose water that don't have any extra ingredients.
if your witch hazel is extracted in alcohol, you can use 1 part witch hazel and 3 parts rose water. Having more rose water will help to offset the dryness from the alcohol.
to boost the toner, you can add other skin-loving ingredients like aloe vera juice or green tea.
FAQs ABOUT USING ROSE WATER OR WITCH HAZEL
Why does witch hazel break me out?
Witch hazel has traditionally been made in an alcohol base. While the alcohol is effective at extracting the medicinal properties of witch hazel, it can also irritate and dry out the skin. In particular, alcohol could disrupt your skin barrier and contribute to breakouts.
A better option would be to use witch hazel that is extracted in water.
Can you use rubbing alcohol instead of witch hazel?
Rubbing alcohol is very drying and can easily irritate the skin. It should not be used as a witch hazel substitute.
CONCLUSION
As far as natural toners or astringents go, rose water and witch hazel are two popular options. Whichever one you choose will be great for your skin because they're both gentle enough for even the most sensitive skin.
Just keep in mind that witch hazel tends to be extracted in alcohol, which can increases skin irritation. So choose an alcohol-free option to protect your skin.
---
You Might Also Like:
The Difference Between Rose Water and Micellar Water: A Complete Guide
Rose Oil vs Rosehip Oil for Skin And Hair: Benefits | Which is Better | How To Use