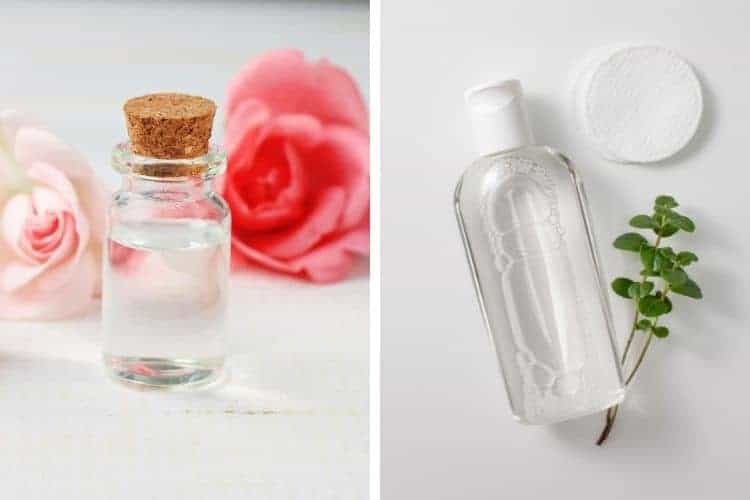 With rose water, micellar water and rose micellar water constantly popping up around us, it's not always clear what the difference is between rose water and micellar water, or even, whether one is better than the other. So, before we go any further, let's clarify some basic things about these beauty waters.
Micellar water is a gentle cleanser while rose water is a hydrosol with toning and astringent properties. They have different functions and one cannot be said to be better than the other. Nor can one replace the other. Rather, both products can be incorporated into the same skin care routine.
That said, rose and water micellar do have some similar properties (as we'll see shortly). But the fundamental purpose of each product is different. To help you get a better understanding of these skin care waters, this article is going to show you:
the key benefits of both rose water and micellar cleansing water.
how to use them in your skin care routine.
what to look for when choosing a rose or micellar water.
some store-bought products that incorporate these ingredients.
Note: this post contains affiliate links and I earn a commission (at no additional cost to you) if you use them to make a purchase.
ROSE WATER VS MICELLAR WATER FOR THE SKIN: BENEFITS AND MAIN CHARACTERISTICS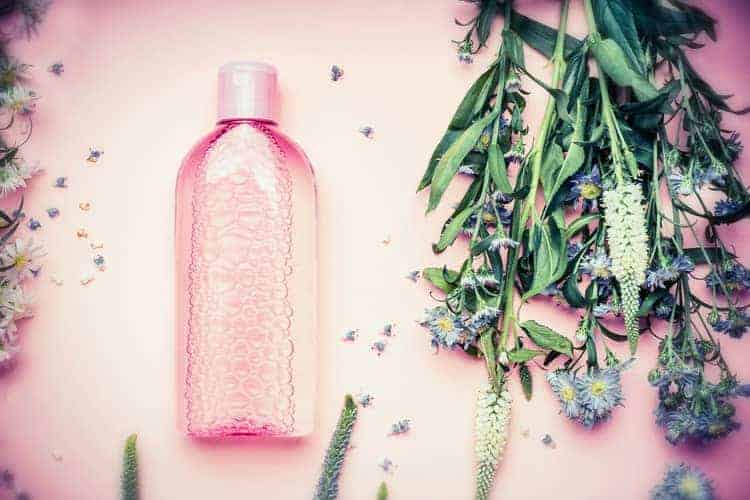 | | Rose Water | Micellar Water |
| --- | --- | --- |
| Cleanser | | ✓ |
| Tones and balances pH | ✓ | |
| Astringent | ✓ | |
| Hydrates | ✓ | ✓ |
| Contains antioxidants | ✓ | maybe, depending on additives used |
| Good for all skin types | ✓ | ✓ |
| Can be left on the skin | ✓ | ✓ |
ROSE WATER BENEFITS
Rose water is a hydrosol, aka water solution, that is produced as part of the production of rose essential oil.
Like all hydrosols, rose water contains the same volatile oils that are in essential oils, but in much smaller amounts (about 0.05% – source).
Since rose water is mainly water (about 99.95%) this makes a very gentle skin care ingredient (and a much safer alternative to essential oils, especially if you're sensitive to them).
Overall, rose water has the following benefits:
Temporarily soothes red, inflamed skin.
Acts as an astringent, helping to reduce oiliness and tighten pores.
Keeps the skin soft and supple.
Gives a naturally bright and healthy glow.
MICELLAR WATER BENEFITS
Micellar water is a cleansing product that is made of 2 main ingredients: water and mild surfactants.
Now, if you're not familiar with surfactants, they are molecules that have cleansing and foaming properties. They are widely used in anything that needs to be cleansing, such as shampoo, face wash and detergent. Structurally, surfactants are made of:
A hydrophilic "head" that attracts water and repels oil.
A hydrophobic "tail" that loves oil and repels water. These hydrophobic parts are able to attach to oil, makeup and dirt on our skin.
So, as you can see, the presence of surfactants is what transforms regular (non cleansing) water into cleansing micellar water.
As for the term "micelles," it comes from the fact when surfactants are placed in water they arrange themselves into spherical structures called micelles. With micelles, the water-loving head of the surfactant is on the surface of the sphere while the hydrophobic tail is on the inside of the sphere.
Something else that makes micellar water stand out is the fact they are very gentle and don't need to be washed off.
Their gentle properties come mainly from the mild surfactants that they contain. In addition, moisturizing ingredients are sometimes added to micellar water, helping to make it less abrasive than regular soaps or face washes).
Overall, micellar water provides the following benefits for the face:
Removes dirt, oil and makeup.
Good for all skin types, particularly dry, acne-prone or sensitive skin types that don't respond well to harsh cleansers.
Supports skin hydration (mainly because it doesn't strip the skin, plus it contains water and often, other hydrating or moisturizing ingredients).
No need to rinse off so they can help you save a few minutes in your routine!
HOW TO USE MICELLAR CLEANSING WATER AND ROSE WATER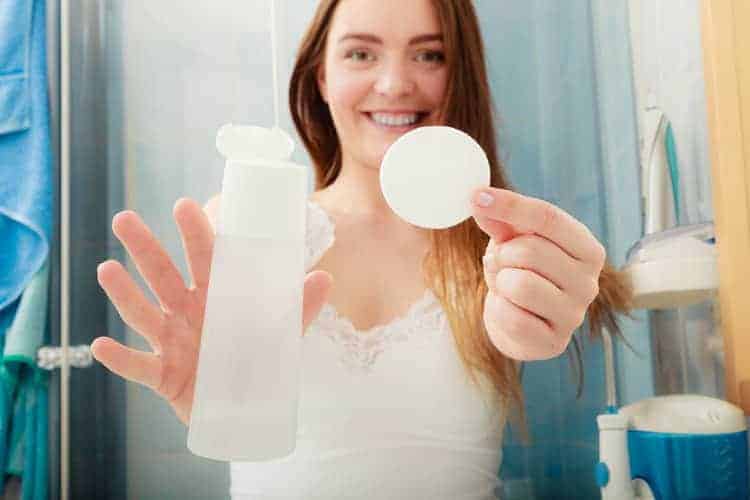 Tips for Using Micellar Water
As a makeup remover: soak a cotton pad with micellar water and swipe it across your face (including the area around the eyes) until all makeup is removed. When you're done you can either: rinse your face, proceed with your normal cleanser or apply a toner (if you use one).
As a cleanser: if harsh soaps/cleansers tend to irritate your skin, micellar water can be gentler substitute. Simply soak a cotton pad with the micellar solution and wipe it across your face until clean. Once you're done, you can either rinse your face with water or proceed to the next step in your routine.
Tips for Using Rose Water
As a toner: after cleansing, mist your face with rose water or apply it to a cotton pad and use the way you would use any other toner.
Add to clay mask: substitute the water in your clay masks for rose water. This will boost the mask's hydration factor, resulting in less dryness.
Make a moisturizing honey mask: combine 1 teaspoon honey with just enough rose water to make the honey fluid and less sticky. Apply the mask to your face with a makeup brush. Leave on for 15 – 20 minutes. Rinse off with warm water.
CHOOSING THE BEST ROSE AND MICELLAR PRODUCTS FOR YOUR BEAUTY ROUTINE
The rose waters that are sold for skincare generally fall into two categories:
Rose water that is made from steam distillation (usually, extracted collected during the essential oil production process). This is the type of rose water you want.
Water with rose essential oil added to it. This is less desirable mainly because there's no way of knowing the amount of essential oils that were added. Basically, since this is "man made" the amount of essential oils may not be exactly the same as the rose water produced by steam distillation.
As for micellar water, here are the main things to look out for when you're ready to buy:
Water and surfactants: water should be the first ingredient and the surfactants are usually within the first 5 ingredients (although each brand/formula can be different). Some commonly used surfactants in micellar water include decyl glucoside, hexylene glycol, poloxamer 184 and caprylyl/capryl glucoside.
Add-ins: most micellar water will have additional skin-soothing ingredients such as humectants (glycerin or aloe, for example), plant extracts and carrier oils.
Preservatives: expect to see one or more preservatives in micellar water.
Fragrance: some brands add fragrance. Since fragrance can be irritating for some skin types, make sure to read the ingredient list closely if you'd rather avoid this ingredient.
Now that we've covered those basics, here are some rose waters and micellar waters to explore for your skincare routine.
1. Sensibio Micellar Water from Bioderma
The French company, Bioderma, was the first to introduce micellar water to the mainstream beauty market. So, no list of micellar water recommendations would be complete without including them!
There are multiple micellar formulas from Bioderma, but the Sensibio is a good place to start because it's designed for sensitive skin. Therefore, it's gentler than other formulas.
While the ingredients don't contain as many soothing botanicals as some of the other products on the list, it's got everything that is required for a straight-to-the-point micellar water.
Get this sensibio micellar water here. You can also get them as convenient wipes here.
2. Pure Rose Hydrosol from Mountain Rose Herbs
Made from bulgarian rose petals, this rose water is produced via steam distillation. And the roses are also 100% organic. Basically, this checks all the boxes for a pure rose water that you can use on its own or in a DIY recipe.
Get this pure rose water here.
3. Organic Bulgarian Rose Water from Alteya Organics
This is another great option for a pure, organic bulgarian rose water. According to their website, Alteya Organics' farms are located in Bulgaria's "rose valley," an area that is known for its rose production and even, an annual rose festival.
Given the long history of rose farming in this area, it's well worth looking into this brand for pure rose water.
4. Rose Water Face Mist from 100% Pure
If you're all about giving yourself that extra level of pampering, this face mist is for you. The combination of rose water, flower extracts (calendula and chamomile), plus hydrating ingredients like hyaluronic acid, makes this a great refresher/toner.
This can be used underneath your moisturizer, morning or night. Not only will the rosy scent lift your spirits, but the botanical blend will leave your skin that extra but of TLC.
Get this rose water face mist here.
5. Rose Micellar Cleansing Water from 100% Pure
With rose water as its second ingredient, this micellar water gives you the best of both worlds when it comes to gentle cleansing and hydration. In addition, it contains glycerin (which draws moisture to the skin), cornflower water (another gentle hydrosol) and plant extracts (notably from lemons and grapes).
Get this rose micellar cleansing water here.
FAQs ABOUT USING MICELLAR OR ROSE WATER FOR FACE
Is micellar rose water a toner?
Micellar rose water is a cleansing water that includes rose water as one of its ingredients. Even though pure rose water can be used as a toner, a micellar rose water is not really a toner. Rather, it's a gentle cleanser that contains an ingredient with skin toning properties.
Which is better: toner or micellar water?
Micellar water and toner have two different functions. The former cleanses while the latter balances skin pH, removes excess dirt and oil, hydrates skin and more (depending on the formulation). One isn't better than the other. Instead, they can be used together based on what your skin needs.
Is it okay to use micellar water everyday?
Micellar water can be used daily because it contains gentle surfactants that remove dirt, oil and makeup. Ultimately, micellar water cleans the skin without drying it out the way that stronger cleansers or soaps do.
Why is micellar water bad?
The main concerns around micellar water have to do with what happens to the skin if the water isn't rinsed off. More specifically:
those with sensitive skin may experience irritation (such as dryness or itching) stemming from the surfactants in the micellar water. That said, a well formulated micellar water is supposed to be formulated only with mild surfactants that are considered safe enough to be left on the skin. Nonetheless, there's always a possibility of irritation.
the micellar water residue may hinder the efficacy of other products you apply onto your skin (such as your serum or moisturizer).
some surfactants (such as sodium lauryl sulfate) can be quite toxic and may contribute to chronic health issues. So, depending on which ones are used micellar water, there's concern about their long-term effects on our health.
CONCLUSION
Rose and micellar cleansing water are wonderful additions to any skin care routine. They're super gentle on the skin and rose water, in particular, gives an added feeling of "luxury!"
I hope this article has given your more clarity on these products so that you can decide if they're right for you.
---
You Might Also Enjoy:
How To Double Cleanse With Micellar Water: A Step-by-Step Guide
The Difference Between Rosehip Oil and Rosehip Seed Oil: Benefits, Which To Use and How to Use
What To Do Before And After Steaming Your Face: A Complete Guide
Rose Oil vs Rosehip Oil for Skin And Hair: Benefits | Which is Better | How To Use
Rose Water vs Witch Hazel for Skin: Benefits, Similarities and How to Use