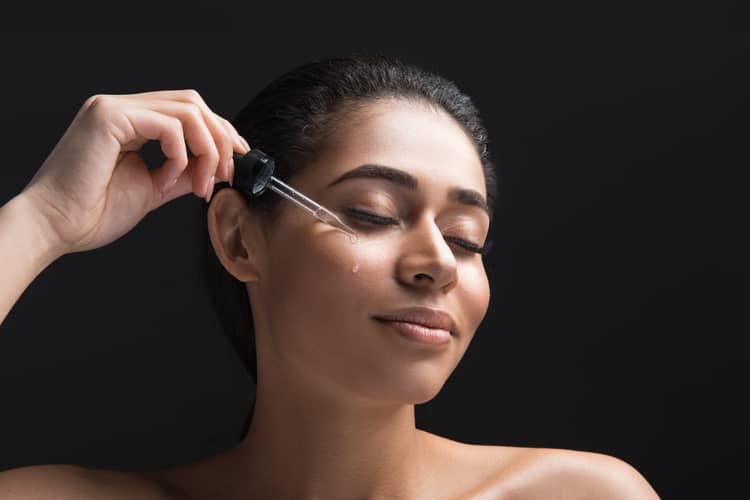 Even though vitamin C has a reputation for being drying and irritating, it can still be quite beneficial to dry skin.
When using this popular ingredient on dry skin, it's important to choose a formulation that addresses the needs of dry skin.
And In this guide to the best vitamin C serums for dry skin, we're going to look at 5 products to use and what makes each one worth paying attention to.
Note: this post contains affiliate links and I earn a commission (at no additional cost to you) if you use them to make a purchase.
WHICH VITAMIN C SERUM IS BEST FOR DRY SKIN?
Here are my top choices for the best vitamin C serums for dry skin.
TYPE OF VITAMIN C:
sodium ascorbyl phosphate. According to the company's website, the amount they use is equivalent to 15% ascorbic acid.
WHY USE IT
First off, two things: ferulic acid and vitamin E. These two antioxidants are basic must-haves in any vitamin C serum because they help to stabilize it. In addition, when used with other antioxidants (such as vitamin C and vitamin E) ferulic acid helps to boost their action on the skin.
In addition, this serum has a variety of hydrating and moisturizing ingredients that are also quite soothing to dry or irritated skin. Some noteworthy ingredients are:
Konjac root (contains glucomannan, which is a type of fiber that hydrates the skin and also fights oxidative damage).
Hyaluronic acid (has humectant properties that draw moisture to the skin. But if you live in a dry, low humidity environment, it could actually draw moisture out of your skin!).
Chamomile flower extract (this herb is traditionally used to soothe dry or irritated skin).
Aloe vera leaf.
Glycerin.
Get Mad Hippie's Vitamin C Serum
TYPE OF VITAMIN C
sodium ascorbyl phosphate.
WHY USE IT
Not only does this serum use a vitamin C derivative (which is less drying and irritating than pure ascorbic acid), but it also contains vitamin E, which has emollient (skin-softening) properties.
In addition, this serum has a combination of hydrating and moisture locking ingredients that can be incredibly soothing to dry skin.
In the hydration category, the noteworthy ingredients are:
aloe vera juice.
sodium hyaluronate (a salt form of hyaluronic acid. There's a lot of doubt about whether sodium hyaluronate actually hydrates as well as true hyaluronic acid).
glycerin (both humectants).
In the moisture-locking category, there are carrier oils like:
jojoba seed oil.
squalane.
safflower oil.
grapeseed oil.
Lastly, there's also niacinamide (vitamin B3) which helps the skin produce more ceramides (source). These ceramides are fats that are found in the skin and they make up a significant portion of the skin barrier.
They play an important role in preventing the skin from becoming too dry.
TYPE OF VITAMIN C
WHY USE IT
You get a gentle form of vitamin C as well as botanical sources of vitamin C (notably acerola fruit extract and sea buckthorn berries).
In addition, there's a lovely blend of carrier oils that nourish the skin, soothe inflammation and lock in moisture. Some of those oils include:
camellia seed oil (aka green tea oil).
baobab oil.
meadowfoam oil.
rosehip oil.
jojoba oil.
TYPE OF VITAMIN C
sodium ascorbyl palmitate.
WHY USE IT
With ingredients like hyaluronic acid, glycerin and aloe, this serum provides the hydration that dry skin craves. But again, these have humectant properties which are great if you live in a humid area, but not so great if you live in a dry area.
In addition, ingredients like green tea extract and yacon root juice will help to soothe the irritation that sometimes accompanies dryness.
Furthermore, there's even lactobacillus, a bacterial strain that is naturally present in the skin and may help to enhance the skin barrier (source).
While there aren't lots of carrier oils in this formula, there is rosehip oil which is a mild occlusive that also brightens the skin and soothes inflammation.
TYPE OF VITAMIN C
ascorbic acid polypeptide.
WHY USE IT
Aside from ascorbic acid polypeptide, there are plant-based sources of vitamin C, notably aloe vera juice, rosehip seed extract and edelweiss extract (edelweiss is a member of the daisy family).
For extra moisture, you can also rely on the humectant properties of glycerin, while the sunflower oil and shea butter help to keep the skin soft and supple.
Get Brighten Up Vitamin C Serum
CONCLUSION
When using vitamin C on dry skin, take a "less is more" approach. Meaning, use a low concentration of pure vitamin C (L-ascorbic acid) or better yet, use a gentle vitamin C derivative.
Yes, you may have to wait a little longer to see results with the gentle derivatives, but you'll be saving your skin from further irritation and dryness.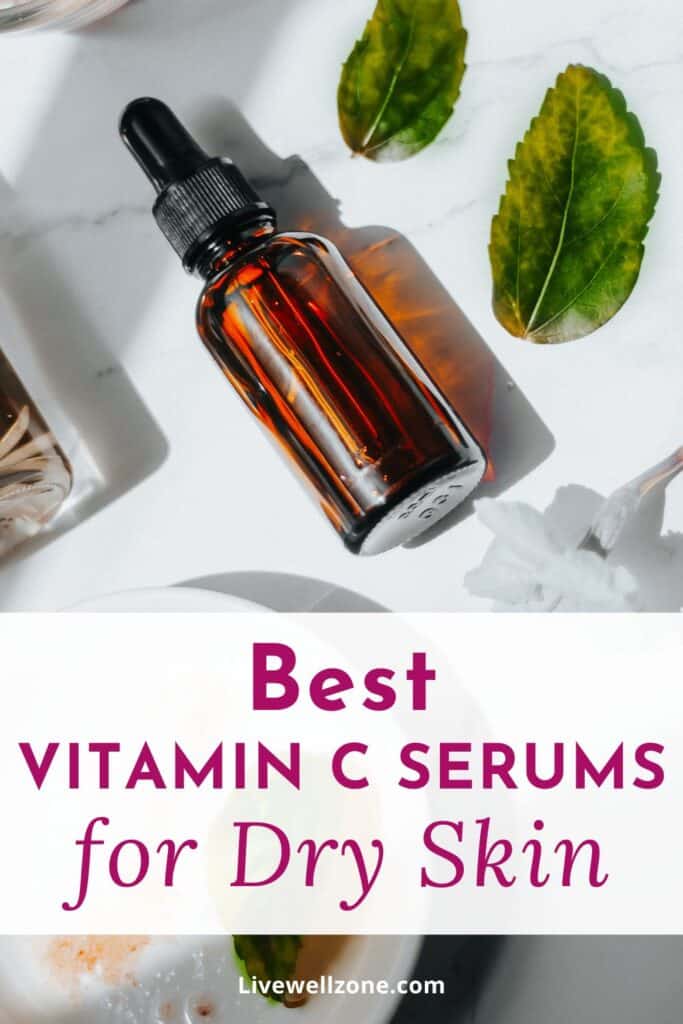 ---
You Might Also Enjoy:
Vitamin C Serum vs Rosehip Oil: Benefits, Which Is Better and How To Use
Benefits of Vitamin C Serum For Dry Skin
Natural Skin Care Routine For Dry Skin: A Complete Guide
What To Mix (and not) With Vitamin C Serum: A Complete Guide
Vitamin C vs Squalane: Benefits and How to Use Them for Radiant Skin
Best Vitamin C Serums for Rosacea (To Soothe Redness and Inflammation)