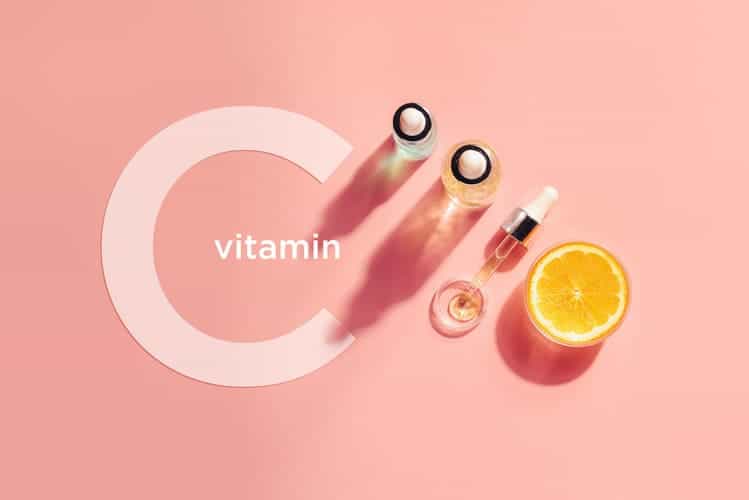 If you have dry, dull and lackluster skin, a vitamin C serum could be just what you need.
Not only does vitamin C itself provide some important benefits for dry skin, but when used in a serum formula you can enjoy additional hydration (thanks to the complementary ingredients).
So, in this quick guide, we're going to look at the benefits of vitamin C serum for dry skin and how to incorporate it into your routine.
CAN DRY SKIN USE VITAMIN C SERUM?
Vitamin C's antioxidant and exfoliating properties may help to protect dry skin from environmental damage, while also improving the overall look and feel of dry skin. In addition, vitamin C stimulates the growth of fibroblasts, which are cells that produce the naturally hydrating compound, hyaluronic acid.
However, in order to get these benefits, it's important to choose the right type of vitamin C.
Now, when choosing a vitamin C serum for dry skin, there are a few things to consider:
Type: there are two main categories of vitamin C to choose from: L-ascorbic acid and vitamin C derivatives. Here's an overview of each type:
L-ascorbic acid: this is pure vitamin C and it's the most potent. It can also be drying and irritating for some people. So, if you're going to use this form of vitamin C, a low concentration is generally better (5 – 10%).
Vitamin C derivatives: these are gentler (and more shelf stable) than L-ascorbic acid. They do take a little longer to produce results. However, it's worth the wait to save your skin from further dryness or irritation. Some derivatives to look for in products are: sodium ascorbyl phosphate, magnesium ascorbyl palmitate, tetrahexyldecyl ascorbate and retinyl ascorbate.
Complementary ingredients: for dry skin, it's a good idea to pick a product that is formulated with hydrating and moisture-locking ingredients like:
aloe vera.
glycerin.
hyaluronic acid.
carrier oils.
butters.
Strength:  for optimal results, experts recommend using vitamin C at a 8-20% concentration. Do keep in mind that if your skin is both dry and sensitive, then you might want to start with a lower concentration, say 5%. Since higher concentrations of vitamin C can cause irritation, it's good to take a less is more approach.
In addition to these three things, you also want to make sure that you pay attention the packaging and the product pH. You can learn more about these aspects in this guide to choosing the best vitamin C serum.
WHICH VITAMIN C SERUM IS GOOD FOR DRY SKIN?
Some vitamin C serums to consider using for dry skin are:
Mad Hippie Vitamin C Serum
Nectar of the C
Botanical C Facial Serum
Derma-E Vitamin C Concentrated Serum
Brighten Up Vitamin C Serum
For a review of these serums, read this guide on the best vitamin C serums for dry skin.
HOW DO YOU USE VITAMIN C FOR DRY SKIN?
Follow these general guidelines when using vitamin C on dry skin:
Apply to freshly cleaned skin.
Always follow up your vitamin C serum with a moisturizer.
Avoid combining vitamin C with other actives like retinol or acids (AHAa or BHAs). This can worsen dryness and irritation.
Don't use vitamin C and benzoyl peroxide at the same time because benzoyl peroxide can reduce the effectiveness of vitamin C.
FAQs ABOUT USING VITAMIN C ON DRY SKIN
When should I use vitamin C serum for dry skin?
Vitamin C serum can be used either in the morning or at night. Some experts recommend using it in the morning to protect the skin from oxidative damage during the daytime (since vitamin C is an antioxidant).
Does vitamin C serum hydrate skin?
According to a scientific review, the vitamin C derivative MAP (magnesium ascorbyl phosphate) reduces moisture loss from the skin (source). In addition, cell culture studies suggest that vitamin C boosts the production of skin barrier lipids. This may help in preventing moisture loss.
CONCLUSION
Adding a vitamin C serum to your skincare routine can give you much-needed hydration and a healthy glow.
With its powerful antioxidant properties, vitamin C also helps to protect the skin from daily environmental damage and prevent premature aging.
Overall, it's a win-win for your skin!
---
You Might Also Like:
Best Vitamin C Serum For Sensitive Skin: 5 Products to Unlock Your Natural Glow