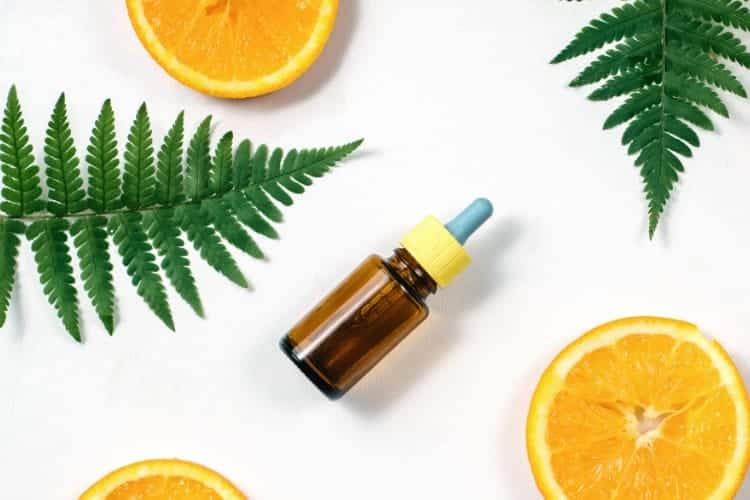 A vitamin serum is one of the most important investments that you can make for your skincare routine. But before you reach for a random product, it's important to know how to choose the best vitamin C serum for you.
So in this article we're going to look at the 6 things that affect the quality of a vitamin c serum,plus some tips on how to use and store your serum.
Note: this post contains some affiliate links and I earn a commission (at no additional cost to you) if you use them to make a purchase.
CHOOSING A GOOD VITAMIN C SERUM: 6 THINGS TO LOOK FOR
1. Type of Vitamin C
There are two main types of vitamin C in serums: L-ascorbic acid and vitamin C derivatives.
L-ASCORBIC ACID
Pure form of vitamin and the most commonly used.
Tends to be harsh and may not be suitable for ultra sensitive skin.
Degrades or spoils quickly.
VITAMIN C DERIVATIVES
Some frequently used derivatives are magnesium ascorbyl palmitate, sodium ascorbyl phosphate and retinyl ascorbate and tetrahexyldecyl ascorbate. Of all the derivatives, tetrahexyldecyl ascorbate seems to be the best option. In particular, this derivative is fat-soluble, which means it is more easily absorbed into the skin. As a result, it is more likely to produce more noticeable results compared to other derivates.
When absorbed into the skin, derivatives are converted to ascorbic acid.
Gentler on the skin compared to ascorbic acid. As a result these are more suitable for highly sensitive skin.
They are more stable than ascorbic acid. Not only does this make product formulation easier, but it also gives the product a longer shelf life compared to products containing ascorbic acid.
A 5% concentration of L-ascorbic acid is ideal for most people with sensitive skin (though some people can go as high as 10%).
Overall, it's best to stay away from anything in the 20% – 30% range because that's way too much for delicate skin.
2. Concentration
Some research indicates that a 10% concentration of vitamin C is necessary for us to see any improvements, while a 20% concentration provides the most absorption (source).
However, as the concentration goes up, the serum can also be harsher on the skin. So, if you have sensitive skin, then you want to be mindful about this and stick to lower concentrations of L-ascorbic acid (about 5%).
Now, as for vitamin C derivatives, they are converted to ascorbic upon contact with the skin. And it's not a one to one equivalency. Meaning that if a product has 5% of a derivative, it's not converted to 5% ascorbic.
Instead, you expect the conversion value to be lower. For example, a 10% derivative might only yield you 3% ascorbic acid (source).
3. Stabilizing Ingredients
In its pure form – i.e. ascorbic acid – vitamin C is very unstable and oxidizes easily when exposed to light and air (source).
So, when choosing a serum, make sure it has stabilizing ingredients like:
Ferulic acid
Vitamin E (sometimes listed as tocopherol)
Most brands use both ferulic and vitamin E for the best results. So, read the ingredient details to know exactly what you're getting.
And while we're on the topic of stabilization, make sure there's an expiration date on your serum. And once you do start using it pay attention to the smell and color. If it smells sour or becomes discolored, it's time to chuck it.
4. Moisturizing Ingredients
No matter which form of vitamin C you use, it can leave the skin feeling dry. So, a good serum should include some hydrating and/or moisturizing ingredients.
Look for ingredients like:
hyaluronic acid.
Aloe vera gel or juice.
carrier oils (like jojoba, grapeseed, olive, etc.)
5. Packaging
Since vitamin C oxidizes easily when exposed to light and air, the ideal package should have these characteristics:
A dark colored or opaque bottle. In addition, some brands use a bottle with a built-in UV-protectant.
A pump dispenser. This is better than the bottles with droppers because the dropper exposes the serum to the environment.
6. pH Balance
In order for the skin to absorb vitamin C, the serum needs to have a fairly low, acidic pH. Some sources say a pH of 2 to 3 is best for optimal absorption.
This is much lower than the average adult's pH of 5.7.
However, if you have normal skin, you might be able to handle it. On the other hand, if you have sensitive skin, then you want a product that is close to the skin's normal pH (in the 5 to 6 range).
By the way, if you have very delicate skin, this list of the top vitamin C serums for sensitive skin is for you.
NOTE: pH information isn't usually included on product packaging. However, if you reach out the company's customer service they are usually very willing to share those details.
FAQs ABOUT PICKING THE RIGHT VITAMIN C SERUM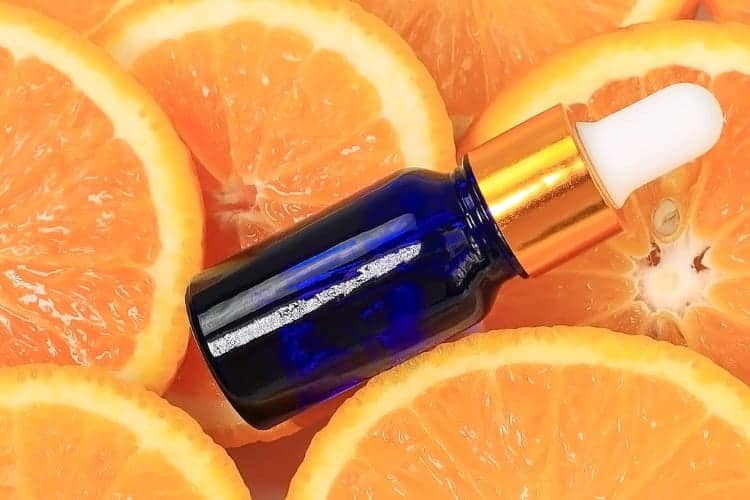 In what order should you apply Vitamin C serum in your skincare routine?
Vitamin C should be used after cleansing and toning the face. Then it should be followed up with a moisturizer.
Should you refrigerate vitamin C serum?
Since vitamin C serum is damaged by light and other environmental factors, it's a good idea to store it in a dark and cool place like the fridge. While refrigeration won't stop the serum from eventually going bad, it can help to slow down how quickly that happens.
What is the best affordable vitamin C serum?
Some of the top budget vitamin C serums are:
InstaNatural Vitamin C Serum: contains a vitamin C derivative (sodium ascorbyl phosphate), hyaluronic acid, vitamin E and several botanicals (such as witch hazel, licorice root, sea buckthorn oil, rosehip oil and more).
Pura D'Or Vitamin C Serum: 20% ascorbic acid, hyaluronic acid, vitamin E, ferulic acid plus botanicals like aloe vera and witch hazel. $14.99
How long does it take vitamin C serum to work?
Some experts state that it can take about 3 weeks to start seeing results from vitamin C serum. In other cases, such as with hyperpigmentation, it can take about two months to see major improvements (source).
Does vitamin C cause pimples?
Vitamin C serum could cause pimples if the product has gone bad or if it's too strong and irritating for your skin.
Can I use Vitamin C serum everyday?
Vitamin C can be used daily, and if your skin can handle it, you can even use it in the morning and night. When using it in the morning, it's a good idea to also apply a sun protectant (vitamin C increases photosensitivity).
CONCLUSION
When choosing a vitamin C serum, the devil is in the details. So, don't just purchase based on the front label.
Take the time to read the ingredients and evaluate the packaging.
I hope this simple guide has helped you get a better understanding of what to look for when choosing a vitamin C serum.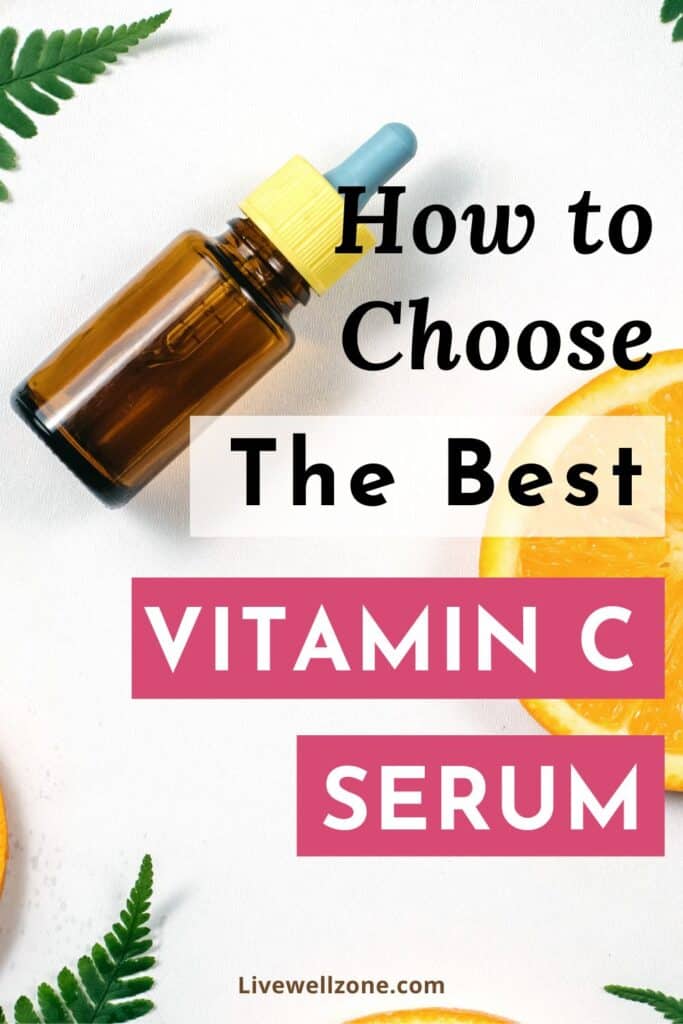 ---
You Might Also Enjoy:
Vitamin C Serum vs Rosehip Oil: Benefits, Which Is Better and How To Use
Benefits of Vitamin C Serum For Dry Skin
Comparing Vitamin C Serum vs Vitamin E Serum: Benefits, How to Use and Which Is Better
What To Mix (and not) With Vitamin C Serum: A Complete Guide
Vitamin C vs Squalane: Benefits and How to Use Them for Radiant Skin
Vitamin C Serum Vs Aloe Vera Gel: Which Is Better for Clear Skin?
Best Vitamin C Serums for Rosacea (To Soothe Redness and Inflammation)