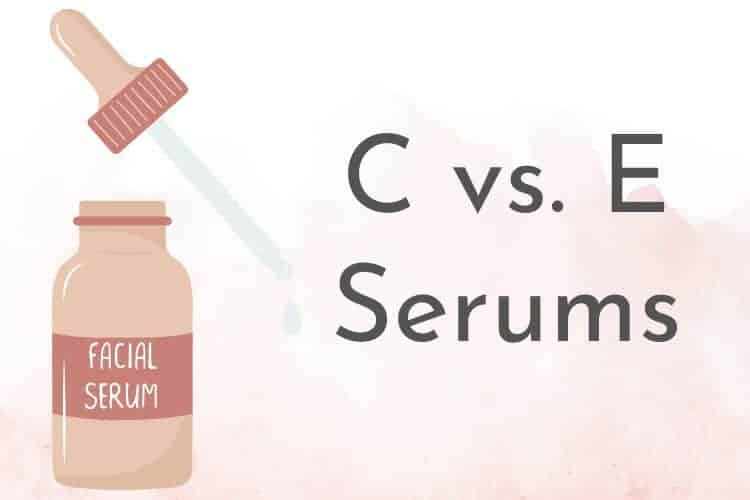 Serums have gained massive popularity, mostly due to their potency and ability to deliver fast results. And as you work on your beauty routine, you may find yourself debating between vitamin C serum vs vitamin E serum.
To help you understand what each serum has to offer, this guide is going to cover:
the benefits of vitamin C and E for skin.
how to use them together (and why you should!).
serums that are formulated with these ingredients.
Let's get into it!
Note: this post contains some affiliate links and I earn a commission (at no additional cost to you) if you use them to make a purchase.
BENEFITS OF VITAMIN C FOR SKIN
1. Minimizes Wrinkles and Signs of Aging
Vitamin C stimulates fibroblasts, which are cells that produce collagen, elastin and hyaluronic acid.
Since all three of these compounds are essential for firm and pliable skin, it's no wonder that vitamin C is often used to soften wrinkles and fine lines.
2. Natural Anti-inflammatory
Vitamin C is able to regulate sebum production and as such, it can be helpful for acne.
In fact, some clinical trials show that applying vitamin C twice a day improves acne lesions (source).
In addition, topical application of vitamin C has been shown to help inflammatory conditions like rosacea.
More specifically, using 5% vitamin C leads to an improvement in rosacea redness (source).
3. Acts As An Antioxidant
Vitamin C has photoprotective properties that protect the skin from the damaging effects of UV rays and free radicals.
This is important for clear skin because free radicals can negatively impact the skin barrier and contribute to wrinkles, dark spots, acne and more.
And the only thing that can effectively neutralize free radicals is an antioxidant, like vitamin C.
4. Improves Hyperpigmentation and Scars
Not only does vitamin C stimulate collagen production, but it's been shown to speed up wound healing.
Together, these properties make vitamin C a helpful ally for anyone who wants to get rid of dark spots, balance skin tone and reduce the appearance of scars.
BENEFITS OF VITAMIN E FOR SKIN
1. Moisturizes and Softens Skin
Two small studies show that topical application of E increases the skin's ability to bind water and basically, stay hydrated (source).
In addition, vitamin E is an important component of sebum, which acts as a natural barrier that prevents water loss.
Since moisture and healthy sebum are both necessary for glowing skin, it's easy to see why vitamin E is frequently used in skin care products.
And the good news is that it doesn't take much vitamin E to see these results.
Simply using a moisturizer with as little as 0.1% vitamin E has been shown to be effective.
2. Antioxidant
As an antioxidant, vitamin E may protect the skin from all types of free radical damage.
For example, vitamin E may be able to absorb some UVB rays (source).
By doing so, it reduces the skin's inflammatory response (which usually shows up as redness, swelling or thickening of the skin).
3. Helps to Stabilize and Boost Vitamin C
If you've ever shopped for vitamin C serums, you have noticed that they usually have vitamin E.
This is because vitamin E plays a role in stabilizing vitamin C (which is notoriously unstable and tends to oxidize easily).
In addition, the right formulation of vitamin E and C can also provide more protection against UV damage.
NOTE: combining vitamin E with ferulic acid further boosts the photoprotective effects of vitamin C.
HOW TO USE VITAMIN C AND E SERUMS IN YOUR SKIN CARE ROUTINE
1. Use a C and E serum
Given the research that was cited in the previous section, it's best to use a serum that combines vitamin E and C.
Do keep in mind that vitamin E is often listed as tocopherol or tocotrienol on product ingredients lists.
For a selection of serums, see the next section.
2. Layer separate serums
If you'd rather use separate C and E serums, then you will want to pay attention to the order in which you layer them.
In general, it's best to apply the serum that addresses your most important skin care goal first.
So, if hyperpigmentation is your most important goal, then apply your C serum first.
If moisturization is your primary goal, then apply your E serum first.
Lastly, another option is to use the serums at different times of the day. In this case, vitamin C in the morning and vitamin E at night.
BEST VITAMIN C AND E SERUMS FOR FACE
1. Nectar of the C Serum
Rather than rely on ascorbic acid – which can be irritating for some people – this serum uses SAP (sodium ascorbyl phosphate).
SAP is a derivative of vitamin C and as such, it is gentler on the skin. According to the packaging, this has the equivalent of 10% vitamin C.
In addition, this is formulated with vitamin E and ferulic acid, both of which are known for enhancing the efficacy of vitamin E.
And to balance out the formulation, there are also hydrating, moisturizing and soothing ingredients like:
aloe vera juice.
glycerin.
jojoba oil.
squalane.
2. Mad Hippie Vitamin C Serum
If you're a sucker for plant-based products, then this serum is for you.
Not only is it formulated with a gentle vitamin C derivative (sodium ascorbyl phosphate), but it includes soothing botanicals like:
aloe vera.
konjac root (hydrates the skin and helps with oxidative damage).
chamomile flower extract (antioxidant-rich herb that is traditionally used to soothe inflamed skin).
clary sage (anti-inflammatory and antioxidant)
grapefruit (natural source of vitamin C; gentle exfoliant).
According to the company's website, this serum provides the equivalent of 15% vitamin C.
And just in case you're wondering, yes there is also ferulic acid and vitamin E. These are a must for enhancing vitamin C's effects.
Get Mad Hippie's Vitamin C Serum
3. The Body Shop Vitamin E Overnight Serum-in-Oil
Serums are known for being potent and concentrated. Oils give you that dewy, natural glow. Combine them together and you have this vitamin E serum-in-oil.
Aside from vitamin E, this serum boasts lots of nourishing oils including:
jojoba oil.
sunflower oil.
sweet almond oil.
raspberry seed oil.
GET THIS VITAMIN E SERUM-IN-OIL.
BEST VITAMIN C SERUM WITHOUT VITAMIN E
1. Asterwood Naturals Vitamin C Serum
With just 6 ingredients, this is a minimalist serum that focuses on the essentials: vitamin C in the form of magnesium ascorbyl phosphate.
For added hydration, there is also sodium hyaluronate, which is a salt form of hyaluronic acid.
To round out the formulation, there is less than 2% of:
Phenoxyethanol (preservative).
Benzoic acid (preservative and regulates product pH).
Dehydroacetic acid (preservative).
Get Asterwood Naturals Vitamin C Serum
DERMA E VITAMIN C SERUM VS MAD HIPPIE VITAMIN C SERUM
Derma E and Mad Hippie are some of the most popular brands for vitamin C serums. If you've been on the fence about which one to use, here's a quick overview of how they compare to each other.
| | Derma E Vitamin C Serum | Mad Hippie Vitamin C Serum |
| --- | --- | --- |
| Type of vitamin C | sodium ascorbyl phosphate | sodium ascorbyl phosphate |
| Probiotics | ✓ | |
| Vitamin E | ✓ | ✓ |
| Ferulic acid | | ✓ |
| Fragrance oil | ✓ | |
| Humectants | ✓ (glycerin, sodium hyaluronate + aloe) | ✓ (glycerin, hyaluronic acid + aloe) |
| Plant-based/vegan | | ✓ |
This table compares vitamin C serums from Derma E and Mad Hippie
---
FAQs ABOUT VITAMIN C VS VITAMIN E FOR SKIN
Can I use vitamin C serum and vitamin E oil together?
The best way to use vitamin C serum and vitamin E oil together is to apply the serum first. Then follow that up with the vitamin E oil.
CONCLUSION: WHICH IS BETTER VITAMIN C OR VITAMIN E SERUM?
Overall, vitamin C serum is great for balancing skin tone and boosting collagen production. As for vitamin E, it can help increase the skin's moisture levels. Which one you choose depends on your specific skin care goals.
But there's no doubt that using them together gives you the best of both worlds!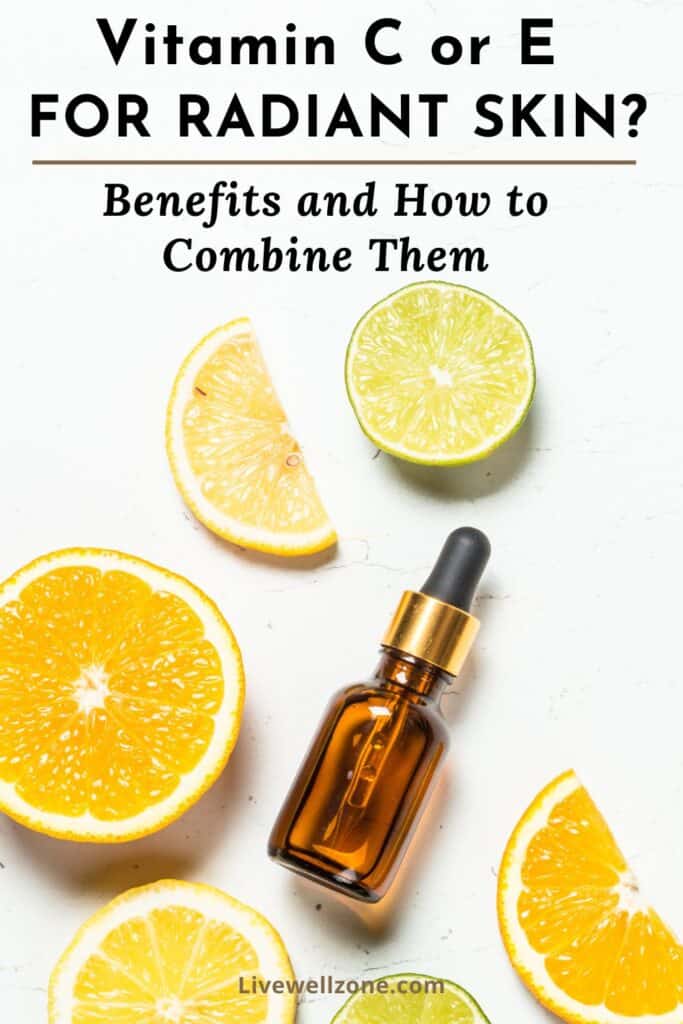 ---
You Might Also Like:
Vitamin E Oil vs Jojoba Oil For Skin: Everything You Need to Know
What To Mix (and not) With Vitamin C Serum: A Complete Guide
Best Vitamin C Serums for Rosacea (To Soothe Redness and Inflammation)
Vitamin C vs Squalane: Benefits and How to Use Them for Radiant Skin
Best Vitamin C Serums for Dry Skin
How To Choose The Best Vitamin C Serum: A Step by Step Guide
Vitamin C Serum vs Rosehip Oil: Benefits, Which Is Better and How To Use
Vitamin C Serum Vs Aloe Vera Gel: Which Is Better for Clear Skin?