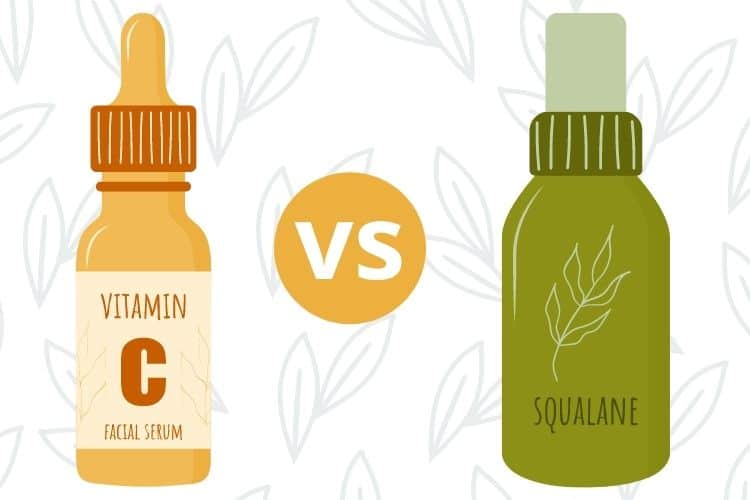 There's no denying the fact that vitamin C and squalane are some of the most popular and effective ingredients for anyone who wants radiant skin. But you might be wondering how each ingredient actually works and whether it's worth using one or both of them. Well, this article is going to help you gain clarity by comparing vitamin C vs squalane oil.
By the end of this article, you will have a better understanding of:
the benefits of squalane and vitamin C.
how squalane differs from squalene (and why it matters for your skin).
how to use these ingredients in your skin care routine.
Let's get to it!
Note: This post contains some affiliate links and I earn a commission (at no additional cost to you) if you use them to make a purchase.
VITAMIN C SERUM VS SQUALANE OIL: MAIN BENEFITS, DIFFERENCES AND SIMILARITIES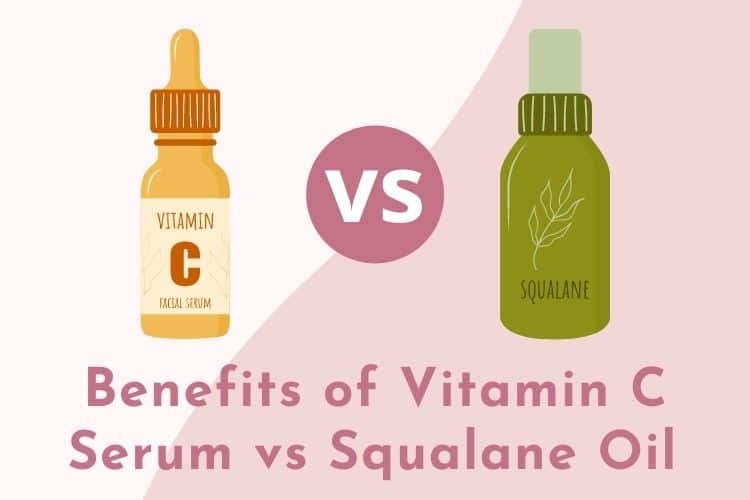 Main benefits and properties of vitamin C:
Acts as an antioxidant and as such, protects the skin from oxidative damage.
Essential for collagen production and has been shown to increase collagen production when applied topically. Furthermore, vitamin C helps prevent the breakdown of collagen (which often results from oxidative stress).
Improves hyperpigmentation by decreasing the production of melanin. Unlike other remedies that are used for hyperpigmentation, vitamin C is not toxic to melanocytes (the cells that produce melanin). As such, it is considered a safer remedy for hyperpigmentation. In addition, since vitamin is a gentle depigmenting agent, it works best when combined with things like soy or licorice (which are also natural skin brighteners).
Protects the skin from UV damage by neutralizing free radicals. Lab studies show that topical application of 10% vitamin C leads to a 52% reduction in UVB-induced redness and a 40-60% reduction in the development of sunburn cells. It's worth noting that when used together with vitamin E and ferulic acid, vitamin C can be significantly more effective (in some cases, up to 8x more effective!).
Improves fine lines and wrinkles.
Seems promising as an anti-inflammatory agent because it inhibits a protein complex called NFkB. This complex regulates cytokines, which are proteins that can have either a pro-inflammatory or anti-inflammatory effect. As such, vitamin C may be helpful for people with inflammatory conditions like acne and rosacea.
In its pure form – ascorbic acid – vitamin C can be irritating for some people. Thankfully there are vitamin C derivatives that are gentler on the skin and more likely to work for those with very sensitive skin.
When using ascorbic acid, a concentration of 10-20% is considered ideal. However, for those with sensitive skin, a lower percentage of 8% or 5% might be better. If these concentrations are still too irritating, then it might best to switch to a formulation that uses only vitamin C derivatives.
Vitamin C products can spoil easily so they should be stored in a cool, dry and dark place (such as the refrigerator).
NOTE: the main source for most of the information above comes from this journal paper.
Main benefits and properties of squalane
Squalane is a hydrogenated form of squalene (a lipid that is produced by the skin's sebaceous glands and makes up about 13% of sebum). The hydrogenation process makes squalane more stable and suitable for cosmetic products (whereas squalene is highly unstable).
Great for locking in moisture.
Reduces free radical damage and oxidative stress to the skin.
Has emollient properties that keep the skin soft, supple and pliable. This can be particularly beneficial for softening fine lines and wrinkles.
Acts as an occlusive, thus protecting the skin barrier.
Has a lightweight consistency and is generally considered suitable for all skin types.
May balance the skin's production of oil.
Non-comedogenic, making it suitable for oily and acne prone skin.
NOTE: the main source for most of the information above comes from this journal paper.
| Benefit | Vitamin C | Squalane |
| --- | --- | --- |
| Antioxidant | ✓ | ✓ |
| Anti-inflammatory | ✓ | ✓ |
| Fades dark spots | ✓ | |
| Promotes wound healing | ✓ | |
| Improves fines lines and wrinkles | ✓ | ✓ |
| Boosts collagen production | ✓ | maybe (if combined with vitamin C) |
| Protects skin from oxidative damage | ✓ | ✓ |
This table compares the benefits of vitamin c versus squalane for skin.
WHICH IS BETTER: SQUALENE OR SQUALANE?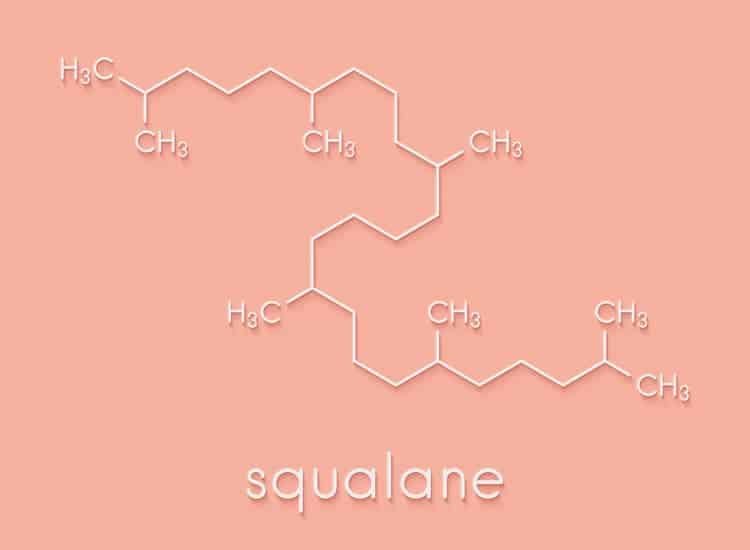 Squalane is a better choice because it is lightweight (even oily or acne prone skin can use it), non-comedogenic and more stable. This last benefit means that it won't oxidize as easily when bottled up or applied to the skin (which could trigger more inflammation or skin breakouts).
Another reason why squalane is seen as a better alternative to squalene is that squalane is usually plant-derived.
This is a big deal because for many years squalene was sourced from shark liver.
As you can imagine the skin care industry eventually faced a lot of pressure to change this practice.
So, nowadays companies get squalene from plants and then through the hydrogenation process, we end up with squalane.
And as a side note, most of the squalene used for commercial purposes comes from olives.
That said, the plant that has been found to have the most squalene is actually a grain called amaranth.
As for other plant sources of squalene, here are a few others to be aware of (source):
Sugar cane.
Soybean oil.
Grapeseed oil.
Rice.
Wheat germ.
Peanuts.
Corn.
HOW TO USE SQUALANE AND VITAMIN C TOGETHER: WHICH GOES FIRST AND HOW TO MIX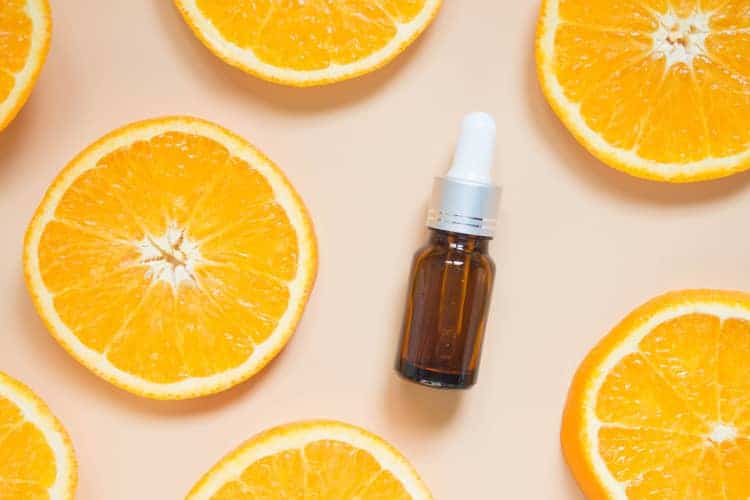 There are two main ways to include squalane and vitamin C into your beauty regimen: use a product that contains both or layer them.
1. Use a product that contains vitamin C and squalane
One brand that makes this really easy for you is Biossance. Some of their noteworthy squalane + vitamin C products are:
Vitamin C and Squalane Rose Oil: The name pretty much tells you exactly what's in the product: squalane, tetrahexyldecyl ascorbate (a vitamin C derivative) and rose flower extract.
Squalane and Vitamin C Dark Spot Serum: Since this is a serum you get a higher concentration of vitamin C (10%) together with squalane, shitaake mushroom extract and licorice root (said to be a natural remedy for fading dark spots).
2. Layer squalane and vitamin C serum
When layering or mixing vitamin can squalane, always remember to apply the vitamin C serum first, followed by the squalane oil.
Here are some products you can use to get started:
Botanical C Facial Serum from One Love Organics. It combines a gentle vitamin C derivative with powerhouse ingredients like rosehip oil, jojoba oil and sea buckthorn oil. 
FAQs ABOUT WHICH IS BETTER: VITAMIN C OR SQUALANE?
Does squalane lighten dark spots?
Squalane has antioxidant properties and such it may be helpful for fading dark spots, especially when combined with actives that are known for improving hyperpigmentation (such as vitamin C).
Can you use too much squalane?
Just like with any face oil, it's possible to use too much squalane. So, it's best to start with a few drops. This will help you avoid a greasy look or feel.
Can squalane replace moisturizer?
Technically speaking, squalane is not a moisturizer because it doesn't contain water. So, the best way to use it is as a sealant, to lock in moisture on damp skin or after you've applied a moisturizer.
Does squalane help acne scars?
Squalane has antioxidant properties that can help to reduce inflammation. This reduction in inflammation may make it easier for the skin to renew itself and subsequently, improve scarring. However, there's no research confirming that squalane is a good remedy for acne-related scars.
So, to get the results you want in this case, it would make sense to use squalane with vitamin C or another ingredient that addresses scarring.
Can you use squalane oil under the eyes?
Squalane is great for the skin under and around the eyes. In fact, it pops up in lots of eye creams and serums since it is gentle and lubricating.
For more on this topic read this guide on some of the best oils for under eyes (which includes squalane and 10 other oils).
Is Vitamin C good for acne scars?
Vitamin C may help acne scars because it promotes skin renewal by encouraging collagen production.
Does squalane boost collagen?
According to this lab study, a special compound made of vitamin C and squalane increases the production of type III collagen (one of the most abundant collagens in the skin) after 10 days.
One of the theories used for that study is that by binding vitamin C – which is naturally hydrophilic or water loving – to an oil like squalane, vitamin C becomes more lipophilic (fat-loving). As a result, this enhances vitamin C's action in the skin.
CONCLUSION
Whether you're using them separately or in a 2-in-1 product, vitamin C and squalane are an excellent complement to each other.
Vitamin C provides antioxidant, anti-inflammatory and collagen-boosting properties, while squalane provides some of those same benefits, along with emollient properties to keep skin supple.
Just what you need to balance out your skin care routine.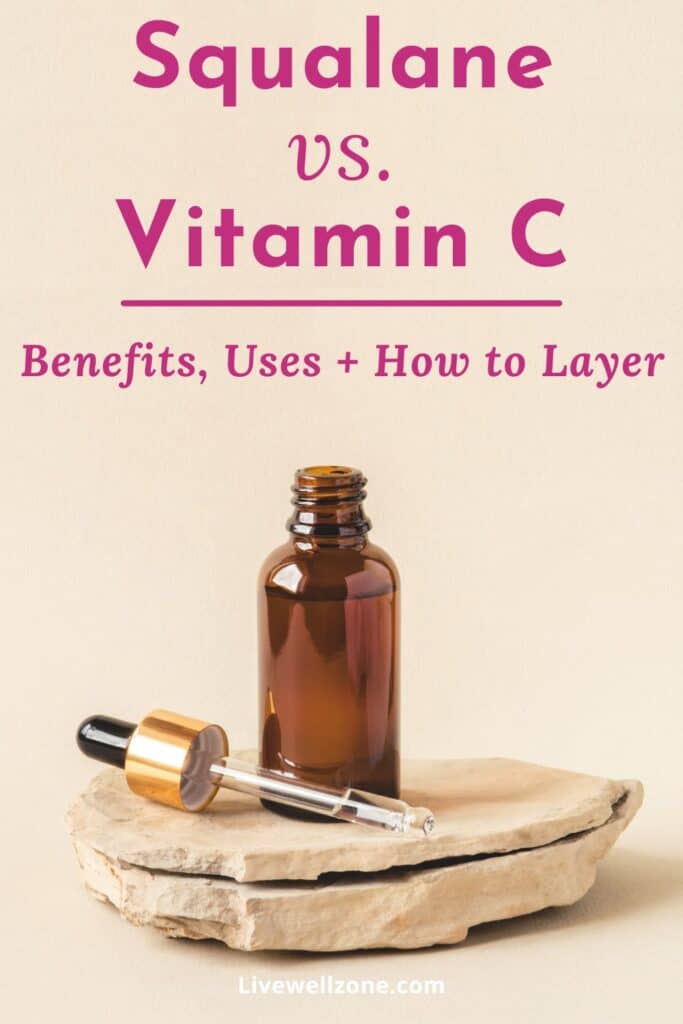 ---
You Might Also Like:
Vitamin C Serum vs Rosehip Oil: Benefits, Which Is Better and How To Use
What To Mix (and not) With Vitamin C Serum: A Complete Guide
Best Vitamin C Serums for Dry Skin
Vitamin C Serum vs Aloe Vera Gel: Benefits, Differences, Which Is Better and How to Use
Best Vitamin C Serums for Rosacea (To Soothe Redness and Inflammation)
How To Choose The Best Vitamin C Serum: A Step by Step Guide
Best Vitamin C Serum For Sensitive Skin: 5 Products to Unlock Your Natural Glow