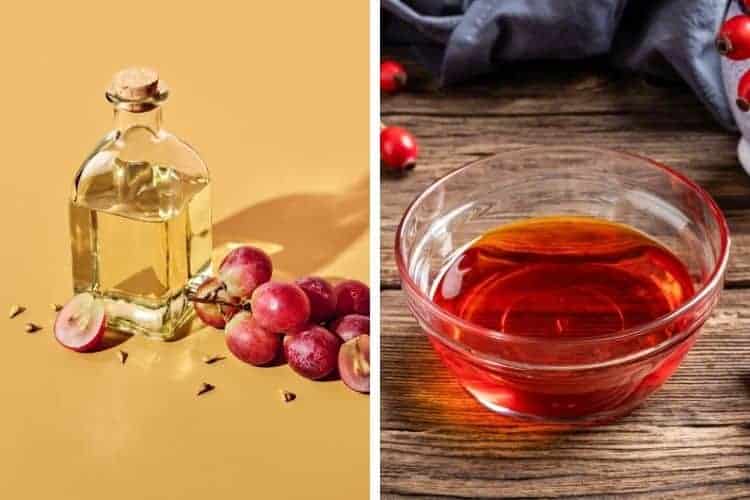 Let's talk about grapeseed oil vs rosehip oil for skin. Sure both are lightweight, non-comedogenic and suitable for all skin types.
However, there are some important differences – particularly when it comes to their pro-vitamin A content – that might influence which one you end up choosing to use.
So, in this article, we're going to look at:
the main benefits of grapeseed and rosehip oils.
some quick tips for how to use them.
a few individual oils and blends to use.
Note: this post contains affiliate links and I earn a commission (at no additional cost to you) if you use them to make a purchase.
GRAPESEED OIL VS ROSEHIP OIL FOR FACE: BENEFITS FOR ACNE, OILINESS AND MORE
| | GRAPESEED OIL | ROSEHIP OIL |
| --- | --- | --- |
| Contains squalene | ✓ | ✓ |
| Non-comedogenic | ✓ | ✓ |
| Rich in linoleic acid | ✓ | ✓ |
| Rich in beta-carotene | | ✓ |
| Lightweight and quickly absorbed | ✓ | ✓ |
| Suitable for acne-prone or oily skin | ✓ | ✓ |
| Suitable for inflamed skin | ✓ | ✓ |
| Balances skin tone and hyperpigmentation | ✓ | ✓ |
| Contains vitamin E | ✓ | ✓ |
This table lists the benefits and differences between grapeseed oil and rosehip oil.
---
BENEFITS AND PROPERTIES OF GRAPESEED OIL (Sources: 1, 2, 3)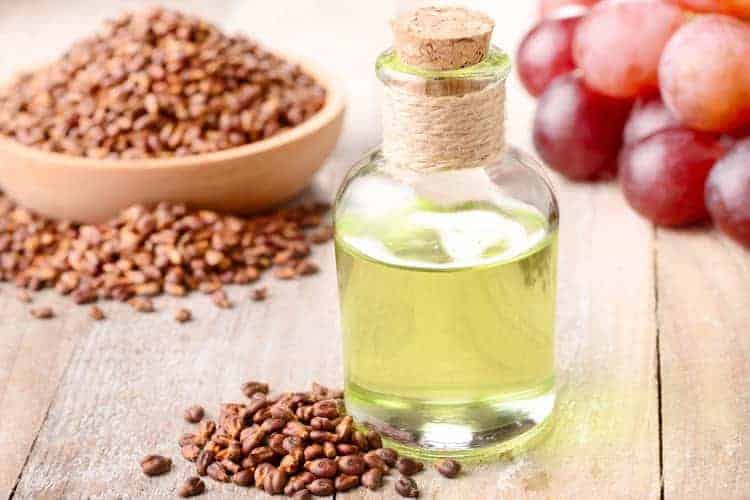 Rich in linoleic acid (about 66 – 75..3%). Linoleic acid is an essential fatty acid for the skin barrier and it may also help with acne because research indicates that people with acne tend to have low amounts of linoleic acid in their sebum.
Very lightweight and very rapidly absorbed, making it one of the best carrier oils for oily skin.
Because of its high linoleic acid content, grapeseed oil works for all skin types. It's particularly helpful for sensitive and inflamed skin (which usually tends to have a compromised skin barrier).
Non-comedogenic and ideal for oily skin.
Rich in gamma-tocotrienols and alpha-tocotrienols, both of which are naturally occurring forms of vitamin E. Vitamin E is one of the most important antioxidants for the skin because not only does it help to protect the skin from free radical damage, but it's also an excellent emollient.
Natural source of phenols which are antioxidants that are also known for having antibacterial properties (which may be another reason why grapeseed oil is helpful for acne).
Balances skin tone and improves hyperpigmentation thanks to compounds like proanthocyanidins and procyanidins, which are both antioxidants that regulate melanin production.
Natural source of squalene, which is a major component of sebum. However, the amount of squalene varies significantly based on harvest and the variety of grapes used.
BENEFITS AND PROPERTIES OF ROSEHIP OIL (4, 5, 6, 7)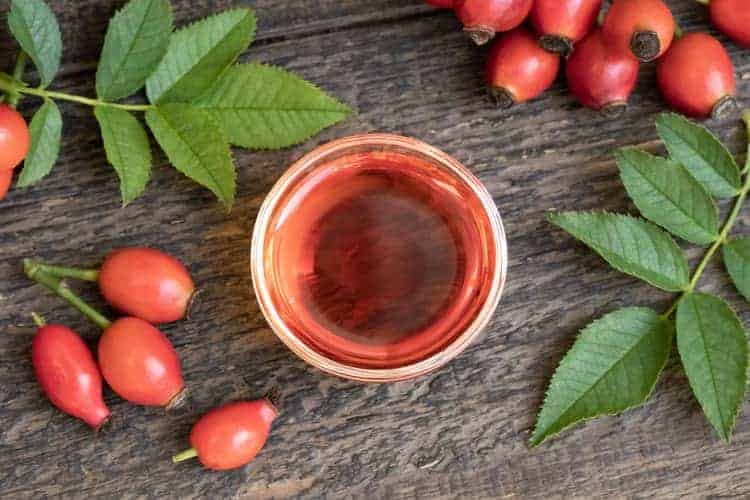 Naturally rich in beta carotene (aka provitamin A) which the body converts to preformed vitamin A (the same category of compounds as retinol).
Rich in linoleic acid (about 54.05%) which supports skin barrier function. This makes rosehip oil ideal for all skin types, including sensitive skin.
Natural source of vitamin E, mainly in the form of delta-tocopherol.
Contains squalene, a natural emollient, anti-inflammatory and antioxidant that is a major component of sebum.
Soothes inflamed skin and is often used for conditions like acne, eczema, rosacea and psoriasis.
Thanks to its beta carotene (provitamin A) content, rosehip oil is excellent for supporting collagen production and skin renewal. As a result, it can be helpful for smoothing out fine lines and wrinkles.
Often used as a natural remedy for stretch marks. This is mainly due to rosehip's ability to support collagen production.
May help with scars and hyperpigmentation (thanks to its ability to support skin renewal).
Lightweight and fast-absorbing oil that is generally considered unlikely to clog pores.
HOW TO USE ROSEHIP AND GRAPESEED OIL TOGETHER
One way to use rosehip oil and grapeseed oil is to make your own face oil blend. You can get started with a mix of 50% grapeseed and 50% rosehip oil.
Another option is to buy a product – such as a facial oil, cleansing oil or cleansing balm – that incorporates both oils.
Once you've got your oil blend ready, follow these tips to get the best results:
Oils "locks in" moisture (they do not provide moisture). So, always apply the oil after a water-based moisturizer.
If you are not using a moisturizer, then make sure your skin is damp before applying the oils.
You can also use the oils as part of your double cleansing routine as explained here.
Mix a few drops of oil into your clay mask to help reduce the dryness of the mask.
Both rosehip and grapeseed oil are soothing to the skin around the eyes and may help with puffiness, discoloration and more.
Now, here are some rosehip and grapeseed oil products that you can incorporate into your skin care routine:
Kosmea Rosehip Oil: unlike many other rosehip oils that are extracted only from the seed (which is high in fatty acids), this oil is made from the entire rosehip (i.e. the seed, pulp and skin – with skin having much higher amounts of vitamin A. So, you get a well-rounded rosehip oil with all the important nutrients for your skin. Get Kosmea's rosehip oil.
NOW Solutions Grapeseed Oil: this cold-pressed, grapeseed oil is clear and odorless. Great to use on its own or in a blend.
FAQs ABOUT GRAPESEED OR ROSEHIP OIL FOR SKIN
Does grapeseed oil darken skin?
There's no research indicating that grapeseed oil darkens skin. Rather, it has the ability to regulate melanin production and subsequently, balance uneven skin tone.
Does rosehip oil make your eyebrows grow?
Although there are some anecdotal reports from people who say rosehip helped grow their eyebrows, there are no studies to confirm this.
CONCLUSION
Grapeseed oil and rosehip oil have many similar benefits that make them suitable for all skin types. However, rosehip oil has the added benefit of being rich in beta-carotene, which supports collagen production.
As a result, rosehip oil can be a better choice if you're looking to soften wrinkles, improve scarring or if your skin is particularly inflamed (such as in the case of rosacea).
---
You Might Also Like:
Rosehip Oil vs Jojoba Oil for Face (And Body): Which is Better and How To Use
Grapeseed Oil vs Jojoba Oil for Skin: Which Is Better & How to Use
The Difference Between Rosehip Oil and Rosehip Seed Oil: Benefits, Which To Use and How to Use
Vitamin C Serum vs Rosehip Oil: Benefits, Which Is Better and How To Use
Best Oils for Under Eyes (to Minimize Wrinkles, Puffiness, Dark Circles and Dryness)
How To Add Rosehip Oil To Your Skin Care Routine: In-Depth Guide