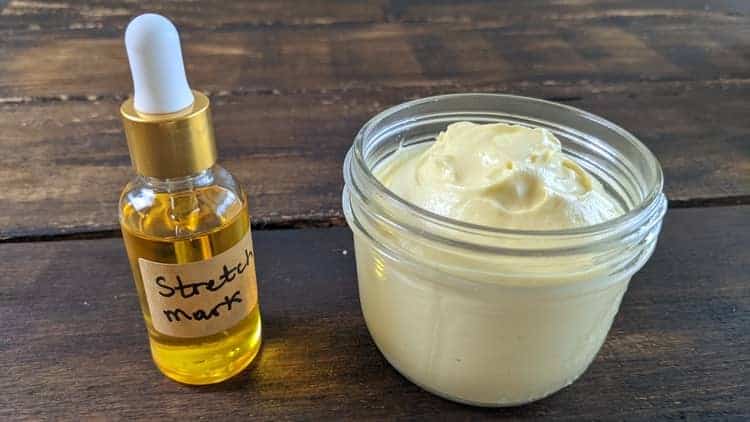 Topical creams and oils are one of the many at-home remedies that you can use for stretch marks. While these are not magical fixes, they can help to improve the appearance of the skin. So, in this article we're going to look at how to make a stretch mark cream and oil, using a few oils, butters and essential oils.
Let's get to it!
Note: this post contains affiliate links and I earn a commission (at no additional cost to you) if you use them to make a purchase.
HOW TO MAKE STRETCH MARK OIL AT HOME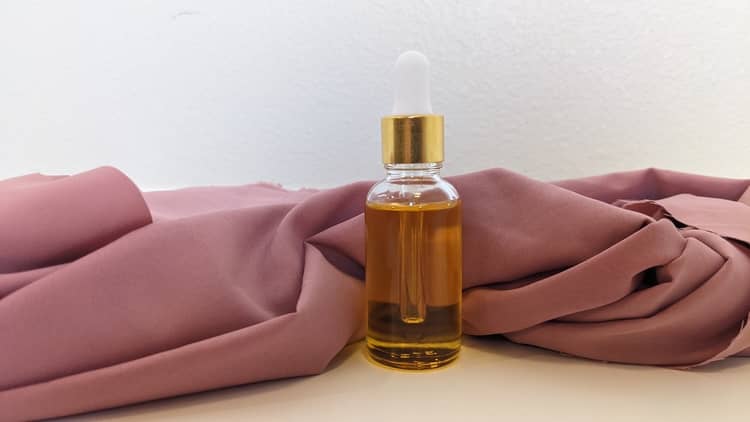 Ingredients
1 tsp rosehip oil
1 tsp castor oil
2 tsp jojoba oil
2 tsp apricot kernel oil
14 drops total of essential oils (see the "Best Oils" further below for a selection of oils)
1 oz glass amber bottle (I used a clear bottle only for demonstration purposes)
Instructions
Add all ingredients into glass bottle.
Seal the bottle. Shake and roll it between the palms of your hand to combine ingredients.
HOW TO MAKE HOMEMADE STRETCH MARK CREAM (WITH SHEA AND COCOA BUTTER)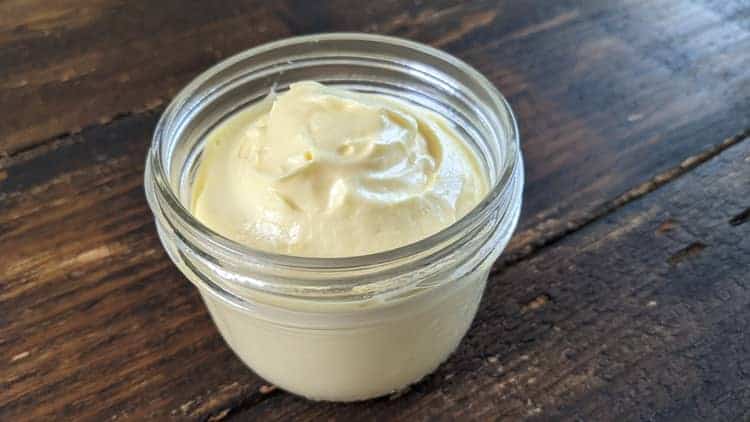 Ingredients
2 Tbsp unrefined cocoa butter pastilles (or a 1 ounce chunk)
¼ cup + 2 Tbsp unrefined shea butter (cut up into chunks)
2 Tbsp rosehip oil
2 Tbsp jojoba oil
1 Tbsp apricot kernel oil
23 drops total of essential oils (see the "Best Oils" section further below for a selection of oils)
10 ounce mason jar (or an 8 ounce + a 2 oz jar)
Instructions
Place the cocoa butter pastilles in a glass jar.
2. Fill a saucepan about ¼ of the way with water.
3. Place the cocoa butter-containing jar in the saucepan and heat on lowest temperature until cocoa butter is fully melted.
4. In the meantime measure out the shea butter (cut up into chunks) into a bowl.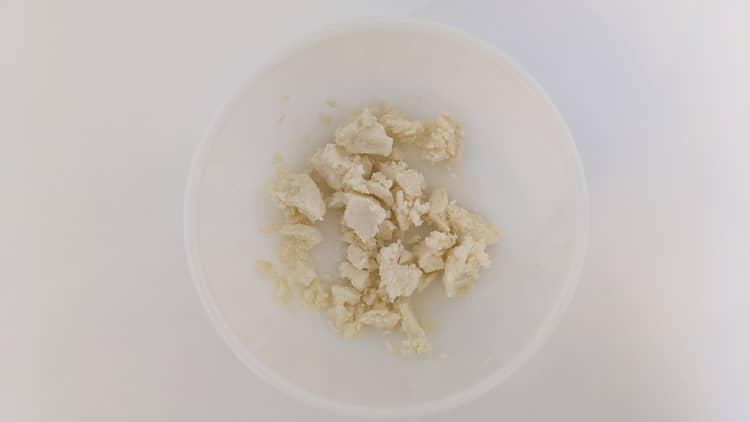 5. Once the cocoa butter is melted, turn off the heat. Add the remaining carrier oils into the melted cocoa butter. You'll have an orange blend (thanks to the rosehip oil).
6. Allow the cocoa butter mixture to cool to room temperature (place in the refrigerator for a few minutes to speed up the process. I allowed mine to cool down to 88°F).
7. Pour a small amount of the cocoa butter mixture into the shea butter. Blend with an electric hand mixer.
8. Add in a little more of the cocoa butter mixture and blend again. Continue this process until you've used up all the cocoa butter mixture and you have a smooth, creamy consistency.
9. Pour into a glass jar.
BEST INGREDIENTS FOR DIY STRETCH MARK CREAM AND OIL: OILS, BUTTERS AND ESSENTIAL OILS
BUTTERS AND CARRIER OILS FOR A HOMEMADE STRETCH MARK OIL
There are many carrier oils that can be used in a stretch mark cream or oil, such as argan, sea buckthorn, sunflower, olive, wheat germ, hemp and pomegranate oil.
However, for this article, we're going to focus exclusively on the oils and butters that are in the recipes above.
Apricot kernel oil: fast absorbing, anti-inflammatory, antioxidant, promotes wound healing, supports skin barrier function. Contains fatty acids, vitamin E (emollient) and beta-carotene aka pro-vitamin A, which helps with cell renewal (source) – GET APRICOT KERNEL OIL HERE.
Castor oil: natural emollients (skin softener) and occlusive (i.e. creates a protective layer on skin that prevents moisture loss); very rich in ricinoleic acid which is anti-inflammatory (source) – GET CASTOR OIL HERE.
Cocoa butter: rich in antioxidants and fatty acids, has occlusive properties that help to trap moisture in the skin, commonly used as a home remedy for stretch marks – GET COCOA BUTTER HERE.
Jojoba oil: fast absorbing, anti-inflammatory, antioxidant, rich in vitamin E, repairs skin barrier, has humectant properties to draw moisture to the skin, rich in eicosenoic acid, which is found in our sebum (1, 2) – GET JOJOBA OIL HERE.
Rosehip oil: fast absorbing, contains beta carotene which is converted to retinol. Retinol supports collagen production and cell regeneration. Also rich in fatty acids and antioxidants (3, 4, 5) – GET A 10% DISCOUNT OFF MY FAVORITE HERE.
Shea butter: has occlusive properties, anti-inflammatory, natural source of fatty acids, vitamins A and E (source), commonly used as a home remedy for stretch marks – GET SHEA BUTTER HERE.
ESSENTIAL OILS FOR A NATURAL STRETCH MARK OIL
According to a paper published in the journal Evidence-Based Complementary and Alternative Medicine, the following essential oils are helpful for stretch marks:
Now before you get to mixing here are a few things to be aware of with essential oils:
a maximum dilution of 3% is acceptable for products that are meant for the body (source). However, each essential oil also has its own ideal recommended dilution range. I strongly recommend reading this guide on essential oil dilution for more details.
not all essential oils are safe during pregnancy. And even those that are safe for pregnancy require a lower dilution level than the 3% mentioned above. To be on the safe side, I suggest skipping the essential oils entirely and using only the carrier oils if you plan on using these recipes during pregnancy.
heavy butters (such as shea and cocoa) make it harder for your body to absorb essential oils. To get the full effect of the essential oils, it's better to use them in the oil-based recipe I shared with you.
CONCLUSION
Stretch mark creams and oils can be used to prevent new stretch marks from forming, as well as to improve existing stretch marks.
When applying your stretch mark cream or oil, please take a few minutes to actually massage it into the skin. Not only will this increase blood circulation to that part of the body, but it will also promote the growth of new tissue (source).
Last but not least, consider incorporating dry brushing into your skincare routine. It's an old practice from Ayurveda (traditional Indian medicine) that increases circulation, gets the lymph moving and exfoliates the skin. Doing this, followed by the application of your cream or oil will help to keep your skin healthy.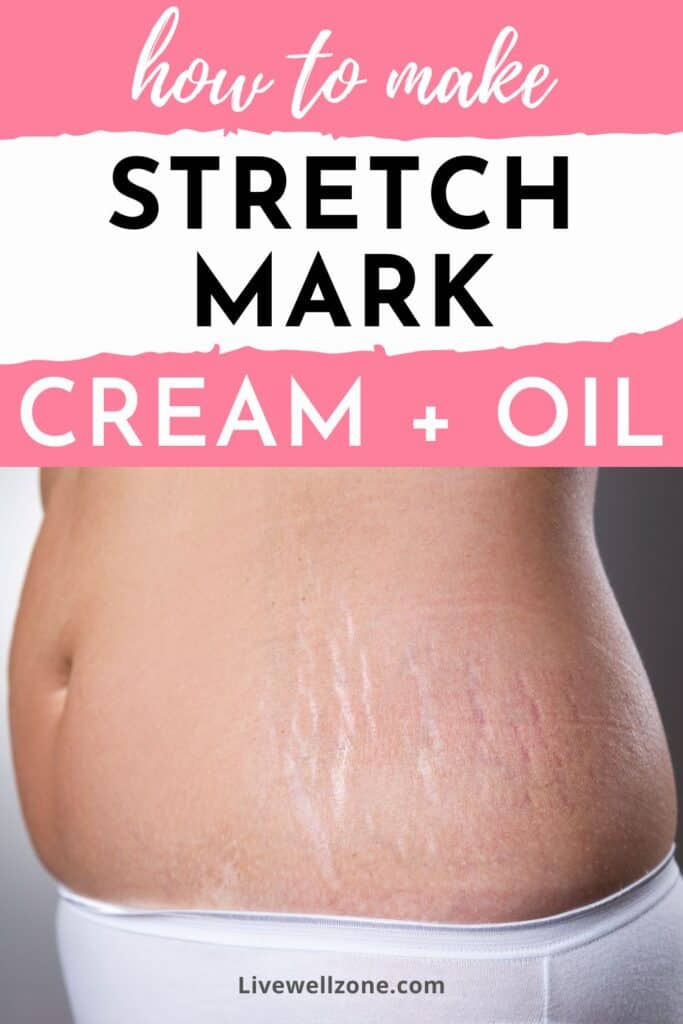 ---
You Might Also Enjoy:
The Difference Between Rosehip Oil and Rosehip Seed Oil: Benefits, Which To Use and How to Use
DIY Facial Oil Recipes for Glowing Skin: Acne-Prone, Oily, Dry, Sensitive, Combination & Aging Skin
What To Mix (And Not) With Rosehip Oil For Face – The Ultimate Guide
What Kind Of Coconut Oil Is Best As A Carrier Oil for Skin? Fractionated vs Unrefined vs Refined
Rosehip Oil vs Jojoba Oil for Face (And Body): Which is Better and How To Use
What To Mix With Shea Butter for Skin and Hair: Tips and Recipes