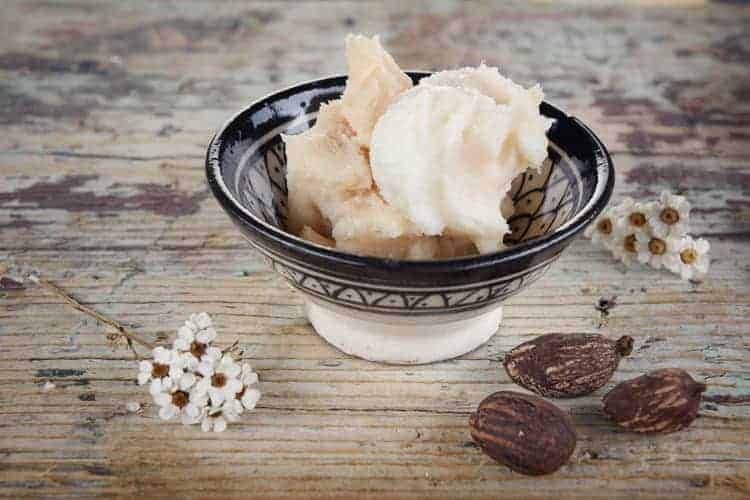 With it's mix of fatty acids, vitamins (A, E and F) and antioxidants, it's no wonder that shea butter has become a highly sought-after beauty ingredient around the world. So, if you're curious about how to use this prized African butter, then keep reading to learn about what to mix with shea butter for skincare and haircare.
Note: this post contains affiliate links and I earn a commission (at no additional cost to you) if you use them to make a purchase.
BEST OILS TO MIX WITH SHEA BUTTER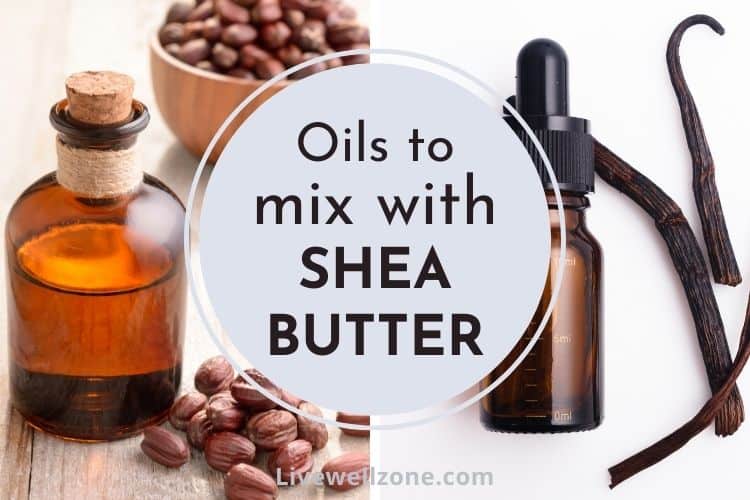 Shea butter blends well with just about any carrier oil and essential oil that you can think of. So, which one(s) you choose to use depends on your personal preference and intended use (hair vs skin).
Below are some excellent carrier oils that you can combine with shea butter:
Almond
Olive
Grapeseed
Jojoba
Castor
Sunflower
Argan
Rosehip
Apricot kernel
Lavender infused oil
Calendula infused oil
Coconut oil
Avocado oil
And here are some essential oils that go well with the natural scent of shea butter:
Lavender
Peppermint
Vanilla
Rose
Geranium
Rose geranium
Frankincense
Helichrysum
Tea tree
Chamomile
Jasmine
Citrus oil (bergamot, sweet orange, lemon, lime, grapefruit, mandarin, tangerine)
Copaiba
Before we proceed to specific recipes you can use, there are some important things to keep in mind about shea butter and essential oils:
If you don't like the smell of unrefined shea butter, then you're better off using refined shea butter. Just keep in mind that some beneficial nutrients are lost during the refining process.
While we're on the topic of shea butter's natural smell, it's tempting to try to cover it up with essential oils. However, you will simply be wasting your precious oils because that smell doesn't go away easily.
Since shea butter is heavy, it doesn't allow essential oils to be easily absorbed in the same way that lightweight oils do. So, if you're adding essential oils with the intention of enjoying their therapeutic effects, just know that shea butter (and all heavy oils and butters) can hinder that to some degree.
WHAT TO COMBINE WITH SHEA BUTTER FOR SKIN: STRETCH MARKS, BODY CREAM, LIGHTEN DARK SPOTS
For Stretch Marks
To make a stretch mark, you can combine the following ingredients with shea butter:
Cocoa butter.
Rosehip oil.
Jojoba oil.
Apricot kernel oil.
Essential oils: neroli, grapefruit, mandarin, tangerine, patchouli or rose gallica. These particular set of oils are listed in the journal Evidence-Based Complementary and Alternative Medicine, as being helpful for stretch marks (source).
For the complete recipe that you can use, see this article on how to make a stretch mark cream and oil.
For A Skin Brightening Body Cream
To make a body cream, you can use the same combination of butters and oils listed in the stretch mark recipe (the vitamin A in rosehip oil and shea butter can be quite helpful for hyperpigmentation).
If you'd prefer to experiment with other ingredients, then here are some options to use with shea butter:
Mango butter
Kokum butter
Castor oil
Grapeseed oil
Wheat germ oil
Pomegranate seed oil
As for essential oils, the following may help to fade dark spots (but again, shea butter's heaviness will hinder their absorption):
Frankincense.
Helichrysum.
Roman chamomile.
Sandalwood.
Rose otto.
Lavender.
Either way, if you plan on using the blend on your face and body, then start with a 1 to 1.5% dilution of the essential oils. This equates to:
1% dilution: 9 drops essential oil for every ounce of carrier oil/butters.
1.5%: 13 drops essential oil for every ounce of carrier oil/butters.
If you're going to use the blend on your body only, you can experiment with higher dilutions of up to 3%. Do keep in mind that each essential oil also has its own recommended dilution ratio. So, please take that into account when making your recipes.
For a complete guide on essential oil dilution, make sure to read this guide on how to dilute essential oils for the skin.
NOTE: You can buy these oils individually or you can use this Skin Love blend from Eden's Garden, which contains all of them, along with some extra boosters.
WHAT TO MIX WITH SHEA BUTTER FOR HAIR GROWTH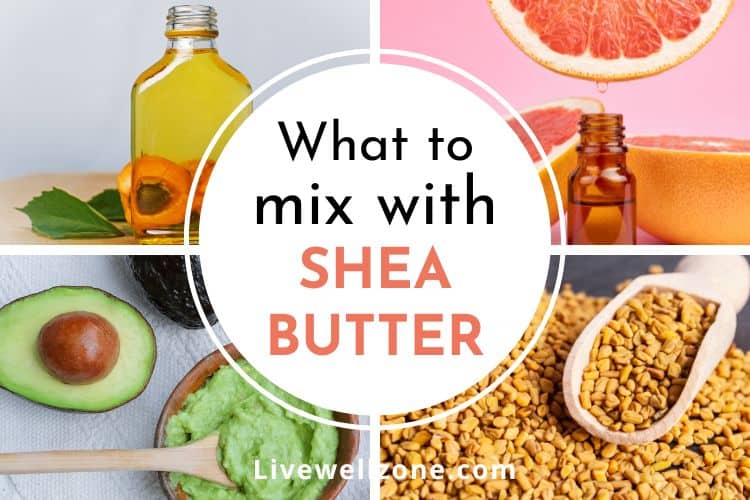 Shea butter is one of the best natural ingredients for hair growth, especially if your hair is naturally dry. This versatile butter works as a:
Sealant.
Conditioner.
Heat protectant.
Occlusive.
One of the best category of ingredients to use with shea butter are hair growth herbs and essential oils, such as:
Hibiscus.
Fenugreek.
Aloe vera.
Horsetail.
Red clover.
Rosemary.
Stinging nettle
Lavender.
Chamomile.
Henna.
Brahmi.
Amla (aka Indian Gooseberry).
Bhringraj.
Lavender oil.
Tea tree oil.
Peppermint oil
Cedarwood oil.
Rosemary oil.
In addition, you can also blend shea butter with humectants and conditioning oils/butters such as:
Raw honey.
Blackstrap molasses
Cocoa butter.
Castor oil (particularly Jamaican castor which is widely used for stimulating hair growth).
Coconut oil.
Olive oil.
Glycerin
Jojoba oil.
Lastly, you can also make a mega conditioning shea butter hair mixture with foods like:
MOISTURZING SHEA BUTTER RECIPES FOR HAIR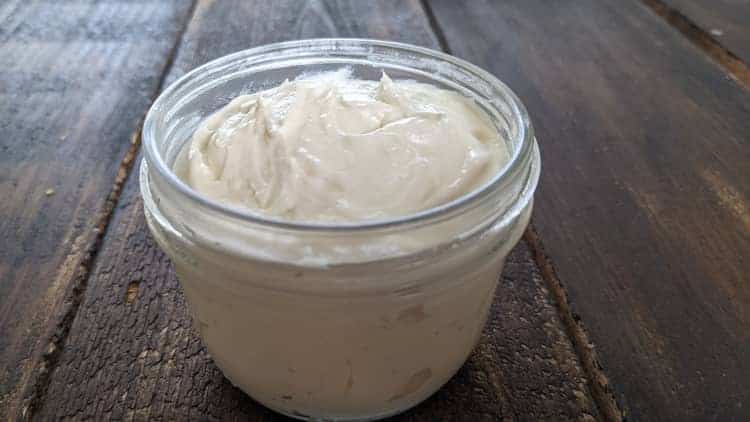 If you have naturally dry and kinky hair like I do, then this whipped shea butter cream can help you lock moisture into your hair.
My favorite way to use this cream is to spray my hair with a glycerin and water moisturizer (1:16 ratio). Then I dab a very small amount of this whipped butter onto my strands (mainly from the middle to the end of the strands). NOTE: this recipe was updated September 18, 2022.
Ingredients
1/2 cup shea butter
3 Tbsp grapeseed oil
1 Tbsp hemp oil
1 Tbsp castor oil
Essential oils (optional): peppermint, lavender or rosemary
10 ounce glass jar
Instructions
1. Melt the shea butter and carrier oils on the LOW setting of your stovetop. You can use a double boiler or a makeshift double boiler.
2. Once melted, place the mixture in your freezer for about 10 – 15 minutes. The mixture should become firm but not harden. It should like like petroleum jelly.
3. Remove from the freezer and using a hand mixer, blend the mixture for at least 5 minutes. The goal is to get as much air as possible into the mixture. This is what makes it fluffy and soft.
4. Once again, put the mixture in the freezer for about 10 minutes until it firms up.
5. Remove from the freezer and use your hand mixer to whip it again for up to 10 minutes.
6. Add in the essential oils. Whip again for 1 minute.
7. Scoop the mixture into a 10 ounce jar.
8. This cream is best used after washing your hair.
Need more shea butter hair growth recipes? Check out the resources below from some amazing DIYers and formulators.
Watch as Whole Elise walks you through how to replicate one of Shea Moisture's infamous deep conditioners.
Follow along as Naptural85 shows you how to blend shea butter with herbs (aloe vera and fenugreek) and kitchen staples (bananas and avocados) to make a wonderfully moisturizing deep conditioner.
This henna gloss recipe offers a serious dose of strength (thanks to henna) and softening (from the shea and cocoa butter). The butters are a great add-in given that henna can also be drying.
FAQs ABOUT THINGS TO MIX SHEA BUTTER WITH
Can you mix shea butter and rose water?
When combining shea butter and rose water it's important to use an emulsifying wax (such as BTMS50). This emulsifier allows you to combine fat and water into one smooth mixture that won't separate.
In addition, the use of rose water means your mixture will spoil faster. So, including a preservative is a must.
Can I add lemon juice to shea butter?
Although you could use shea butter and lemon juice in a skincare blend, this could be harmful if done incorrectly because:
The type of vitamin C that is most abundant in lemon is citric acid. Citric is one of the harshest AHAs (alpha hydroxy acids) when compared against ascorbic acid (which is what pure vitamin C serums and powders are made of).
regular use of pure lemon juice may lead to phytophotodermatitis, which is a type of skin irritation that occurs when the skin is exposed to compounds in citrus fruits, and then subsequently exposed to direct sunlight. The results really aren't pleasant as shown in (source).
So, if you are going to use lemon juice in your shea butter recipe, consider following these guidelines:
Use just a few drops (and not a half lemon, for example!).
Avoid using lemon juice in products that you don't rinse off. Having the lemon on your face and then stepping out into the sun could trigger phytophotodermatitis (especially if you have skin that is already naturally sun-sensitive).
Can I mix honey with shea butter?
Some people use honey and shea butter together as a pre-shampoo hair mask. When doing this, it helps to include a liquid oil – such as olive, grapeseed or hemp oil – to give the mixture a softer and creamier consistency.
To make the hair mask, combine:
1 part melted shea butter.
2 parts liquid oil.
1 teaspoon raw honey.
To use the hair mask:
mist your hair with water.
apply the mask on the entire length of hair, focusing mostly on the ends.
cover your hair with heating cap or plastic bag. Allow the mask to sit on hair for 30 – 60 minutes.
Shampoo and condition your hair as normal.
CONCLUSION
Whether it's herbs, essential oils, carrier oils or butters, there's a variety of ingredients that you can use with shea butter.
However, finding the right one for you does take some trial and error. I hope that the ideas in this article have been helpful and that they ignite your curiosity in terms of how to make your own shea butter recipes.
---
You Might Also Enjoy:
DIY Facial Oil Recipes for Glowing Skin: Acne-Prone, Oily, Dry, Sensitive, Combination & Aging Skin
Aloe Vera or Shea Butter for Sunburn: Which Is Better?
Grapeseed Oil vs Jojoba Oil for Skin: Which Is Better & How to Use
DIY Lavender Essential Oil Recipes for Hair Growth & Thickness
What To Mix (And Not) With Rosehip Oil For Face – The Ultimate Guide
How to Mix Essential Oils for Hair Growth: A Step-by-Step Guide with Dilution Chart
How to Infuse Herbs In Oil for Hair Growth: Best Herbs and Oils, Fastest Method and DIY Recipe
Tea Rinses for Hair Growth: Beginner's Guide with Top Herbs and Recipes