This page is where I share products and brands that will help you support your hormones naturally. This list covers herbs and supplements, as well as beauty products that are less likely to contain hormone-disrupting compounds. In addition, these beauty products may also be helpful for hormonal acne and other hormone-related changes in your skin's appearance.
Note: this post contains affiliate links and I earn a commission (at no additional cost to you) if you use them to make a purchase.
HERBS AND SUPPLEMENTS
Gut Feeling (gut/digestive support)
Digestive issues (such as bloating, gas, stomach cramps and constipation) tend to occur with hormonal imbalance. This food-based powder can help you get relief because it contains one of the best sources of prebiotics (jerusalem artichoke), together with traditional digestive herbs (ginger and lemon balm). Lastly there's plenty of celery to support the gut lining and absolutely no questionable ingredients (i.e. no added sweeteners, gums, preservatives or fillers).
Maca (stress support and overall hormone balance)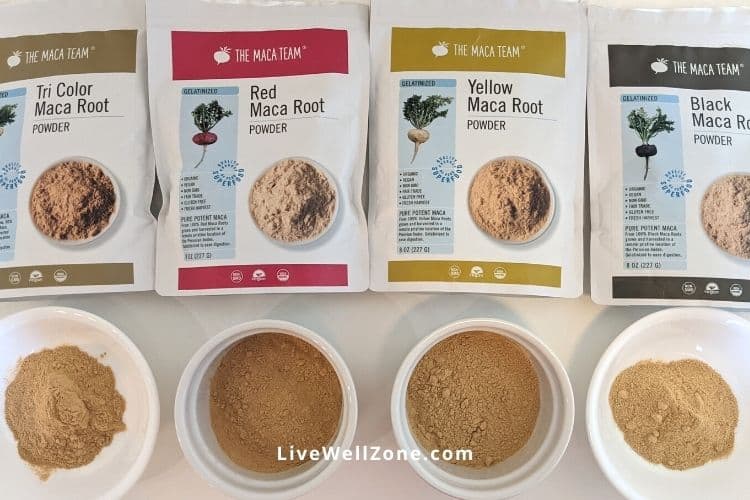 Maca is a root vegetable that has traditionally been used to support female and male hormonal balance. It's an adaptogenic herb that supports the stress response system and helps to regulates cortisol. In addition, it may help with fertility, menopause, fatigue, PMS and more.
My go-to company for maca is the family-owned The Maca Team. They make only maca products and have it every form (powder, capsules, tincture) and color (red, black, yellow and a tricolor blend of all three).
For female hormone support, red maca is often suggested.
NOTE: maca is stimulating. If you're sensitive to stimulants, yellow maca is a better option because it's less stimulating.
Green Juice Powder (Overall health & wellness)
With nutrient-dense and hormone-friendly ingredients ingredients like matcha, turmeric, ashwagandha, spirulina and beets – just to name a few – this multipurpose green powder is great for supporting weight loss, stress and cortisol balance, detoxification and boosting energy. It's also one of the few green powders I've come across that tastes great in plain water (and dissolves easily too). A bonus for those days when you have to rush out the door!
Moon Balance (Cycle support)
This powder brings together some of the best herbs for the menstrual cycle, including hibiscus, maca and shatavari (a go-to female tonic in Ayurvedic medicine that is also called the "Queen of Herbs"). If your cycle is off balance and you struggle with things like PMS, period pain or other menstrual imbalances, this is for you.
Women's Balance (Overall hormone support)
With "classic" female herbs (like red clover and vitex) plus herbs to support the nervous system (hello stress!) and detox-friendly herbs (like dandelion), this blend uses herbs that have historically been used to support the female body during all phases of life.
Beyond Tangy Tangerine (Daily multi)
When it comes to daily multi-vitamin and multi-mineral supplement, this one has been a favorite for many years. Not only does it cover all the essential vitamins and mineral, but it also includes trace minerals, amino acids, fatty acids and probiotics. One of the best all-in-one supplements I've come across.
Pure Synergy Multi-Vita-Min (Daily multi)
The main reason I like this multi-vitamin, multi-mineral supplement is that it's USDA certified organic and it's fermented (which tends to improve how much you actually absorb). Compared to the other multivitamin above, this one doesn't have nearly as many nutrients. But it covers the essentials.
Formula 4|5 (Perimenopause support)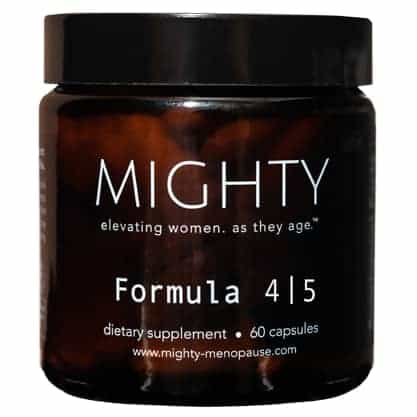 Formulated specifically for women in perimenopause, these herbal capsules include vitex, milk thistle and EstroG-100 (a trademarked blend of 3 herbs that has been shown to improve menopause symptoms).
Ovasitol (insulin resistance and blood sugar support)
Formulated with myo-inositol and D-chiro inositol, this supplement can be particularly helpful for insulin resistance. In fact, research shows that a 40:1 ratio of myo to D-chiro (which is the ratio used in this supplement) may help insulin resistance and ovarian function.
This supplement comes as a 90-day supply and by using the link below you get the discounted provider price (plus 2-day shipping).
NATURAL BEAUTY PRODUCTS
Even though our hormones are supposed to fluctuate throughout the menstrual cycle, if those fluctuations are too extreme, then the skin can reflect those imbalances in the form of acne, oiliness or dryness.
So, for some people, it might be helpful to adapt your skin care routine to your cycle (see the image below).
In addition, cosmetics and personal care products tend to be loaded with endocrine disruptors. This is problematic not just for your skin but your entire body because a portion of what we apply on the skin may end up being absorbed into the bloodstream. So, using beauty products that are made with more wholesome ingredients is something to consider as you work on harmonizing your hormones.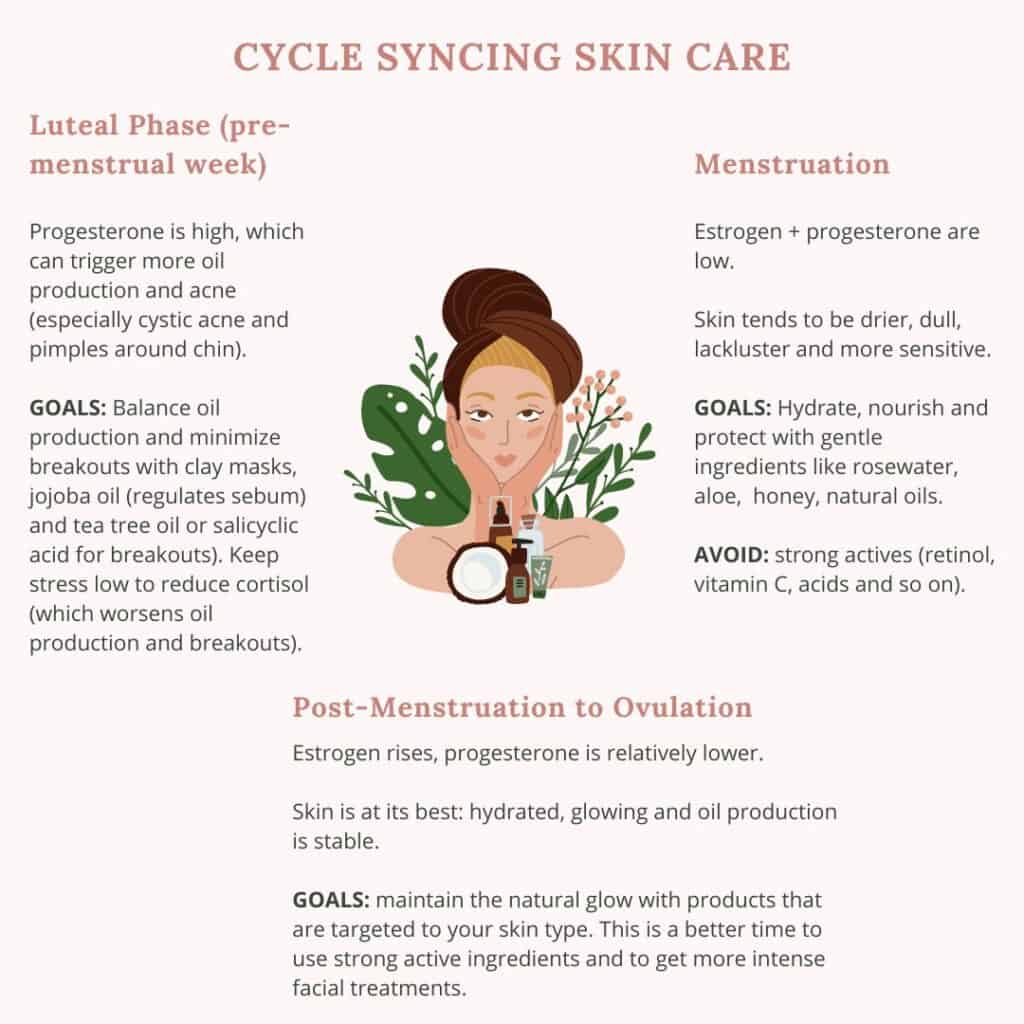 Kosmea Rosehip Oil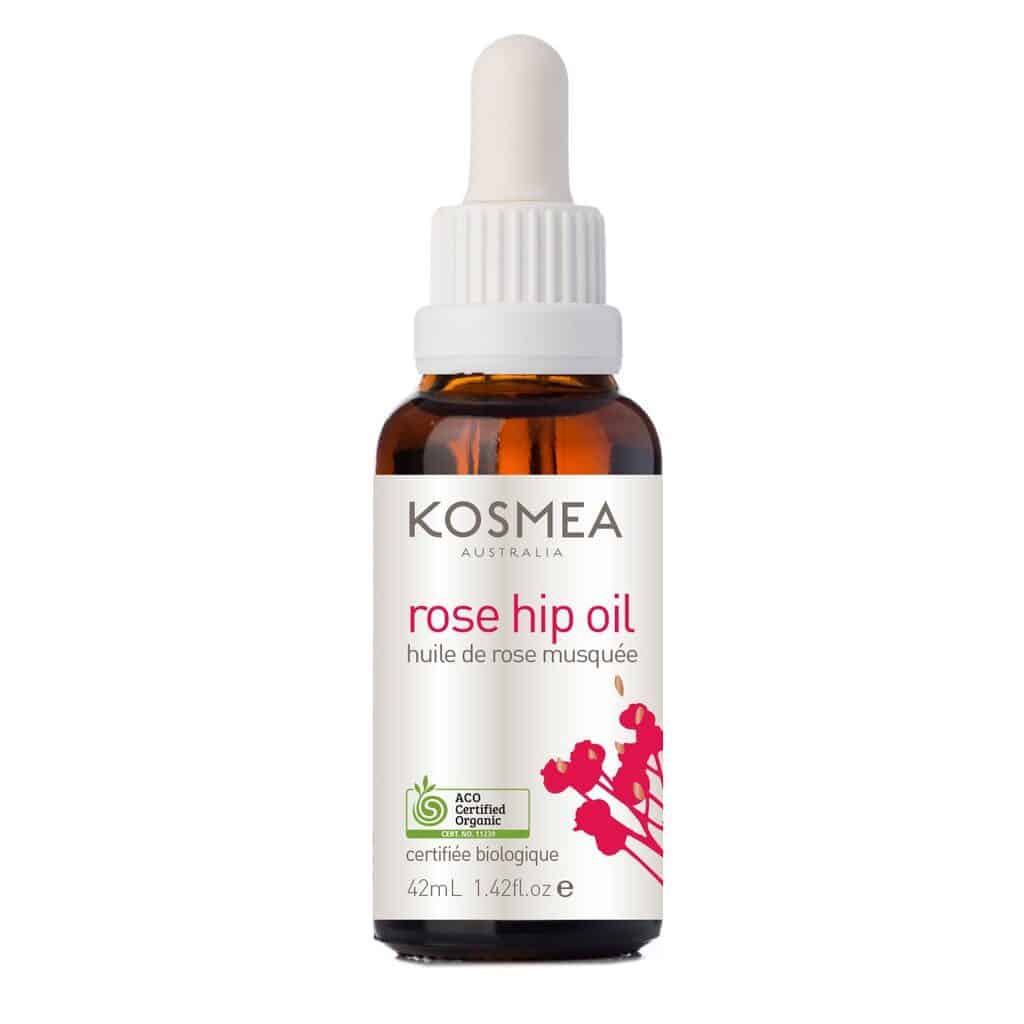 Rosehip oil is hands down, my favorite face oil because it's anti-inflammatory, light weight, absorbs fast, full of antioxidants (specifically carotenoids that are converted to provitamin A)…and so much more.
Personally, I go for CO2-extracted rosehip oil over cold pressed because CO2 extraction uses lower temperatures (i.e. the oil retains more of the components that might be lost to higher temperatures). I also prefer rosehip oil that is pressed from the entire fruit (skin, pulp and seed). The skin has way more carotenoids than the seed, which means more vitamin A for the skin. At the same time I still get to enjoy the high amounts of fatty acids that are in the seed. All in one!
The brand I personally use is Kosmea. You can get a 10% discount using code MOMS10% (valid May 1 – May 31, 2022). Use the code as often as you'd like throughout the month.
Alteya Organics Rosewater
My entire life I've never been able to use a toner (they always irritated my skin or just didn't add any extra oomph). Then I came across this rose water. It's super gentle, hydrating and uncomplicated (i.e. no other added ingredients).
I love this one because it's not a mix of water and rose essential oils (which is what some companies sell as "rose water"). Rather, it's true rose water which is produced as part of the essential oil distillation process.
Alaffia
Alaffia focuses on sustainably-produced, fair trade hair care products that use mainly shea butter as their base ingredient. Their Everyday Shea conditioner is my personal go-to, but they have a wide range of shampoos, conditioners and styling products.
The shea butter used in their products is produced by a women's co-op in Togo and the company works directly with the local population to provide bicycles, maternal care, education and more. So, by supporting this brand, you're also playing a role in ensuring that the women (and their families and community) have access to basic human rights.
Chagrin Valley Soap and Salve
Even though I enjoy making my clean soaps at home, I don't always have the time to do so. So I end up getting my soaps from this family-owned business. Their soaps are free of harsh surfactants that are often found in commercial soaps. In addition, everything is scented with essential oils rather than synthetic fragrance (there are also unscented bars if you have particularly sensitive skin). Of the many bars I've tried the Chocolate & Honey is definitely my favorite!
In addition, they have a lovely selection of face oils, lip balms (I'm still testing these!), hair care products and more.
100% Pure
One thing 100% Pure is known for is their clean makeup which uses pigments from fruit rather than questionable, synthetic dyes. But it doesn't stop there!
There's a wide range of products with soothing ingredients like aloe vera, hyaluronic acid and green tea (which are very calming to inflamed skin), as well as plenty of skin-friendly herbs (like chamomile and calendula) that are included in serums, cleansers and other products.