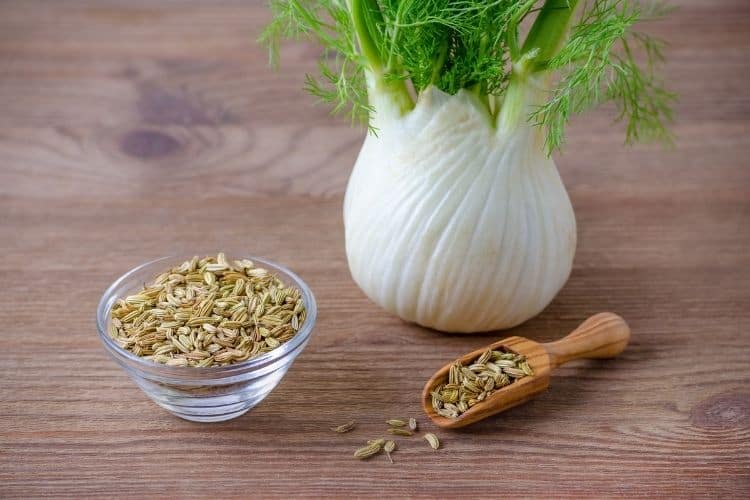 Whether you're curious about the seed, the extract or the essential oil, this article is going to show you exactly how to use fennel for menstrual cramps (aka dysmenorrhea).
Fennel has historically been used to address a variety of health issues, including menstrual cramps (particularly in the Mediterranean region).
And now there's modern research to confirm the fact that fennel is indeed helpful for menstrual pain and other PMS symptoms. In fact, one study shows that it's just as effective as some pain medication.
So, if you're looking for a natural way to soothe painful periods, then keep reading to learn how fennel may help you.
And make sure to read all the way through to learn about one important factor that you should consider before using fennel.
Note: this post contains affiliate links and I earn a commission (at no additional cost to you) if you use them to make a purchase.
HOW FENNEL HELPS WITH MENSTRUAL CRAMPS (DYSMENORRHEA)
Several studies show that fennel is effective at improving – and in some cases, totally eliminating – menstrual cramps. Scientists believe that fennel does this by lowering the levels of hormones known as prostaglandins. When these hormones are elevated, they can have a pro-inflammatory effect, contributing to more frequent (and painful) uterine contractions.
To give you a better idea of how fennel works, let's take a look at 2 different studies.
AYURVEDIC STUDY ON FENNEL AND CRAMPS
A 2012 study published in an Ayurvedic journal showed that consuming 30 mg of fennel extract, four times a day, leads to a reduction in the intensity of menstrual pain.
This study was done with young females aged 15 – 24 who started taking the capsule on day 1 of their cycle for three days. The following month, they repeated the same protocol.
COMPARING FENNEL AND NSAIDs
In another study, researchers compared fennel with mefanemic acid, a prescription NSAID (nonsteroidal anti-inflammatory drug).
The study participants were split in two groups: one group took fennel extract while the other group took mefanemic acid.
The results showed that:
80% of the fennel group had complete pain relief or pain reduction compared to 73% for the mefanemic acid group).
80% of the fennel group no longer needed rest during their cycle (compared to 62% for the mefanemic acid group).
TIPS ON USING FENNEL EXTRACT FOR MENSTRUAL PAIN
The most convenient way of using fennel extract for your period is in the form of a tincture.
If you're not familiar with a tincture, it's a liquid – ideally, an alcohol like vodka – that contains the medicinal properties of an herb.
The tincture is made by soaking the herb in the alcohol for several weeks. As the herb sits in the alcohol, it's medicinal constituents are released.
The resulting extract is very concentrated and can be used therapeutically.
As for where to buy a fennel tincture, one brand that I like is Herb Pharm. They specialize in herbs and have been making high quality herbal extracts for decades.
You can find Herb Pharm's fennel tincture here on Amazon.
To use, simply follow the instructions on the bottle.
HOW TO MAKE FENNEL TEA FOR PERIOD PAIN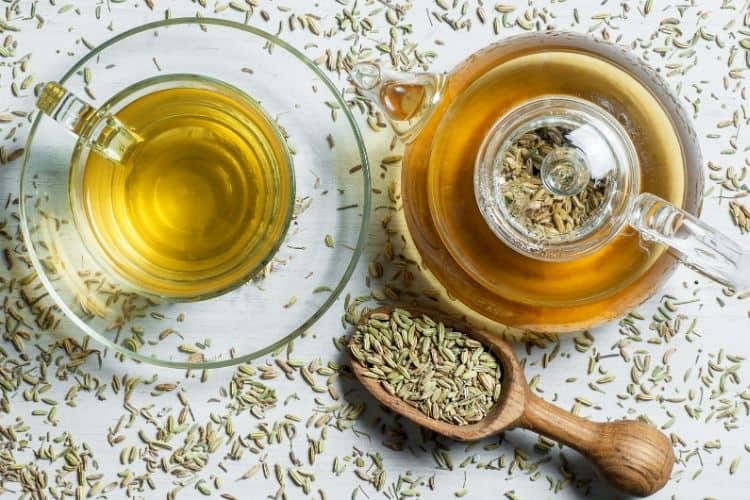 A tea is another way of making a fennel "extract." Although tea isn't as concentrated as other types of extracts (like tinctures), it's quick, soothing and still effective in its own right.
Ingredients
1 heaping teaspoon of fennel seeds (like these)
1 cup boiling water
Instructions
Crush the fennel seeds to release more of their volatile oils. You can use a mortar and pestle for this or the back of a spoon.
Bring water to a boil in a kettle.
Place the fennel seeds in a tea maker and pour the boiling water over it.
Cover the tea maker and allow to steep for at least 5 minutes.
Strain the seeds and drink as is (or sweeten with a little raw honey).
NOTES:
You can adjust this recipe to your liking. For a stronger taste and stronger-acting tea, you can let the seeds steep longer or you can use more seeds.
HOW TO USE FENNEL OIL FOR PAINFUL PERIODS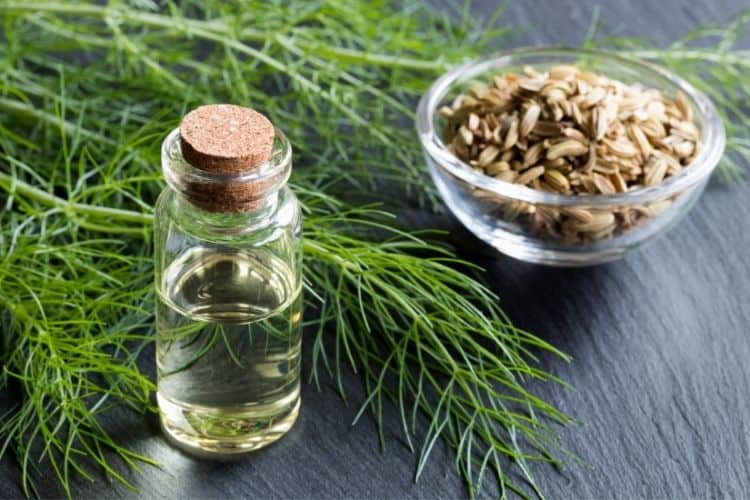 Although there's not much research on fennel essential oil and period cramps, I did find one study from the Iranian Journal of Pharmaceutical Research.
The study was published in 2003 and it tested the effectiveness of 1% and 2% fennel essential oil on menstrual cramps.
The results showed that fennel oil produced statistically significant improvements for menstrual pain, but not for other PMS symptoms (such as nausea, vomiting, fatigue, headaches, mood swings, diarrhea).
Now, if you'd like to try fennel essential oil for yourself, you can use this one from Plant Therapy.
Make sure to dilute with a carrier oil (like almond oil) before using.
To dilute it, down to 1% or 2%, simply follow the guidelines below:
| | |
| --- | --- |
| 1% | 4 drops fennel oil in 1 Tbsp carrier oil |
| 2% | 9 drops fennel oil in 1 Tbsp carrier oil |
Once diluted, you can massage the blend onto your lower abdomen and/or lower back.
NOTE: don't want to do all that diluting? You can also get this ready-made PMS Ease essential oil roller blend. It contains period-friendly oils like fennel, ylang, clary sage and geranium, plus pain-fighting oils like copaiba and ginger oil.
SIDE EFFECTS OF FENNEL ON MENSTRUATION
As beneficial as fennel can be for menstrual pain, it has one important side effect that you should be aware of: it can increase the amount of blood loss during your period.
This conclusion is based on a review that was done, evaluating the results of a few studies that focused on fennel and menstrual pain.
Overall, the review showed that the women lost more blood during the first menstrual cycle that occurred after they'd started using fennel extract. However, during the second menstrual cycle, there was no significant difference in menstrual bleeding.
So, do keep this in mind, particularly if your periods are already heavy.
Also, don't hesitate to find a doctor who can also give you guidance on the use of fennel. Talking to someone who understands herbs, and has knowledge of your full health history, can save you a lot of stress as well as trial and error.
RELATED QUESTIONS ABOUT FENNEL AND THE MENSTRUAL CYCLE
What is the best herb for menstrual cramps?
Herbs that are helpful for menstrual pain include ginger, cramp bark, nettle, peppermint and more. Many of these herbs work by acting as natural pain relievers, as well as by acting on organs that are hormone balance (such as the liver).
For more tips on herbs you can use, be sure to check out this list of the top 10 herbal teas for menstrual cramps.
CONCLUSION
Aside from helping with menstrual cramps, herbalists have long relied on fennel as a digestive aid. It can provide relief from:
Constipation.
Gas
Bloating
Spasms caused by gastrointestinal conditions like irritable bowel syndrome
So, if you tend to experience an increase in any GI issues, then that's another reason to consider using fennel during your period.
As always, if you're taking other prescriptions do check with your doctor to ensure that you can combine them with fennel.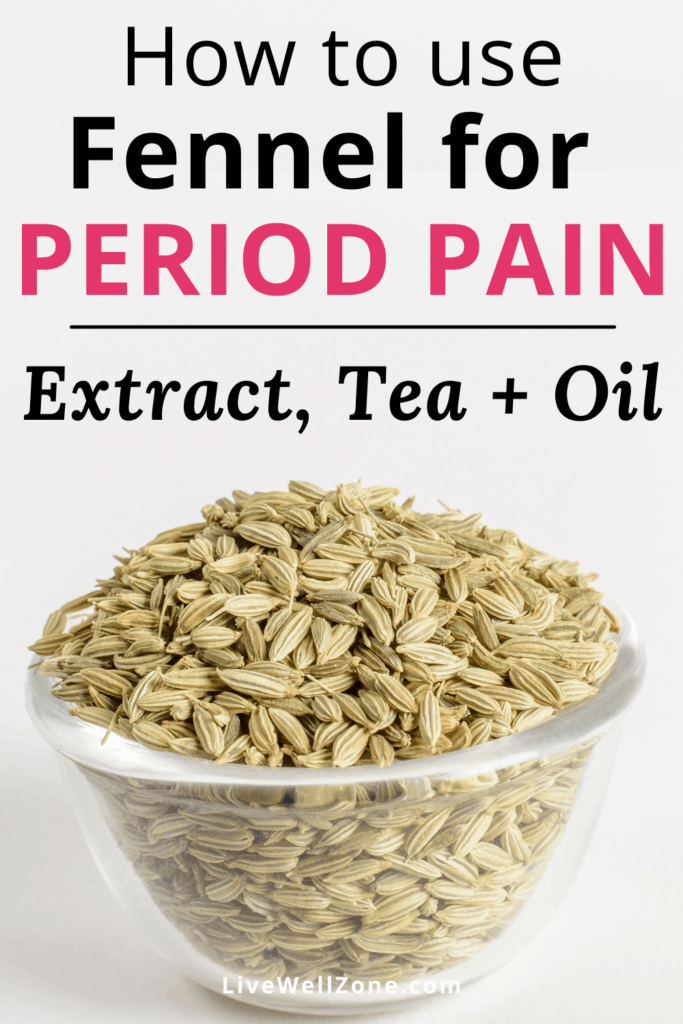 ---
Related Posts:
3 Quick and Easy Ways To Use Cloves For Menstrual Cramps