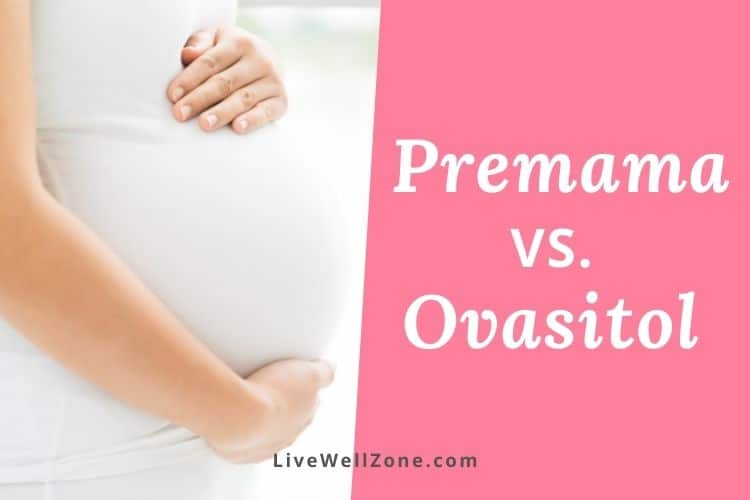 If you're struggling with fertility issues – due to PCOS or something else – Premama and Ovasitol are two popular supplements that may help you. While both products do contain the same main ingredient – inositol – there are some differences you should be aware of.
So, in this article we're going to compare Premama vs Ovasitol, so that you understand exactly what each has to offer.
But before we compare these fertility supplements, let's quickly look at why inositol is essential for reproductive health.
Note: this post contains affiliate links and I earn a commission (at no additional cost to you) if you use them to make a purchase.
IS INOSITOL GOOD FOR FERTILITY AND EGG HEALTH? WHICH FORM IS BEST?
Inositol is a carbohydrate and insulin sensitizer that is abundant in our food supply.
Even though inositol comes in nine different forms, there are only two forms that are most relevant for reproductive health and conditions like PCOS: myo-inositol (MI) and D-chiro-inositol (DCI).
Both MI and DCI are used throughout the body, with some tissues needing higher amounts of one type than another. For example:
the ovaries need higher amounts of myo-inositol for the maturation of eggs in the ovaries (source).
the liver (another important organ for hormone balance and fertility) needs higher amounts of DCI (source).
So, based on this, we can't say that one type of inositol is better than another. Rather, we want to make sure that we're getting sufficient amounts of each type – from supplements, food or both – in order to maintain optimal reproductive health
With that basic overview of inositol, let's now look at Premama and Ovasitol.
PREMAMA (FERTILITY SUPPORT FOR HER) VS OVASITOL: MAIN BENEFITS AND DIFFERENCES
PREMAMA
OVASITOL
Price
$34.99

$75
Quantity
28 day supply
90-day supply
Active Ingredients (per serving)
*Folate*
*Vitamin B12
*Myo-inositol
*Myo-inositol
*D-chiro-inositol
Other ingredients
None
None
How long to see results
6 weeks – 6 months
3 months
How often to take
Once a day
Twice a day
Powder
✓
✓
Can be used with prenatal
✓
✓
Unflavored
✓
✓
Where to buy
GET IT HERE ON AMAZON
GET IT HERE ON AMAZON
1. PREMAMA FERTILITY SUPPORT FOR HER: MAIN CHARACTESTICS
A blend of myo-inositol (MI), folate and vitamin B12.
Folate is in the form of methyltetrahydrofolate (MTHF). This is considered the gold standard for supplemental folate because it's a bioavailable form that the body can easily absorb (unlike folic acid, which is synthetic folate). In addition, methyltetrahydrofolate can be used by people with the MTHFR gene mutation (this mutation makes it hard to metabolize folate) (source).
Vitamin B12 is in the form of methylcobalamin. This is a natural, active form of B12 that the body can easily use (as opposed to cyanocobalamin, which is synthetic B12 that has to go through a conversion process).
Dosage: 1 packet in at least 12 ounces of water or a non-carbonated drink.
Premama's website recommends taking the supplement for at least 3 months before expecting any changes.
2. OVASITOL: MAIN CHARACTESTICS (sources: 1, 2)
A blend of two forms of inositol: myo-inositol (MI) and d-chiro-inositol (DCI).
Normally, the body can convert MI to DCI. However, some sources state that this conversion process doesn't work efficiently in women with PCOS (thus contributing to insulin resistance and fertility issues). So, taking DCI as a supplement could be beneficial.
Ovasitol uses a 40:1 ratio of MI to DCI. This ratio has been shown to be ideal for the body's needs.
Dosage: 1 packet or 1 scoop in a non-carbonated drink, twice a day. Must be taken with a meal.
NSF-certified: NSF is a third-party organization that tests and certifies the quality of supplements. Basically, they check to ensure to that product actually contains the ingredients listed on the label and that there are no "surprise" ingredients.
According to the Ovasitol website, the supplement should be used for at least 6 weeks if you are looking to improve egg health. For improvements in the menstrual cycle, they suggest taking it for at least 3 months. As for improvements in skin and hair, they recommend taking it for at least 6 months.
FAQs ABOUT USING PREMAMA OR OVASITOL FOR FERTILITY AND PCOS
Is Ovasitol FDA approved?
Ovasitol is a supplement, not a drug. The FDA does not review or approve supplements (although they do have requirements when it comes to other things like labeling and manufacturing best practices). Therefore, Ovasitol is not FDA-approved.
Does Premama help with PCOS and ovulation?
According to these testimonials on Premama's website, the Fertility Support for Her supplement has helped customers with PCOS. Some of the PCOS-specific testimonials on their site show that the supplement has helped other customers regulate their cycles, ovulate naturally and get pregnant.
Does Ovasitol have side effects?
According to Ovasitol website, there are no side effects when taking the supplement at the recommended dose (4000mg or 4g per day).
In addition, after doing more research, I didn't find anything about side effects from lower doses of inositol.
Now, when it comes to higher doses (12 grams per day), this medical review states that myo-inositol can cause mild gastro-intestinal issues like gas, diarrhea and nausea.
The review also noted that these side effects did not worsen as the dosage increased.
When should I start taking Premama fertility?
Premama's website provides the following guidelines for when to start using Fertility Support for Her (source):
Regular cycle: start on day 1 of your cycle.
Irregular cycle: start any time during your cycle.
Do I have to take Ovasitol forever?
Most of the studies done on inositol have focused on intake for a year or less. So, there is no research around the safety of long-term inositol supplementation. It's best to work with your healthcare provider to determine how long you can take the supplement.
CONCLUSION
Whether you choose to use Ovasitol or Premama's Fertility Support for Her, keep in mind that neither one of them gives you everything you need for conception and a healthy pregnancy. You still need other nutrients like calcium, choline, iron and vitamin D.
These additional nutrients can come from your diet and/or a good quality pre-natal vitamin.
In fact, both Premama and Ovasitol recommend taking a prenatal together with their fertility supplements.
As with all things related to your health, please check with your doctor before combining all these supplements with other treatments that you're already using.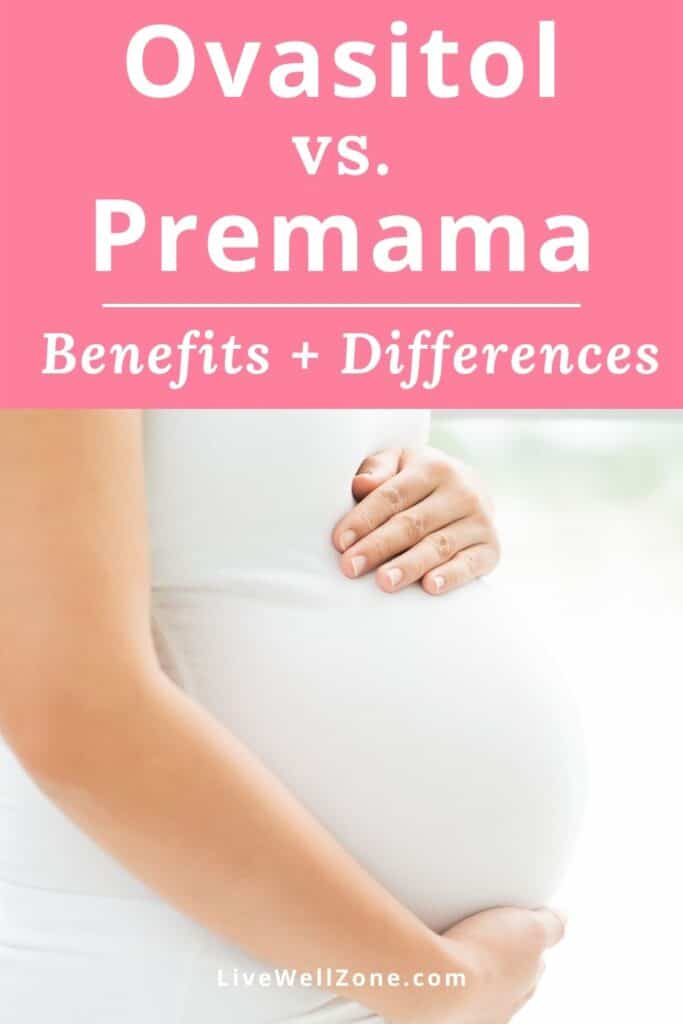 ---
Related Articles:
Vitex vs Inositol: Benefits | Differences | Which is Better for PCOS and More