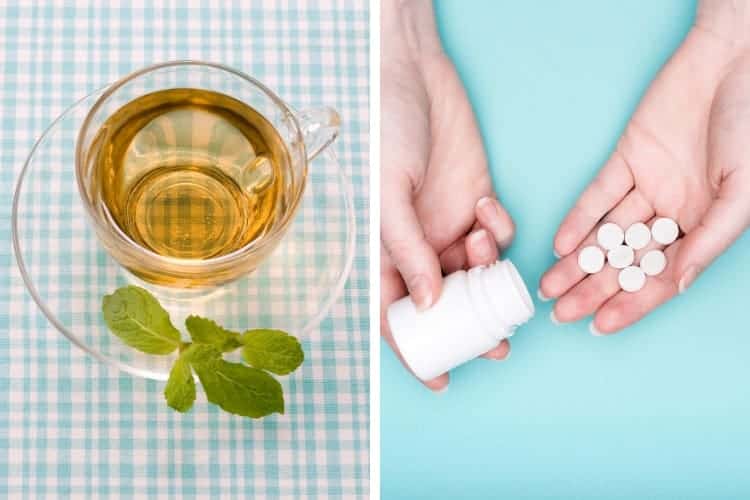 Elevated androgens (aka male hormones) are a major underlying cause of acne. To address this hormonal imbalance, more people are looking towards anti-androgenic remedies like spearmint tea and spironolactone. However, it's not always easy to get a clear understanding of how these remedies work. So, in this article, we're going to look at spearmint tea vs spironolactone, by diving into:
What scientific studies have to say about each treatment.
How long each treatment takes to show results.
Two different types of spearmint teas that you can use.
The side effects of each treatment option.
Note: this post contains affiliate links and I earn a commission (at no additional cost to you) if you use them to make a purchase.
CAN SPEARMINT TEA LOWER TESTOSTERONE AND IMPROVE ACNE?
Historically, spearmint tea has been thought to have testosterone-lowering properties. In fact, it has long been used in the Middle East as a natural treatment for hirsutism (excessive hair growth in women, a condition linked to high androgen levels).
And now, modern research is confirming that spearmint tea can indeed lower testosterone levels.
It's worth noting that the two most referenced studies on spearmint were done with women who have PCOS (polycystic ovary syndrome), as well as with women with idiopathic hirsutism (i.e. hirsutism with no known cause). Here's an overview of each study (1, 2):
SPEARMINT STUDY 1
Participants: 12 women with PCOS-related hirsutism and 9 women with idiopathic hirsutism.
Spearmint tea dosage: 1 cup per day.
Duration: 5 days (during follicular phase of menstrual cycle).
Results: significant reduction of free testosterone.
SPEARMINT STUDY 2
Participants: 42 women with hirsutism.
Spearmint tea dosage: 2 cups per day.
Results: significant reduction of free and total testosterone.
Overall, the research shows that spearmint tea does have testosterone-lowering properties. However, there are no studies that have been done with acne patients. So, for now, all evidence supporting spearmint's anti-acne abilities comes mainly from anecdotal reports on blogs, social media and forums.
DOES SPIRONOLACTONE REDUCE TESTOSTERONE AND ACNE?
Initially used as a treatment for high blood pressure and fluid retention, spironolactone is now one of the go-to prescriptions for acne.
According to the AAD (American Academy of Dermatology Association), dermatologists prescribe spironolactone when other acne remedies have failed to work. In addition the AAD points out that spironolactone is helpful for "deep-seated, tender acne on the lower face, jawline, or neck" (source).
As for its effectiveness, the AAD reports that it's possible to see a 50 to 100% improvement, depending on the individual.
HOW MUCH SPEARMINT TEA IS NEEDED TO LOWER TESTOSTERONE?
Studies show that 1 to 2 cups of spearmint tea per day is enough to regulate testosterone.
That said, it's also a good idea to consult with your doctor for a personalized dosage. Depending on your diet, lifestyle and other supplements or therapies you're using, you may benefit from a different dose.
SPEARMINT VS SPIRONOLACTONE: HOW LONG DO THEY TAKE TO WORK?
The current research shows that spearmint can start reducing free testosterone levels in as little as five days. When it comes to visible changes on the skin, there are no studies that provide a reliable timeline.
As for spironolactone, the American Academy of Dermatology Association states that improvements can happen within a few weeks.
WHICH SPEARMINT TEA IS BEST FOR ACNE?
These organic, spearmint tea bags from Traditional Medicinals are a convenient way to enjoy the benefits of spearmint tea for clear skin.
Another option to consider is a spearmint and green tea blend. Green tea is anti-androgenic and rich in antioxidants (source). Therefore, combining the two gives you the benefits of two androgen-lowering plants.
This blend from the Positively Tea Company is a convenient blend of both herbs.
SIDE EFFECTS OF SPEARMINT TEA AND SPIRONOLACTONE
SPEARMINT SIDE EFFECTS
In general, spearmint is considered safe to consume in small amounts.
As for large amounts, there are no studies to show what the effects would be. But some experts guess that overconsumption could damage the liver and kidneys (source).
One thing to remember here is that spearmint tea gives you a smaller dose of the active ingredients than spearmint capsules.
Please do not attempt to use the capsules without first checking with your doctor. Otherwise you might end up experiencing liver issues (like this Reddit user who combined spearmint capsules and birth control).
SPIRONOLACTONE SIDE EFFECTS
Some common side effects of long-term use include:
Irregular periods.
Nausea and vomiting.
Tender breasts
Increased urination.
Enlarged breasts
Please note that in men, spironolactone is associated with the development of breasts and loss of libido. Not surprising since it lowers both free and total testosterone.
FAQs ABOUT SPEARMINT TEA VS SPIRONOLACTONE
What tea is good for clearing skin?
Herbal teas that are good for clearing up the skin include chamomile, nettle, dandelion, milk thistle and vitex.
As for non-herbal teas, green tea has been shown to be quite effective at reducing acne. Not only does it lower androgens, but it's full of antioxidants that help to lower inflammation.
Interestingly enough, green tea is effective when taken internally as well as when applied to the skin (source).
Does peppermint tea help clear skin?
Peppermint is a powerful anti-inflammatory that might help to lower the systemic inflammation associated with acne.
In addition, peppermint is very high in menthol which is cooling. You can try using peppermint tea as a facial toner to soothe painful cystic acne.
For more details on mint teas, read this article on the use of peppermint tea vs spearmint tea for acne.
Is chamomile tea good for pimples?
Chamomile is helpful for regulating blood sugar (which can affect cortisol and subsequently, sebum production). In addition, it is a natural antibacterial and astringent. Furthermore, topical application of chamomile is incredibly soothing to inflamed skin.
For more of chamomile's benefits and tips on how to use, read this guide titled "Is chamomile tea good for acne?"
Does drinking water help acne?
Water is essential for supporting detoxification, maintaining healthy blood sugar levels and carrying nutrients to the skin. As such it affects your ability to get clear skin.
However, drinking water isn't just about taking in 8 glasses per day. How much water you actually drink is affected by the rest of your diet and lifestyle.
In this article titled "how much water should I drink to clear acne" I walk you through the different factors that will help you determine how much water you actually need. Feel free to read it for more details.
CONCLUSION
If you're looking for a natural way to reduce androgens, spearmint tea is a proven way to go.
On the other hand, if you're looking for an anti-androgenic prescription for acne, then spironolactone is a popular option.
I hope that this post has helped to answer your questions about spironolactone and spearmint tea. As always talk to your doctor for a more personalized treatment plan that addresses your need.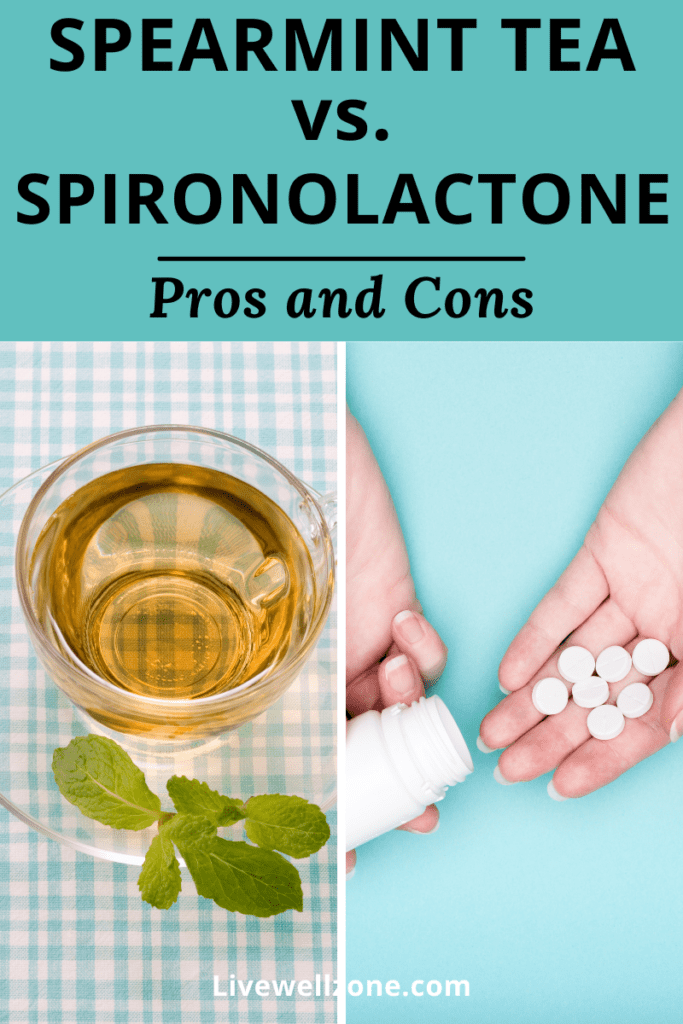 ---
You Might Also Enjoy:
Peppermint Tea vs Spearmint Tea for Acne: Which Is Better?
Everything You Need To Know About Chamomile Tea vs Green Tea for Acne
What No One Is Telling You About Stevia and Acne
Green Tea vs Matcha for Skin: Similarities, Differences and How to Use Them for Clear Skin