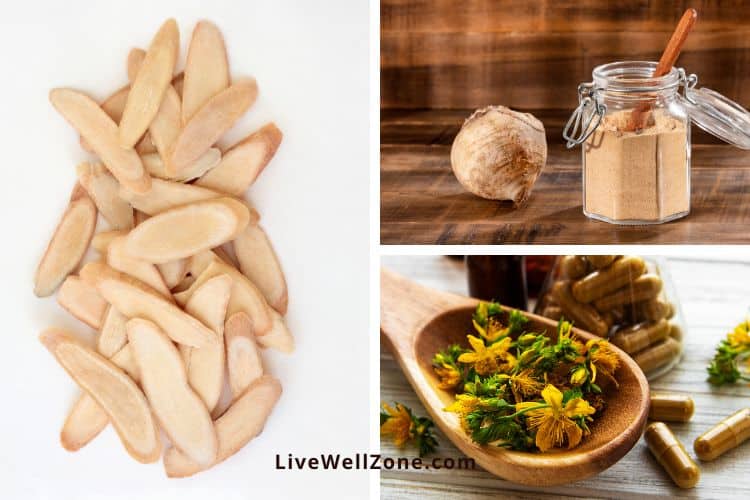 Of all the symptoms that come with menopause, mood swings – ranging from anxiety, irritability, sadness or profound anger – can be particularly troublesome.
Not only are these symptoms emotionally draining and destabilizing, but they often take a toll on close relationships (such as with our significant other).
While there's no doubt that changes in estrogen levels affect mood, there are other major hormonal shifts that also contribute to moodiness and the so-called "menopause anger."
So, to help you make sense of what's going on with your body, this article is going to cover:
Why mood swings are common in menopause.
7 herbs for menopause mood swings that may help you feel better.
How to use these herbal remedies effectively.
WHY IS MENOPAUSE MAKING ME ANGRY AND MOODY?
Besides the drop in estrogen that happens in perimenopause and into menopause, there's also a drop in progesterone.
This is because the ovaries are slowing down. So, all the hormones produced by the ovaries start to decrease.
Now, the reason why progesterone could play a big role in mood swings is because it:
Now, to add to all this, there's also the fact that progesterone – and estrogen – affect the levels of serotonin (the "feel-good" hormone).
So, during menopause, when both estrogen and progesterone drop, it's a perfect storm that could increase the likelihood of mood swings.
And if all that isn't enough, estrogen dominance can also occur during menopause.
Yes, that sounds like a contradiction, but as I explain in this article, research confirms that women in perimenopause actually have higher estrogen than younger women!
This factor, combined with the natural drop in progesterone means that your estrogen to progesterone ratio can fall out of a healthy range, contributing to mood swings.
So, overall, it's not just the change in estrogen that contributes to "menopause anger."
It's also likely that a significant drop in progesterone – relative to estrogen – is making you feel worse.
7 HERBS FOR MENOPAUSE MOOD SWINGS RELIEF
1. St John's Wort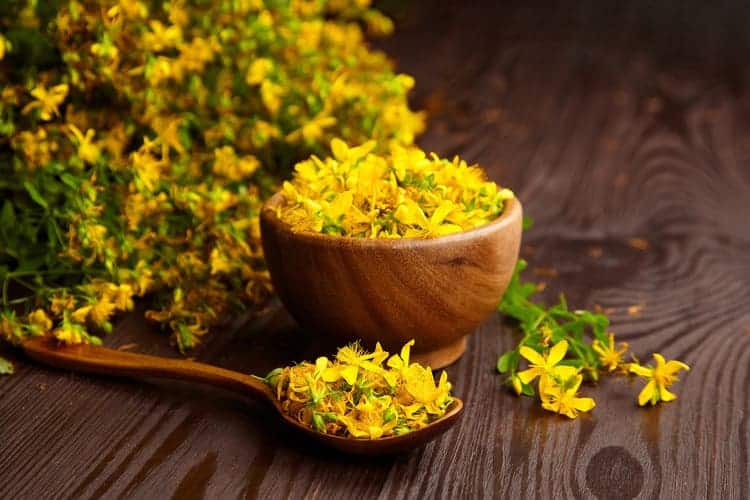 Historically, st john's wort has been used to alleviate depression and anxiety during different phases of life.
And when it comes specifically to menopause, this herb is said to be "especially appropriate for use when menopausal changes trigger irritability and anxiety" (source).
In addition, a 12-week study showed that taking one tablet of st. john's wort, three times a day, led to "substantial improvement in psychological and psychosomatic symptoms" in women aged 43 to 65 (source).
In another study with post-menopausal women, St. John's Wort was also shown to reduce the intensity of depression after two months.
And as a side note, this herb has also been proven to alleviate hot flashes, making it
Overall, st. john's wort is thought to work by increasing the levels of serotonin and dopamine (our feel-good and pleasure-reward hormones, respectively).
And as a side note, the studies mentioned above also found that this herb alleviates hot flashes too (a double win!).
2. White Peony
Often used in Chinese medicine, the root of the white peony is an herbal remedy that is said to increase progesterone levels.
This is all thanks to the presence of glucosides, natural compounds that support progesterone production.
In addition, another study suggests that white peony modulates the body's stress response system aka the HPA or hypothalamic pituitary adrenal axis (source).
This can ultimately help improve progesterone because when we're stressed, we use up more progesterone to make cortisol (since progesterone is, surprisingly, a precursor to cortisol).
3. Vitex (aka Chasteberry)
Just like white peony, vitex is an herb that may help to increase progesterone levels.
It does this by acting on the pituitary gland, which then signals other glands – like the ovaries and adrenals – and subsequently, regulates hormone production in the body.
Research also suggests that vitex may help menopause mood swings.
For example, when comparing the effects of vitex to placebo in menopausal women, vitex improved mood (as well as hot flashes and night sweats).
One more thing to note about vitex is that it contains phytoestrogens, which can help support estrogen levels as your body starts to naturally make less of its own.
4. Black Cohosh
Rich in phytoestrogens, black cohosh is a Native American herb that has a long history of use for women's health, including menopause symptoms.
And according to Dr. Yufang Lin, who is part of the Center for Integrative Medicine at The Cleveland Clinic, this herb has traditionally been used to soothe the nervous system.
In fact, doctor Lin considers black cohosh to be "an excellent herb to support people experiencing menopausal symptoms to reduce pain, reduce fatigue and lift your mood." (source).
5. Maca Root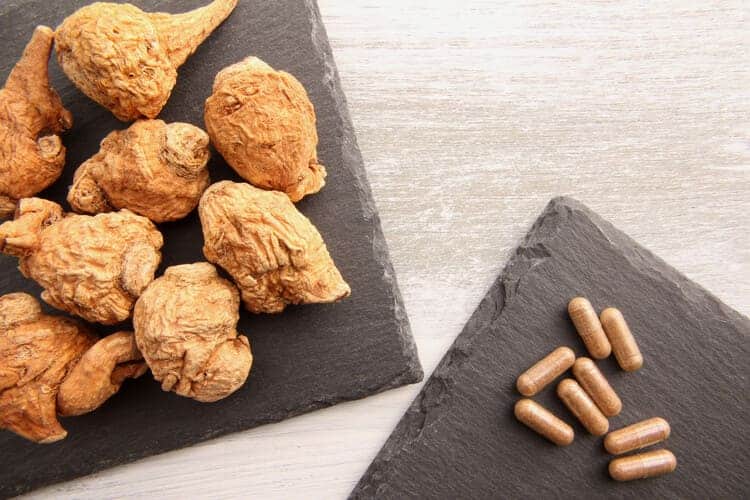 Classified as an adaptogen, maca continues to grow in popularity amongst women in peri and post-menopause.
This herb is best known for supporting our stress response, helping to increase or decrease cortisol based on the body's needs.
What makes maca unique is that it contains compounds that support the hypothalamus and pituitary glands.
These two glands control everything related to our hormones. Simply put, the hypothalamus signals the pituitary and the pituitary then signals other hormone-producing glands.
Now, when it comes to studies, one study showed that maca reduced anxiety and depression in postmenopausal women (source).
And as a side benefit, maca is also said to improve other menopause symptoms like low libido and vaginal dryness.
For a deeper dive into maca, read this article on how to use maca for hormone balance.
6. Red Clover
Even though red clover is often used to support the body during menopause, the jury's still out when it comes to its effects on mood swings.
For example, a medical review of different studies found that in some cases red clover showed significant improvements in depression and anxiety, while in other cases there was no improvement (source).
So, while the data shows mixed results, red clover is also said to calm the nervous system (and thus, promote relaxation and improve mood).
As for why some studies show that it works and others don't, it could just be down to the fact no one herb works for everyone.
7. Ashwagandha
With a long history of use in Ayurvedic medicine, ashwagandha is an adaptogenic herb that is known for having a stabilizing effect on hormones.
And the research on menopausal women looks promising.
For example, a study with perimenopausal women showed that those who took ashwagandha for 8 weeks, had significant improvements in psychological symptoms, compared to placebo (source).
Interestingly, the study also revealed that estradiol levels went up for these women (with no changes in testosterone).
Given that ashwagandha supports the stress response system, it's no wonder that it could have a positive effect on mood.
In addition, it's worth noting that this herb is often used to support sleep and energy levels.
HOW TO USE HERBAL REMEDIES FOR MOOD SWINGS IN MENOPAUSE
Here are some tips for incorporating the herbs listed above into your routine:
Consider taking them in the form of a capsule or tincture. This will be ideal for herbs that don't taste so great in a tea (such as vitex!).
You can test out one herb or use a combination.
If you choose to combine herbs, it's best to seek the help of an herbalist or naturopathic doctor. Mixing herbs is an art and science that is not to be taken lightly :). If you choose to DIY it, then buy a formula that has the herbs mixed together. Less chance of error that way!
When it comes to dosage, go with the recommendation on the bottle you buy. But keep in mind that some people need more and others need less. Seeking the help of an experienced practitioner can save you a lot of time and struggle in this regard.
Always check with your doctor before combining herbs with any drug (be it prescription or over the counter).
For an all-in one formula that contains many of the herbs listed in this article – like maca, vitex and ashwagandha – check out Hormone Harmony.
Use code HAPPYYOU076057 for $10 Off.
CONCLUSION
Menopause mood swings can be challenging to deal with.
And while herbs can be a helpful ally, remember that we all have different needs.
You may also have to make dietary and lifestyle changes to fully support your body.
For more helpful resources, be sure to check out the links below.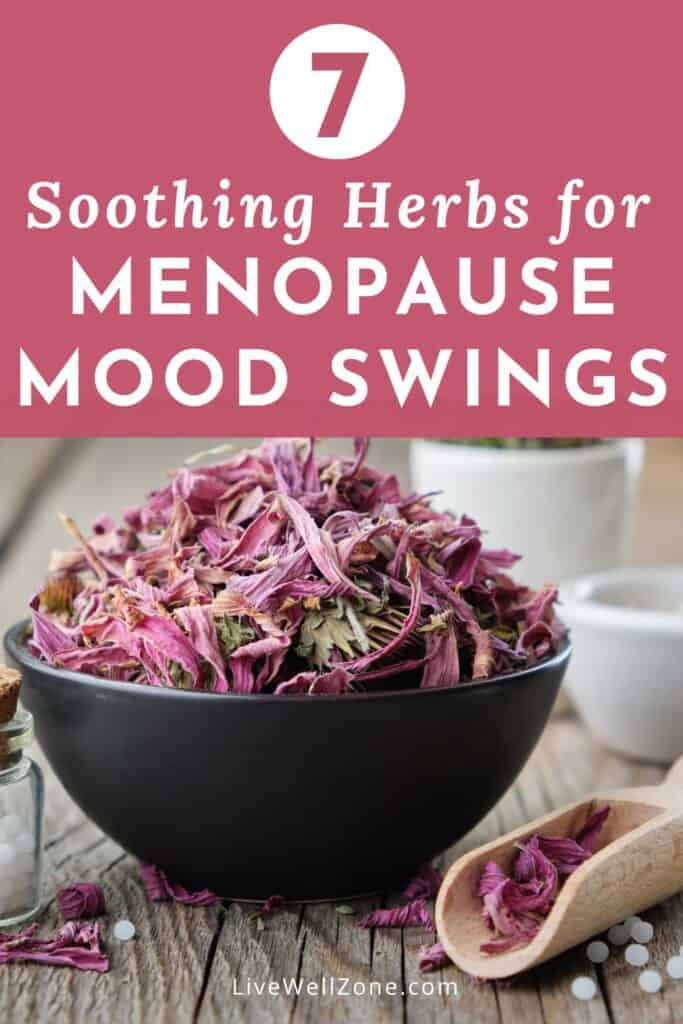 ---
You Might Also Like:
Perimenopause Diet: A Definitive Guide for Weight, Energy, Sleep & More
Relizen vs. Amberen vs Estroven: A Guide to Menopause Supplements
The 12 Best Herbs for Menopause Hot Flashes | Cool Down Naturally & Fast
Hormone Balancing Diet Guide: Anti-inflammatory Foods, Vitamins and Tips for Women
How to Go Through Menopause Naturally: 7 Steps To Start Using Today
How To Start A Self-Care Routine For Hormone Imbalance
Best Maca Supplement For Menopause