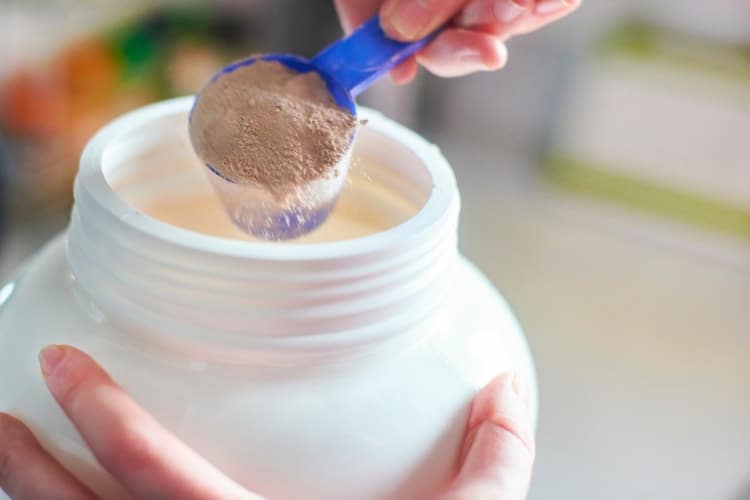 Proteins are an essential nutrient for the production and regulation of hormones. And protein powders, in particular, are a regular part of many people's diets. However, using a low quality protein powder can also contribute to hormonal issues (just like with everything else we ingest). So, in this article we're going to look at what is the best protein powder for hormonal balance, plus:
How protein actually supports hormone health.
The ways in which protein powder can inadvertently contribute to hormonal imbalance.
But before we get into any of that, you should know that protein powder isn't a must-have for health.
However, if you choose to use it, it's usually best to choose one that has the following characteristics:
Free of added hormones, antibiotics, pesticides and gums (aka thickeners) such as xanthan gum.
Plant-based and should contain mainly complete proteins like hemp, pea and quinoa.
Soy-free to avoid any potential estrogenic effects that sometimes occur with soy.
Flavored with whole food or whole food powder rather than "natural flavors" (which are often artificial compounds).
Free of processed sugar and should contain little to no stevia extract or monk fruit extract. Some people don't react well to extracts so whenever possible, buy protein powders that use the whole stevia leaf or monk fruit powder. If that's not possible, then make sure that the extracts are closer to the bottom of the ingredient list (so you're getting smaller amounts of them).
Now that we' have these basic requirements out of the way, let's have a look at some protein powders that you can incorporate into a hormone-balancing diet.
Note: this post contains affiliate links and I earn a commission (at no additional cost to you) if you use them to make a purchase.
TOP ESTROGEN-FREE, PROTEIN POWDER SUPPLEMENTS FOR HORMONE BALANCE
1. TOP PICK – Plant Vital Plant-Based Protein and Greens
The main sources of protein in this powder are:
Peas
Brown rice
Pumpkin seed
Chia
Spirulina
Rice
What's noteworthy here is the inclusion of spirulina, a blue-green algae that is a complete protein and also beats out meat in the protein department.
Yes, spirulina powder generally has about 60g of protein for every 100 gram serving, compared to ground beef which has about 17 grams of protein for every 100 gram serving (1, 2).
In addition, you'll notice that this powder has a blend of fruits and veggies that includes:
Apples
Kale
Spinach
Carrots
Strawberries
…and more!
And last but not least, there's a probiotic blend that incorporates various bacterial strains.
When it's all said and done, Plant Vital's protein powder provides a solid 24 grams of protein per serving.
This a hybrid protein powder and superfood powder, that is also organic and free of weird additives or preservatives.
It checks all the boxes for inclusion in any hormone-friendly diet!
Get this Plant Vital protein powder here on Amazon.
2. RUNNER UP – Sprout Living Epic Protein
This is the only protein powder on this list that contains sincha inchi, a Peruvian plant that is another good source of plant-based proteins. In addition, it also contains protein from yellow peas, sunflower, pumpkin and cranberry seed.
As for the sweeteners and flavors, you have:
Baobab fruit
Lucuma fruit
Cinnamon
Whole leaf stevia
In addition, you'll find that this powder has the hormone-balancing root, maca (although the amounts are probably small given that this is a blend of other items).
All in all, expect to get 19 grams of protein from every serving of this organic protein powder.
You can get this Sprout Living protein powder here on Amazon.
3. Your Super Plant Protein
This clean, and whole food-based protein powder gives you just what you need and no fluff.
The main protein sources are:
In addition there's maca (an adaptogen known to support hormones) and two fruits for natural sweetness (i.e. lucuma and banana powder).
Overall, this organic protein powder provides 9 grams of protein per serving.
While this is lower than the amount other powders on this list provide, this is still a noteworthy powder that prioritizes quality.
Get Your Super's protein powder from Amazon.
4. Truvani Plant-Based Protein Powder
Available in 4 different flavors – vanilla, chocolate peanut butter, banana cinnamon and chocolate – every Truvani protein powder contains just 5 to 7 ingredients.
No matter which flavor you choose, you can always rely on the following ingredients as the protein sources:
In addition, each flavor comes from natural ingredients. So the chocolate flavor has actual cocoa in it, while the vanilla flavor has actual vanilla powder and so on.
Overall, this organic powder provides 20 grams of protein per serving and uses monk fruit extract as a sweetener (it's toward the end of the ingredient list).
Check out Truvani's protein powders here on Amazon.
5. Nutiva Hemp Protein
If you're someone who wants just the protein powder, with no bells and whistles, then this hemp protein powder is for you.
This is a single ingredient powder – i.e. only hemp protein powder. One serving provides 11 grams of protein.
And since hemp is a complete protein, you can absolutely use it by itself as a protein source.
Do keep in mind that this is plain, unsweetened hemp powder.
So make sure that the smoothie you add this to has plenty of other natural sweeteners (such as bananas or blueberries) to cover up the taste of the plain powder.
Get Nutiva's Hemp Protein here on Amazon.
DOES PROTEIN HELP BALANCE HORMONES?
Proteins are made of amino acids, which the body needs for the production of hormones like thyroxine, estrogen, epinephrine, insulin, melatonin and more. Therefore sufficient consumption of protein can affect hormone synthesis.
In addition, protein helps us feel full longer and it can affect the levels of hunger-related hormones (like ghrelin and PYY) as well as insulin.
The insulin component matters a lot because whether you're trying to lose weight, or you're struggling with something like PCOS, insulin regulation can significantly affect your symptoms.
So, from this perspective, consuming enough protein can be helpful in balancing hormones.
DOES PROTEIN POWDER CAUSE HORMONAL IMBALANCE?
There's no research showing that protein powder automatically leads to hormonal imbalance. However, it's worth noting that different protein powders can contain ingredients that disrupt proper hormonal function.
Furthermore, if you're very sensitive to protein powders or you consume them in high quantities, you might experience digestive issues (such as constipation and bloating).
Symptoms like constipation can be particularly problematic because that means toxins and other waste is not being eliminated.
To learn more about how protein powders can affect hormone health, make sure to read this article on whey protein and estrogen dominance.
FAQs ABOUT PROTEIN POWDER AND HORMONAL IMBALANCE
Does protein powder affect the menstrual cycle?
Excessive consumption of protein powder can mess with your digestion, indirectly contribute to nutrient deficiencies and even affect the liver. If these side effects are not addressed, then the menstrual cycle can be negatively impacted.
To better understand this topic, please read this article on protein powder and the menstrual cycle. Not only does it provide more details on all this, but it also includes tips on how to safely use protein powders.
CONCLUSION
Whether you're trying to support your fertility, improve your menstrual cycle, lose weight or achieve another goal, a high quality protein powder can be used as a supplement to your diet.
However, remember that you can totally get all the protein you need from food. Protein powders are not a must-have.
But if you do choose to use them, then pay attention to the ingredients, invest in the best you can find and use them wisely.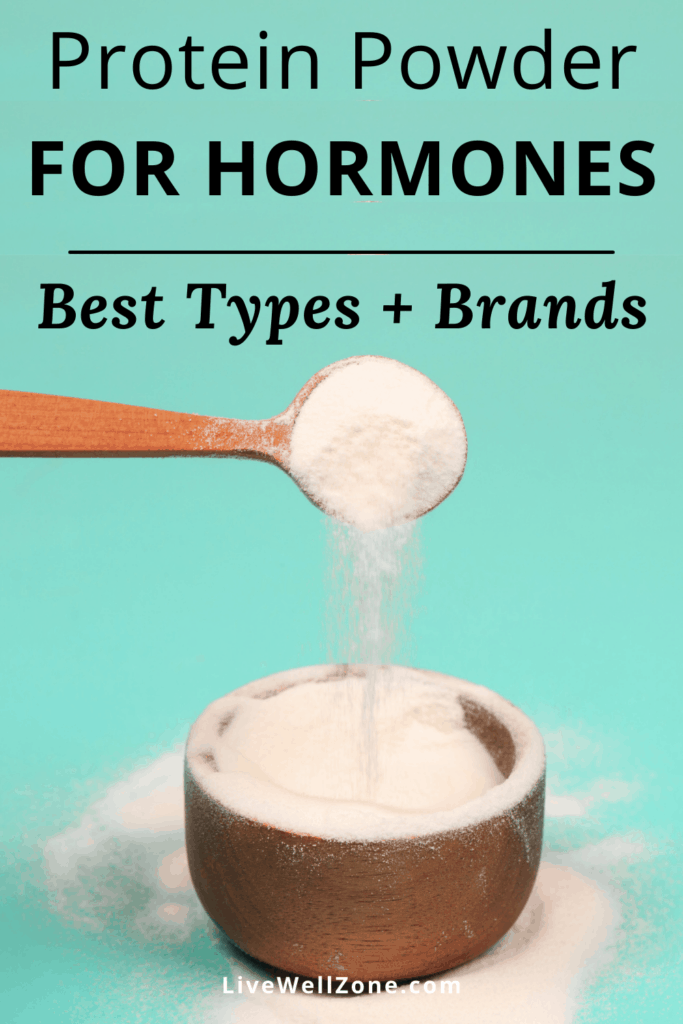 ---
Related Posts:
What To Eat During Each Phase Of The Menstrual Cycle: A Quick Guide
11 Green Powders Without Stevia (or Processed Sweeteners) That You Should Know About
3 Quick and Easy Ways To Use Cloves For Menstrual Cramps
How To Make The Best Smoothie for Period Cramps (That Actually Works!)