28-DAY BALANCING Detox & Reset
Kickstart Weight Loss, Support Healthy Menstrual Cycles and Bring More Balance to Your Hormones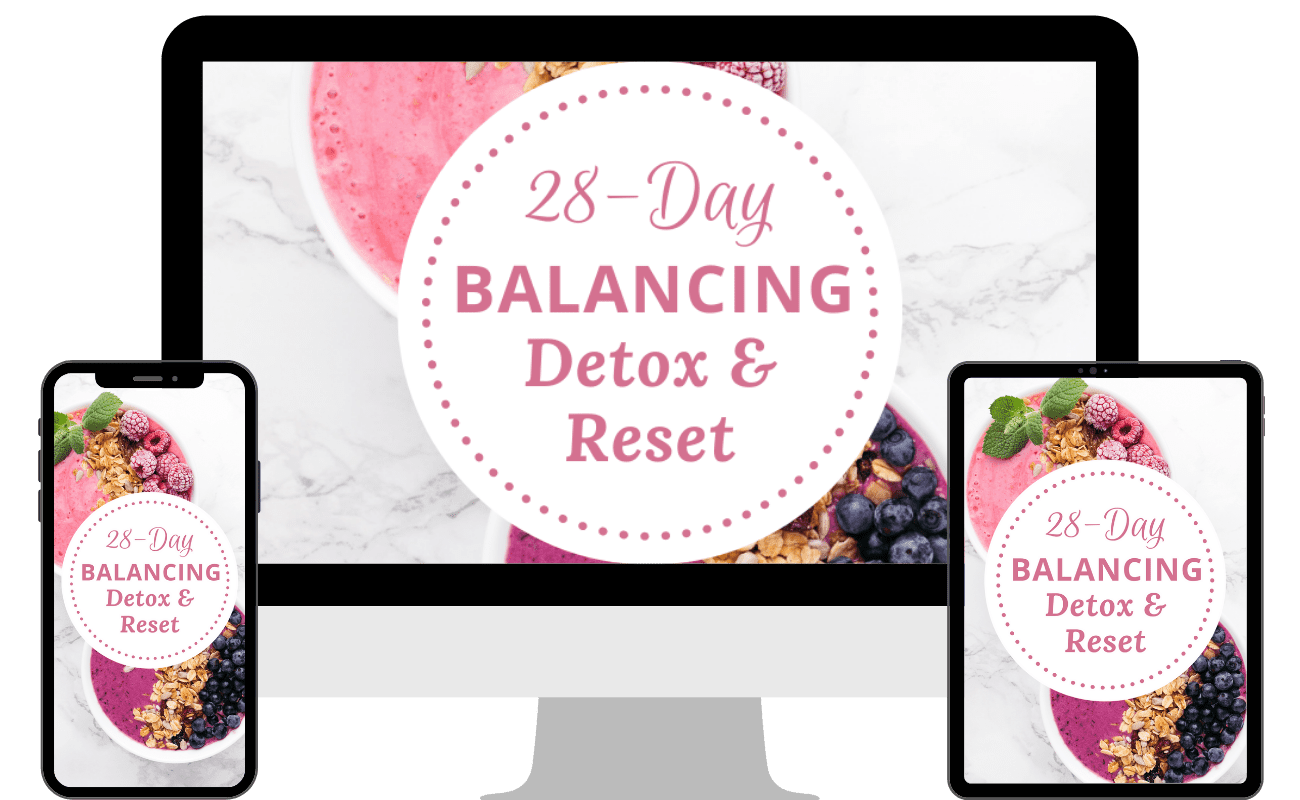 Molly dropped 13 lbs while also improving her sleep and digestion! (UPDATE: 8 months later, Molly repeated the detox and lost another 10 lbs, bringing her total weight loss to 23 lbs).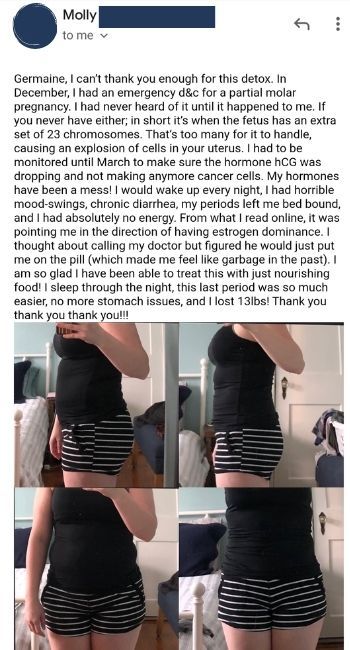 Wedding planning made it difficult for Kinga to follow the program strictly. But that still didn't stop her from losing 4 kg (8.8 lbs), boosting her energy and improving her sleep.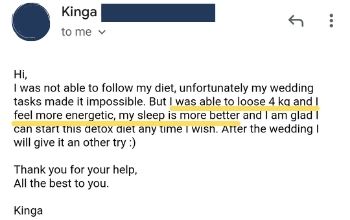 Are you trying to eat healthy but you have no idea where to start (or you have a hard time sticking to it)?
Does your cycle, mood, weight or skin seem to have a mind of their own, and you're not sure how to get them to play nice?
Are you confused or overwhelmed by all the diet trends that are out there (keto, intermittent fasting, keto with intermittent fasting, and so on)?
Do you have a hard time losing weight no matter how little you eat or how much you exercise?
Do you feel tired, drained and basically "off" and just wish you could get back to yourself again?
Are you tired of being told "it's all in your head," "your test results look fine," "surgery is the only option" or "take this pill and see how it goes"?
If you answered "YES" to one or more of the questions above, then you're in the right place!
Contrary to popular opinion, you don't have to be a slave to your hormones or simply cope with your symptoms.

And while there are various factors that affect hormone health, making the right dietary choices is the best way to address many of those underlying factors.
This program gives you everything you need to turn your diet around, making it easy for you to be in the driver's seat when it comes to your health and well-being.
INTRODUCING THE
28-Day Balancing Detox & Reset
This 28-day program is designed to:

1. flood your body with nutrients for head-to-toe nourishment.
2. support the digestive system (including  the liver) so that you can get rid of toxins and waste.
3. support the gut (because it affects our hormones, mood, cycles, weight and a whole lot more).
Here's what you get from this program
COMPLETE 28-DAY GUIDE WITH STEP-BY-STEP RECIPES
No need to guess or stress about your meals because all recipes are organized for you. You'll know exactly what to eat in week 1, week 2 and so on.
NO STARVATION, CALORIE-COUNTING OR FOOD TRACKING
Forget fasting or juicing only. Ditch your apps, diary and other trackers. This balanced program works for you so that you can spend time doing the things you actually enjoy.
FUN & DIVERSE SELECTION OF MEALS
From smoothies, buddha bowls and soups to overnight oats, salads and snacks, you get a variety of recipes to nourish your body and keep your taste buds happy!
TIME-SAVING STRATEGIES
Most recipes include leftovers that you can use throughout the week, saving you from spending a lot of precious time in the kitchen.
EASY-TO-FIND-INGREDIENTS
All of the recipes in this program use ingredients that you can find at popular chains (like Costco, Target, Kroger, Safeway, Whole Foods).
SHOPPING LIST
There's a detailed shopping list that you can use each week. Just shop once and get everything you need for the days ahead.
BONUS TIPS ON SUPPLEMENTS & HERBS
Although supplements are not required, they're a great way to boost your results. This program gives you tips on essential supplements that you can use at any time.
POST-DETOX WELLNESS GUIDE
To help you create sustainable habits that last a lifetime, this program comes with an Everyday Wellness Guide that you can use after the detox. It covers healthy eating and self-care/lifestyle habits that you can use for years to come.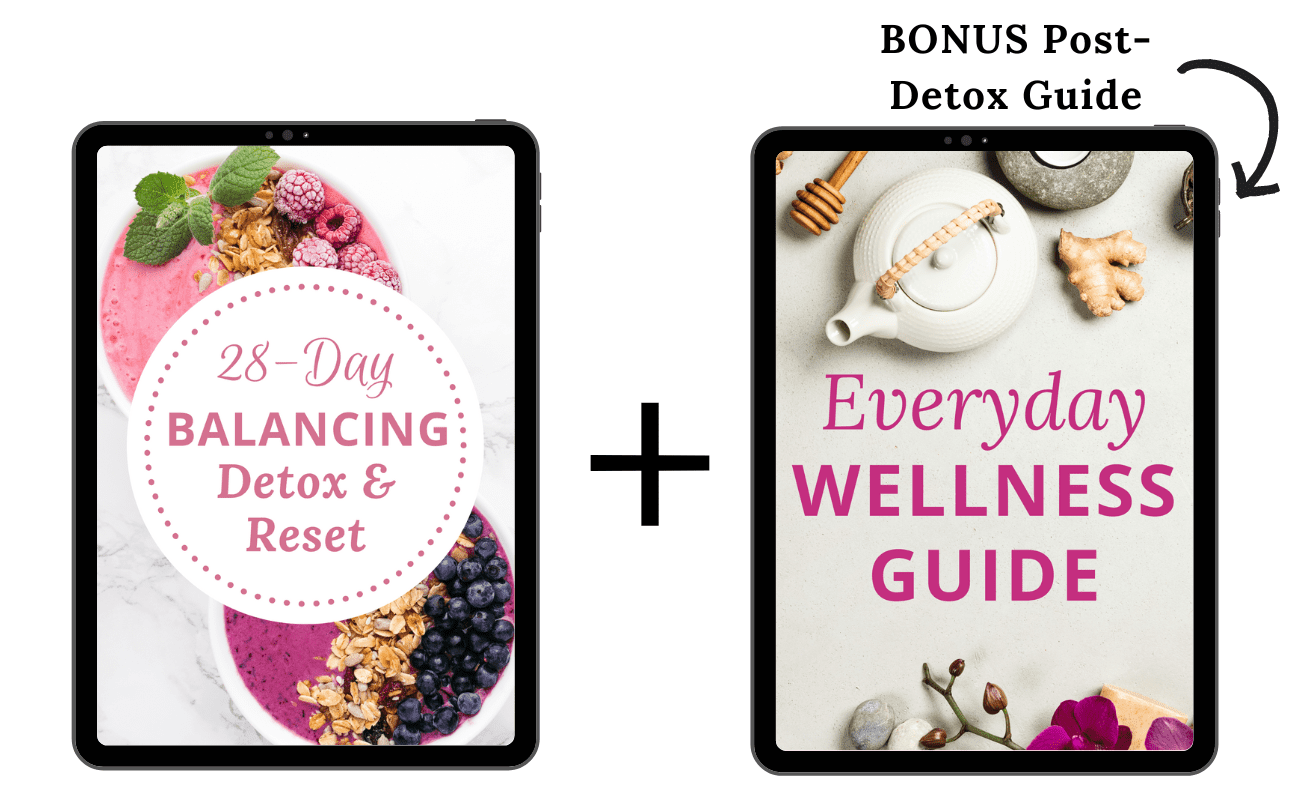 Transformational stories from my other programs.
Tomeka said goodbye to fatigue, hot flashes, night sweats, vaginal dryness, mood swings, low energy and more within a few weeks. Plus, she even started losing stubborn weight (which wasn't happening before, despite regular exercise)!

Carrie improved years of back pain within a week and lost weight thanks to her commitment and willingness to prioritize herself.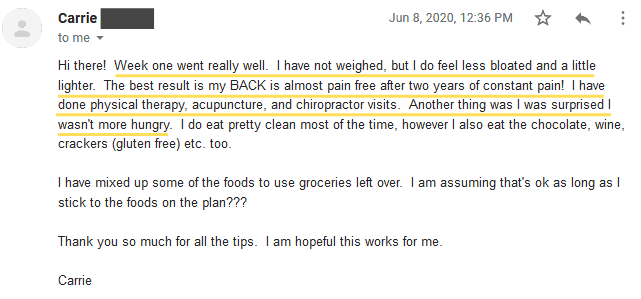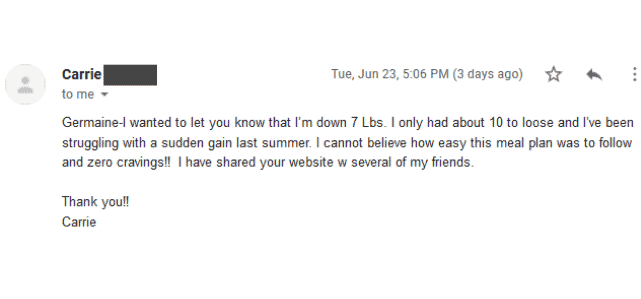 Bettina started losing weight and also got her period again (which usually showed up once a year). UPDATE: after the email below Bettina got a second period!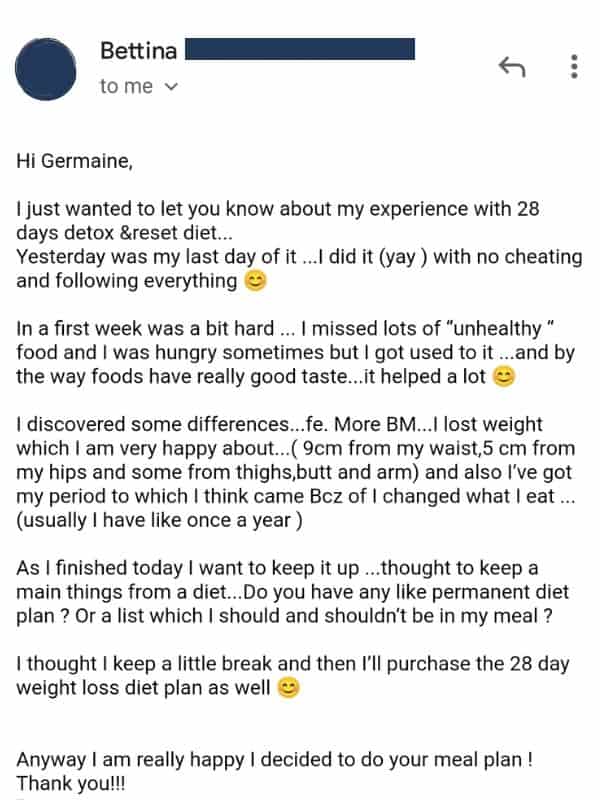 Sarah boosted her energy levels and felt more vibrant within a few weeks. Even while detoxing, she didn't struggle with cravings.

You're ready for this program if you:
are willing to make dietary changes.
want a food-based approach to support weight loss, boost energy, support healthy menstrual cycles and reduce diet-related inflammation.
have been struggling with chronic hormonal imbalance symptoms.
feel like you're constantly at war with your body and you're eager to experience more balance and harmony in your daily life.
feel like your symptoms have a mind of their own and you never know what to expect when you wake up each morning.
know that that looking and feeling good isn't just for the lucky few; it is 100% your birthright.
don't just want rabbit food; you want healthy meals that are good for you AND taste like they're made for actual humans.
Frequently Asked Questions
Do you offer refunds?
Since this is a digital product, there are no refunds available (once you've received your copy of this program, you can no longer return it the same way you would return a physical product).
So, it's a good idea to read through every thing above, as well as all the other questions below, to make sure you'd like to take advantage of what this program offers.
Do I get customized recipes with this program?
The recipes are not customized to your personal preferences.
If you need very specific recipes – because of allergies, doctor's guidelines or for some other reason – then please send me an email to request a private consultation.
Do I have to fast during this program?
There's no fasting involved in this program. You'll be eating breakfast, lunch dinner in addition to snacks.
How is this different from the collection of 100 recipes?
This is a detox program that has more restrictions (mainly limiting consumption of common pro-inflammatory foods). The goal is to give your body a break for a short period, allowing it to shift into a more balanced state of being.
The collection of 100 recipes is not a detox. Rather it focuses on balanced meals to help you cultivate healthy eating habits in the long-term.
Are there foods that I have to avoid during the detox?
Since this is a detox, you will be temporarily avoiding foods that tend to be inflammatory, as well as foods that have a stimulatory effect. This means alcohol, processed sugar, coffee and most meats (except fish) are not included in this detox.
In addition, there's very little dairy and very little gluten in the program, since these tend to be pro-inflammatory and can negatively affect hormones.
At the end of the program you will receive tips for how to re-introduce your normal foods back into your diet.
Is this detox suitable for a vegetarian, vegan, dairy-free or gluten-free diet?
Yes, this program contains lots of recipes that fit those dietary preferences. In addition, each recipe includes substitution tips that you can use to ensure that it matches those dietary preferences.
Will my symptoms go away by the end of this detox?
How quickly you see improvements depends on various factors, including:
how long you've had your symptoms.
how many symptoms you have.
your lifestyle.
your current diet.
any surgeries you've had.
how committed you are to following this program.
Since each person is unique it's impossible to predict exactly which changes you may experience.
Furthermore, there are other factors – besides food – that can contribute to hormonal imbalance. Those other factors include emotional stress, past trauma and chemicals from things like skincare products, water and more.
So, while this program will help you from the food aspect, you may have to address all of those other factors in order for your body to fully bounce back.
What if I need help while following the program?
You can get email support if you have any questions about the recipes or another aspect of the program.
I've already purchased one of your old detox programs or recipe collections. Do I still need to buy this Detox?
If you've bought my previous detox programs (for menopause, PCOS or weight loss) or my previous Jumpstart program, then you do not need to buy this Detox. You already have many of the recipes and the information that is in this program.
28-DAY BALANCING DETOX & RESET
Weekly recipe collection to take the guesswork out of what to eat.

Time-saving strategies to cut down on food prep time.

Weekly shopping list with easy-to-find ingredients.

Tips on supplements and herbs to boost your results.

Post-detox wellness guide to help you develop sustainable dietary and lifestyle habits.

Flexible options for vegan, vegetarian, gluten-free and dairy-free diets.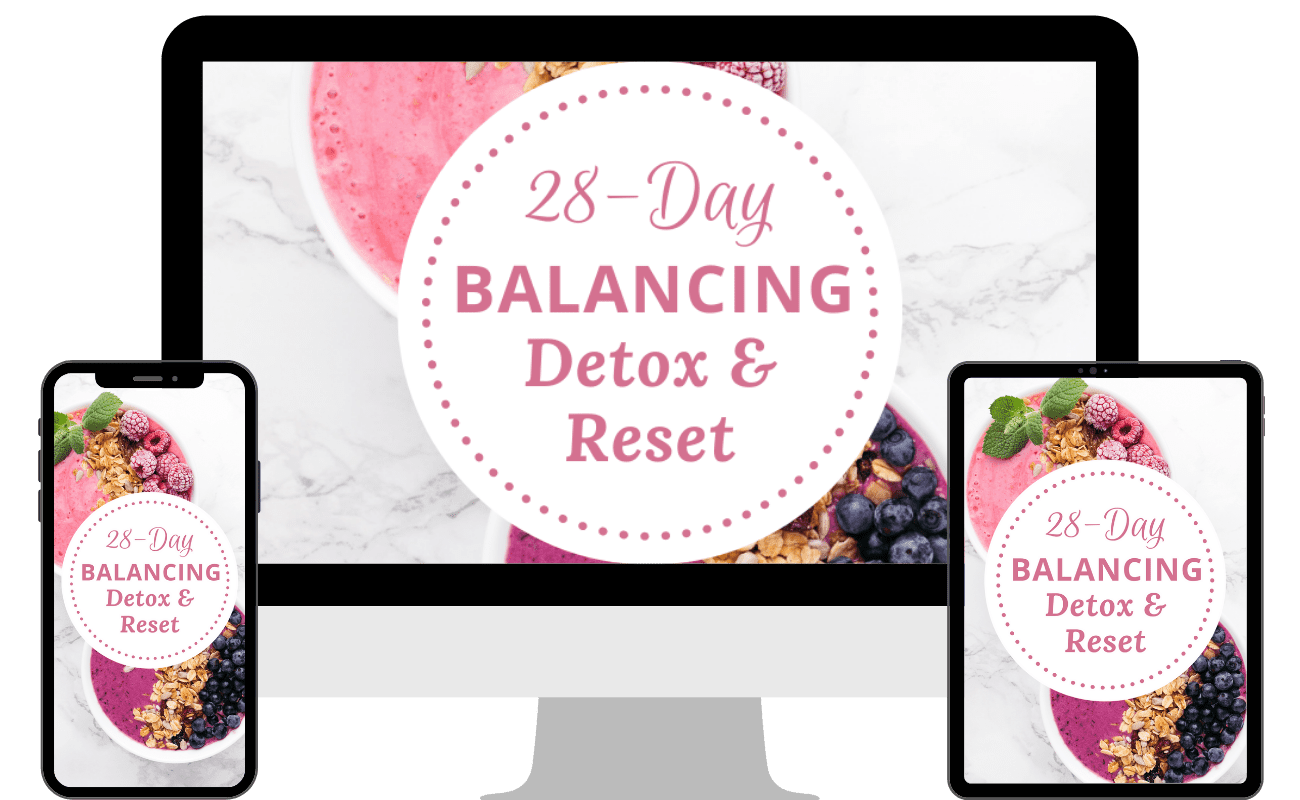 Get Instant Access to the 28-Day Balancing Detox & Reset

No refunds or exchanges. All sales are final.
Detox. Very often that word brings to mind images of tasteless meals, pungent teas and days spent fighting back cravings.
But it doesn't have to be that way.
This 28-day detox program is crafted as a DIY solution to help real women like you, get all the benefits of detoxing and clean eating, while still enjoying flavorful recipes!
Besides you're already frustrated with your hormones, so why stress yourself out more with an overly-limited detox plan that you don't even enjoy?!
So, go ahead and grab your copy now, and start the journey towards feeling whole again!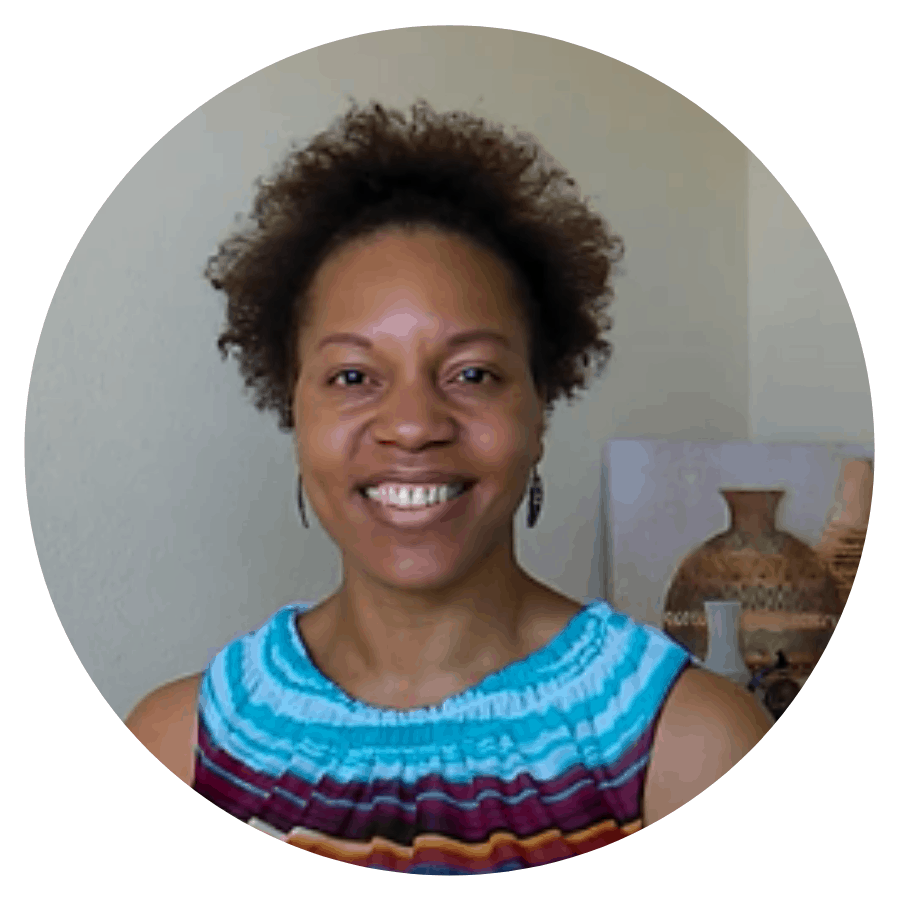 This is a digital product and it will be delivered via email once you purchase. This product is not intended to diagnose, treat, cure or prevent any disease. These statements have not been evaluated by the Food & Drug Administration. The information contained on this page is for informational purposes. Always consult with your doctor before starting this program, or before making any changes as a result of this program. All sales are final and non-refundable.