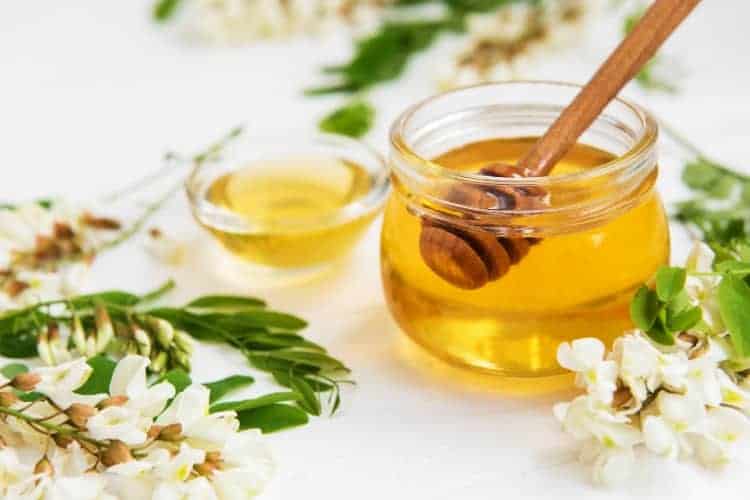 Honey is a an antibacterial, anti-inflammatory and humectant natural skincare ingredient that is often used as a natural remedy for acne-prone and inflamed skin. Like many natural ingredients, there confusion often arises about how to use honey and as well as whether you can apply honey on your face every day.
Raw honey is gentle enough for most skin types and therefore, it can be used daily (as long as you're not allergic to bees or bee products). Honey's chemical composition makes it suitable for use as a pimple spot treatment, face wash and as a mask.
To help you get the most out of adding honey to your skincare routine, this article is going to cover:
the 3 ways to use honey for skincare (including recipes).
other natural ingredients you can combine with honey (including turmeric, lemon and coffee).
HOW TO USE HONEY ON FACE
1. Acne Spot Treatment
dab a very small amount of raw honey on pimples.
allow to dry (it will feel sticky so this remedy is best done at night).
rinse off the next morning.
2. Face Mask
using your fingers, apply a thin layer of honey onto damp skin. Don't attempt this with dry skin because it's harder for the honey to spread. Also, if the honey is too thick, warm it up slightly in a microwave for just a few seconds to soften it first. TEST THE TEMPERATURE BEFORE PUTTING IT ON YOUR SKIN TO AVOID BURNS.
leave on for 15 to 20 minutes.
rinse off with warm water.
3. As A Natural Face Wash
If you have acne-prone skin or very sensitive skin, then honey can be a good substitute for harsh soaps and cleansers. Honey is a natural antibacterial agent, which means it cleans the face. But unlike harsher cleanser, honey doesn't strip your skin of its natural oils, nor does it leave your skin feeling overly dry.
Do keep in mind that honey does not foam up the way soap-based cleaners do. So, psychologically, it takes some getting used to 🙂
To use honey as your daily face wash, simply:
place about ½ tsp of honey into the palm of your hand.
massage the honey onto your face.
---
Although honey works great all by itself, you can also mix it with other ingredients to get even more benefits.
So, to help you explore more of honey's skincare wonders we're now going to look at some honey blends and remedies that you can try at home.
CAN I APPLY TURMERIC AND HONEY ON MY FACE EVERYDAY?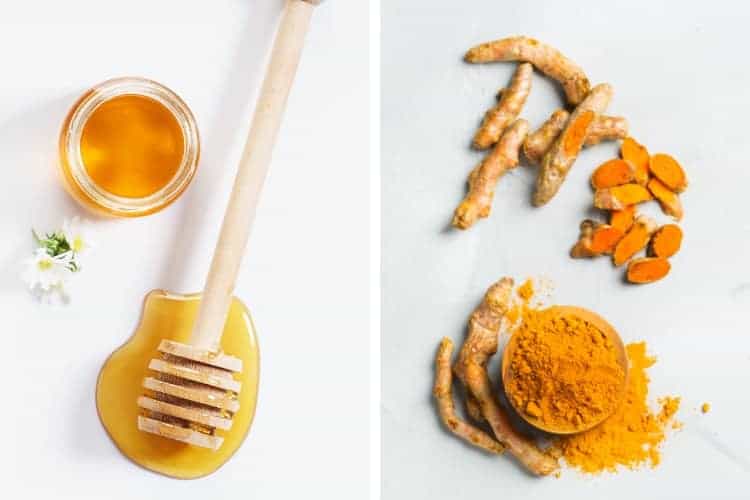 The main star of this recipe is turmeric, which is a powerhouse for fighting acne and hyperpigmentation. The addition of honey, gives the mask more anti-inflammatory properties, while also helping to soothe and rehydrate the skin. Although this mask can be used daily (for a short period of time), consider starting with every 2 or 3 days. If no irritation or negative side effects occur, steadily increase the frequency until you get to daily use.
Lastly, one thing to note is that turmeric stains the skin. So, if you use this mask daily, expect that staining effect to be more noticeable.
Here's how to make a turmeric and honey mask:
In a bowl, combine equal parts of turmeric and raw honey (for example, 1 tsp turmeric and 1 tsp raw honey).
Mix until you get a paste. If the paste is not at a consistency that you like, adjust the ingredients to suit you.
Apply to clean, dry skin.
Leave on for a maximum of 15 minutes.
Rinse off with warm water.
CAN I USE LEMON AND HONEY ON MY SKIN DAILY?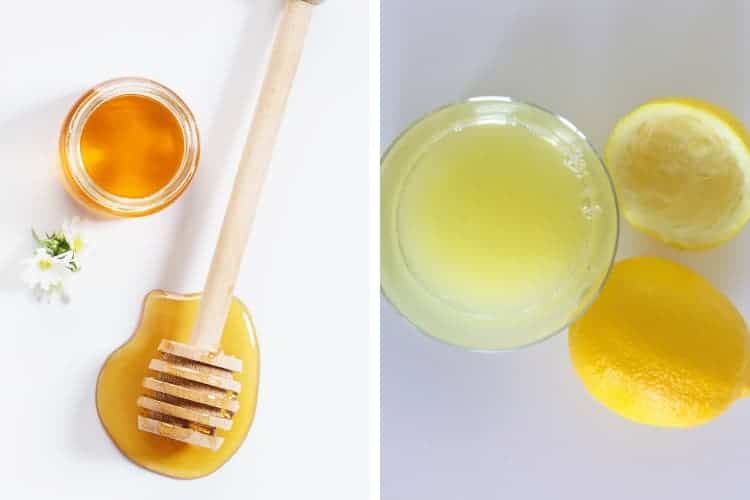 Lemon contains alpha hydroxy acids (AHA), which are natural compounds that are helpful for clearing dark spots and acne, as well as for giving the skin a healthy glow. However, the main type of AHA in lemon is citric acid, which is also one of the harshest forms of AHA.
Therefore, it's best not to overuse a honey and lemon mask. Furthermore, when using lemon juice on your face, it's best not to use the juice from an entire lemon.
Rather, use just a few drops of lemon juice (just enough to help the honey feel less sticky). Remember, the more lemon juice you use, the more acidic the mask will be harsher and the harsher it will be on your skin.
To minimize the risk of irritation from the lemon, start off by using your lemon and honey mask once a week.
Here's how to make a lemon and honey face mask.
Ingredients
1 tbsp raw honey
a few drops of lemon juice (just enough to help the honey feel less sticky)
Instructions
Combine all ingredients in a bowl and stir to mix.
Apply to clean, dry skin.
Rinse off with warm water.
CAN I PUT COFFEE AND HONEY ON MY FACE EVERY DAY?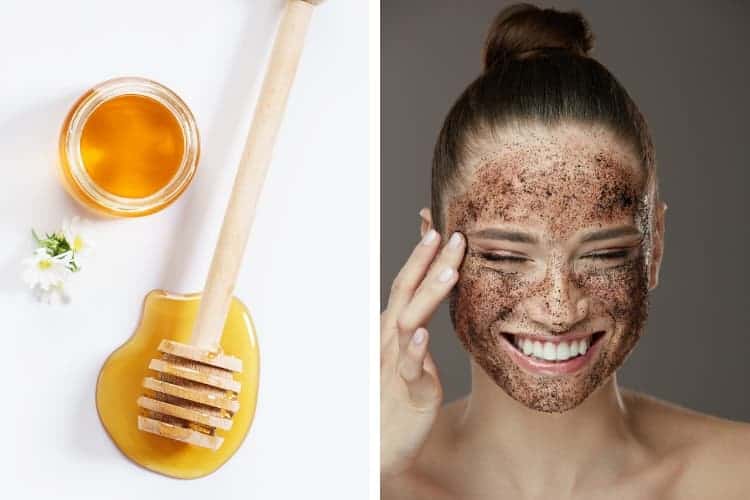 A paste made from coffee and honey can be used either as a mask or a scrub. In either case, this is a more intense treatment that you can use once or twice a week.
When used as a scrub, the coffee grinds help to remove dead skin cells, leaving the skin with a healthier glow.
Ingredients
2 parts very finely ground coffee
1 tbsp raw honey
Instructions
Combine all ingredients in a bowl and mix until you get a paste.
Apply on clean, dry skin.
Leave it on for 15 minutes.
Rinse off with warm water.
NOTE: to use this as a scrub, apply to damp or wet skin instead.
CAN I USE RAW HONEY AND MILK ON MY FACE DAILY?
The combination of raw honey and milk can be used daily as a soap-free face wash or mask. You can use any milk of your choice, including goat milk, cow milk or almond milk, just to name a few.
Please note that when using almond milk or other plant milks, these should be free of preservatives or additives. Many of those added ingredients are not always suitable for the skin.
Ingredients
Equal parts honey + milk of your choice
Instructions
Whisk the ingredients in a bowl. If your honey is very thick, gently warm it up so it becomes more fluid. Make sure to it cools down before applying.
Use a makeup brush or your fingers to apply the mixture to clean, dry skin.
Rinse off with warm water.
NOTE: to use this as a face wash, apply to wet skin instead.
CAN I LEAVE HONEY ON MY SKIN OVERNIGHT?
If you're using honey as a spot treatment for acne, you can leave it on overnight and rinse it off in the morning.
I've actually done this many times myself and it's very convenient. Just remember that those spots will feel a little sticky if you happen to touch your face at night 🙂
NOTE: if you have more than just a few pimples, then slathering honey onto your entire face and leaving it on overnight is simply not practical. Instead, use one of the honey mask recipes above.
SIDE EFFECTS OF APPLYING HONEY ON SKIN
In general, honey is very gentle and is not known to cause negative effects when applied to the skin. However, if you have known allergies to bee pollen or bee venom, then you might also experience a reaction when using honey on your skin.
RELATED QUESTIONS ABOUT USING HONEY FOR SKINCARE
Can I use honey on my face twice a day?
Honey can be used twice a day if you're using it as an acne spot treatment or as a soap-free face wash.
Can honey remove dark spots?
Honey is a natural exfoliant, meaning that it can help to remove dead skin cells. With regular use, this can eventually lead to brighter skin and less dark spots. However, honey isn't a very strong exfoliant, so if you're looking for something more potent, consider combining honey with ingredients like turmeric or lemon.
CONCLUSION
Honey is a versatile ingredient that works for all skin types and it's a great addition to any natural skincare routine.
Best of all, it can be used by itself. However, if you're the DIY type and you like experimenting, then I hope the recipes in this article have given you some ideas to explore.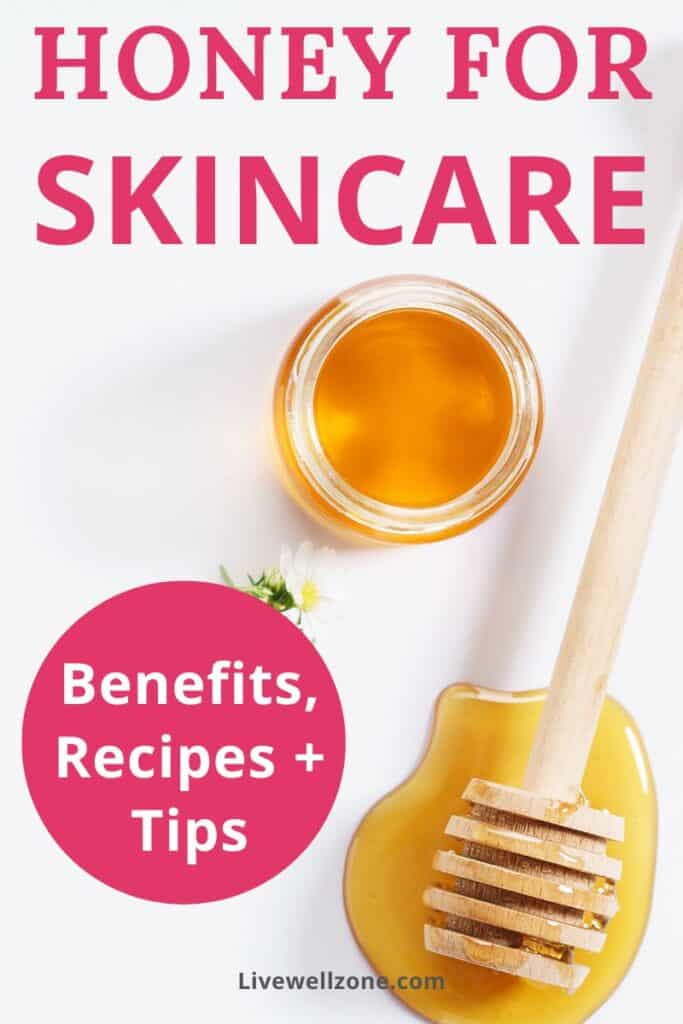 ---
You Might Also Enjoy:
Honey Mask vs Clay Mask: Benefits, How To Use and Recipes
What To Do Before And After Steaming Your Face: A Complete Guide
Which Is Better: Face Scrub Or Face Mask? Pros, Cons, How and When To Use
Honey vs Aloe Vera for Face: Benefits, Best Ways To Use and Recipes