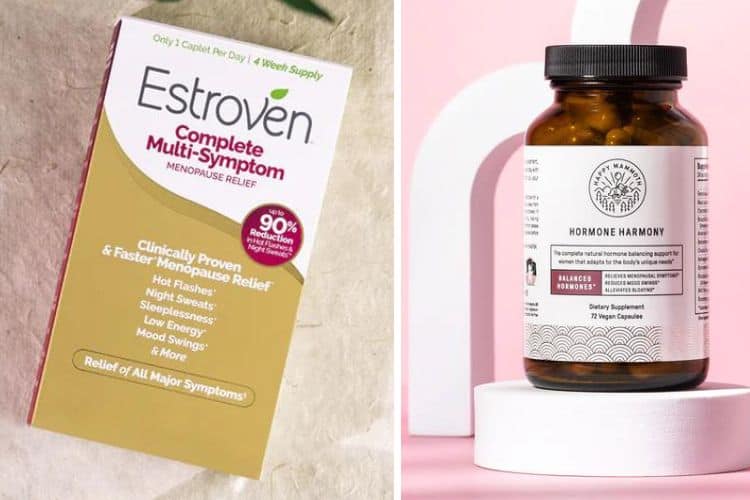 When you do a quick search for menopause supplements, Estroven and Happy Mammoth are two brands that often come up.
While both brands provide herb-based supplements, they are quite different in significant ways.
So, in this article I'm going to compare these brands so that you get a better understanding of what they offer (and decide which one resonates with you).
Let's go!
Note: this post contains affiliate links and I earn a commission (at no additional cost to you) if you use them to make a purchase.
OVERVIEW OF ESTROVEN AND ITS BENEFITS
This hormone-free and drug-free supplement relies on one active ingredient: rhapontic rhubarb root extract (aka Siberian rhubarb).
In countries like Germany, rhapontic rhubarb has been used to treat menopausal symptoms.
Furthermore, there have been various studies showing that rhapontic rhubarb improves, a variety of menopause symptoms.
Most notably, this plant has been shown to all 11 symptoms that are part of the Menopause Rating Scale (source).
If you're not familiar with the Menopause Rating Scale, it's a standardized evaluation tool that is used in the medical world to assess health-related quality of life and symptoms.
The 11 symptoms in the Scale are:
Hot flashes.
Sexual problems.
Heart discomfort.
Sleep problems.
Irritability.
Anxiety.
Physical and mental exhaustion.
Bladder problems.
Vaginal dryness.
Joint and muscle discomfort.
It's worth noting that even though rhapontic rhubarb has been shown to alleviate all of the above, the strongest effects were seen on hot flashes, depressed mood, sleep problems and irritability.
This matches the reviews on Estroven's website, many of which mention that the products produces noticeable improvements in those 4 symptoms.
Pros
All natural, herbal formula.
Dosage is just 1 capsule per day.
Formulated to provide relief from a broad spectrum of menopause-related symptoms.
Active ingredient is rhapontic rhubarb (aka Siberian rhubarb). It has been used in Europe since the 90s as a treatment for hot flashes and other menopause symptoms (source).
According to the manufacturer, the formula is hormone-free and won't raise estrogen levels.
Affordably priced.
Cons
Not a lot of reviews on the company's website (373 as of the time of writing this article) but there are significantly more (13,000+) on other sites like Amazon.
One of the main themes in the reviews on the company's website is that the supplement works for a while, then stops working.
The company mentions that rhapontic rhubarb has been clinically studied, but they don't provide any links to those studies (I was, however, able to find some studies while doing my own research).
OVERVIEW OF HAPPY MAMMOTH AND ITS BENEFITS
Happy Mammoth makes several supplements and the one that is most relevant for menopause is Hormone Harmony.
Hormone Harmony is an herbal blend that includes some of the best herbs – and herbal extracts – for hormone support, including:
Adaptogens like maca, rhodiola, American ginseng and ashwagandha.
Berberine: extracted from herbs like barberry and goldsenseal, research suggests that this compound has insulin sensitizing properties (source).
Chamomile and Rosemary: both help to calm and support the nervous system, which can help alleviate feelings of stress.
As for the reviews, there are over 10,000 at the time of writing this article. Customer feedback is mostly stellar and they include reports of:
Less hot flashes and night sweats.
Less bloating/flatter tummy.
Some weight loss.
Better sleep.
More energy.
Improved mood and feeling less stressed.
Lastly, Happy Mammoth offers a 180-day money back guarantee for the one-jar supply of this supplement. This allows you to
Pros
10,000+ reviews on their website, most of them very positive.
180-day money back guarantee (only for single jar orders).
Formulated to relieve a wide range of symptoms including hot flashes, weight gain, bloating, sleeplessness, low energy and mood swings.
Contains well-established hormone balancing herbs like maca, ashwagandha, rhodiola and chaste tree (vitex).
Contains ingredients that support healthy cortisol, estrogen and progesterone levels.
Includes berberine (known for improving insulin resistance), chamomile and rosemary (both soothe the nervous system and help reduce feelings of stress/tension).
Cons
Dosage is 3 capsules per day so if you tend to forget to take supplements, you'll want to set reminders on your phone!
Compared to Estroven, it's on the pricier side. However, that is likely due to the fact that there are many different herbs in this formulation.
HOW EFFECTIVE IS ESTROVEN VS HAPPY MAMMOTH?
When going through the reviews for both products, I saw a trend that is quite common with supplements: some women experienced improvements within days while others took longer (often, several weeks).
As with all supplements, the results vary based on the individual.
One thing that also stood out in the reviews was how long the results lasted. In the case of Estroven, some reviewers mention that it worked for a few months, then stopped working.
On the other hand, I didn't notice this with the reviews for Happy Mammoth.
That said, I didn't read through every single review for each product.
Also, keep in mind that when it comes to supplements – any supplement – they're meant to be used as an add-on to a healthy diet and lifestyle.
If you rely entirely on supplements without making any other changes, then they tend to work only for a short while.
So, keep that in mind regardless of whether you go with Estroven or Happy Mammoth.
COMPARING ESTROVEN AND HAPPY MAMMOTH
| Estroven | Happy Mammoth (Hormone Harmony) |
| --- | --- |
| Multi-symptom relief | Multi-symptom relief |
| Hormone-free | Hormone-free |
| Main ingredient: Rhapontic Rhubarb | Main ingredients: maca, ashwagandha, rhodiola, berberine, chamomile and other herbs |
| 1 capsule per day | 3 capsules per day |
| 373 reviews | 10,000+ reviews |
| Budget price | Higher-end price |
| 30-day refund policy | 180-day guarantee (single jars only) |
| Free shipping on all order | Free shipping on orders over $99 |
Table comparing Estroven versus Happy Mammoth
CONCLUSION
Overall, I personally lean toward Happy Mammoth's Hormone Harmony over Estroven for two reasons:
The herbs support many different systems and pathways that affect hormone balance (such as the digestive system, HPA axis and more).
The ingredients used have both historical and scientific evidence to back them.
As for Estroven, its strongest selling point – from my perspective – is the fact that it is affordably priced.
Yes, their main ingredient is also well proven in research.
However, it can be hard to address everything with just one ingredient.
I personally lean toward supporting different systems in the body (something that is part of most herbal traditions around the world).
That said, the final decision is always yours! I hope that this article helps you in making the best choice for your needs.
---
You Might Also Like:
Hot Flashes No More: Top 10 Menopause Supplements for True Relief
Relizen vs. Amberen vs Estroven: A Guide to Menopause Supplements
How To Use Peppermint Oil For Hot Flashes
Cool Off Naturally: 12 Powerful Herbs for Menopause Hot Flashes
Best Maca Supplement For Menopause
Get Relief Now: Essential Oil Roller Recipe For Hot Flashes!
How to Go Through Menopause Naturally: 7 Steps To Start Using Today
Menopause Smoothie: Best Ingredients To Use For Relief & Recipes