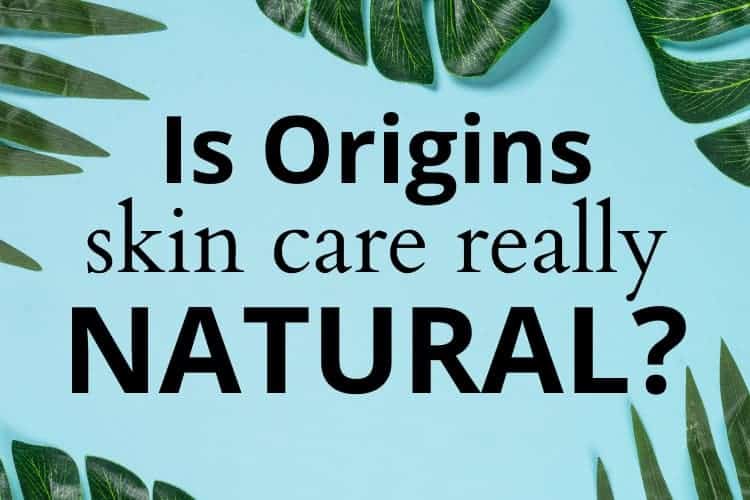 Whether you're new to natural skin care or you've been dabbling in it for a while, you've mostly likely come across the Origins brand.
And while they certainly have earned a reputation as a leader in the "clean" beauty industry, you might still be wondering "is origins skin care really natural?"
Origins products use mainly natural ingredients like essential oils, clays, mushrooms and skin-friendly carrier oils. These ingredients are usually in their whole form or in the form of extracts. However, some products include ingredients that started off "natural," but due to processing are officially considered synthetic (like silicones). 
Now, it might seem strange that a brand whose tag line is "Powered By Nature" also uses synthetic ingredients.
But actually, it's not strange at all because the term "natural" is not regulated by the FDA or any other official entity.
And as a result, Origins (and any other company that focuses on natural products) can use any combination of ingredients that they ultimately choose. It's well within the company's rights to combine ingredients as they see fit.
Therefore, as a consumer the more important question to ask here would be "is Origins skin care natural enough for me?" Basically, are you flexible in terms of your requirements for "natural" ingredients? If so, then take some time to examine Origins' ingredients a little closer to see if they fall within your personal flexibility zone 🙂
To help get clarity on that, this post is going to provide an overview of a few ingredients that are in some of their products, so that you can decide for yourself if these products are a good fit for you.
NOTE: this article references information from Origins' website. The information is accurate as of the date of the article's publication (September 2020). Some products, ingredients and other information from their site may change by the time you read this.
DOES ORIGINS SKIN CARE HAVE PARABENS?
Origins does not use parabens in their products. In fact, not only do they stay away from parabens, but they also stay away from other harmful or questionable ingredients. According to their website, the company doesn't use (source):
Parabens
Sodium lauryl sulfate
Diethanolamine
Polyethylene beads
Phthalates
Propylene glycol
Formaldehyde
Mineral oil
Petrolatum
Paraffin
ARE ORIGINS PRODUCTS ALL NATURAL?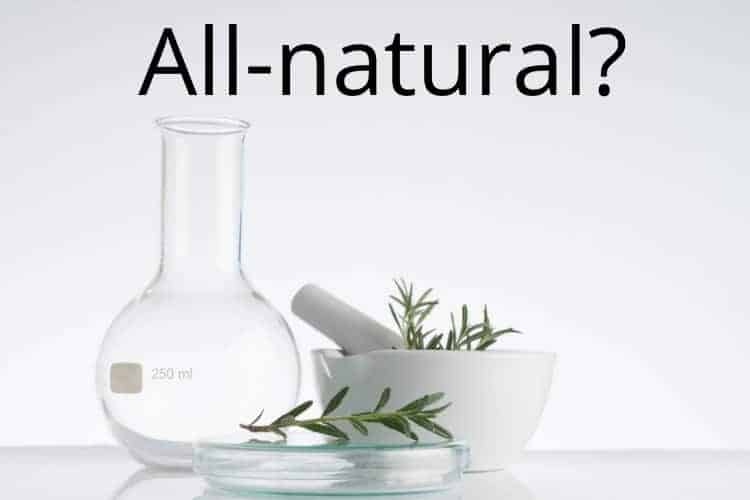 While Origins does use a lot of natural ingredients, they also use some ingredients that are considered synthetic.
To illustrate what I mean, let's have a look at some of the products that are currently on their website (source).
1. Anti-Aging Serum
This serum has an impressive list of natural ingredients that includes lavender oil, anise oil, bergamot oil, safflower oil, nutmeg kernel oil, orange peel oil, mandarin oil, lemon oil, sweet almond oil and more.
However, there are also some less-than-natural ingredients. Here are a few notable ones:
Butylene Glycol: this is the second ingredient in this product and it's derived from petroleum. While it's been refined enough to make it safe for the skin, petroleum-derived ingredients are not generally considered "natural." And even though butylene glycol is the least worrisome of the glycols (unlike propylene glycol) it can cause irritation for those with sensitive skin (1, 2)
Dimethicone: this is the third ingredient in this product. Dimethicone is a silicone, derived from silica. Silica is commonly found in sand, as well as plants like bamboo. Now, even though dimethicone comes from a natural source, the process of making it requires significant chemical processing. As a result, dimethicone is considered synthetic. Having said that, dimethicone doesn't appear to be toxic. However, for those who are acne-prone, it seems to clog pores and worsen acne (3, 4).
Jojoba Esters: this is a blend of jojoba esters (a class of organic compounds) and hydrogenated jojoba oil. Since the hydrogenation process involves adding hydrogen to a substance, it changes the chemical composition of that substance. Therefore, hydrogenation produces a synthetic ingredient. So, overall, jojoba esters are synthetic (even though it's generally considered safe for the skin).
Hydrogenated Vegetable Oil: as discussed above, hydrogenation changes the chemical composition of a substance and the end result is something synthetic.
Methyl Trimethicone: similar to dimethicone, this is also a silicone and comes with the same general concerns already discussed above.
Polysilicone-11: another silicone (not surprising since this product is a serum and silicones are effective at giving that smooth consistency!)
So, overall, this product contains a blend of natural and synthetic (nature-derived) ingredients.
2. Refreshing Eye Cream
Olive fruit oil, green tea extract, shea butter and panax ginseng root extract are just a few of the natural ingredients that are in this eye cream.
Pretty good stuff, right?
However, similar to the previous product, this eye cream also contains methyl trimethicone, dimethicone and butylene glycol.
In addition, it also has:
PEG-100 stearate: polyethylene glycols (PEG) are derived from petroleum. Depending on how they're made, they can also be contaminated with ethylene oxide and 1,4-dioxane. There is concern that both of these compounds contribute to cancer. In addition, there's some evidence that PEGs themselves can damage genetic information within cells (source).
Steareth-20: this is a synthetic ingredient made of PEG and stearyl alcohol. Because it contains PEG (which we just discussed above), there is concern about it's safety (source).
Chlorphenesin: this is a synthetic preservative that prevents color changes, bacterial growth and bad smells (from spoilage). Although it's less dangerous than some other preservatives (such as parabens), it can cause contact dermatitis and irritation. By the way, in babies chlorphenesin can trigger slow or shallow breathing (source).
3. Out of Trouble 10-Minute Mask
This mask contains one of the best natural ingredients for tackling oiliness and acne: bentonite clay.
However, it also has synthetic ingredients like steareth-20, butylene glycol and PEG-100.
4. Mega Mushroom Relief & Resilience Soothing Treatment Lotion
Designed for sensitive skin, this lotion has some of the most talked about mushrooms in the wellness space, including reishi, chaga and cordyceps.
In addition, you can find other skin-friendly ingredients like lavender oil, mandarin orange peel oil, ginger root extract and turmeric root extract.
But on the flip side, it comes with some synthetic ingredients like butylene glycol, PEG-4, PEG-40 and hydrogenated castor oil.
5. Frothy Face Wash
This face cleanser combines wholesome ingredients like lavender flower water, spearmint leaf oil and bergamot oil, with some synthetic ingredients such as butylene glycol, PEG-3,
In addition, this face wash contains:
Methylisothiazolinone: this is a preservative that is associated with allergic reactions. Studies also show that it can have a neurotoxic effect (source).
Methylchloroisothiazolinone: this is also a preservative and it can cause allergic reactions. A peer-reviewed study shows that this compound has a mutagenic effect (i.e. causes irreversible and heritable genetic mutations) (source).
IS ORIGINS SKIN CARE NON TOXIC?
As a whole Origins seems to use ingredients that are generally safe for the skin.
Some of those ingredients have a very low toxicity rating, while others have a moderate toxicity rating.
Now, for the purposes of measuring toxicity, I'm using the rating system defined by the EWG (Environmental Working Group).
They have a pretty complete database of ingredients and a ranking system of 1 – 10 (with 1 being low risk/toxicity and 10 being high risk/toxicity).
Here's how the EWG ranks all of the Origins ingredients that we covered in this article:
Toxicity rating 1: butylene glycol, jojoba esters, hydrogenated vegetable oil, polysilicone-11, hydrogenated castor oil.
Rating 1 – 3: dimethicone, PEG-100 stearate, steareth-20, PEG-4, PEG-40.
Rating 2 – 3: chlorphenesin.
Rating 2 – 5: methylchloroisothiazolinone.
Rating 4-7: methylisothiazolinone.
No rating: methyl trimethicone.
If you're interested in seeing how the EWG ranks individual Origins products, you can visit this page on their website.
Some products rank as low as 2 on their scale, while others rank as high as 6.
IS ORIGINS ECO FRIENDLY?
As a company, Origins has several strategies in place that are considered environmentally-friendly.
According to the latest information from their website, Origins prioritizes eco-friendly practices such as:
Tree Planting: Since 2009, Origins has partnered with the non-profit, American Forests, in an effort to protect and restore forests in the U.S. and abroad. The company also has a tree planting program in partnership with various non-profits, which has resulted in 1.3 million trees planted so far.
Eco-friendly, minimalist packaging: 55% of their packaging (by weight) can be recycled and they use FSC-certified cartons. By the way, FSC stands for Forest Stewardship Council, an organization that advocates for responsible forestry.
Renewable power: their manufacturing facilities use 100% renewable electricity and their goal is to implement zero waste strategies for their factories and distribution centers worldwide.
Green stores: The wall finishings in their stores use materials that release little to no VOCs (volatile organic compounds). Store counters are made with FSC-certified paper or post-consumer recycled paper. In addition, 100% of their North American stores use renewable electricity.
FAQs ABOUT "IS ORIGINS SKIN CARE REALLY NATURAL"
Does Origins skin care test on animals?
According to their website, Origins does not test on animals by default. However, they do make it clear that some countries require animal testing. So, in order for their products to be sold in those countries, they have to follow those country-specific requirements.
Is Origins owned by Estee Lauder?
Origins' parent company is indeed Estee Lauder. Coincidentally, Origins' founder is Leonard Lauder, son of Estee Lauder.
Is Origins vegan?
Origins not a vegan brand because they use honey and beeswax in some of their products.
CONCLUSION
Like many natural beauty brands, Origins uses a variety of ingredients, some of which are all-natural and some of which are more refined/processed.
Just like with companies, there's a variable scale in terms of what consumers see as "natural."
Depending on where you sit on that scale, I hope this post has given more clarity so that you can decide if these products are for you or not.
---
Related Posts:
Is Natural Skin Care Better For Your Skin? A Definitive Answer
How To Add Rosehip Oil To Your Skin Care Routine: Quick Tips To Follow