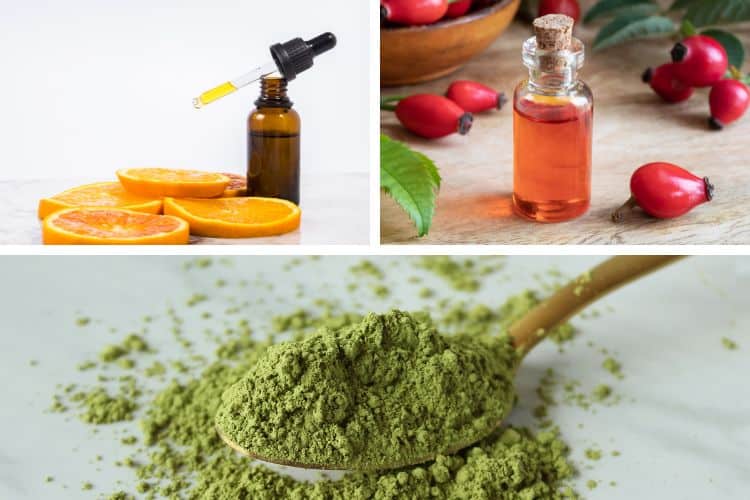 One of the key factors for healthy skin is the skin barrier, aka the stratum corneum. This barrier acts as a protective shield by blocking out unwanted substances and preventing moisture loss. However, in rosacea skin, this barrier can be severely compromised (source). This is where knowing your skin care ingredients can make a huge difference.
In this article, we're going to look at the best ingredients for rosacea and how they support not the skin barrier, but the overall health of your skin.
In addition, we will briefly dive into ingredients that are generally best to avoid if you have rosacea.
TOP 15 INGREDIENTS FOR ROSACEA SKIN
1. Zinc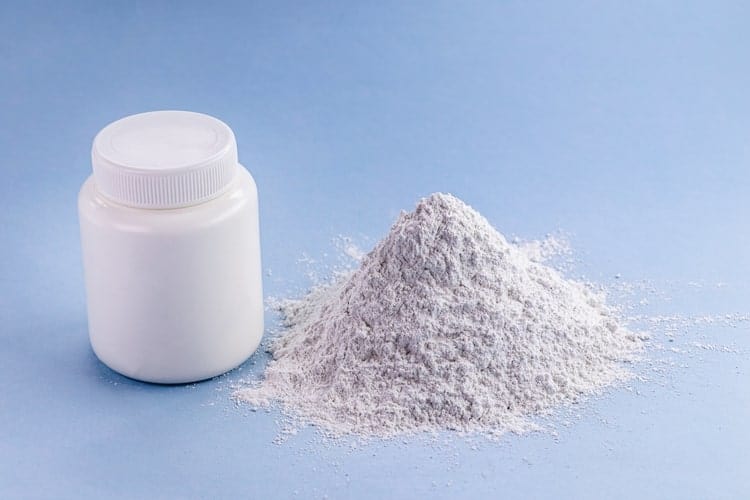 Zinc has antioxidant and anti-inflammatory properties that have been shown to help rosacea when used internally and topically.
When it comes to internal use, one study showed that taking 100 mg of zinc sulfate supplements helped to alleviate rosacea symptoms. In addition, the supplements didn't produce any major side effects, except for mild gastrointestinal upset in 3 of the 25 study participants (source).
As for topical use, zinc oxide is a good choice for sunscreen because it's a physical sunscreen, as opposed to a chemical sunscreen which is absorbed into the skin and can cause irritation (source).
In addition, zinc oxide has antibacterial and anti-inflammatory properties that can soothe redness, reduce the size of pores and regulate oil production (source).
2. Green Tea
Green tea is best known for being antioxidant-rich and anti-inflammatory. A lot of this is due to EGCG (epigallocatechin gallate), which is the most abundant – and most studied – antioxidant in green tea.
In fact, research has shown that a cream containing EGCG reduced the number of lesions in people with papulopustular rosacea.
It's also worth noting that green tea, comes in two forms: standard green tea and matcha (green tea leaves that have been ground into a powder).
Matcha can have up to 3 times more antioxidants. So, whether you're making your own DIY products or purchasing one, look out for matcha. You can also get more tips in this article on green tea vs matcha for skin.
3. Hyaluronic Acid, Glycerin and Other Humectants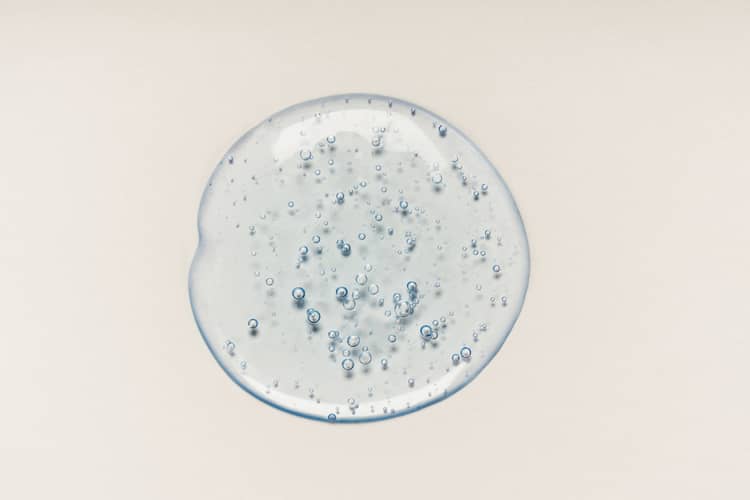 Humectants are an essential part of a rosacea skin care routine because they attract water and subsequently, increase the skin's moisture levels.
Some of the main humectants to consider adding to your skin care routine include (source):
glycerin.
aloe vera (more about this one later).
hyaluronic acid.
honey.
seaweed.
oats.
4. Vitamin C
Vitamin C has proven to be an effective topical therapy for rosacea because of its anti-inflammatory effect and ability to protect against free radical damage (source).
However, you should know that the research done on vitamin C and rosacea used ascorbic acid (pure vitamin C).
While ascorbic acid is definitely very effective, it can be too harsh for some people.
So, what's a better alternative? Use a vitamin C derivative. These are gentler on the skin, more stable and they tend to penetrate the skin better. Some examples of these derivatives include:
L-Ascorbic Acid (L-AA).
Ascorbyl Glucoside.
Methylated L-Ascorbic Acid.
Magnesium Ascorbyl Phosphate (MAP).
For more on vitamin C, be sure to check out this guide on the best vitamin C serums for rosacea.
5. Carrier Oils
Because they're particularly rich essential fatty acids and antioxidants, carrier oils are a great way to nourish your skin and support delicate rosacea-prone skin.
Furthermore, oils that are rich in the fatty acid, linoleic acid, can be particularly beneficial for rosacea. This is because linoleic acid is an essential component of the skin barrier and has powerful anti-inflammatory properties.
Some of the best plant-based oils to include for rosacea skin care routine are:
Rosehip oil: Rich in linoleic acid, vitamin A (in the form of beta-carotene) and antioxidants like vitamin E, anthocyanin and polyphenols. Brightens the skin, improves elasticity, and reduces inflammation.
Grapeseed oil: Rich in linoleic acid. Has antimicrobial and anti-inflammatory properties. Packed with antioxidants like tocopherol (vitamin E), resveratrol (which we'll be discussing later) and quercetin.
Sea buckthorn oil: High in omega 3, 6, and 9 fatty acids. Also a rare plant-based source of palmitoleic acid, an omega 7 fatty acid that has powerful anti-inflammatory and wound healing properties (source).
Jojoba oil: Suitable for oily or acne-prone skin since its composition is so similar to our natural skin sebum. Also has antibacterial, antimicrobial and anti-inflammatory effects that
6. Azelaic Acid
This naturally compound is commonly found in grains like wheat, barley and rye. When used on the skin, azelaic acid exhibits anti-inflammatory and antimicrobial effects that are helpful for rosacea or acne-prone skin (source).
More specifically, research shows azelaic acid reduces redness and the number of inflammatory lesions.
It's worth noting that the research on azelaic acid used a 15% azelaic acid gel and focused on mild to moderate papulopustular rosacea.
7. Beta Hydroxy Acids (BHA)
Unlike alpha hydroxy acids, beta hydroxy acids (BHAs) provide a gentler form of chemical exfoliation that can be helpful for some rosacea patients.
In particular, BHAs like salicylic acid can improve your skin if you tend to get acne or oily skin.
That said, BHAs can be too strong for some people. As is always the case with rosacea, listen to skin.
NOTE: a gentler alternative to BHAs is goat milk. Although it is an alpha hydroxy acid – which is usually a no-no for rosacea – there is anecdotal evidence that goat milk can actually be very soothing to sensitive skin.
8. Oats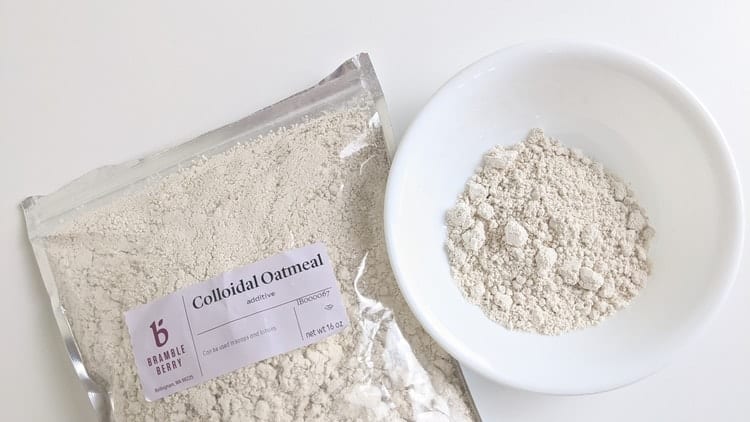 Oats have traditionally been used to soothe inflamed and irritated skin. The main reason why oats are so helpful for sensitive skin is because they:
have humectant properties that pull moisture to the skin.
increase ceramide levels. These ceramides are fatty compounds that soften the skin and also help lower inflammation.
When using oats for rosacea, you can use them in the form of colloidal oats or oat oil.
Colloidal oats are simply oats that have been ground into a fine powder (not to be confused with oat flour). They're great for DIY face masks!
As for oat oil, it's packed with antioxidants and fatty acids. Research shows that it repairs the skin barrier, even though it has only a moderate amount of linoleic acid (36 – 46%).
9. Resveratrol
Resveratrol is used internally and topically, because of its protective antioxidant properties and its connection to increasing collagen III (source).
This specific type of collagen is often damaged by excessively dilated blood vessels. This means those with rosacea can already have compromised collagen III levels.
When you increase type III you encourage fibroblast function. This is significant for the skin because fibroblasts are the cells that produce collagen, elastin and hyaluronic acid.
Lastly, one particular study showed that topical use of a product containing resveratrol, green tea and caffeine reduces redness (source).
While it's not clear exactly how much resveratrol alone reduces redness, the results of this study are promising for anyone with inflamed skin.
10. Rose water
Rose water is a by-product of the production of rose essential oil. It contains very little essential oils (about 0.05%) which means it's less likely to irritate the skin.
Overall rosewater helps to:
soothe redness and inflammation.
hydrate the skin.
balance pH.
reduce oiliness.
fight off free radicals (thanks to its antioxidant content.
For rosacea, combining rosewater and glycerin can be particularly soothing and hydrating (source).
11. Aloe Vera
Aloe vera gel is an incredibly hydrating humectant that also packs in lots of nutrients, including:
minerals like zinc, selenium and manganese.
vitamins C and E.
B-vitamins.
antioxidants like beta-carotene.
In addition, aloe stimulates fibroblasts (those cells that produce collagen, elastin and hyaluronic acid).
It's no wonder, that this natural ingredient is used for dryness, itching, inflammation and anti-aging!
But that's not all. Consuming aloe juice is often used in some detoxes. It may help to lower inflammation and promote the elimination of toxins that are contributing to skin issues.
12. Niacinamide
Niacinamide is one of the B vitamins – specifically, one of the two forms of vitamin B3 – that stimulates collagen production, improves cell turnover, and helps smooth the surface of the skin (source).
In fact, because of its potency, niacinamide is used as an alternative to topical antibiotics that are prescribed for rosacea (source).
13. Ceramides
Ceramides are found naturally in the outermost layer of the skin. They help regulate moisture loss, protect the skin barrier and prevent the development of skin conditions.
According to various publications, these ceramides are found at lower levels in rosacea-prone skin (source). This makes the external application of ceramides to your skin crucial.
If this isn't enough evidence for their relevance with rosacea, a survey of dermatologists unanimously concluded ceramides contribute to successful rosacea therapy (source).
14. Sulfur
While the use of sulfur for skin conditions goes as far as back ancient Egypt, the first effective (and documented) use of sulfur for rosacea dates back to 1855.
These days it's available commercially in a variety of over-the-counter products and has been shown to reduce inflammatory lesions and perilesional erythema (source).
Despite these positive outcomes, sulfur can cause unwanted side effects such as dryness, itchiness, irritation or temporary redness.
15. Herbs
Herbs offer bioactive compounds that can benefit rosacea skin in various ways. For example, research shows that licorice root can improve redness and redness when applied twice a day over the course of four weeks (source).
Similarly, feverfew has been identified in clinical studies as an herbal remedy for rosacea. This herb offers UV protection (helping to shield the skin from potentially aggravating UV rays) and has antioxidant properties (source).
INGREDIENTS TO AVOID FOR ROSACEA
In general, it's best to avoid these ingredients if you have rosacea (1, 2, 3):
Artificial fragrance.
Sodium lauryl sulfate.
Menthol.
Drying alcohols.
Camphor.
Menthol.
Tretinoin.
Urea.
Essential oils like eucalyptus and peppermint.
Benzoyl peroxide.
Hydroquinone.
Physical scrubs (such as sugar scrubs).
Astringents.
Lastly, witch hazel is another ingredient that can be troublesome for rosacea. However, it's worth noting that witch hazel extracts can be extracted either in alcohol or water.
Unfortunately, many skin care companies use the alcohol-extracted form. So, a lot of the irritation that people experience with witch hazel, often comes from the leftover alcohol.
Witch hazel itself is a soothing herb. So, if you'd like to try witch hazel, find one that is extracted in water (and check with your doctor before adding it to your routine).
FAQs ABOUT ROSACEA INGREDIENTS
Is retinol good for rosacea?
In certain cases, retinol can help rosacea. But retinol is a potent ingredient and it could cause dryness, plus other forms of irritation.
So, if you decide to add retinol to your rosacea routine, make sure to use it sparingly, especially at the beginning. Also, seek guidance from your dermatologist in terms of what strength of retinol to use and how often.
Is vitamin E good for rosacea?
Vitamin E has various healing properties that could help rosacea. When used topically it reduces dryness and combats oxidative damage.
According to anecdotal reports, vitamin E oil may also improve dryness, reduce acne flare ups and lower redness (source).
Is olive leaf extract good for rosacea?
While there isn't research specifically on olive leaf and rosacea, olive contains compounds like oleuropein, which has antioxidant and anti-inflammatory effects.
One study showed that olive leaf extract has skin-rejuvenating abilities (source). This might benefit rosacea-prone skin.
In addition, olive leaf supports the immune system and is used as a supplement for candida overgrowth. Some people link rosacea to candida. So, depending on the underlying cause of your rosacea, olive leaf may help.
Is collagen cream good for rosacea?
The evidence indicates collagen cream can have a positive influence on rosacea. Research has shown a strong correlation between collagen and microvessels: when collagen levels decrease, microvessel density and size increase. This can worsen skin that's already prone to abnormal vascular functioning (source).
Topically applying collagen could help counteract this tendency, thus improving the skin's underlying structure and strength.
Is vaseline good for rosacea?
As an occlusive, vaseline prevents water loss. For rosacea, it can be applied onto damp skin to lock in moisture.
CONCLUSION
While there's no perfect ingredient or remedy for rosacea, there are many scientifically-backed ingredients that can help.
I hope that this article has given more clarity on the different types of ingredients that you can add to your skin care routine.
---
You Might Also Like:
Everything You Need to Know About Oil Cleansing for Rosacea
How to Exfoliate With Rosacea (without ruining your skin!)
Best Soap for Rosacea Skin: A Complete Guide
Best Rosehip Oil For Rosacea (To Calm Inflamed Skin)
How to Exfoliate Sensitive Skin Naturally: 8 Amazing Ingredients and How to Use Them